Every week we deliver delicious blood sugar friendly inspiration to our members' inbox on Thursdays 7PM ET.
The low carb menu is for the following week, Mon through Thurs (or change days as you please), which gives you plenty of time to shop and prep for the week ahead.
TESTIMONIAL: "I really like how simple & precise the recipes are along with how tasty. Thanks for such a valuable program!" ~ Linda O. 
Join Us for Weekly Meal Plans Here >>
Diabetes Meal Plan: Menu Week of 12/2/19
Our 5 Ingredient Meals are very popular!
That's because they are so easy to make. Over the first few weeks of December, we've got new 5 ingredient meals for members to enjoy. Excluded ingredients from the 5 include: oil, lemon, salt and pepper.
Plus, the 🎅 Christmas Menu 🎄is available all month, so members can plan ahead for the celebrations, enjoy tasty appetizers at parties and events, or just add some additional meals to your menu – enjoy! Not a member yet? Please join us.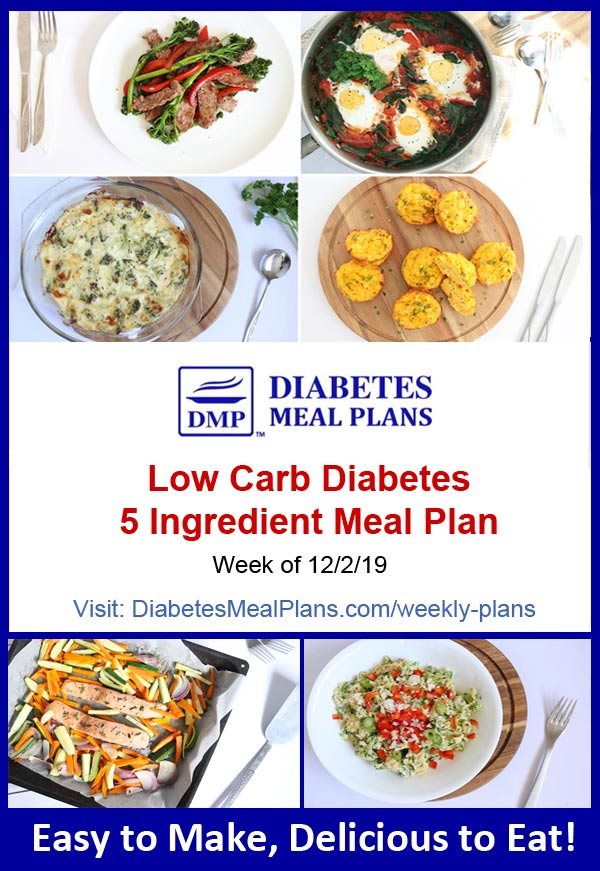 Each week you can select from 4 lunches, 4 dinners, plus access a breakfast and snacks menu selection.
Learn more about all the diabetes meal planning features.
We help you enjoy life more while regulating blood sugar & A1c at the same time!