When it comes to low carb eating, it does rule out most standard cracker options. Popular crackers like Saltine crackers, Shapes, or Saladas are just far too high in carbs to help you manage blood sugar and A1C.
There are still low carb cracker alternatives you can buy. But I also thought it was a good idea to give you a recipe for low carb crackers that you can try yourself.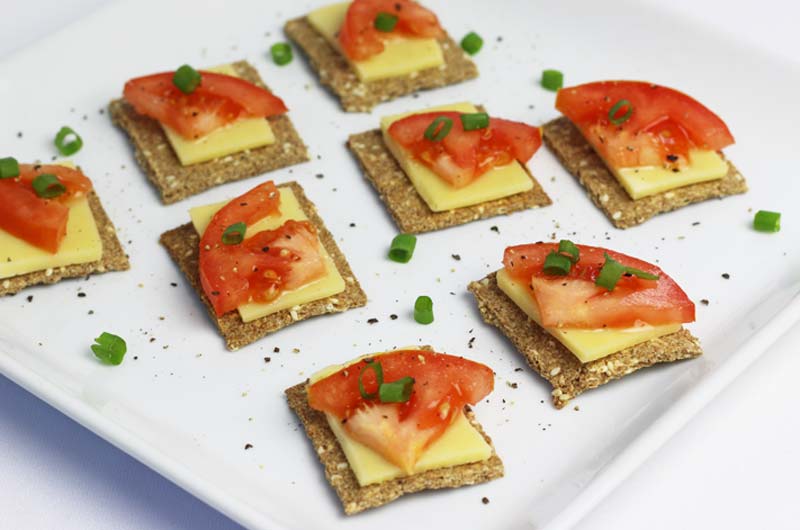 These low carb crackers are crunchy and the thing I like about this recipe is you can make small dip crackers, medium sized snack crackers, or full sized sandwich crackers. And you can do it all from the same batch.
They will keep crunchy for a couple of weeks in an airtight container, just like any other cracker would. And simply use them like any other cracker – top with your favorite nut butter, some cheese and tomato, or dip into some homemade guacamole.
We use 100% diabetic friendly flours – flaxseed meal and sesame flour. This means these crackers are zero carb.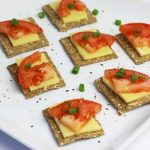 Low Carb Crackers Recipe
Ingredients
3/4

cup

ground flaxseed meal

1/2

cup

sesame flour

1/2

cup

Water

1/2

teaspoon

salt

2

Tablespoon

sesame seeds
Instructions
Preheat oven to 180°C/ 350°F.

Place all the ingredients into a food processor and blend until combined. You may need to scrape down the edges once. It will make a mixture that doesn't quite stick together but once you get it in your hands it will bind. If you don't have a food processor, you can use a large mixing bowl instead.

Turn the processor off once it's mixed, and remove all the mixture and form it into a ball.

Place it on a large sheet of baking paper and flatten it out just a little.

Place another sheet of baking paper on top, then use a rolling pin to roll it out as thin as possible.

Cut off the rough edges and put them back onto one of the sides, then re-roll that side.

Discard the top piece of baking paper and using a knife, score the pastry so that you can easily break it once cooked.

Put the sheet of baking and the rolled out pastry onto a large baking tray and bake for 20 minutes.

When done, remove from the oven and allow to cool before breaking the crackers up. It can sometimes be a little brown around the edges, so just throw those pieces in the bin – they don't taste nice.
Notes
These will keep stored in an airtight container for about a week and still stay crispy.
These are zero carbs so feel free to eat them guilt free.
Note: Flax seed meal is a high fiber food, so make sure you drink plenty of water as fiber can cause constipation if you're not used to it and are dehydrated.
Share by Email
Share on Facebook
Share on Twitter
Please share, pin, or tweet this post
Subscribe for Weekly Nutrition Tips & Recipes