When it comes to flours, making the right choice is very important to blood sugar control.
So we've gathered some great info here for you to use in your diabetes friendly kitchen and menu preparations.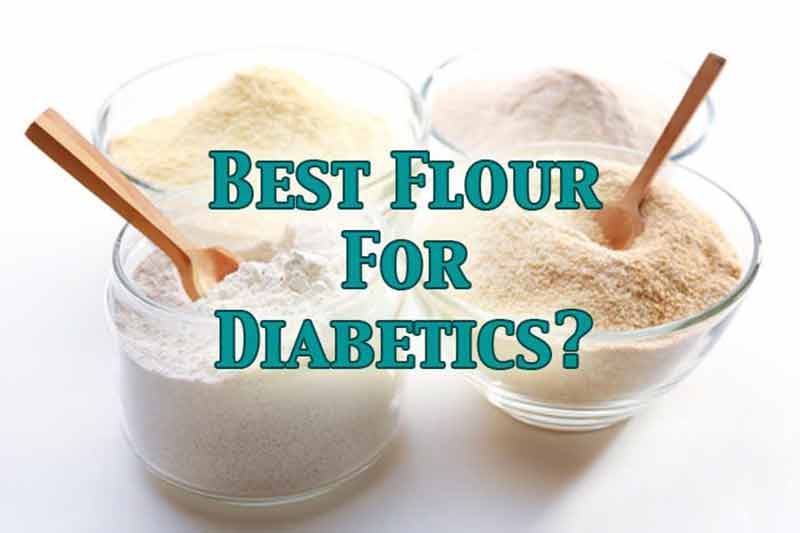 Are Grains & Flour Really Good For Fiber?
We've often been told that eating whole grains is a great source of fiber. And while 'whole grains' do provide some fiber they are not the only thing that provide us with our daily fiber needs, vegetables do too.
For example: 1 slice of wholewheat bread has 1.9 grams of fiber, while a carrot has 2.3 grams. All grains and vegetables do range in fiber content, but vegetables are a great source of daily fiber and are also higher in vitamins, minerals, and antioxidants than grains.
So we don't have to eat grains in order to get adequate fiber.
Changing A Grain Into A Flour Changes The Way It Affects Blood Sugar
Often when we take a grain and make it into flour, it changes the carb and fiber content. So what tends to happen for you as a diabetic is that most types of flours will make your blood sugar spike like wild fire. At least that's what most people experience, which is why our meal plans contain virtually no grain flours at all.
An example of this is buckwheat. Eaten whole it has a glycemic index (GI) of around 49, which is a low GI. But take it and turn it into bread and it changes to a GI of 67, meaning it affects your blood sugar more rapidly and more intensely than eating the whole grain itself.
Here is another example using wheat. Whole wheat kernals are a very low GI of 30, but we don't tend to eat whole wheat kernals, we eat whole wheat flour and it has an average GI of around 74.
Whole Grain Flours Are A Better Option
It's true that whole grains are better as far as nutrition goes.
The Minnesota Department of Health explains, the whole grain kernels are made up of 3 parts:
Bran – Outer layer of the grain that contains fiber, antioxidants, B vitamins, phytochemicals, and 50-80% of minerals in grains like iron, copper, zinc, magnesium
Endosperm – middle largest layer containing mostly carbohydrates, protein, and small amounts of some B vitamins and minerals
Germ – inner component containing healthy fats, B vitamins, phytochemicals, and antioxidants like vitamin E
When you eat refined grains (the white stuff) you are only getting the endosperm, so basically all of the nutrition has been stripped from the grain, which isn't really ideal. So if you are going to choose any type of grain, choose only whole grains.
Using These Flours Is Even Better
BUT, as suggested above, even whole grains can be problematic for people with diabetes. So we only use almond flour or almond meal, coconut flour, ground flaxseed meal, sesame flour, and other nut flours in the majority of our low carb breads and bakes.
On the odd occasion, we use a small amount of 'normal' flour (1-2 tablespoons) such as arrowroot or corn flour, just to thicken sauces, which can be difficult to do with low carb flours.
Take this delicious burger as an example, the bun is our 3-Minute 'no carb' Microwave Bun. It tastes just like bread but has zero carbs, that's right…zero!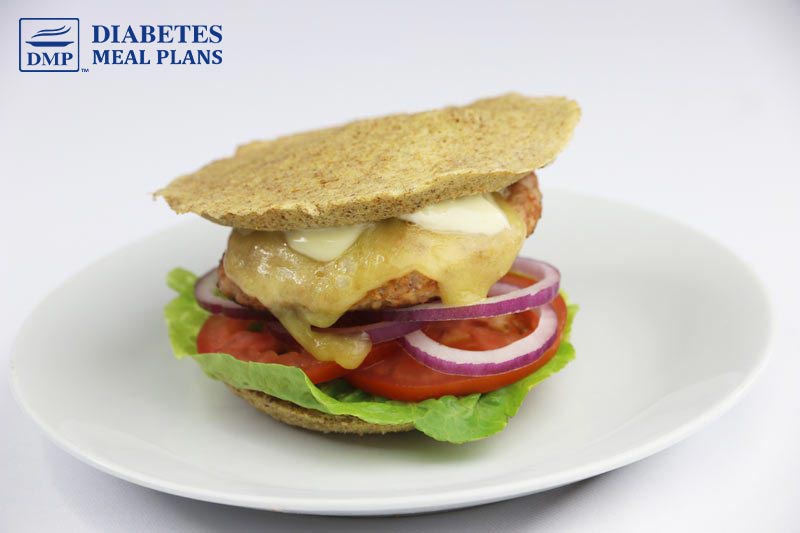 Let's now compare a normal flour based burger with one of our low carb burgers, made from our 3-minute microwave bun.
Your Choice Of Flour Can Cut Carbs In An Instant
Here we have a classic burger (something we all love), up against our low carb classic burger #2 (amazingly delicious). It's made with our zero carb 3-minute microwave bun.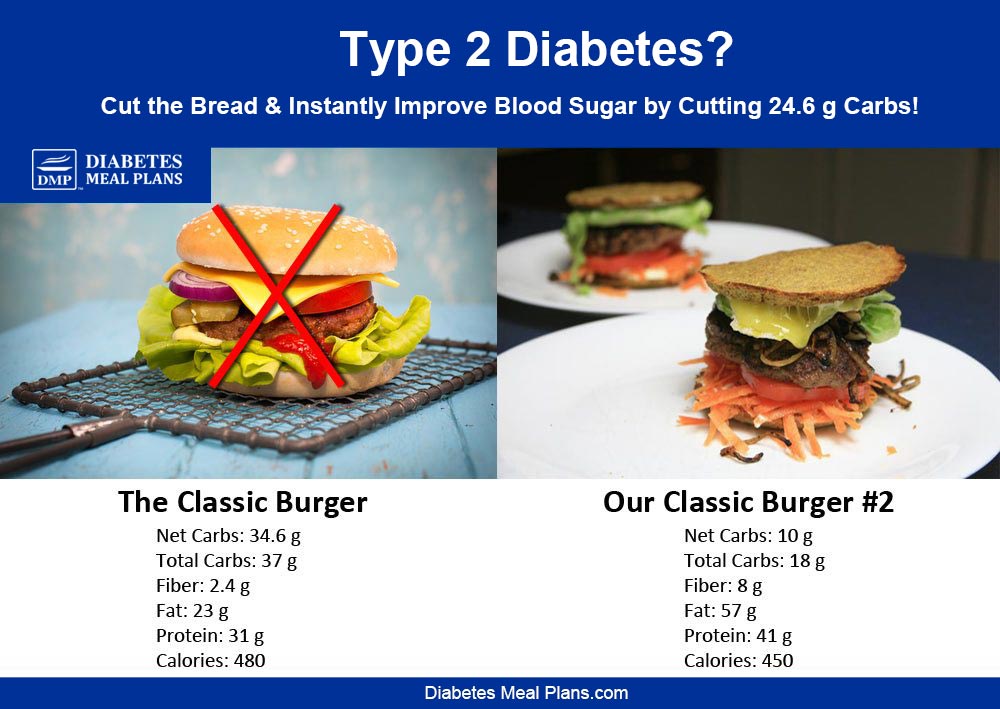 Flours By Total Carb Content
Now let's dig into some of the nutrition facts. Remember to pin and share this with others too because it's really helpful info. 🙂

Flours List By Net Carb Content
Using net carbs is another useful way to determine the healthiness of foods, because when you subtract the fiber content from the total carbs (Total carbs minus fiber = net carbs), you're left with the 'available' carbs – the amount of carbs that will end up in your bloodstream and ultimately influence your blood sugar levels.
Here's a handy chart of flours in order of net carb content: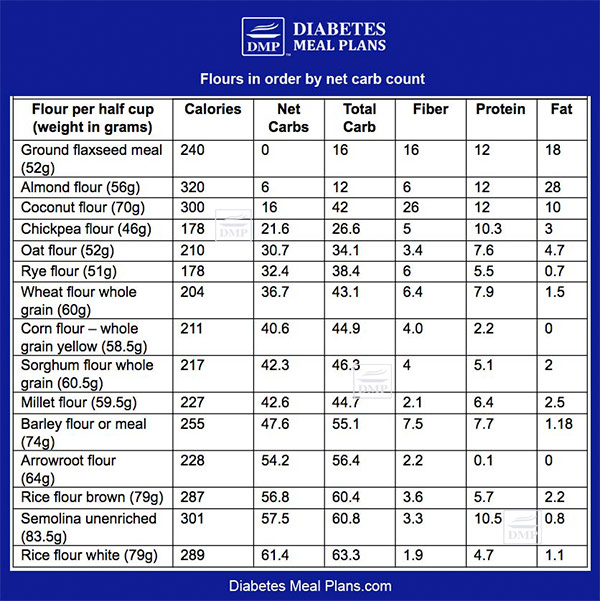 Flours By Glycemic Index
"The glycemic index (GI) is a ranking of carbohydrates on a scale from 0 to 100 according to the extent to which they raise blood sugar levels after eating." Source
High GI foods rapidly effect blood sugar, while low GI foods have a slow digestion and absorption and produce a more gradual rise in blood sugar. Below 55 is considered low GI. So the lower it is the better and the higher it is the faster it affects blood sugar and the worse it is for you as a diabetic.
It's difficult to find all the flours isolated for their glycemic index so this list breaks down into sections for breads (since we commonly eat flour like this), flours, and other.
BREADS
Pumpernickel bread 41-46
50% oat bran bread 44
Sourdough rye bread 48
80% barley bread made via sourdough 53-66
Sourdough wheat bread 54
Sprouted grain bread 55
Chickpea flour bread 55-67
Pita bread wholemeal 56-69
Pita bread white 57-67
Rye bread 57-78
Rice bread 62-72
Wholemeal spelt bread 63
Semolina bread 64
80% oat kernel and white flour bread 65
White spelt bread 65-74
Buckwheat bread 67
80% barley bread 67-70
Wheat whole grain 68-69
Wheat white bread 71
Wonder white bread 71-77
Gluten free white bread 71-80
100% wheat white bread 85
Millet bread 104
FLOURS
Buckwheat flour 35
Semolina 59
Arrowroot 67
Cornmeal 69
White flour 71
Whole wheat flour 74
OTHER
Almonds 0
Whole wheat kernals 30
Carrot cake with coconut flour 36-39
Coconut flour pancakes 49-51
Flaxseeds have not been tested because they do not contain carbohydrates
A few interesting things to take note of are:
1. When you take a grain and make it into a flour, it completely changes it's GI
For example: Whole wheat kernals are 30 (low GI) and whole wheat flour is 71 (high GI). This was already mentioned above, but it is a significant jump wouldn't you agree?
2. Eating sourdough bread significantly reduces the GI
For example: Rye bread is 57-68 (medium-high GI) but sourdough rye is 48 (low GI)
This is very interesting because making sourdough produces beneficial gut bacteria that help with digestion, and this clearly has a strong impact on how it then influences the blood sugar response.
3. You will notice that most flours are high GI
In our list of breads above, you will notice that chickpea bread is highlighted as the cut off point because all breads below that are high (and higher) in GI, meaning they are not good options for you as a person with type 2 diabetes or prediabetes.
4. The flours we use have a low carb and low GI
We use both low carb and low GI flours in our breads, cakes, crackers, and bakes, so that you get the best results all round. 🙂
We'd encourage that you use those too, but at least now, with all this information you can make a more informed choice about what flours you will use.
So that's the run down on the best flour to eat as a diabetic. Did you learn some interesting stuff? What flours do you use?