Every week we deliver delicious blood sugar friendly inspiration to our members' inbox on Thursdays 7PM US Eastern Time, or your timezone equivalent.
The low carb menu is for the following week, Mon through Thurs (or change days as you please), which gives you plenty of time to shop and prep for the week ahead.
We're proud to say we're making a real difference in peoples lives!
Here's what a few of our members have to say:
"Since being a member my blood sugar level has dropped considerably. I love not having to worry about what to eat and having access to all your recipes. I believe you are doing a great job at telling me all about how to manage my type two diabetes." ~Lorraine W.

 

"I love all the delicious recipes that are easy to understand and prepare. I love the versatility of the members site. I'm able to add, delete and personalize my meal plan so that it fits my schedule and taste. My husband is a picky eater, but he's enjoying the dishes too!" ~Kat.

 

"Being a member keeps me organized. I don't have to think about what I eat! I love all the recipes. I really really like the cooking videos! Most helpful indeed! Keep up the great work!" ~ Patty.

 

"Love it!! 🙂 Everything is so easy to follow especially for me. It's great how members share their stories and how this program is changing their lives and I really love it. Just keep what you doing. Really great." ~Bev.

 

"The recipes are fantastic! I really like the cooking videos too! And, most importantly, the articles in the library. I have learned tons that I would not have otherwise known." ~Pat.
Join Us for Weekly Meal Plans Here >>
Original Menu
Enjoy some hearty, fulfilling dishes this week with a mild-spiced Vietnamese Beef Stew, a creamy soup, tasty chicken patties, and balsamic glazed chicken and veg – enjoy!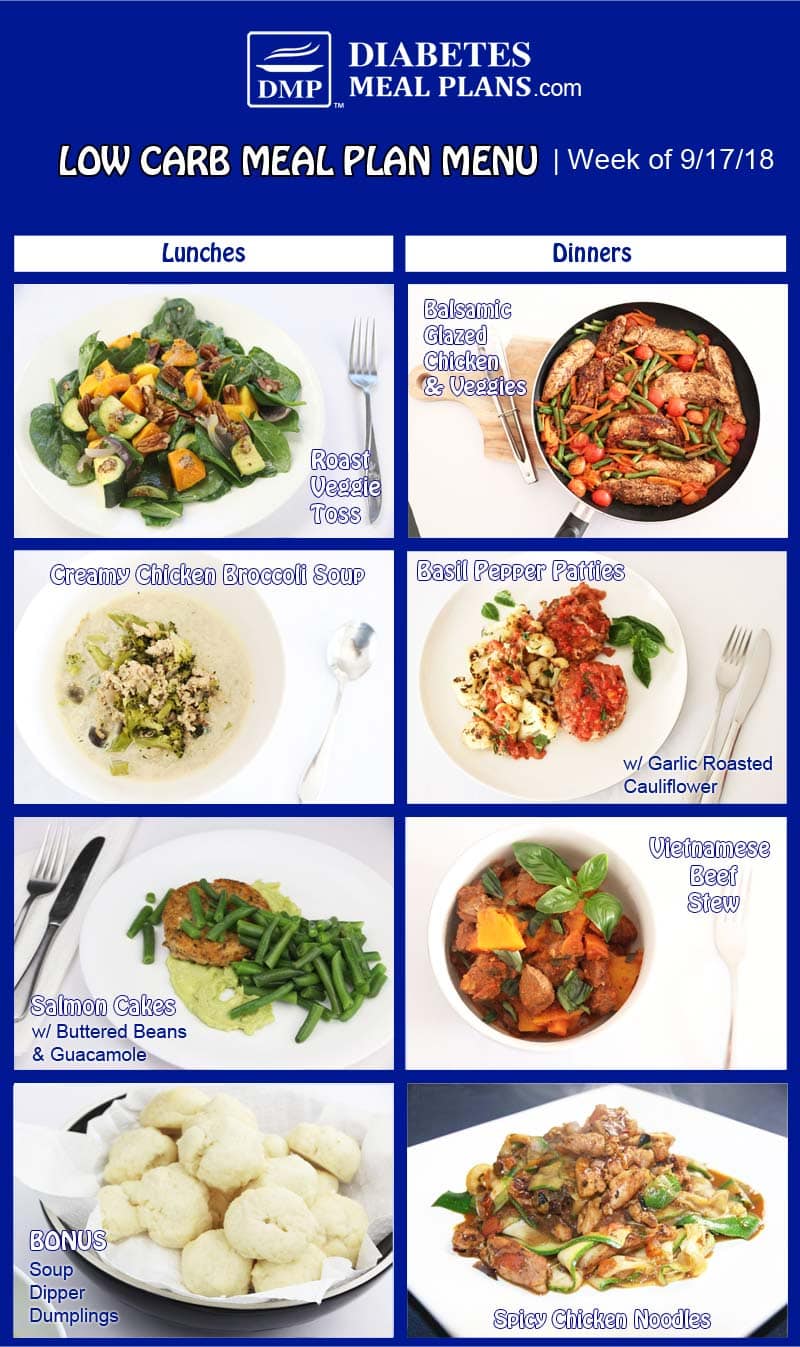 Each week you can select from 4 lunches, 4 dinners, plus access a breakfast and snacks menu selection.
Learn more about all the diabetes meal planning features.
We help you enjoy life more while regulating blood sugar & A1c at the same time!