Here at Diabetes Meal Plans, we're dedicated to helping you enjoy life more while regulating blood sugar and A1c at the same time.
And one of the ways we're helping our members is by providing weekly meal plans that are blood sugar friendly, healthy and delicious. Meal plans are delivered to our members' inbox on Thursdays 5PM ET (US), or your timezone equivalent – yes, we have members from all over the globe!
The low carb menu is for the following week, Mon through Thurs (or change days as you please), which gives you plenty of time to shop and prep for the week ahead. And of course, they keep daily carbs low to help lower your blood sugar and A1c levels.
TESTIMONIAL: "Super excited here. Had my A1c checked today. Are you ready for this? 5.6. After three months of Diabetes Meal Plans, without drugs or insulin, my blood sugar is normal.Thank you for your guidance and great recipes. Could not have done it without you." ~Maria G.
Read more testimonials here – there are plenty of them!
We're proud to say our diabetic meal plans are helping transform lives!
Join Us for Weekly Meal Plans Here >>
Original Menu
A highlight of this weeks menu is the turkey massaman curry, paired up with some flatbread for dipping; you'll also indulge in the freshness of basil pesto across a number of meals, plus you'll be surprised how well a strawberry and cheese salad works – sweet and satisfying – enjoy! 
Video Preview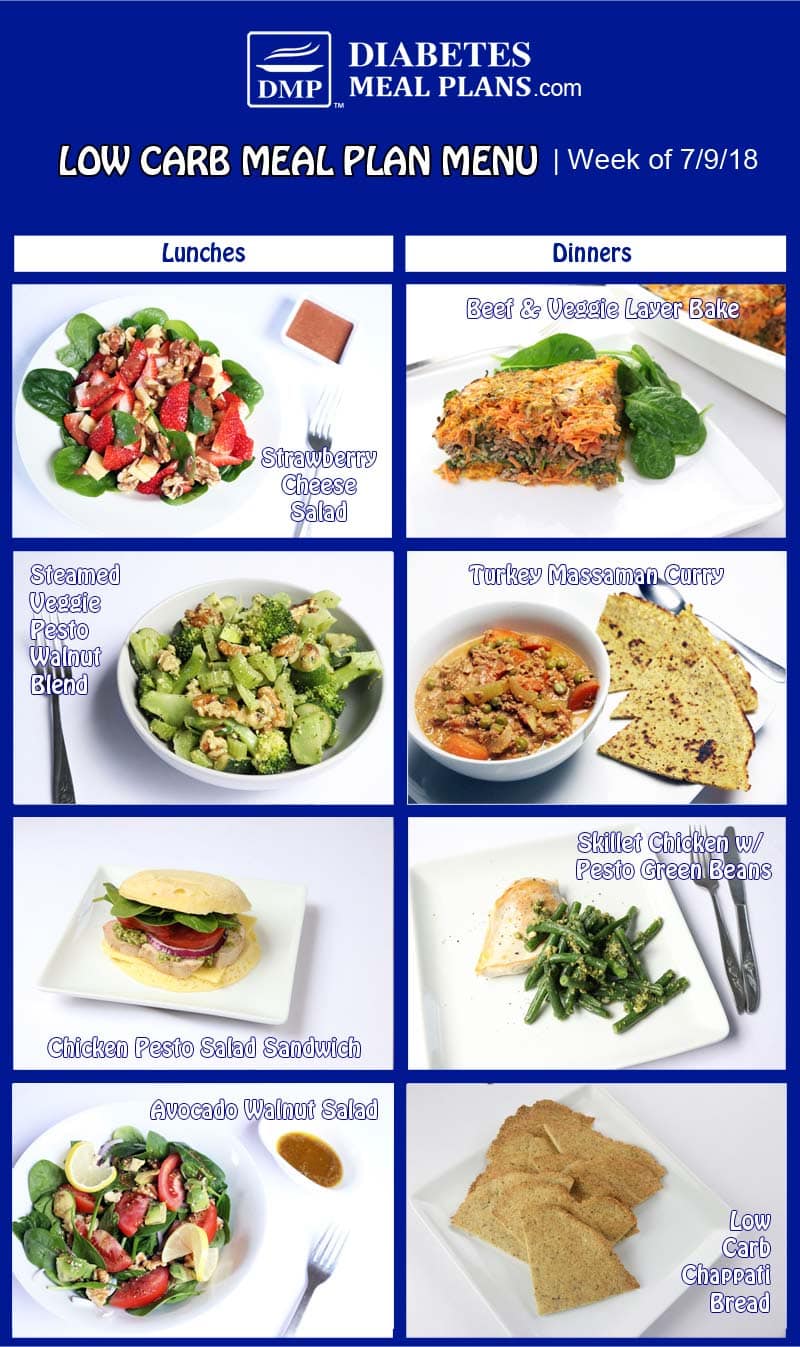 Each week you can select from 4 lunches, 4 dinners, plus access a breakfast and snacks menu selection. You can also access 8 weeks of meal plan archives (monthly members) or all our archived meal plans (VIP Annual Members).
And with our smart meal planner, you can calculate carbs and nutrition facts automatically, swap and change meals to your preferences and more.
Learn more about all the diabetes meal planning features.
We help you enjoy life more while regulating blood sugar & A1c at the same time!