Here at Diabetes Meal Plans, we're dedicated to helping you enjoy life more while regulating blood sugar and A1c at the same time.
And one of the ways we're helping our members is by providing weekly meal plans that are blood sugar friendly, healthy and delicious. Meal plans are delivered to our members' inbox on Thursdays 5PM ET (US), or your timezone equivalent – yes, we have members from all over the globe!
The low carb menu is for the following week, Mon through Thurs (or change days as you please), which gives you plenty of time to shop and prep for the week ahead. And of course, they keep daily carbs low to help lower your blood sugar and A1c levels.
TESTIMONIAL: "Metformin alone didn't control my sugars. My endo started me on nightly Lantus and even though I watched what I ate and walked religiously, I could not get my A1C down. Then came the Novolog twice a day. And counting the carbs my nutritionist suggested did not help me one bit." Well, I wanted to share my great results having been on this plan for only one month. 3 months ago my A1C was 8.7 and my recent blood work showed it at 7.4. My endocrinologist was very impressed and thinks I will be at the target level by my next testing in 3 months. The recipes are easy, quick and good but it does take some getting used to when we're used to eating too many carbs. However, just eating your meal plan for a month and seeing the results gives me motivation to continue. I have decided to stick with it and get myself to a good A1C. Thank you for your dedication to diabetes research and food plans." ~Gloria G.
Read more testimonials here – there are plenty of them!
We're proud to say our diabetic meal plans are helping transform lives!
Join Us for Weekly Meal Plans Here >>
Video Preview
On the menu this week is a twist on Indian Dahl, without the high carb lentils it's usually made with. A beef and yogurt pie, wraps, mug quiche, stuffed peppers and more  – enjoy!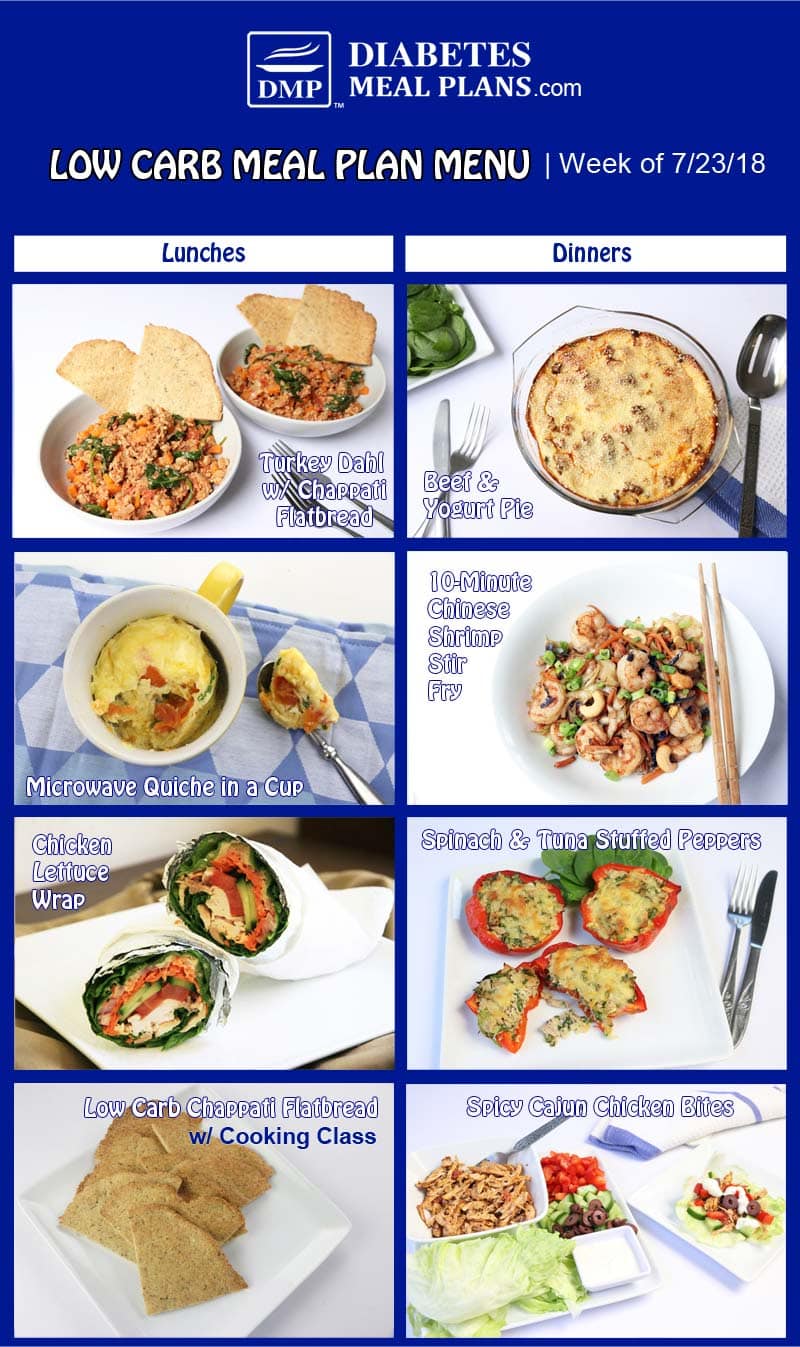 Each week you can select from 4 lunches, 4 dinners, plus access a breakfast and snacks menu selection. You can also access 8 weeks of meal plan archives (monthly members) or all our archived meal plans (VIP Annual Members).
And with our smart meal planner, you can calculate carbs and nutrition facts automatically, swap and change meals to your preferences and more.
Learn more about all the diabetes meal planning features.
We help you enjoy life more while regulating blood sugar & A1c at the same time!