Have you ever been told you need to watch your sodium intake? Or lay off the salt shaker? Does it feel like just one more number to have to worry about?
What about sea salt–is that healthier?
Yes, when it comes to sodium and diabetes, it tends to be a confusing area.
So, let's try to clear up some of the confusion surrounding the issue of salt generally and sodium specifically.
What is Sodium?
First things first: Sodium is one of many minerals found naturally in the soil and the ocean and is an essential nutrient, meaning the body requires it in the diet.
When sodium is combined chemically or naturally with another mineral (chloride), it forms a 'salt' (about 40% sodium and 60% chloride). So different varieties of table salt are 'sodium chloride.' Whereas you can find sodium in food sources, too. We'll get to this in just a moment.

We need sodium for a variety of important functions in the body: to help regulate blood pressure, maintain pH balance, conduct nerve impulses, and contract/relax muscles.
Though while we do need sodium, the majority of people in Western countries consume excessive amounts–so much so that blood pressure is elevated beyond what is healthy (130/85), putting people at risk for heart disease and stroke, the number one cause of overall death and diabetes related death. Populations at higher risk include: African Americans, those over the age of 50, and those with diabetes, kidney disease or hypertension.
While there has been some recent controversy over recommended sodium restrictions, the strongest evidence to date suggests that reducing intake to 2300 (general population) or possible 1500 mg/day (for those at high risk) helps. Lowering sodium intake below 1500 mg/day poses no additional benefit and may, in fact, increase risk for a variety of health issues.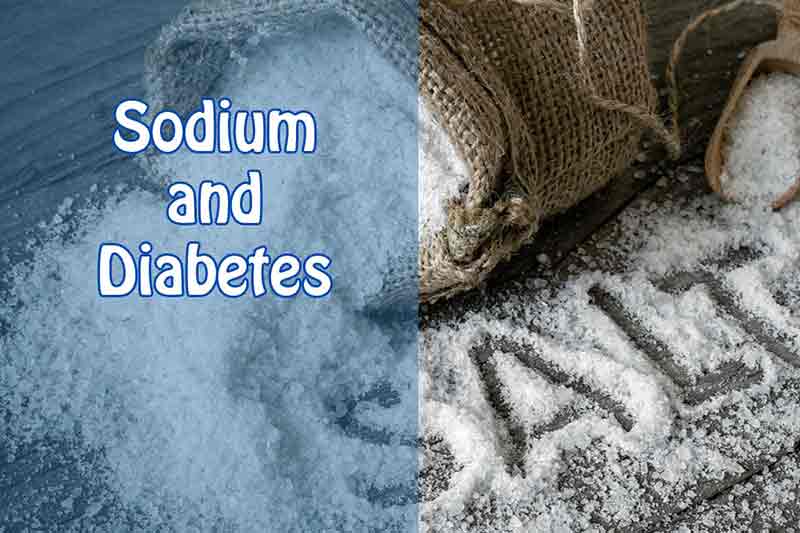 Where is Sodium Found?
Sodium is found naturally in all plant and animal foods and even in unfiltered water sources. Therefore it is neither possible, nor would it be wise, to attempt a "no sodium" or "salt free" diet.
If you're curious about how much sodium is in a given food, check the label, and remember to check the serving size! Or use this database, remembering that 1500-2300 mg/day is a recommended general range. If a product is >400 mg per entree serving, put it back on the shelf and keep looking for a better option.
Different Kinds of Salt
Table Salt is probably the most common form of salt we think of. It's the type of salt on the table at restaurants and what we find inexpensively in large quantities in grocery store aisles. It is processed from salt 'mines' or rocks. It's generally stripped of other beneficial minerals. It is often 'iodized' in an effort to prevent goiters resulting from iodine-deficiency.
Sea Salt is often touted as a healthier form of salt. In a sense this is true. Sea salt comes from evaporated sea water, which results in a better balance of minerals such as potassium, iron, and zinc. And overall, sea salt is a less processed form of salt. In addition, sea salt is much more flavorful and therefore a small amount goes much further in terms of flavoring food. However, the sodium content is similar to table salt, so when watching sodium intake, sea salt isn't a freebie.
Monosodium Glutamate (msg) is a flavor enhancer added most commonly to Chinese foods and highly processed/packaged foods. It evokes a unique flavor called "umami." MSG is an 'excitotoxin' and has been linked to headaches, tingling, numbness, rapid heartbeat, nausea, and chest pain. Additional names for MSG include: autolyzed or hydrolyzed yeast extract among others.
Salt Substitutes range from salts that are lower in sodium, to those that do not contain sodium (ie. potassium chloride), to herbal blends. The former will have a lesser impact on blood pressure while the latter 2 will have no impact or positive effect.
Salt/Sodium in the Diet
Sodium consumption rates vary from country to country and individual to individual but on average we're taking in too much–an estimated 9-12 grams daily, more than 3 times the recommended amount.
As a reference 1 teaspoon of salt is approximately 2,400 mg sodium. Now, I know what you're thinking–I hardly ever add salt to my food! Guess what? You don't need to. If you're buying pre-packaged foods, the food industry took care of that for you!
It's estimated that around 75–80% of all sodium intake comes from processed foods.
Not the sodium found naturally in foods. Not even the salt shaker. But in all those things we buy off the shelf.

Not only is sodium used in flavoring foods, but also as a preservative. The more salt food manufacturers can cram into their products, the more 'hyper-palatable' (ie. addictive) it will be, and the longer shelf life it will have. This is why if you put some meat on a counter over night, it will be rotten, but if you load it up with sodium and other preservatives, it can last years!
High Sodium Food Choices:
Salted snacks (chips, pretzels, crackers, croutons) – Eg:

RitzBitz Cheese Crackers 480 mg per serving

High processed (smoked, cured, canned etc) breakfast or lunch meat (bacon, cold cuts, hot dogs, bologna, ham)

– Eg:

Hotdog 567 mg each

Canned soups

– Eg:

Campbell's Chicken Noodle Soup 940 mg per ½ cup

Canned beans & vegetables

– Eg:

Canned Mushrooms: 440 mg per ½ cup

Most cheese

– Eg:

Kraft Singles: 200 mg per slice

Most breads, rolls and cereals etc

– Eg:

Raisin Bran: 350 mg per cup

Frozen Meals (or TV Dinners) & Pizza

– Eg:

DiGiorno Pizza for One Thin Crispy: 1170 mg per 1 individual pizza

Pre-packaged rice or noodle mixes

– Eg:

Rice a Roni Spanish Rice: 1,250 mg per 1 cup

Salty condiments: ketchup, mustard, pickles, soy sauce, tomato sauce – Eg:

Classico Garlic Pasta Sauce: 510 mg per ½ cup

Kosher Dill Pickle: 880 mg

Most restaurant foods (most restaurant ingredients arrive pre-processed/packaged and portions are so large they provide multiple days worth of sodium) – Eg:

Applebees Mac & Cheese with Chicken Tenders 4290 mg per serving
Low Sodium Food Choices:
Fresh or frozen vegetables and fruits

– Eg:

Cabbage: 13 mg per 1 cup

Fresh lean meat (ie chicken, beef, turkey) – Eg:

Turkey: 54 mg per 3 oz

Eggs

– Eg:

62 mg per 1 egg

Dried beans – Eg:

2 mg per ½ cup

Peanut butter (check label for salt as they vary and many have added sugar)

5 mg per 2 Tbsp

Water packed tuna

– Eg:

35 mg per 2 oz

Fresh mozzarella or swiss cheese

– Eg:

40 mg per 1 oz

Dried plain or fresh pasta, rice or other grains (though you generally don't want to eat these as they are high in carbs) – Eg:

4 mg per 1 cup

Unsalted nuts and seeds

– Eg:

0 mg per 1 oz raw almonds

Salad with fresh ingredients and dressing on the side while eating out

– Eg:

Panera's Seasonal Greens with Chicken 320 mg per full salad
Flavoring Food with Less Sodium
Taste buds are very adaptable. In fact, they tend to become less sensitive with age, allowing for a greater variety of palatable foods. And preference for different foods can be acquired with exposure. This does take some time, but you can be assured that many foods that once tasted "bland" will change as you continue to get the added salt farther from your palate.
That said, there are some excellent ways to add flavor to foods without loading up on sodium:
Use herbs and spices (check the labels for 'seasoning blends,' which often contain added sodium and often in the form of MSG). This is a nice

resource

guide for flavors, origins, and cooking suggestions with a variety of spices.

Add flavor with onions, garlic, ginger, scallions, and Balsamic or red wine vinegar.

Use orange, lemon or lime zest for citrus flavor.

Marinade meats and vegetables to allow flavors to meld and absorb.

Grill, roast, saute or sear foods, which brings flavors out in foods and maintains texture rather than boiling (which often makes them bland and mushy while decreasing nutrient content), or breading and deep frying (which adds sodium, fat and carbs).

When ordering out, get condiments on the side (that way you can control the amount you use).

Get a good quality sea salt or Himalayan salt, which is much more flavorful (and thus less is needed), less refined and contains other minerals besides sodium.

Make

homemade condiments

making modifications to simple recipes to suit your taste buds and health needs.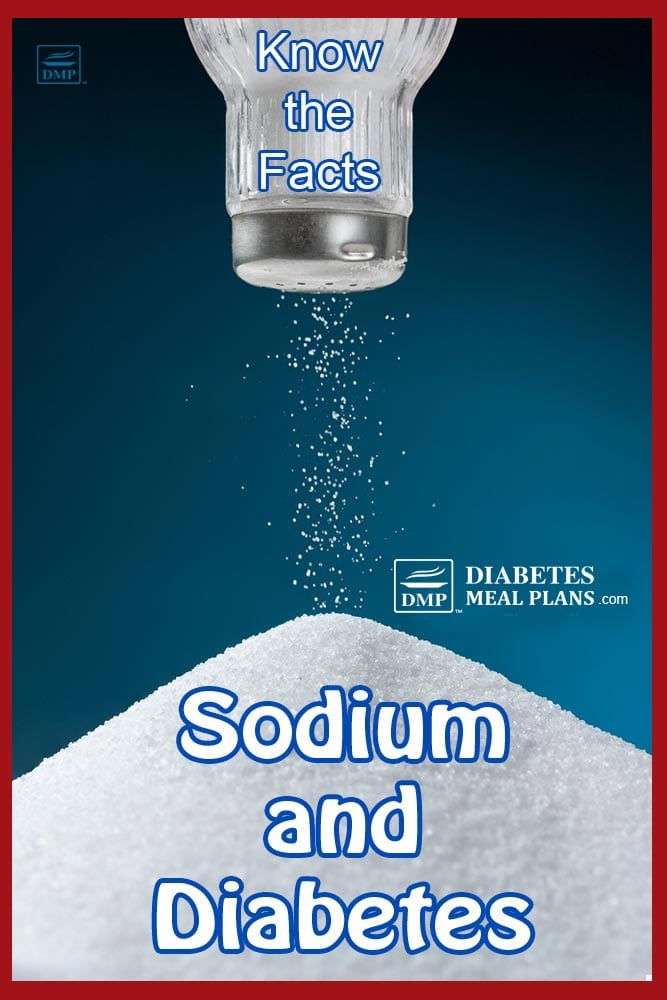 The Take-Home
…notice a trend???
That's right! With few exceptions, most foods high in sodium – highly processed foods – are the same foods to avoid with diabetes.
Whereas, most of the foods low in sodium – generally natural whole foods – are the same as the foods we continually encourage you to include MORE of in your diet.
This is great news because it's one less thing you have to worry about when it comes to meal planning and food choices. And it's just further evidence that healthy foods (for diabetics and non-diabetics alike) tend to be low in nutrients we are trying to limit (refined carbs, trans and saturated fat, chemicals, sodium) and high in nutrients that are most healthy (fiber, vitamins, minerals, water, protein).
Furthermore fresh produce is not only low in sodium, but also high in potassium, which will help counteract sodium's effect of elevating blood glucose.
Remember though, sodium IS an essential nutrient and not something to avoid entirely. If you are choosing and cooking with mostly low sodium foods – especially fresh vegetables, meat/fish, and eggs – adding a bit of sea salt in cooking is perfectly fine and will help enhance the flavor of your meals.
Finally, and most importantly, do not worry about naturally-occurring sodium in fresh foods as this is minimal. The natural sodium found in fresh foods will be offset by the other minerals present in foods and will never be enough to cause a problem. Cook from scratch and use lots of herbs and spices to season and flavor your foods, just like we do in our delicious recipes here at Diabetes Meal Plans.
Happy eating!
Please share, pin, or tweet this post. 🙂