When you follow a low carb diet, such as the one we encourage here (because science shows it lowers blood sugar levels and A1C), you're going to have to ditch a lot of prepackaged foods and get back to normal eating — good old-fashioned home cooking.
Seriously, check out the diabetic success stories of Sheryl and Tony — they both changed their eating habits, got back in the kitchen and are now living completely transformed lives. That's the power of food!
And here's the thing: If you can eat your way into something, you can eat your way out of it.
But to do so, you need some essential kitchen items to make all your low carb cooking enjoyable, so here's our recommended list.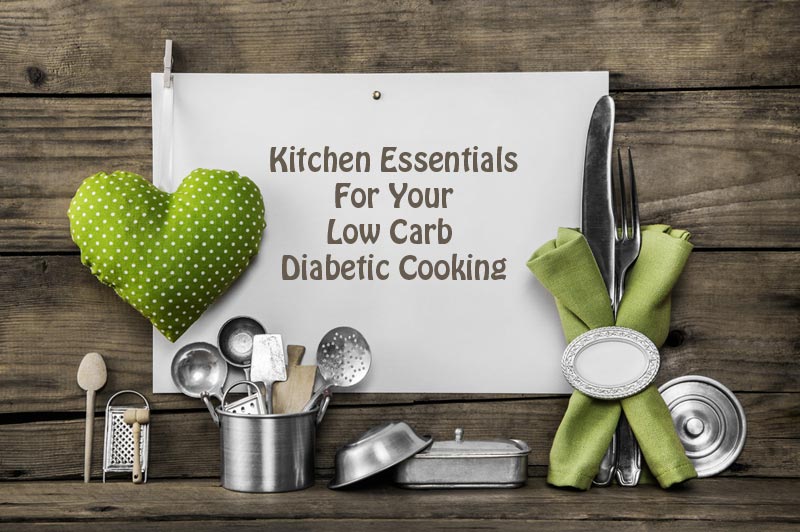 #1: Sharp Knives
Every kitchen needs sharp knives, they really are a bare essential and make the cooking process easier.
Interestingly, most bad cuts to the hands or fingers occur from blunt knives. The reason for this is you have to apply more pressure and when you slip it digs deep. Sure, a sharp knife can cut you too, so you always do need to be careful.
Purchasing a knife set is the best way to go. And it often helps to buy a set with a blade sharpener.
#2: Pots and Pans
You're not going to get very far at all if you don't have a set of pots and pans of various sizes.
#3: Storage Containers
One of our motto's is to cook once, eat twice or three times!
Batch cooking saves time and energy and means you have some tasty leftovers to eat. But of course, to keep those leftovers fresh, you need storage containers so you can refrigerate or freeze your items.
#4: Food Processor
We consider a food processor an absolutely essential item and we use one in lots of our recipes. Food processores can grate, cut, blend and mix so they make the cooking process faster and easier.
#5: Vegetable Spiralizer
In a low carb kitchen, the vegetable spiralizer is a frequently used item — because it makes delicious low carb noodles and pasta dishes.
Our favorite is the Paderno Vegetable Spiralizer because here's what it can do: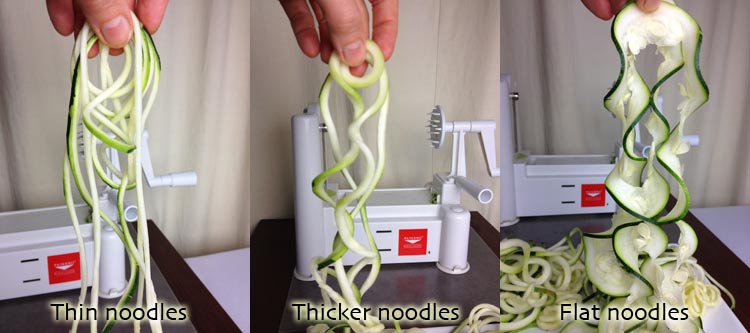 You can also get hand held spiralizer's but the stationary ones are more effective and last for years. They're super easy to clean, too.
#5: Measuring Cups & Spoons
You're going to have to measure portions for many of the new, delicious low carb recipes you're going to cook. And that's where your measuring cups and spoons can lend a hand.
You'll need at least one Pyrex measuring cup. And we find it's best to have at least 2 sets of standard measuring cups and spoons because often you'll need to measure multiple things and it saves washing the cups or spoons as you go.
#6: Mixing Bowls
Whether it's meat patties, cookies, bread or dessert, you'll need bowls to mix things in. We love stainless steel mixing bowls because they last forever and don't easily get damaged from heat or stained by foods (like plastic bowls do), and they don't break when you drop them (like glass can).
Still, a variety of mixing bowls of different sizes is always a good strategy!
#7: Chopping Boards
At least two chopping boards are needed — one for meats, and the other for all your other chopping needs. Choose a plastic or glass board for meats and only use it for meats. And wooden or bamboo chopping board is often the best selection for all other purposes.
#8: Baking Trays
We love to bake all kinds of things — vegetables, a roast, cookies, and bread or buns — so baking trays are always a commonly used item.
#9: Kitchen Scales
Recipes have either cup measurements or often you'll find they are measured in ounces or grams, which is why you absolutely must have a set of kitchen scales on hand.
#10: Grater
You'll find that a hand held grater is an item that is used nearly every day – for shredding cheese, zucchini, carrot and other vegetables. Of course, you can use your food processor to shred and grate, too.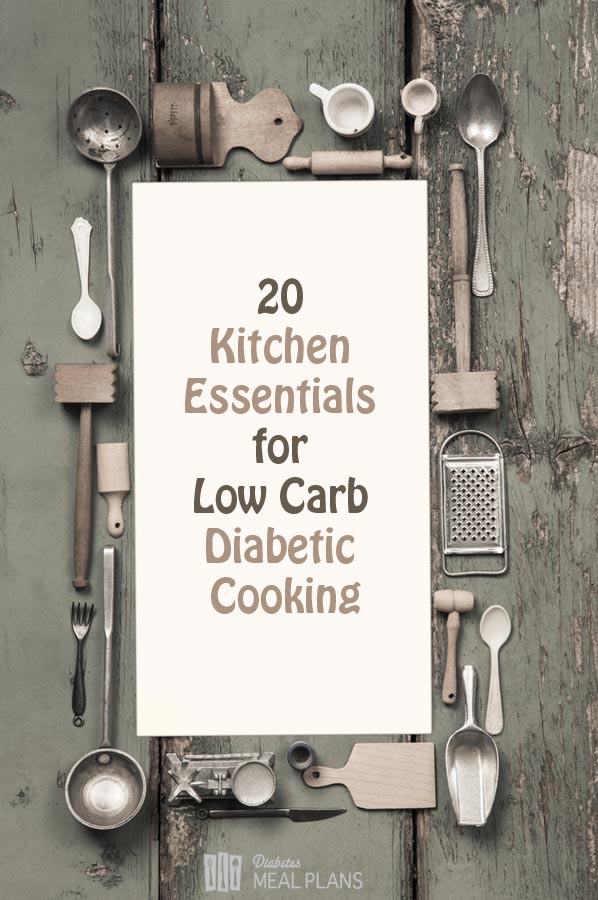 #11: Colander
Straining excess liquid off your cooked items is a common activity in the kitchen. And we recommend keeping a selection of colanders on hand from large to small.
#12: Steamer
Steamed veggies make a quick and easy side dish to any meat, chicken or fish. And steaming things is one of the healthiest ways to cook them as well.
There are a range of options available, including the traditional pot steamers to the new electric steamers. All do an adequate job.
#13: Cooking Utensils
You can't exactly stir a super hot dish with your hands, so you'll need some wooden spoons, serving spoons and a range of utensils to draw from.
#14: Slow Cooker
We call meals made in the slow cooker "set and forget" because they are so super, super, easy – just chop everything up, throw it in the slow cooker and set and forget. You can cook meals while you're at work, while you're sleeping, and have meals done when you need them.
#15: Skillet and/or Wok
Two commonly used items for many cooking needs.
#16: Apron, Glove, Towels
Cooking can be dirty work so wearing an apron gives your clothes protection and somewhere to wipe your hands if needed. You also need oven gloves and towels to help you get your work in the kitchen done.
#17: Loaf Pan & Cake Tin
If you want to whip up a delicious low carb carrot loaf or a diabetic friendly birthday cake, you'll need a couple of tins and pans to do so.
#18: Casserole Dish
Another great easy "set and forget" meal option are casseroles. Throw everything into a casserole dish and 1-2 hours later you have an awesomely scrumptious meal.
#19: Serving Platters, Plates & Bowls
Don't just cook the food, make it shine and serve your family and friends a feast in an appetizing way using serving platters, plates and bowls.
#20: Dinnerware and Cutlery
Of course, if you want to eat your meal, you need dinnerware — plates, bowls, and cutlery — so you can thoroughly enjoy your meal.
Stocking up your kitchen is fun!
It makes things easier when it comes to low carb meal prep so you can enjoy creating some amazing diabetic friendly masterpieces.
Please pin, tweet or share these kitchen essentials with others. Thanks!