I LOVE my Paderno spiral vegetable slicer!!
When I first purchased it from Amazon and it arrived in the package, my partner (Paul) was like, "Oh yeh, looks like another piece of plastic junk" – typical man for you. 🙂
I know what he was thinking though and even though I had my doubts, I had to stick up for it, I just bought it after all. I mean, how many kitchen tools have you bought that now collect dust? I know I've got a few – so I understand his skepticism.
Thankfully the Paderno spiralizer is not one of them. Even Paul has been surprised at how much we've used it, and even more surprised at some of the delicious meals I've created.
Since we don't eat traditional pasta or noodles anymore (and nor should you if you're diabetic), this spiral vegetable slicer gives us the ability to make healthy low carb pasta alternatives out of zucchini, carrot, cucumber, beets – well mainly it's zucchini, but you can use it for other veggies too.
The Paderno Spiralizer in Action
Here's a range of 'action' snapshots to show you how cool this little contraption is.
First here's a couple of shots of what the Paderno spiralizer looks like. Apart from the blades, it's 100% plastic, and a fairly compact unit.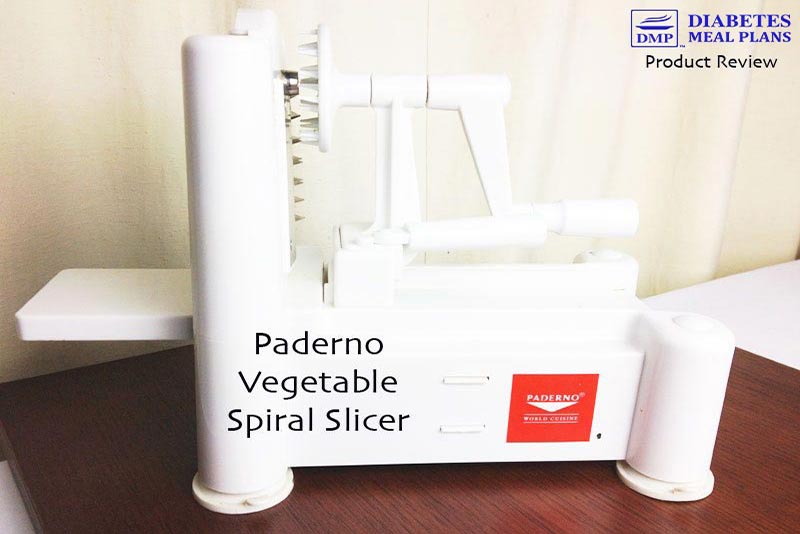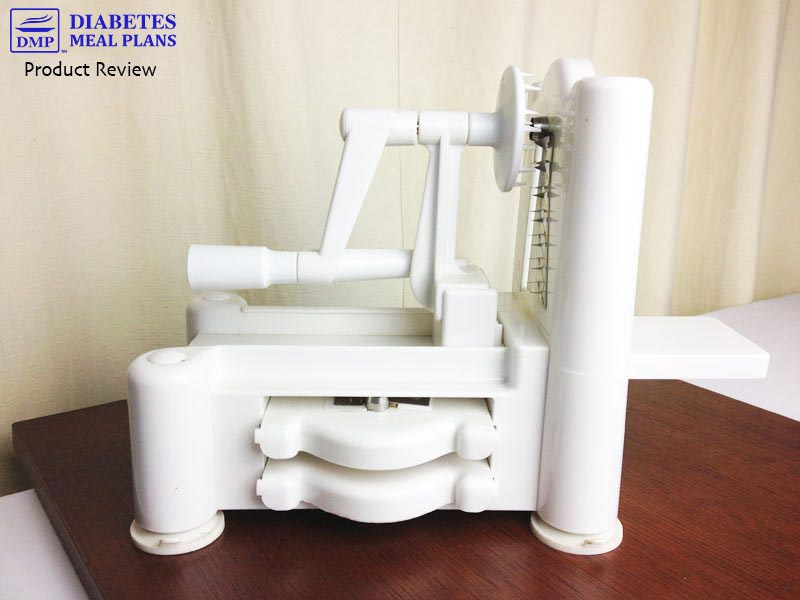 It's got 3 blades that all pack up neatly inside the actual unit. The 3 blades are designed to produce different types of noodles – I'll get to that in just a minute.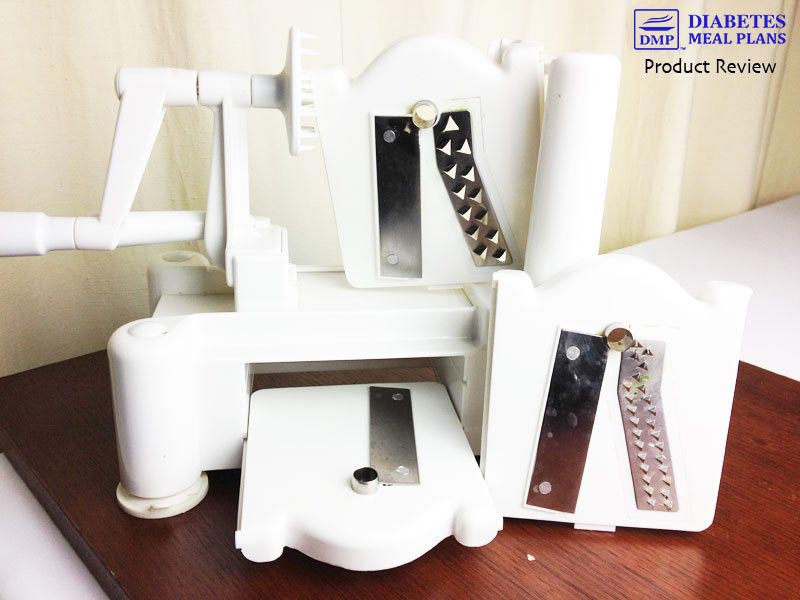 It's got cool suction feet so it doesn't slip all over the place when you use it.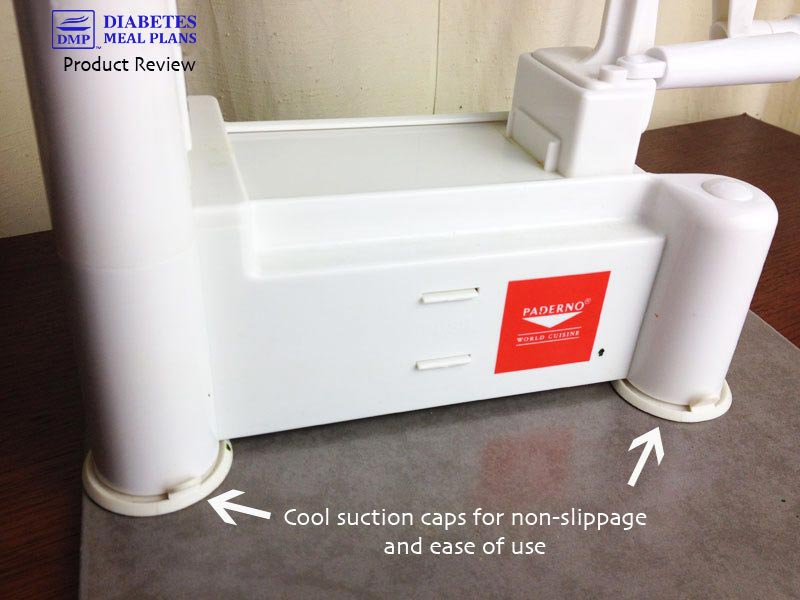 But to get prepared I find you do need a tile, well at least that's what works for me. The suction caps won't stick to the bench so a handy kitchen tile works wonders. The other thing you need is a plate at the end to catch your noodles and you're ready to go.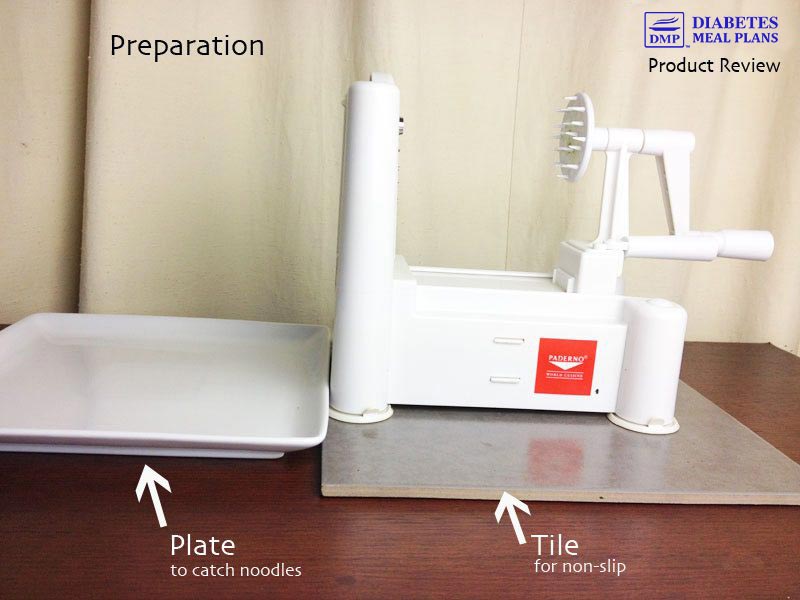 Cut the ends off zucchini and cut them in half. Depending on their size you need about 4-5 to feed 2 people, so an average of 2 per meal.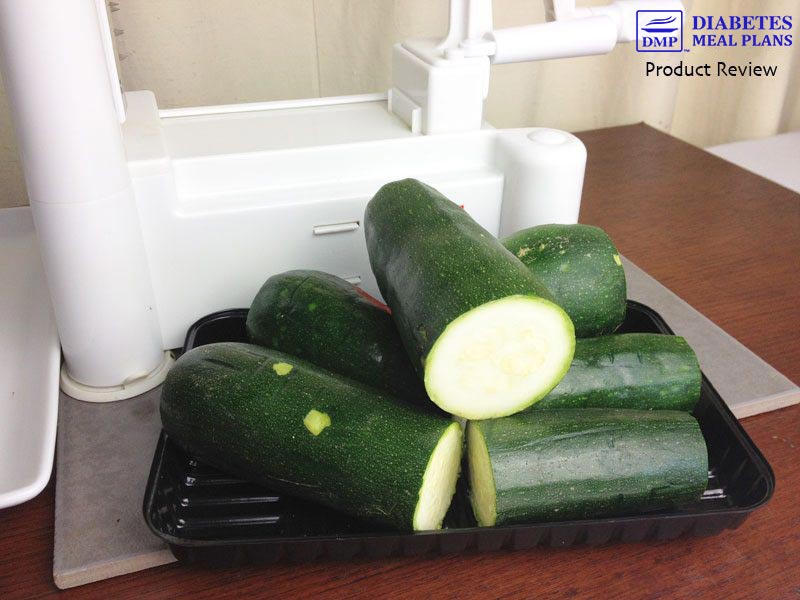 Load up your zucchini or other vegetable. One side has spikes, so you stick the vegetable on there to hold it. The other side has a circular spike mechanism and you need to align the vegetable as close to the middle as you can. Once you have it loaded, it holds itself in place, ready for you to spiral slice it.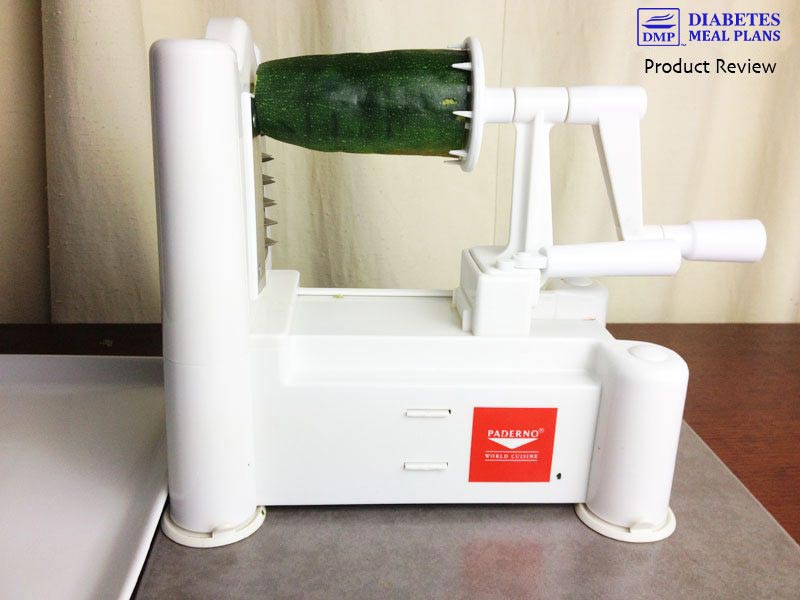 The unit has a useless handle that you're meant to hold, but this is one part of the design that I think is flawed because it does need a bit of extra support. So I tend to place my hand on the top of the blade.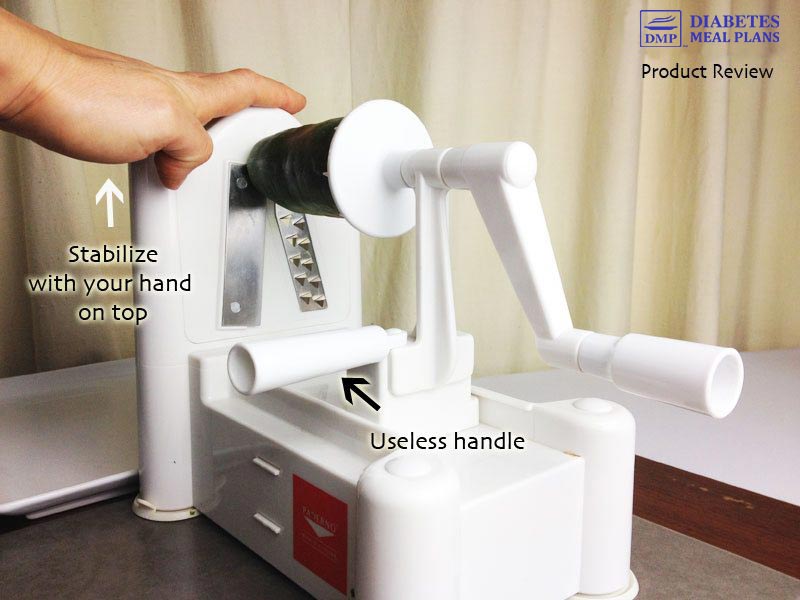 Use the handle at the back to start spinning the vegetable around and out the other side comes your spiralized noodles. Super cool!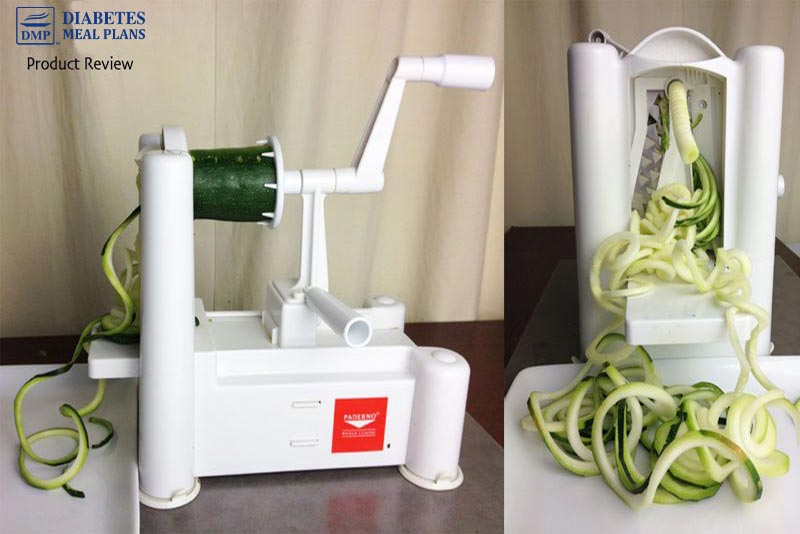 You can create 3 different types of noodles from the Paderno veggie slicer.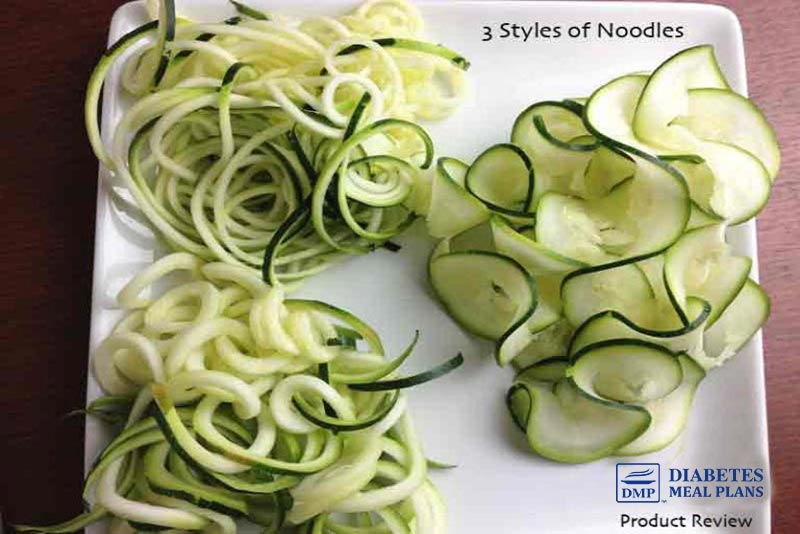 You've got a thin noodle, this is good for anything where you might use a vermicelli. We were using it for the spaghetti but the slightly thicker noodle holds it's texture more, so we prefer that for a bolognese or Italian style pasta.
Then there is a fettuccine, which is great for bakes or any other type of noodle dish, it just gives you options to change things up.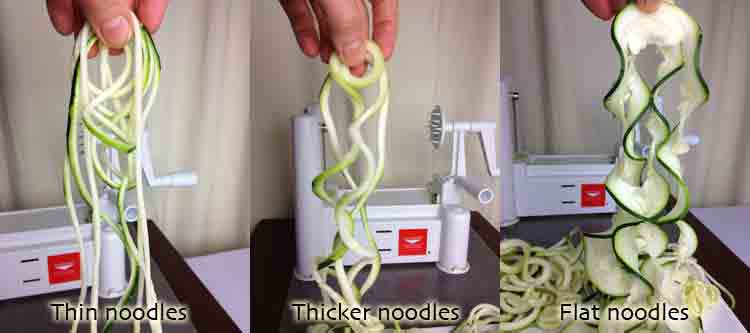 As you can see, it's super easy to use. I had my doubts before I used it too, and was glad I didn't have to put my head down in shame to Paul's comments. 😉
Though this machine is plastic, it's very robust and the blades are sharp so you don't have to apply loads of pressure.
3 Great Things About The Paderno Spiral Vegetable Slicer
The main things I LOVE about the Paderno are: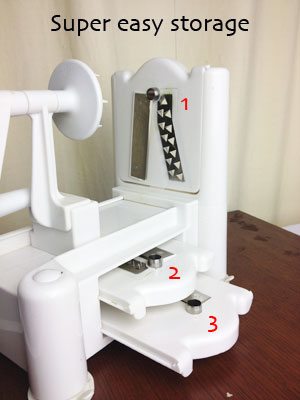 All the 3 blades and other elements are stored on the unit itself, so you're not searching in your drawers or pantry for the pieces. When you want to use it, you just pull it out and all the bits are ready and waiting for you.
This is a HUGE positive. I've got some machines in my kitchen that are just a damn pain to clean. But this literally takes 2 minutes flat.
The best time to clean it is directly after use. Simply pull out the blade and run it under the tap, using a cloth to dislodge any bits stuck in it – they come out very easily. Remove the slide and run that under the tap. Then hold the rest of the machine under the tap to clean it off. That's it, you're done.
I don't even leave mine to dry, I just shake the excess water off and put it back in the cupboard, ready for next time.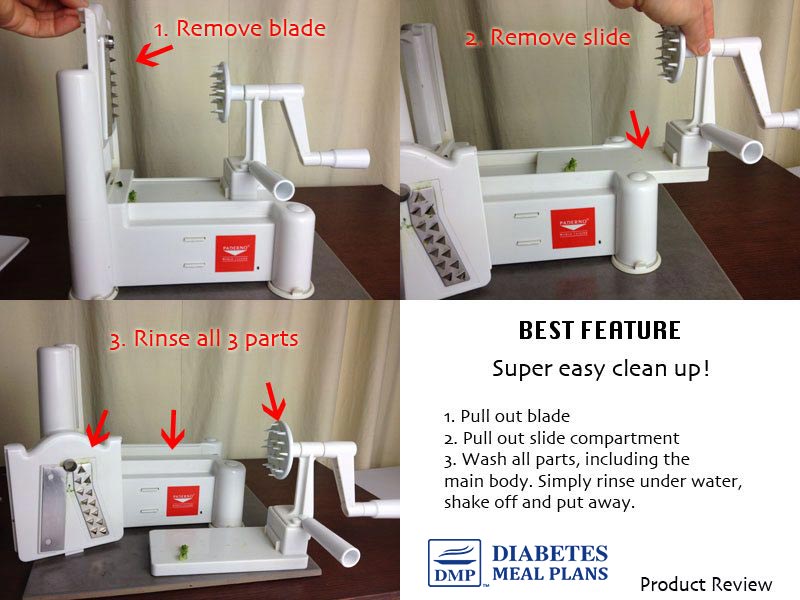 I love that it has suction cups on the feet so that it doesn't slip around all over the place when I'm making the noodles. It doesn't stick to my bench too well, so I've got a large tile on the kitchen bench and it sticks to that just fine.
The tile (which you can pick up for a few bucks at your local hardware store) also doubles as a 'hot plate' – being readily available for any hot items, so it's a handy thing to keep around.
And I love how easy it is to actually make the noodles. It's so easy that even Paul loves to play with it when I ask him to make the noodles – now that's saying something right?!
It's actually quite fun to use.
Any bad points?
You know what?
If there were any bad points I'd tell you, but I really can't say anything bad about it – which is unusual when it comes to things like this, they usually have some kind of flaw.
The only thing I could say if I were to pick it apart is that the handle thing is a bit weird – I pointed that useless handle out above. It has a small handle on the spiralizer element but that just seems awkward to use.
Instead I find I always put my hand on the top of the blade compartment, so maybe a handle to the side of that area might have worked better.
Still, that's definitely not a deal breaker. And other than that I really can't fault it.
Is the Paderno Spiralizer for you?
This item is suited to anyone who wants to:
Have a low carb pasta option – make thin noodles, thicker ones, and fettucine.
Eat healthy unusual salads or stir fries – spiral slice different things to include in your meals.
What can you make?
I use the Paderno at least 3 times a week to make noodles for various dishes. And in our meal plans and menus, we've got quite a few meals that utilize these spiral noodles. I've had mine for about 3 months now and it's operating like new, so no complaints on that front so far either.
Here's some pics of a few dishes we've made with the Paderno spiral vegetable slicer.
Chicken Pesto Noodle Salad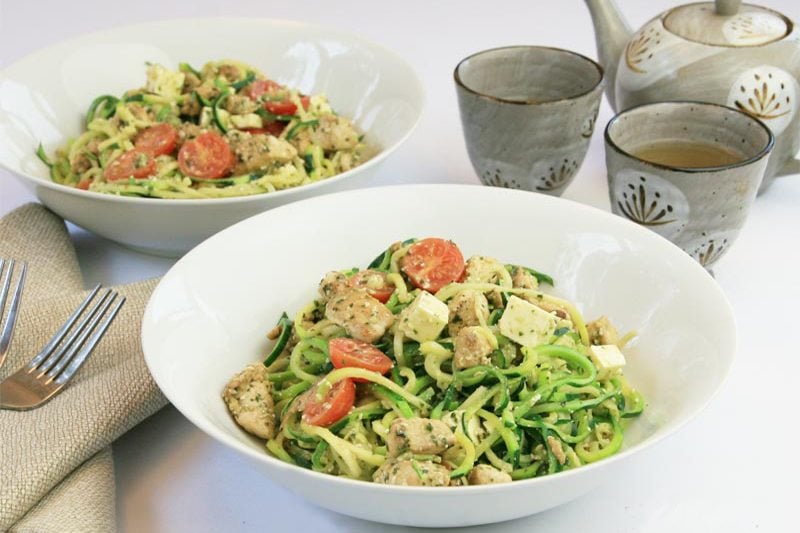 Mushroom Chicken Noodles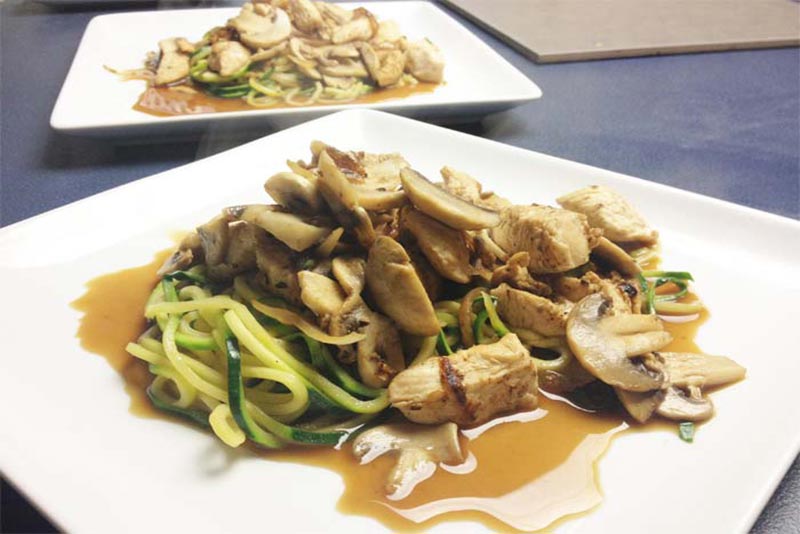 Zucchini Carrot Pesto Salad
As you can see, you can make all sorts of delicious things with these pasta/ noodle replacements.
As for cost, well at just $33.67 USD I'd say it's cheap for something that gets so much use and enjoyment. I know I've paid far more for some of those things that are now collecting dust.
I'd highly recommend you grab your own. I bought mine from Amazon, you can get your Paderno Spiralizer from Amazon too.
There are other models on the market that are very similar, such as the Brieftons spiralizer – it looks like an exact replica of the Paderno, but it's only slightly cheaper at $24.99, so I'd rather go with the more popular Paderno brand.
You'll also find hand held spiralizers ranging from $10-15. Although I don't own one of these, I was just talking to my sister the other day and she said she had one that was useless. So I ordered her a Paderno as a gift!
As you can see on Amazon, the Paderno has had over 6,700 reviews and has a 4.5 star rating, so I'd say I'm not the only one who is more than happy with my purchase.
Jedha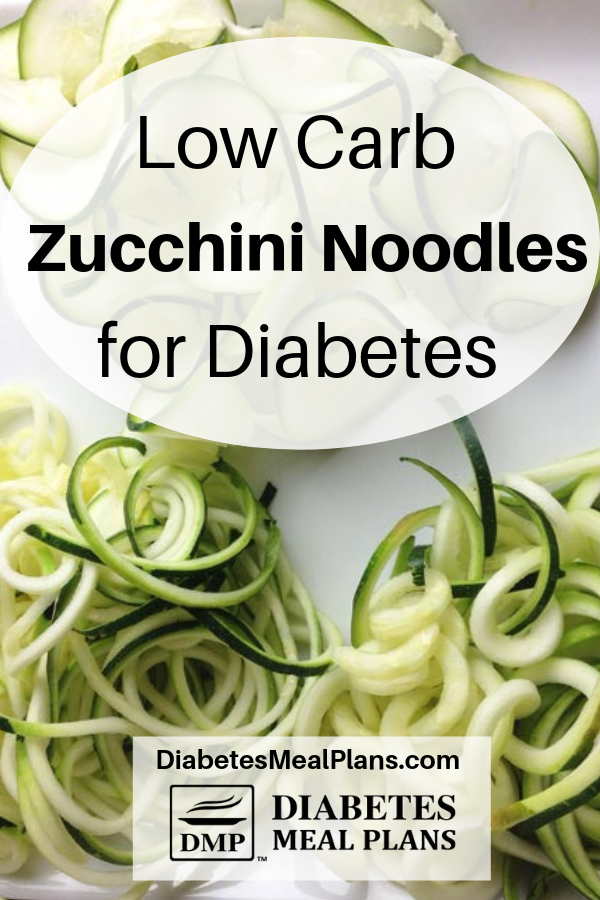 P.S. I'll be sharing a few awesome recipes, like those delicious meal pictures I shared above. So grab your own Paderno spiralizer and let's make some delicious creations. 🙂