We love when our members and subscribers experience great improvements with their health because it's the reason we do what we do. And it proves that what we do here works!
Plus, sharing stories of success helps inspire YOU and other people in our community to get motivated, take action, and reap the benefits of rewards of doing so.
So today we've got the story of an inspiring woman who has completely turned her life around – even after having type 2 diabetes for 20 years!
Meet Sheryl
My name is Sheryl; I am a 66-year old retiree survivor of two heart incidents. Heart problems are common in my mother's family; however, I am the first to be diagnosed with type 2 diabetes.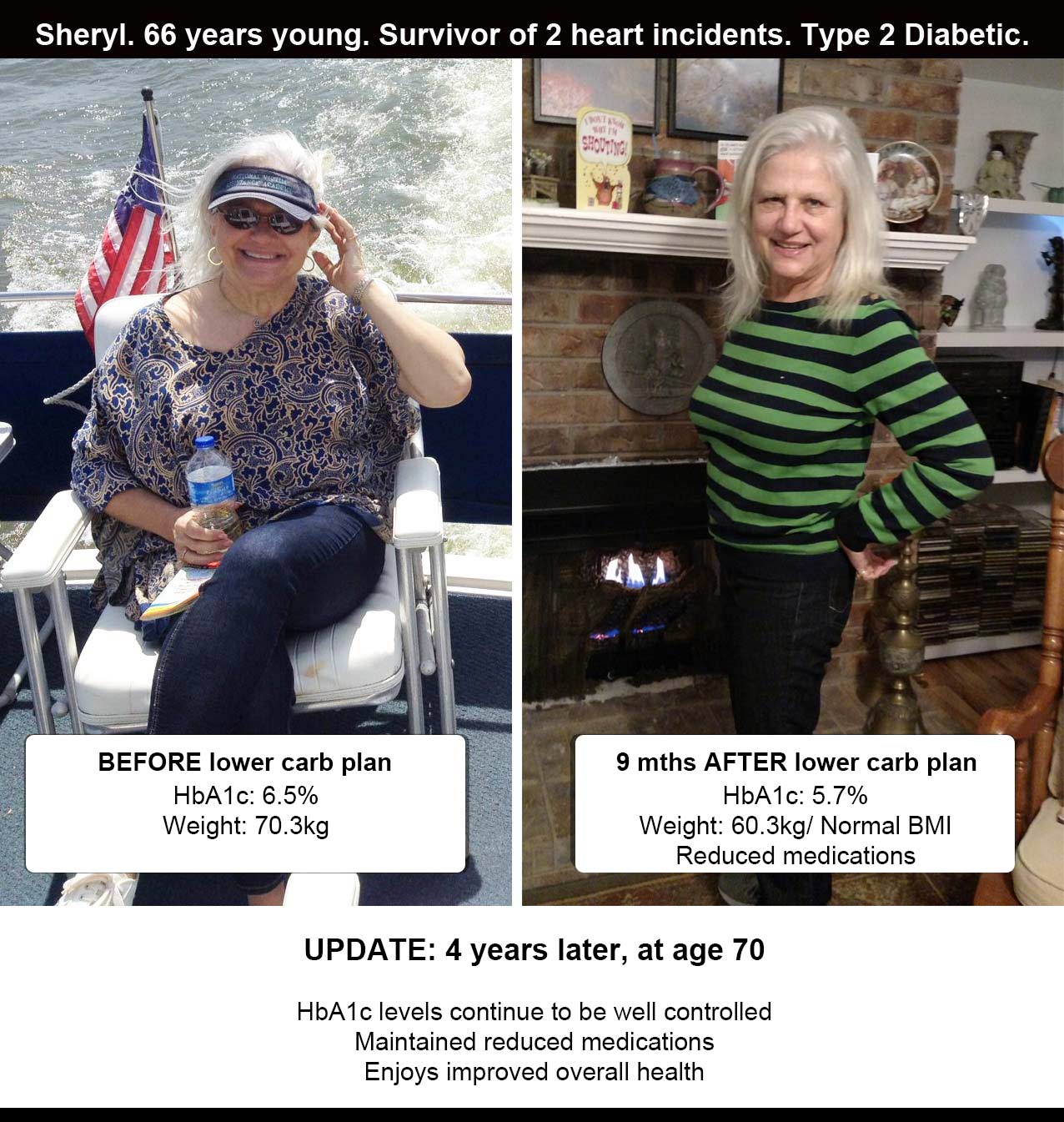 Sheryl started off as a free DMP subscriber , then joined as a member of the 30 Day Turnaround Program and she has now been a VIP member for over one year.
Sheryl says:
"After about 3 months, my doctor's report was best ever: A1c was normal for the first time since I was diagnosed diabetic in 2007; My LDL was 60; my total cholesterol was 130. My lab results were improved across the board. Best news: I am taking less diabetic meds, and my weight is within 5 lbs (2.2kg) of normal BMI."
Sheryl's lab test results
"My fasting lab results are great, and my doctor is very pleased that I found a plan that makes a great difference for me," says Sheryl.
Weight
May 2014-May 2015 = 155 pounds (70.3kg)
November 2015 = 150 pounds (68.0kg)
After joining DMP 30 Day Turnaround Program in March 2016:
May 2016 = 144 pounds (65.3kg)
November 2016 (became VIP member) = 133 pounds (60.3kg)
A1C
May 2014-May 2015 = 6.5%
November 2015 = 6.2%
After joining DMP 30 Day Turnaround Program in March 2016:
May 2016 = 5.8%
November 2016 = 5.7%
Cholesterol
November 2015 = triglycerides (123), LDL (83), HDL (108)
After joining DMP 30 Day Turnaround Program in March 2016:
May 2016 = triglycerides (74), LDL (60), HDL (55)
November 2016 = triglycerides (54), LDL (56), HDL (78)
Sheryl achieved great results in just 3 months and it has only kept getting better and better for her.
Here's more of Sheryl's story…
What was your lifestyle like prior to becoming a member?
For the past 30 years, my preferred form of exercise has been walking. Then, 10 years or so ago, I added limited resistance training. Although there have been extended times I didn't exercise, for the past 2 years, I have consistently gone to a gym three times a week, walking 1-1.5 miles (1.6-2.5 km) on a treadmill, followed by a variety of other resistant training for 30 minutes during each visit.
I have attempted to eat "healthier" food for many years: limiting sugar, including whole wheat flour, brown rice, and never drinking a sugary drink (soda or other). Breads, and cookies were always my weaknesses. Although I rarely ate fatty meats for the past decade; I allowed myself to eat as much turkey, chicken and fish as I desired.
The rise of Sheryl's health problems
At the time of my first heart incident in 2006, I had been walking 2 miles (3.2 km) a day regularly, 5 times a week. After this incident, I limited cholesterol intake to <300 mg a day. At the time, my cardiac diet also meant exchanging 1 egg for 6 oz. of meat, and eliminating any fats from dairy or nuts totally from my diet. In 2008, I had a second heart incident. Before that though, I found out I was diabetic…
I was diagnosed with type 2 diabetes in the spring of 2007, with an A1C of 7.2. I was very concerned that one day because controlling diabetes only through medication could limit future options for cardiac medications. My goal became to control my diabetes as much as possible with oral medication only, by modifying my diet and exercising regularly.
I was given the typical introduction to diabetic nutrition, and limited my daily carbohydrates to 130-140 grams/day. My A1C quickly dropped to 6.5, and although I changed medications over the next few years, my A1C hovered around 6.3 until spring, 2016. I was taking 1 daily janumet XR, 50-1000mg .
During my recuperation from surgery in March 2015, I lost about 10 pounds (4.5kg), weighing in at ~145-150. I liked that my weight was lower; but I also knew from past experience that as I recuperated, my weight would again creep higher. By the end of 2015, my weight began creeping up toward 150; I also discovered that my morning glucose tests changed from about 140-150 to 160-180.
Because of changes in eligible medication due to my new Medicare allowances, I began taking metformin HCL ER, 750mg and glipizide ER, 2.5mg, each twice daily. I was still unable to lower my daily glucose readings to the previous ranges. Once again, I realized that I would have to figure out something more effective in my diet, or face increased medication.
Discovering Diabetes Meal Plans
I "happened" onto the Diabetes Meal Plans site when I was browsing the internet for something that I could try, something that would make sense. When I first decided to sign up as a free subscriber, the "Daily Emails" were most informative and helpful; it was the best information I had read in years. I liked the simplicity in the presentation, and that information was backed up by research.
Once I became a member, I immersed myself into the information from the "30 Day Turnaround Program."
I read, and reread the guidelines that said I could eat eggs, cheese, and nuts; that this wasn't the type cholesterol that would increase my levels. I learned that watching my daily cholesterol levels wasn't the way to lower my cholesterol, that I would do better by lowering carbs and increasing fiber.
Most importantly, I learned that my present diet wasn't working because I was trying to prevent diabetes, not treat the disease I already had!
At first, I wasn't sure I could trust this website when I learned that I would have to limit my daily carb intake to 50-75 carbs each day and would increase my cholesterol intake!
I asked lots of questions, and with fear and trembling, decided in March 2016, to see what the Diabetes Meal Plans could do for me. After taking the 30 Day Turnaround Program, I then joined as a VIP Member. When I returned to the doctor for my next 6-month checkup, my health was already improving: My weight had dropped 6 pounds (2.7kg), and my A1C had dropped to 5.8!
This was an all-time low for me. Best of all, my doctor reduced my daily amounts of metformin and glipizide by half: The same tablets one time daily!
What did you change in your diet?
I changed my eating to treat diabetes and stopped eating anything made from flour, including wheat flour; sugar, grains, and changed to rarely eating legumes either. I eliminated all pastas, breads (including high fiber varieties), granola bars, cereals (especially oatmeal), potatoes and rice.
Instead, I added zucchini, cauliflower, cabbage and spaghetti squash as my new best friends. I also added a variety of other vegetables and leafy greens. I learned to use almond flour, coconut flour, and flax meal.
I discovered a small amount of a low carb dessert kept me from craving foods I missed. I scoured the DMP Members site for recipes and new information on how to treat my disease. The updated information keeps me current in treating my disease. And the Thanksgiving recipes were a wonderful resource that kept me on track all during the Holiday season.

What results have you got from switching your diet?
Note: The lab results are shared above.
In November, I had my second 6-month checkup, and my weight had dropped to 133 pounds (60.3kg); my A1C was 5.7. I have changed from wearing sizes 10-12 to wearing sizes 4-6!
Eating low carb and following the information from this website, I continue to be healthier and stronger than I have been in years!
Cooking still requires more work but no longer presents the challenge it did; I no longer miss categories of food because I can find something comparable in a low carb recipe, which is easily accessible inside the DMP Members site where you can find hundreds of meal ideas and options.
Best of all, I no longer have the intense cravings and I find I don't get nearly as hungry as often as I once did.
How has being a DMP member helped you?
The only recommendation I have for this website is that everyone gets to know it well!
The information provided is very solid, and I have found the plan works for treating this disease!
From reading all the information provided by Diabetes Meal Plans, I have increased understanding about the frustration of all my past food experiences and struggles with diabetes, because of the explanations provided for many topics. My part is to be committed to do what I need to do.
This site has helped me to become an educated, supported consumer who is becoming successful in treating her disease!  
Sheryl's Progress Update 2 years on, as of June 2018
My A1C levels continue to be 6.0 and below. I've maintained 1 year on lower dosages of medication! I am now 2+years with NORMAL BMI… something I once thought was forever out of range for me!
My significant other began serious heart difficulties (not diet related), resulting in open heart surgery to remove growths from his aortic valve. In the weeks and months following, my health had taken second place… I ate many meals on-the-run, and my exercise was poor because of keeping up with a cardiac rehab schedule.
I am very grateful that eating low-carb had become somewhat second nature, although I still gained about 5 pounds and struggled with my daily glucose numbers. Fortunately, he is recovering well and we are back on a regular schedule: I am again exercising three times a week, and I immediately lost the gained 5 pounds (2.2kg).
I can cook regularly again, paying attention to my intake details. My daily glucose numbers are also back in line; I am anticipating a return to an A1C of 5.8 or less! When life threw some serious health curves for my partner, I am glad I was in a place to reasonably maintain my personal health! Now I'm looking forward to trying some of the new recipes that have been accumulating in my inbox!
Of note, I recently had a colonoscopy. Although I hear that there is no research to determine whether low carb is better for colon health, for the first time EVER, I won't have to return for another for 10 years!
As always, I am grateful for your researched information, and innovations to guide toward success!
Sheryl's progress update another 2 years on, as of January 2021
"I continue to do well! Both my partner and I are much healthier than when we began this journey!
At 70 years old, my HbA1C continues to be under control. My cholesterol continues to be controlled. I maintain lower medication. A year ago my B12 levels were checked, and I am on the high side of 'normal'. This was important to me since I have been on meds for chronic health conditions since 2006, and reportedly long-term med use can lower B12 numbers.
There are two important factors for us in our diet:
1) To maintain optimal health and immunity, we strive to eat twice as great a serving of multi-coloured vegetables as anything else on our plate; and,
2) As we continue practicing healthier eating, the foods that were once a temptation no longer bother us.  They just don't exist in our world. With your help, I have been able to find acceptable substitute foods that fit my low carb requirements and totally satisfy my variety of food desires.  We enjoy favourite breads, desserts, and a broad array of vegetables. We don't miss pasta, rice, potatoes, or processed foods i.e. packaged mixes. I've learned to enjoy cooking, and the recipes listed help enormously! Many times I can successfully adapt a recipe to make it low carb without sacrificing taste and/or texture."
___
AMAZING!!!
Thanks so much for sharing your story Sheryl. That's why we do what we do. We share the latest research and the real truth about diabetic nutrition science so people like you and Sheryl can transform your life!
What did you learn most from what she shared? Or what inspired you the most? Please leave your comments below.