We work hard to bring you (our subscribers and members) valuable information that can help transform your life. And when we hear success stories, we want to share them with you so you can feel inspired and transform your life, too.
We recently shared Sheryl's amazing story and today we've got the awesome story of a man who has found his way out of trouble and back into the light.
"I'm down 30 lbs since joining last year and my last A1C was 6.4."
Meet Tony T.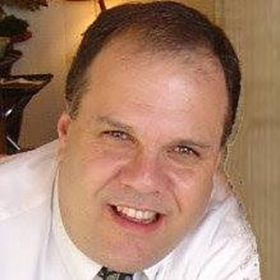 I've got an interesting job, I'm a "presentation specialist," you know, a type of PowerPoint guru. Back in 2004, after a big corporate shake-up, I was let go after 21 years working at the same company.
In many ways it was a good thing. I took the plunge and decided to create my own business.
And although it's great to work at home and my cyber world has grown (I have clients all over the world), the downside was, my physical world got smaller as my office is now just across from my bedroom. It's a very short commute, which I love. But as a result I get less physical activity.
Another downside is, my desk is about 6 feet from the kitchen fridge – kind of a double whammy!
Life trauma resulted in a slow health decline
All my life I trended on the heavy side of weight, but usually stayed within the 20-40 pound amount. After my separation and divorce in the late 90's, I had a clinical depression episode and have been taking antidepressant medication (SSRIs) ever since. I honestly believe they saved my life so I am thankful for them. However, what I'm not thankful for are the main side effects – one being weight gain.
About 3 years after starting antidepressants I zoomed passed my high weight mark of 278 lbs (I'm 6'4" BTW) and about 15 years later I topped out at 379lbs (171.9kg)!
I tried every single type of diet out there – you name it, I did it. It wasn't until I was diagnosed with Type II Diabetes in 2006 that I realized that carbs were my main hurdle. I never really comprehended the effect that carbs were having and continued on with 30-30-40, the DASH diet and any other lower carb-type diet I could find.
It wasn't until I found Diabetes Meal Plans (DMP) and actually learned that I should be eating 100-120 carbs a day or less. I really enjoyed all the DMP content and loved concentrating on the carbs. At the time, I even began measuring my ketchup usage as I used to be a ketchup-aholic.
Once I realized my carbs needed to be lower, I thought… Hmmm, will that be hard?
So I decided to jump on in and give it a go.
Tony learns to cook by becoming a DMP member
I signed up for a food tracking program online and joined DMP as a VIP member. I'm not much of a cook so I haven't tried all the recipes because I am happy with doing the same thing for long periods of time. I love vegetables but hate cooking them so the first recipe I tried was the Veggie Bake. Delicious!!!! I eat this dish at least once a week and love it.
Some other dishes I love include Chicken & Asparagus Egg Muffins, Cheesy Mushroom Egg Muffins, Chicken Asparagus roast, and many others. I haven't delved too much to the breakfast and dessert menus (yet) but I do intend to explore those next.
NOTE: Tony also cooked our 15 minute Beef Goulash recipe and this was the comment he made at the time:
"OMG! I am not a good cook. Joined your site determined to do better. Made this dish and it is fabulous. Best meal I ever made for myself. So easy! Thanks Jedha!"
I knew that in order to control my blood sugar, I was going to have to create my own meals more. And thankfully, that has happened with DMP! It's got me motivated to cook and try new things.
I'll be honest, I can still do a lot more!! But, I feel like the lower carb connection, which was always missing from my diet(s) before, was exactly the thing that would work for me. And it has!
Tony's loses 30 pounds and lowers A1C
My blood sugars were never totally horrendous but they were high and my A1C was around 7.5. But, the key factor in all this was I wasn't doing any work myself. Instead, I was letting the medication I was taking do the heavy lifting – Metformin and Glipizide.
What woke me up one day was getting an internal infection, which sent my sugars skyrocketing to the 200 and 300's (11.1 to 16.7). I signed up for a six-week session with a nutritionist and diabetes group and took my DMP recipes with me.
Set firmly on track I have stayed committed to eating better. And after looking after myself I have been able to get my A1C back down to 6.5, and have sustained this for a number of months now.
My morning numbers have gone from the 160's to the 120's (8.9 to 6.7). And I have also managed to lose 30 pounds (13.6kg), getting down to 349 lbs from my 379 lb max weight!
A few major things have changed in my lifestyle as well. I am more active. I take fewer naps in the afternoon. Overall I am walking a lot more. And with the help of DMP, I am thrilled to have found how to eat my way back to health.
A personal confession
One thing I've noticed since getting diagnosed is the feeling of aloneness. There seems to be help groups out there for many types of conditions but not so much for diabetes.
And I have one confession to make. After Jedha asked if I wanted to share my story, it took me sometime to write this piece because I fell "off the wagon" AFTER the holidays. Yes, after, not during, which is crazy.
I was great all through the holiday season and I guess I felt I made it through, so I let my guard down for a couple of months. I am a bit annoyed at myself because my A1C was doing so well and has probably risen slightly since my last check. But hey, I guess it happens to us all at some point.
What I noticed though was all the old patterns weeding their way back in – slowly but surely I was feeling worn down again, taking more naps, and disengaging from my body signals.
Well, I'm happy to say I got back on the wagon – back on track and feeling much better, again. Now that I know what to do, I'm checking my blood sugar regularly and sticking to my healthy eating goals.
What would be your best advice to people wanting to make changes in their lives?
Get DMP. Love the blog posts and recipes.
If you're wondering, is Equal good for you? How about corn? Its all there – so much valuable information.
DMP is a lifesaver for us carb sensitive diabetics!
Thanks for sharing my story.
Peace and love.
Tony T.
AWESOME STUFF TONY!!!
Thanks so much for sharing your story with us today. That's why we do what we do, to make a difference in your life.
We share the latest research and the real truth about diabetic nutritional science. We help slash high-carb meals and make easier, delicious lower carb substitutes you can still thoroughly enjoy. And we do it all so people like you and Tony can get better results and transform your life!
What did you learn most from what Tony shared? Or what inspired you the most? Please leave your comments below.