Sometimes, you do have to wonder just who picked vegetable names!
Winter squash, while delicious and readily available during the winter, is actually harvested in the fall, so its name is a misnomer.
Labels aside, this vegetable comes in many different varieties, including butternut squash, acorn squash, kabocha squash, carnival squash, Japanese pumpkin, sweet dumpling squash, blue hubbard squash, delicata squash, red curi squash, buttercup squash, sugar pumpkin, and spaghetti squash — and some people just call them all pumpkin.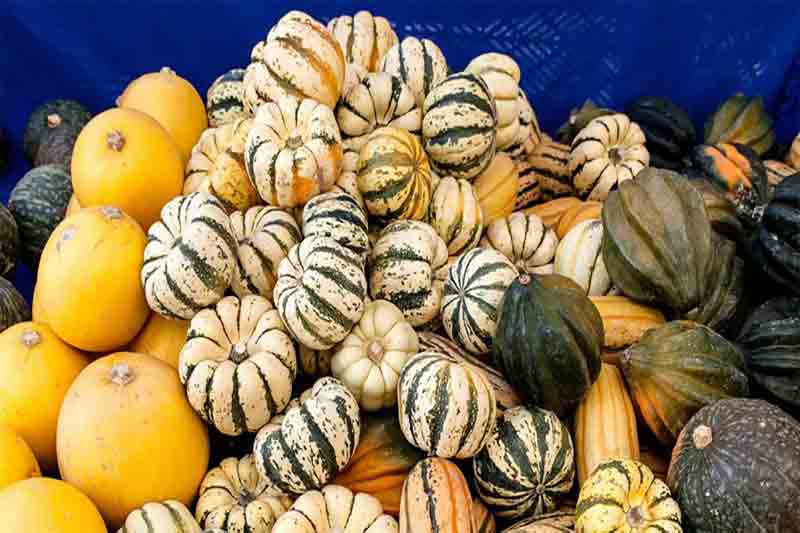 Winter squash is higher in carbohydrates than a lot of its non-starchy vegetable cousins. For this reason, we recommend only consuming it in moderation.
However, this bright orange veggie is also packed with a ton of nutrients that can have a seriously positive influence on your health. Let's explore them below.
Winter Squash Nutrition Facts
Winter squash is moderately high in carbohydrates, ranging from around 10 grams up to 19 grams total carbs per cup of cut cubes.
It's pretty high in fiber – 1 cup containing 2 to 3 grams.
It's a fantastic source of vitamins A, C, B6, and K, manganese, copper, and folate.
Winter squash has a moderate glycemic index of 51.
Health Benefits of Winter Squash
Vitamin C: This antioxidant plays an essential role in immune system support, fighting free radical damage, and may help lower blood sugar and lipids in diabetics.
Manganese: Helps produce enzymes that are important for energy and antioxidant production.
Vitamin A: This antioxidant promotes skin and eye health and supports the immune system.
Vitamin K: Can improve bone health and prevent fractures. Vitamin K helps your body absorb calcium, and may even reduce insulin resistance in older adults.
Fiber: Promotes satiety and good gut health; helps regulate blood sugar.
Carotenoids: Carotenoids, a type of phytochemical, give winter squash their yellow and orange coloring, providing the potent antioxidants that helps support great health and ward off cardiovascular disease.
Research on Winter Squash
Although winter squash is inarguably higher in carbohydrates than we'd like it to be in the context of a low carb diabetic diet, it also contains particular polysaccharides, which have actually been found to reduce blood glucose, improve overall glucose tolerance, and increase serum insulin levels in diabetic animals.
Winter squash extract, extracted from the crookneck pumpkin (Cucurbita moschata), has shown some exciting anti-obesity effects. It works by affecting the expression of genes that control lipid metabolism – the result of which was lower risk of fatty liver, along with cholesterol and triglyceride reduction.
Winter squash is also rich in antioxidants. Antioxidants protect against the dangerous oxidative stress that often accompanies chronically high blood sugar. If you can drive down oxidation, you can ward off diabetic complications and maintain a higher level of health overall.
Finally, squash's peel may actually have huge beneficial effects for diabetics! Squash peel extract was found to help regulate glucose, insulin, cholesterol and other metabolic functions, in diabetic animals.
Winter Squash Comparisons
Let's see how some different types of more commonly eaten winter squash stack up nutritionally, both against each other and against some other vegetables!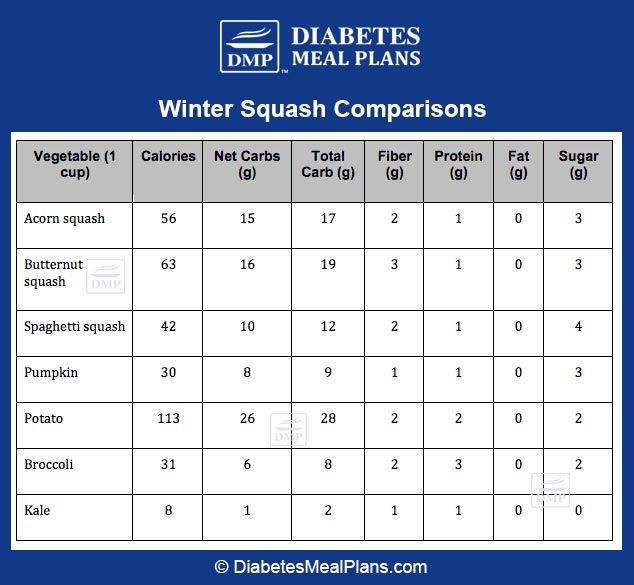 As you can see, winter squash varieties are much lower in carbohydrates than potatoes (the ultimate starchy vegetable), which is obviously why potatoes are not recommended – they'll only send your blood sugar soaring!
But winter squash are also much higher in carbs than veggies like broccoli and kale. Just something to keep in mind when monitoring your daily carb intake.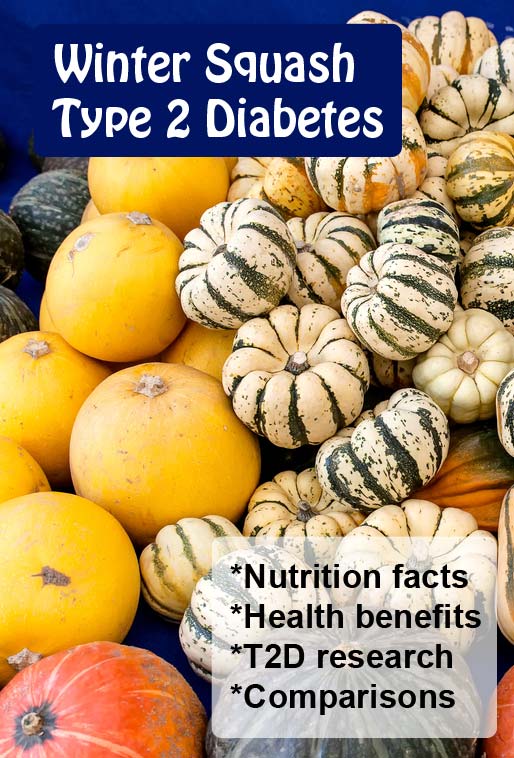 Winter Squash in the Kitchen
Selection
Look for heavy squash with a firm, intact stem. Each type of winter squash has a different color and appearance, but in general, try to select squash with vibrant color and matte (not shiny) skin. Avoid cracks and soft spots in the skin.
Storage
Winter squash has a really long shelf life!
However, it's helpful to 'cure' your squash to help it keep longer. This can be done simply by keeping the squash at a warm temperature (about 80°F/26°C) for 10 to 14 days.
Once cured, squash storage time depends on variety. Acorn squash keeps for the shortest time (about 4 weeks), and butternut can keep for up to 6 months.
Store your squash in a dark, cool area to preserve them most effectively. And, store on the side or upside down so that moisture doesn't collect around the stem area and spoil the squash.
Uses
Winter squash has so many incredible uses. Spaghetti squash, for example, can be used as a low carb substitute for spaghetti. It has strands that wrap around the squash horizontally, and when cooked right, the pulp can be used as spaghetti.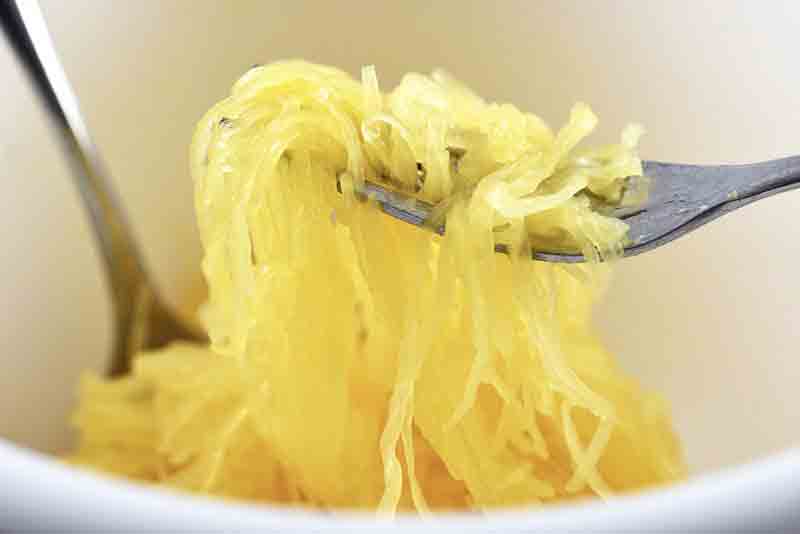 You can also use a vegetable spiralizer to make squash noodles and use them in soups.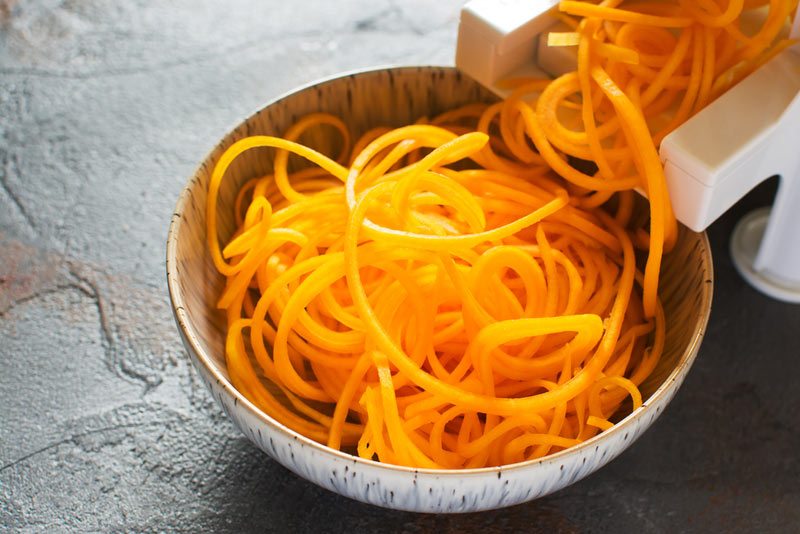 And some pan or oven roasted cubes make a delicious addition to salads.
Cooking Techniques
Squash can be baked, sautéed, fried, and mashed. The possibilities are pretty much endless.
One really easy cooking technique for squash is some good old-fashioned roasting. Toss sliced squash in olive oil and roast at 400°F/ 200°C for 25-30 minutes.
Cutting Techniques
The best cutting techniques vary by type of squash. Depending on type, you may or may not want to slice all of the squash's skin off.
But in general, you always want to slice off the stem end and base of your squash, chop the squash in half, and scoop out all of the seeds. From here on out, you can slice, chop, grate, or cube the flesh as you please.
Winter Squash and Diabetes Conclusions
Winter Squash has some fantastic benefits for diabetes. Although it's higher in carbs than a lot of non starchy veggies, its nutrients, antioxidants, and fiber are super good for you!
However, there's no getting around the higher carb content.
Eating too many carbs from squash may lead to higher blood sugar levels and may therefore, counteract the vegetable's positive effects.
Winter squash is best eaten in smaller portions; try to stick to half-cup servings. At around 5 to 9 grams, that's going to keep you in a lower carb range.
And you'll be surprised, a little bit of squash goes a long way for flavor and satisfaction!
Please pin, tweet or share this info to help others. Thanks!