For diabetes, resveratrol may assist with lowering blood sugar levels, decreasing insulin resistance and boosting heart health.
Below we explore the research findings, best types and recommended dosages.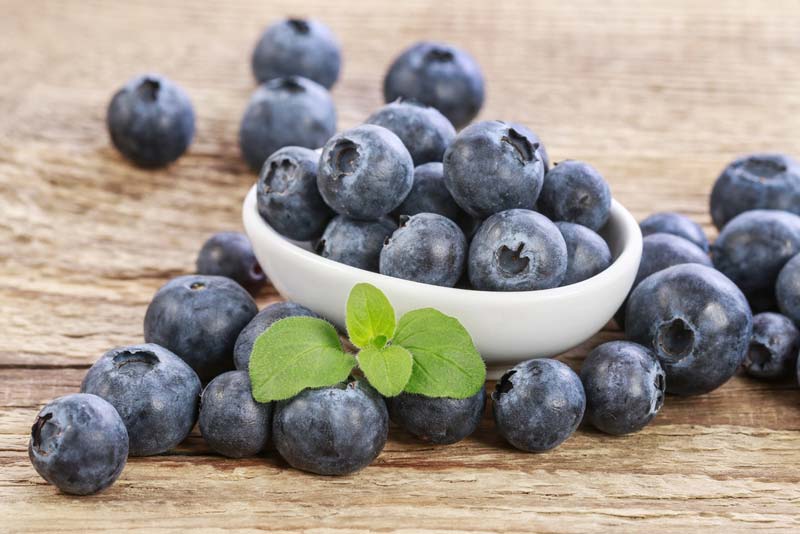 DISCLAIMER: Please note that this information is not an endorsement for resveratrol. We are simply sharing the research surrounding it. You should always discuss supplementation with your doctor.
What is Resveratrol?
Scientifically speaking, resveratrol is considered a phytochemical.
Phytochemicals are plant substances that have positive health benefits to humans.
In a plant, resveratrol helps to fight off fungus and other bacteria. It also helps the plant survive stressors such as draught or lack of nutrition.
In humans, resveratrol has been shown to play a role in diabetes, obesity, and heart disease. And many people may associate resveratrol with the health benefits of red wine, which we'll discuss in more detail below.
How Does Resveratrol Work?
Resveratrol acts as an antioxidant – and we know that antioxidants help reduce inflammation!
Diabetes, and particularly uncontrolled diabetes, places high stress on your body. A high stress environment will always equate to higher levels of inflammation.
On a molecular level, inflammation is caused by a bunch of free radicals floating around in your body. Free radicals are molecules that are very unstable. Speaking on a chemical level, free radicals have one extra electron – that's where antioxidants help out.
Antioxidants, such as resveratrol, help stablize free radicals by either donating an electron or picking up an electron.
Furthermore, resveratrol is thought to work closely with your DNA where it can alter the genes that produce inflammatory molecules, which also helps reduce total body inflammation.
Many of the foods we encourage you to eat are high in various phytochemicals and antioxidants. Hence, eating nutrient-rich foods like vegetables help to reduce inflammation and your diabetes is easier to control.
Research on Resveratrol for Diabetes
Glycemic Control
One 2012 study provided half the participants with 250 mg per day of resveratrol plus their usual diabetes medication, while the other half of participants did not receive any resveratrol. After 3 months of supplementation not only did A1c decrease by 0.33%, there was also a significant decrease in blood pressure and total cholesterol.
Similar results were found in a meta-analysis of 196 participants with type 2 diabetes. Researchers concluded resveratrol is effective at lowering both A1c and blood pressure levels.
An analysis of of over 380 participants noted that resveratrol improved glucose control and insulin sensitivity only in people with diabetes. Participants with normal blood sugars saw no changes after resveratrol supplementation.
INSIGHTS: Resveratrol may reduce blood sugar and A1c levels in people with type 2 diabetes.
Insulin Resistance
A small study demonstrated just 4 weeks of resveratrol supplementation improved insulin sensitivity and post meal blood sugar levels. Researchers suggest this can be achieved through resveratrol doses between 1 to 2 grams per day.
Something I found interesting about this study was that "Post-meal Blood Sugar Peak" decreased from 185 mg/dL (10.3 mmol/l) to 166 mg/dL (9.2 mmol/L); but this was after consuming a meal containing 110 grams of carbohydrates! That's more carbs than we encourage in an entire day. Imagine if participants cut their carb intake by half – the results may have shown an even better outcome.
Supplementing with 150 mg per day of resveratrol was shown to improve insulin sensitivity by 14% in obese men.
Resveratrol has been proposed to increased insulin sensitivity through upregulation of AMPK and GLUT 4 (these are types of proteins related to glucose metabolism). In one study, participants were provided with 3 grams per day of resveratrol for 12 weeks and it was concluded that resveratrol supplementation does indeed regulate energy expenditure and has similar metabolic effects as exercise.
INSIGHTS: Resveratrol may improve insulin sensitivity, decrease peak after-meal glucose and support proteins that regulate glucose metabolism.
Please pin, tweet or share this info: then keep reading.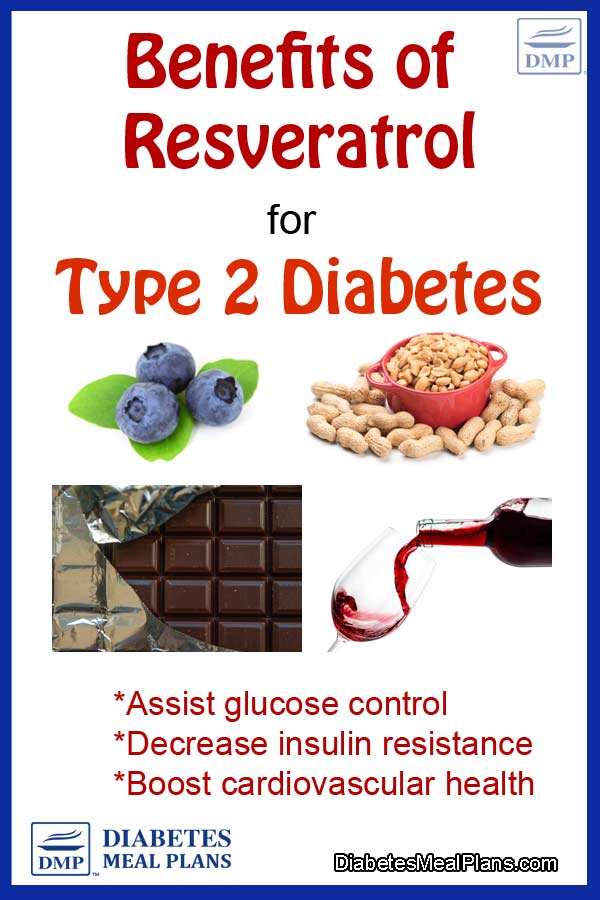 Cardiovascular Health
Resveratrol is also known for its role in promoting cardiovascular health. In fact, a 2016 meta analysis concluded that resveratrol supplementation effectively lowers total cholesterol by 0.19 mmol/L and lowers blood pressure by 2.26 mmHg in overweight and obese adults. Higher resveratrol intake (greater than 300 mg/day) was associated with a more significant reduction.
In another study, individuals with a new diagnosis of high cholesterol (but without diabetes) were either given 100 mg day of resveratrol, or a placebo. After 2 months of supplementation, total cholesterol was significantly lower in the resveratrol group compared to the placebo group (201 mg/dL vs 220 mg/dL.)
INSIGHTS: Resveratrol is known to promote heart health, with studies showing improve cholesterol and blood pressure levels.
Additional Health Benefits of Resveratrol
Expanding upon its impact on your cardiovascular system, resveratrol may also slow the progression of microvascular (tiny blood vessels) dysfunction in type 2 diabetes.
A study of 36 dementia-free type 2 diabetes demonstrated that resveratrol increased blood flow to the brain, which may lower one's risk of developing dementia. Resveratrol doses varied between 75 mg and 300 mg, and interestingly the most improvement was observed with the lowest dose of resveratrol.
Additionally, researchers have demonstrated that resveratrol may prevent bone loss. Supplementing with 500 mg day resveratrol was found to prevent bone density loss in people with type 2 diabetes, when compared to a placebo.
There are even researchers who suggestion resveratrol supplementation can positively impact your metabolism. Animal studies show resveratrol supplementation has similar effects as calorie restriction, while another 2014 study suggests it may reduce weight, BMI, and waist circumference in humans.
INSIGHTS: Resveratrol may prevent bone loss, improve memory, and boost metabolism.
Supplementing with Resveratrol
Resveratrol supplements can be purchased in a wide range of doses ranging from 75 mg to 1500 mg.
Resveratrol comes in two forms: trans-resveratrol and cis-resveratrol.
These names refer to the chemical structure of the molecule, and research suggests trans-resveratrol may be a more powerful antioxidant compared to the other form.
Minimal side effects have been observed by those taking resveratrol. However, taking resveratrol with certain medications such as blood thinners or NSAID medications like aspirin may increase your risk of bleeding.
*Always check with your doctor to find out if starting a supplement is a good idea for you.
What About Drinking Red Wine?
Although red wine is known for its many antioxidants it does not contain as much resveratrol as people often assume.
Most types of red wine contain between 0.2 to 2.0 mg of resveratrol per 5 ounces. To put this in perspective, most of the studies we reviewed above utilized doses between 250 mg to 2000 mg.
Likewise, there are other foods proclaimed as resveratrol-rich foods:
These do contain smalls amounts of resveratrol, but nowhere near the amount found in supplements. Consuming resveratrol-rich foods will certainly benefit you. However, the bottom line is that if you're looking to dramatically increase your resveratrol intake, you need to do it from a supplement.
Conclusion
Due to it's powerful antioxidant properties, resveratrol appears to be intricately linked to diabetes, obesity, inflammation, and cardiovascular health.
If you're considering supplementing with resveratrol, speak with your doctor about safety and recommended doses. While preliminary research is promising, there is still much for us to learn about resveratrol and its impact on your health.
It's well known that consuming a diet rich in antioxidants is beneficial to your health, which is one of the many reasons we encourage you to eat endless amounts of vegetables and other nutrient-dense whole foods.
When possibly, pick vegetables that have rich colors because they tend to contain the most antioxidants.
You can also continue to enjoys foods such as peanuts, dark chocolate, blueberries, and if you choose to drink, an occasional glass of red wine will help boost resveratrol intake, too.
Please pin, tweet or share this info to help others – thanks !