Table of Contents

[Hide]

[Show]
Although peanuts have the word "nut" in their name, botanically speaking peanuts are a legume. This is because unlike true nuts or nuts grown on bushes, peanuts grow underground.
Still, for both nutrition and culinary purposes we classify peanuts as nuts.
Previously we have written about nuts such as almonds and walnuts, as both are great foods to include in a healthy diabetic diet.
But the question we seek to answer today is: are peanuts good for diabetes?
Read on to learn the facts.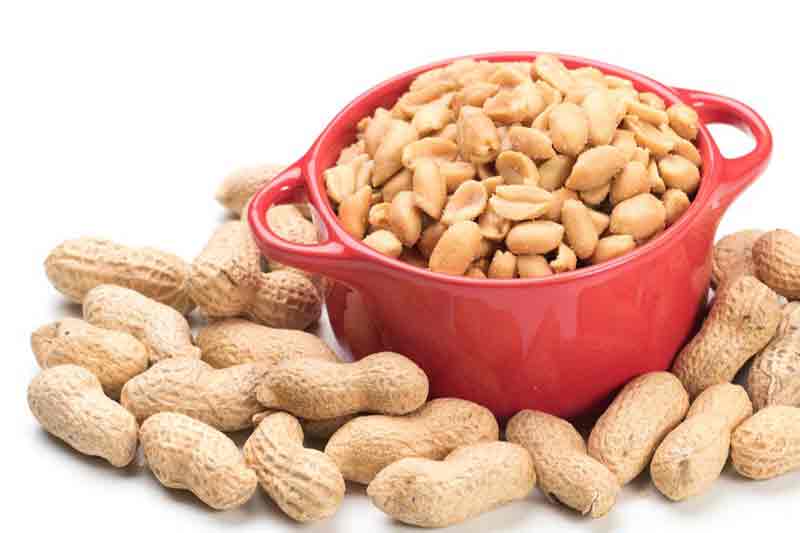 Peanut Nutrition Facts
A serving of peanuts is 1 ounce, or about 28 nuts. Peanuts contain all 3 of our macronutrients: carbohydrate, protein, and fat.
But while they contain all 3 macronutrients, peanuts are low carb, yet contain higher amounts of both protein and fat. In general this equates to a blood sugar friendly food.
Specifically, peanuts are a prominent source of monounsaturated fat. Research is pretty conclusive when it comes to monounsaturated fat – it's great for your diabetes control and your cardiovascular health!
With that being said it is easy to over consume peanuts, and that's where you have to be careful because they aren't exactly a low calorie food. By no means does this mean you need to fear peanuts or avoid them, but more so, just be aware that small amounts can add up.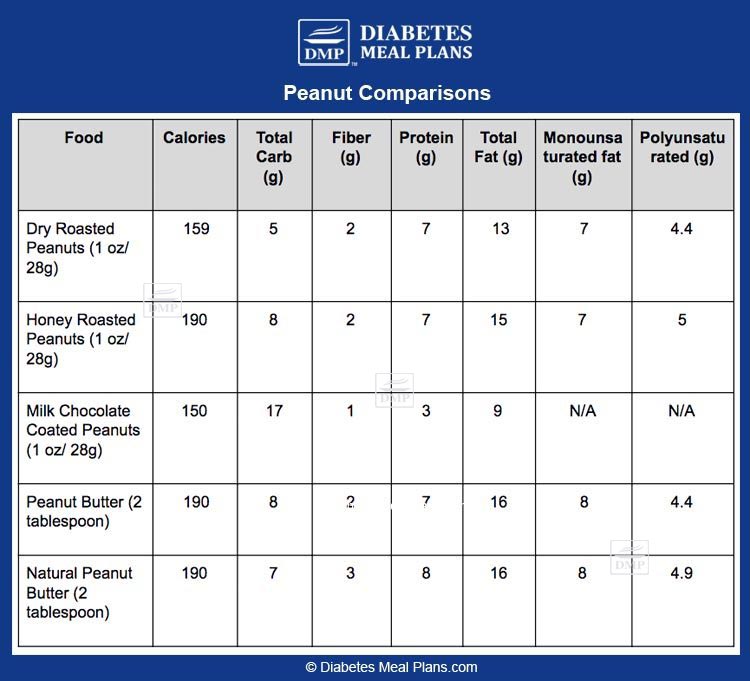 A word of caution: steer clear of anything other than plain (roasted or raw) peanuts. As the name implies, 'honey roasted' peanuts are going to be higher in sugar than the traditional version. And other sugar-coated or chocolate-coated peanuts are obviously going to be higher in carbs, too.
You'll also want to note that you can purchase regular peanut butter and natural peanut butter. There is a slight difference in the carbs and nutrition because regular peanut butter contains sugar, salt and preservatives, while natural peanut butter is usually 100% peanuts.
Peanuts are also a good source of many vitamins and minerals including:
27% Daily Value (DV) Manganese

18% DV Copper

16% DV Magnesium

12% DV Phosphorus
Nut Comparisons
Again, even though peanuts are not true nuts, nutritionally they are quite similar to other nuts. The combination of fiber, protein, and fat, along with minimal carbohydrate, makes nuts a great go-to healthy food.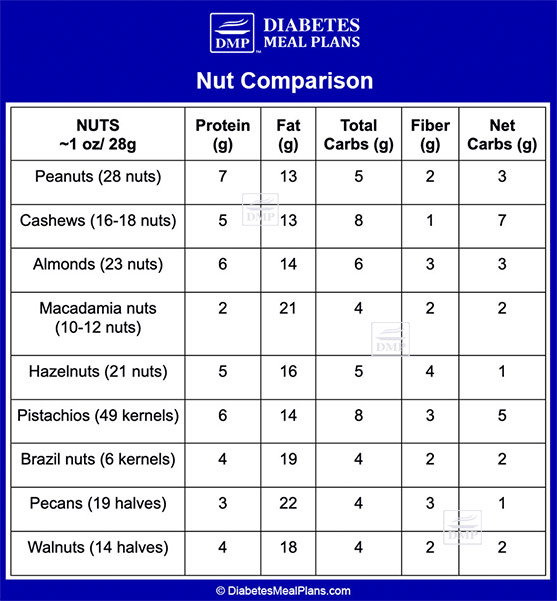 Research on Peanuts and Diabetes
Low carb diets have been shown to be very effective at lowering A1c and controlling blood sugar. Quite simply because carbohydrates are the nutrient that most affect your blood sugar. Therefore, if you're eating a high carb diet, your body is going to have a very hard time maintaining normal blood sugar levels.
Since peanuts are a low carb food, they fit perfectly into the type of diet we encourage here at DMP. And research shows they can help you lower A1c, lose or maintain weight and even lower blood pressure.
A study published by the American Diabetes Association divided participants into 3 groups and instructed them to either consume 75 grams of mixed nuts daily, a healthy, whole-wheat no added sugar muffin daily, or half portions of each. Consuming 2 ounces of nuts daily, in replace of carbohydrates, lowered HbA1c more than the other groups, who saw no change in HbA1c level. People's cholesterol also improved in the nut-consuming group.
Another study in which people with diabetes first followed a high carbohydrate diet then a high monounsaturated fat diet (50% of calories from fat, 30% of calories specifically from monounsaturated fat), found that a high monounsaturated fat intake improves average blood glucose levels and fasting blood glucose levels – peanuts are a good source of monounsaturated fats.
A multicenter study examined the effect of nut consumption, olive oil consumption, and a low fat diet on glycemic control and found that those people in the nut (and also olive oil) group had more favorable blood sugar control compared to the low fat group. Nut intake improved participant's adiponectin ratio – adiponectin is a hormone that signals your body to bring glucose into your cells for energy, therefore lowering your blood glucose levels.
Research has also shown regular peanut intake can favorable impact your weight status by promoting weight maintenance, and in some cases even resulting in some weight loss when needed.
For instance, a research paper concluded that those people consuming more than 4 servings of nuts per week gained less weight annually compared to those who consumed no nuts. The trend continued even during long-term follow up.
A 5 year study demonstrated nut consumers gained less weight compared to non-nut consumers, and had 5% less risk of becoming overweight.
Frequent nut consumption also reduces risk of developing cardiovascular disease. By consuming more than 5 servings (1 serving = 1 ounce or 28 grams) of nuts per week, this risk of developing cardiovascular disease was cut nearly in half in women with type 2 diabetes.
And the heart-healthy benefits don't stop there…
A 2011 epidemiological study found that nut consumers had a lower risk for developing hypertension (high blood pressure) and low HDL cholesterol – both of which are risk factors for metabolic syndrome, aka prediabetes.
Similarly, other studies have shown that consuming 1 serving of nuts daily can reduce your risk of developing a stroke by 9%; developing cardiovascular disease by 21%; and developing coronary heart disease by 29%.
Please pin, share or tweet; then keep on reading.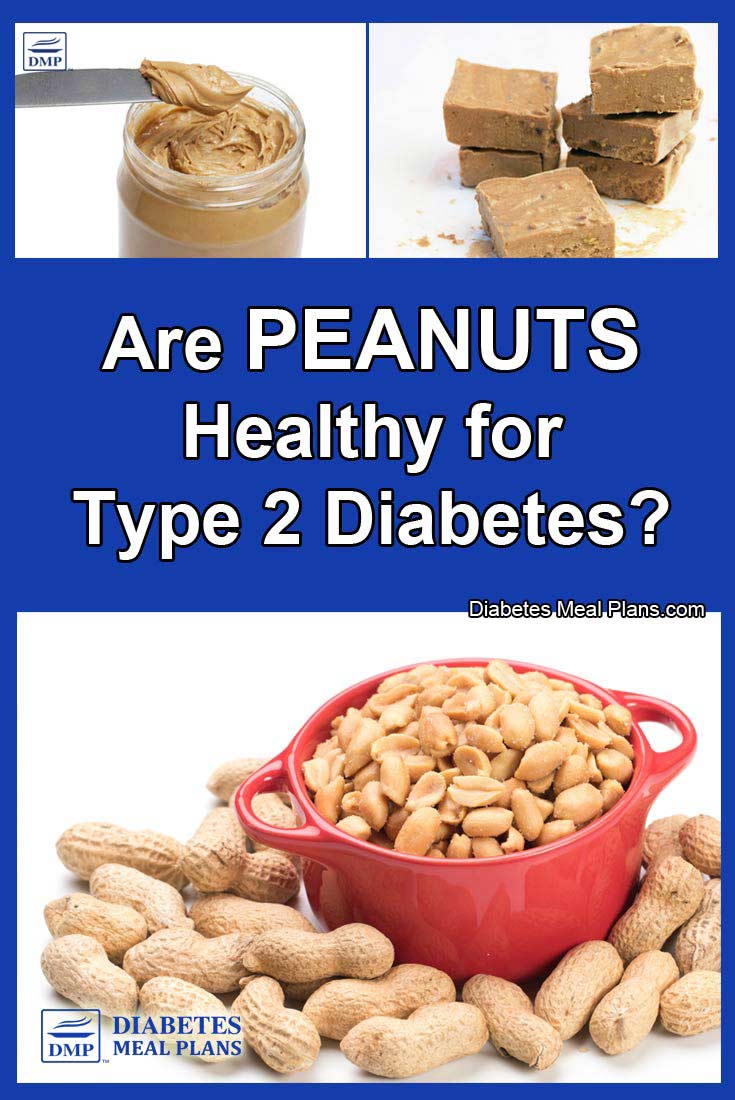 Conclusion
Let's just finish up by saying yes, peanuts are good for diabetes!
Peanuts contain plenty of protein, fiber, and healthy fat – all of which have been shown to positively impact type 2 diabetes and prediabetes.
Nuts make great snacks because you can easily take them on the go. You can try making your own homemade "trail-mix" but combining your favorite nuts and seeds in any ratio.
You can also include them in delicious snacks such as our popular Peanut Butter Protein Balls.
Peanuts go great on salads for some extra crunch, and are also lovely mixed into a yogurt parfait. And who doesn't love a big scoop of peanut butter eaten right off the spoon – yum!
Aim for 1 serving (1 ounce or 28 grams) of nuts daily. In addition to peanuts, walnuts, almonds, pistachios, cashews, and pecans all make excellent choices to add to your menu rotation. Don't forget peanut butter and other nut butters count too.
Enjoy!
P.S. Please share this info with others so they can enjoy their peanuts too – thanks. 🙂