When you Google "baking soda and diabetes" you may find some interesting articles about acidity and its relationship to the pancreas, liver and blood sugar control. 
While baking soda is a useful ingredient to keep in your pantry and is handy for uses from mouthwash, to laundry, to baking bread, there are some myths associated with this unique ingredient when it comes to blood sugar and diabetes.
Before you think of consuming baking soda to aid in blood sugar control, you need to understand the benefits and cautions. 
We cover the truth and the research below.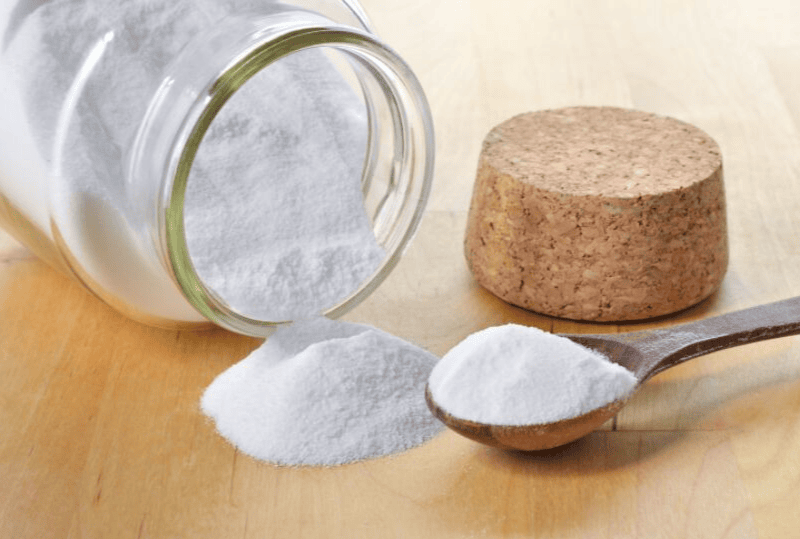 What is Baking Soda?
Baking soda is a chemical compound also called sodium bicarbonate. And yes, just as the name implies, sodium bicarbonate does contain some salt (sodium). One-eighth of a teaspoon contains about 160 mg of sodium.
Baking soda is commonly used as a leavener in baking, making foods rise.
It's also utilized as a deodorizer, a cleanser, and it can even aid in the removal of plaque and reduce bleeding gums, making it a popular toothpaste ingredient. 
Since baking soda is alkaline, it is often used to calm reflux caused by stomach acid splashing up into the esophagus after a meal.
As you can see, baking soda has so many potential uses. But you may be wondering, how is it connected to diabetes? We're almost ready to answer that question.
But first, let's review what alkaline, acid, and pH are.
Alkaline, Acid and pH
pH is the unit of measure of acidity (acid) and alkalinity (base).
pH level ranges from 0-14, with 14 being the most basic and 0 being the most acidic.
Here is where a few everyday items would range on the pH scale:
0 = battery acid
14 = concentrated lye
9 = baking soda
8 = human pancreatic juice
7 = water (pH neutral)
2 = gastric juice
For humans, a normal blood pH is between 7.35-7.45.
Our body regulates this balance naturally with chemical buffers, respiratory regulation, and kidney regulation.
However, acidosis (lowering of pH) can occur in certain conditions.
Common causes of metabolic acidosis are:
chronic kidney disease (CKD)
excessive diarrhea
ketoacidosis secondary to uncontrolled diabetes
alcoholism
starvation
lactic acidosis secondary to conditions such as diabetes
salicylate overdose
Symptoms of metabolic acidosis include:
deep labored breathing
hypotension
irregular heartbeat
lethargy
stupor
Myths about Baking Soda and Diabetes
When you Google "baking soda and diabetes" one of the results claims this:
"Acidic pH decreases the livers performance in getting rid of acid wastes from our bodies; this acidity prevents the pancreas and liver from regulating blood sugar, increasing risk for diabetes, and the acidity will worsen with diabetes. The excess glucose decreases the liver's ability to filter toxins from the body, then these toxins multiply which cause acid levels in the body to further increase."
And the proposed cure is a daily dose of sodium bicarbonate (baking soda), which will supposedly neutralize the acid level.
So is any of this true?
Yes, the liver does detoxify what we consume (food, drink, medications) and waste products and toxins are removed. However, unless your liver is damaged or you have a disease that affects the liver, it will function normally to remove toxins.
In type 2 diabetes, detoxification may be compromised because there is a relationship between uncontrolled diabetes and liver dysfunction. The prevalence of nonalcoholic fatty liver disease is estimated to be >70% in obese adults with type 2 diabetes.
However, fatty liver can be treated and reversed, especially when treated early, with lifestyle and diet modifications and managing blood sugar levels.
So does research support the claim about using baking soda for diabetes treatment?
Research on Baking Soda and Diabetes
There are some studies that show a relationship between metabolic acidosis and insulin resistance, in which the lowered pH of interstitial fluid decreases insulin's ability to function properly.
Based on these studies, you could conclude that a more acidic the body leads to less insulin, which then leads to worsening diabetes, but that fact doesn't directly connect to baking soda in any way.
You may be familiar with the condition known as ketoacidosis in which your body breaks down fat when there is not enough insulin available to use sugar for energy. This breakdown leads to excess ketones in the blood and urine causing the body to be more acidic, which leads to metabolic acidosis. This is a serious condition and ketoacidosis requires hospitalization.
*Note: ketoacidosis is not the same as dietary ketosis.
But, in relation to improving acidity with baking soda, there is no research on the daily consumption and its effect on blood sugar levels or management of type 2 diabetes.
Most of the research utilizing baking soda has been in the hospital setting under extreme conditions, not in a kitchen at home.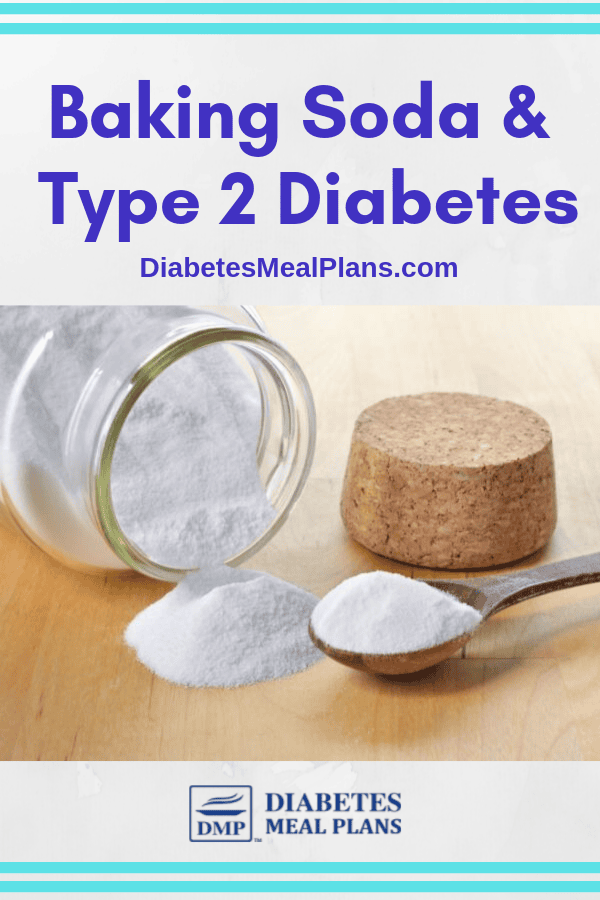 For example, there have been some benefits to supplementing baking soda in the case of chronic kidney disease (CKD) as seen in an older study.
In this study, patients receiving dialysis who had uremia (increased urea in blood) showed increases in insulin sensitivity and insulin secretion after two weeks of receiving oral sodium bicarbonate.
A more recent study (2016) found improvement in insulin resistance after administering sodium bicarbonate to patients with chronic kidney disease, but they noted that overcorrection can also be detrimental. Sodium bicarbonate can actually decease insulin sensitivity if too much is given.
A 2019 study found that baking soda is a beneficial therapy for critically ill patients with severe metabolic acidosis. And even though it is considered controversial in the treatment of diabetic ketoacidosis, it may still be a good early treatment in cases of ketoacidosis to reduce incidence of a fungal infection known as mucormycosis.
Other reviews have found that sodium bicarbonate may reduce damage to kidneys when using contrast agents.
Now, all this research on the affects of baking soda sounds great, but it's very important to realize all of these findings have been within an critical care setting where the patients' blood work and vitals were being closely monitored.
Because your pH levels are naturally controlled by the body, messing with them is not a good idea.
Sure, using baking soda in baking or as a toothpaste won't cause harm, but the misuse of baking soda can cause serious acid/base and electrolyte imbalances requiring medical treatment.
Also, people who take regular diuretics should avoid taking baking soda due to increased salt and risk of decrease in potassium levels.
Conclusion on Baking Soda and Diabetes
The bottom line is: there's no strong evidence to support the daily intake of baking soda to aid in blood sugar control. And in fact, it could do you more harm than good if not carefully supervised by a medical professional.
The relationship between insulin and pH requires further investigation before science can make any therapeutic recommendations.
It is fine to use baking soda in baking or toothpaste or perhaps in small doses for stomach acid issues as advised by your health practitioner, but please talk to your doctor if you plan on incorporating baking soda into your daily routine.
And if you're still interested in optimizing your liver health and blood sugar levels without medication, there are plenty of safe options with research to back up their efficacy. Check out these articles on milk thistle, bitter melon, and other herbs to set you in the right direction.