Insulin
Insulin is a hormone released from the pancreas, one of the body's endocrine organs.
The body is truly fascinating the way it works because there is a neural network in the pancreas and digestive tract that coordinate insulin release. Insulin helps to regulate blood sugar and gets activated predominantly when we eat sugar and carbohydrates. But although sugar and carbs are the biggest influence of this stimulation, fats, proteins, and other hormones can influence insulin release as well.
In our body, glycemic control (aka blood sugar level) is kept within a tight range. This is very important to the function of our body and so is insulin, insufficient or excess insulin secretion is life threatening. We see this in type 1 diabetes where the person must have insulin injections in order to survive. And in type 2 diabetes we see the effects of high blood sugar and insulin resulting in cardiovascular issues, oxidative stress, eye, kidney, and peripheral nerve problems.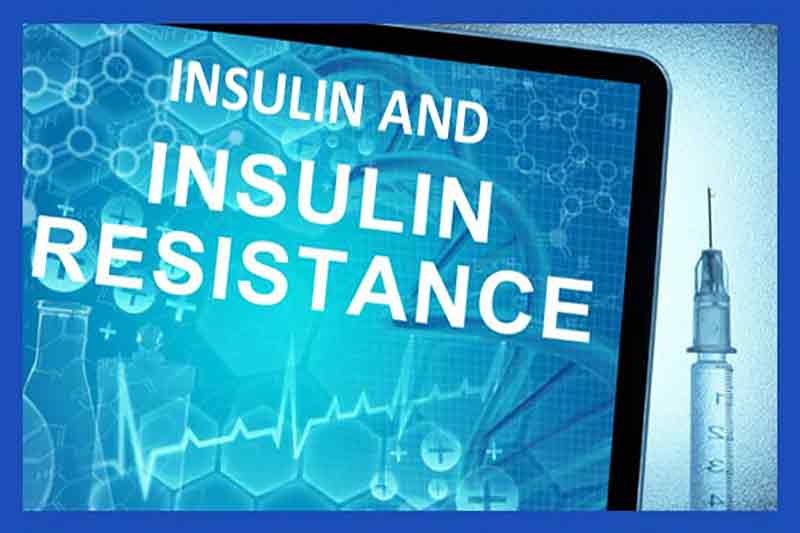 Insulin action is required throughout the body as the central nervous system uses it's signals to control energy metabolism and balance, for reproduction, for brain function, and other functions too. But it's main role is as our energy storage hormone.
Any excess calories, sugar, or carbs increases fat accumulation, which is basically insulin pushing the excess energy into storage for later use. To us that simply means an increasing waist line! Dr Robert Lustig says that around 75-80% of obesity and weight gain is high insulin shunting excess calories, predominantly from sugar and carbs, to fat!
4 Things That Drive Up Insulin
1. Insulin rises in response to a meal, especially one filled with refined sugar and carbohydrates.
2. Because of specific foods you eat…you can develop a fatty liver and develop insulin resistance, then your pancreas has to produce more insulin to force the liver to do it's job plus deal with blood sugar.
3. Increased cortisol – your stress hormone – increases the likelihood of developing insulin resistance, increases blood glucose and increases production of insulin.
4. Three classes of pharmaceutical drugs that drive insulin up – steroids to control inflammation, anti-psychotics to stabilize mood, and oral hypoglycemic medicines for diabetes.
Insulin Resistance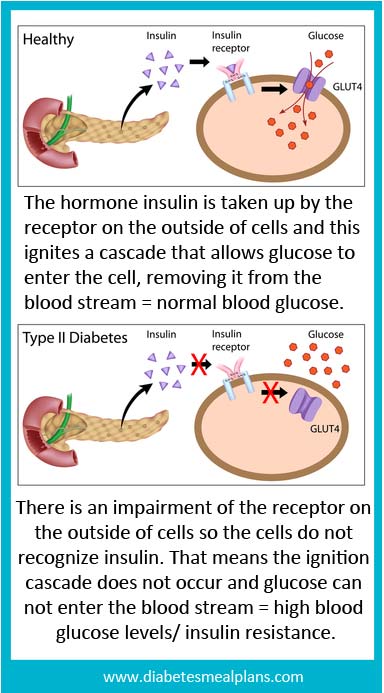 Essentially insulin resistance occurs when the insulin receptor cells do not respond to the action of insulin on those cells. That picture to the left there gives a pretty good explanation of this process.
We develop a resistance to insulin as a result of sugar or insulin overload. Essentially what happens is the hormone insulin becomes less effective at lowering blood sugar because our pancreas can no longer deal with the load of glucose in the blood. On top of that there is an impairment of insulin action in your body's insulin receptor cells (shown in the picture).
These insulin receptor cells are located in our fat tissue, liver, and muscles and under normal conditions they accept the response of insulin, which helps maintain normal blood glucose levels.
But when the receptors are impaired, glucose can't enter cells and this results in glucose staying in your blood stream, meaning high blood glucose. The problem with that is you will also have more insulin in your bloodstream and this increases the insulin resistance.
This whole process is a normal natural thing, it's just that we overload our bodies with too much food, too much sugar, too many carbs, too many processed foods and junk, and on top of that we are more sedentary.
What happens when we eat sugar and carbs
The metabolism of sugar and carbs is something we need to understand to comprehend this natural process and helps to explain why we either get insulin resistance or type 2 diabetes.
When we eat sugar and carbohydrates we use some for energy, then store some as glycogen in the liver and skeletal muscle for use as energy later. With excess sugar, carbs, calorie intake, and lack of activity, the liver and muscles already have full storage of glycogen and it's not getting activated and used as it normally would. You also have a constant high blood glucose, so what happens is these storage cells become resistant to the call of insulin.
Those insulin receptor sites on the surface of these cells decrease in number and efficiency. This means the sugar stays in the bloodstream. The pancreas works extra hard pumping more insulin because it's trying to get the body back in balance.
But this this over activity of insulin (hyperinsulinemia) only makes the insulin receptors more resistant. Insulin resistance prevents glucose from entering the cells but it also prevents amino acids from entering cells and we need those for building the body.
As a result of insulin resistance many things can occur in the body including:
You can lose muscle
Your energy levels may drop
Hunger usually increases
You probably crave more sugar
You have increased inflammation
It speeds up aging
The liver can start to dysfunction
The body can't convert thyroid hormones
You may develop thyroid problems
Metabolism may slow down
The whole body can start deteriorating
So as you can see there are many negative affects from insulin resistance.
Insulin Resistance Can Be Prevented Or Reversed
You can have insulin resistance for 10 years prior to being diagnosed with type 2 diabetes. It is the precursor to type 2 diabetes and that means if you haven't already been diagnosed but you know you have insulin resistance, then you can do something about it!
It's certainly worth the effort because diabetes is not something to take lightly. I mean, the complications can be limb amputations, heart attacks, kidney disease, loss of eye sight, and these are all very severe consequences, wouldn't you agree?!
An important point to mention is that a lot of the damage to the body occurs during this insulin resistant phase because it's the insulin resistance and consequently the high insulin and blood glucose levels that cause havoc in all our cells and drive the development of disease.
Whether you only have insulin resistance or if you have type 2 diabetes there's a lot you can do to improve your insulin sensitivity.
HOW?
You need to regulate your blood sugar and insulin through a healthy diet and regular exercise.
That's right, there's no magic pill that can fix this, just commitment and perserverence to looking after yourself.
When you can regulate your blood sugar and bring down your insulin levels, this puts the process in reverse.
We cover lots of diet and lifestyle topics here at Type 2 Diabetes Talk, so make sure you subscribe to our newsletter for updates. You can do that below and grab a copy of our food list as well 🙂
You may also like to read:
How to test for insulin resistance