Why is it that so many things have been used since ancient times yet we're just beginning to understand the health benefits?
It's called science.
Humans are very rational and we need science to prove if something works, even when it has been around a long time. Today, we're here to take a deeper look at milk thistle and diabetes.
Like many herbs and plant medicines, Silybum marianum, otherwise known as the common name milk thistle, has been used for centuries going back to ancient Greece. It's also popularly used in Ayurvedic medicine. It's an edible plant that grows throughout the world and in the US, mostly in the California area.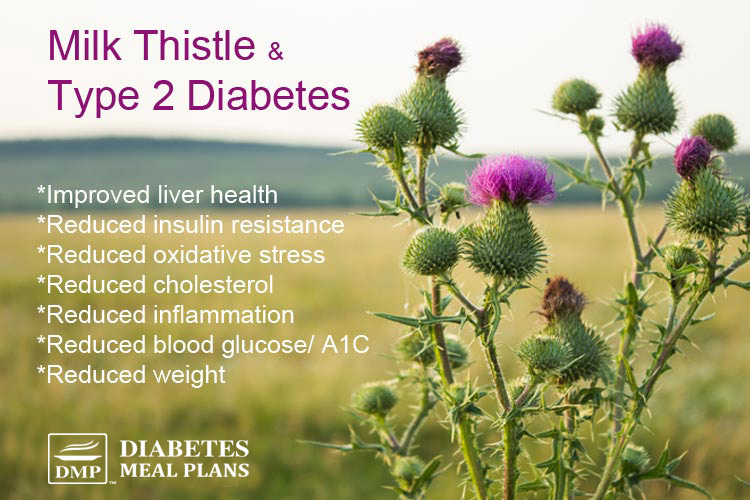 Both the seeds and leaves of the milk thistle plant can be used and come in a variety of forms – tablet, extract, powder, tincture and even milk thistle tea. And, you'll be surprised to learn that when it comes to milk thistle and diabetes, there may be a number of benefits.
DISCLAIMER
Please note that this information is not an endorsement for milk thistle. We are simply sharing the research surrounding it. You should always discuss supplementation with your doctor.
How Milk Thistle Works
Scientists are still trying to understand the mechanisms that produce the beneficial effects from milk thistle. But studies show the active component – Silybum/ Silymarin – may influence how certain genes are expressed in biological pathways that reduce cancerous cells, oxidative stress and protect liver cells, among other things. So much so, that it's been shown to restore liver cells in chronic liver diseases.
Milk thistle and the liver
For centuries, milk thistle has been well-known for it's benefits toward liver health and treating a wide range of liver ailments, including liver cancer, cirrhosis, hepatitis and toxic liver damage. In fact, in terms of plants, milk thistle is the most well studied one in terms of it's benefits for the liver.
That explains why you'll often hear milk thistle and 'liver cleansing' or 'liver function' mentioned together and that's because for a large part, it does help on this level. While you may be thinking, well, what has that got to do with type 2 diabetes?
The answer is, everything.
The liver is involved in many important functions – blood glucose regulation, cholesterol production and regulation, detoxification, filtering, assimilating and storing nutrients, producing major components of the blood – healthy cells for immunity, energy regulation and hormone production.
Milk thistle promotes improved liver function and liver health.
In type 2 diabetes, the pancreas and insulin are often talked about a lot. But the liver is also extremely important and often overlooked. A fatty liver often comes before insulin resistance. And insulin resistance often comes before a type 2 diabetes diagnosis.
Starting to get the picture?
The main point here is that, the liver is HUGELY involved in metabolism and since you have a metabolic disease, helping the liver function better is a good thing.
And that's one way milk thistle can help.
Fatty Liver
In one study in rats, milk thistle has been shown to reduce inflammation and provide a liver protecting effect, which helps reduce insulin resistance.
Another more recent study in rats, showed treatment with milk thistle "ameliorated insulin resistance, dyslipidaemia (high cholesterol) and inflammation" – meaning, it significantly improved all three things.
A study in 85 outpatients with fatty liver has also shown similar benefits.
Milk thistle helps decrease the level of insulin resistance by working on a fatty liver.
Inflammation
Type 2 diabetes is considered an inflammatory condition. So are many other health conditions. How is this so?
There's a lot that goes on inside our bodies that we can't see. Chronic inflammation in our cells occurs due to all types of environmental, physical and emotional stressors. Think of it like this. Inflammation is a natural reaction of the immune system. We get a cut, the body goes into healing mode and the immune system sends in more helper cells to fix the problem. Your wound heals and everything goes back to normal.
With chronic inflammation that is triggered by ongoing internal issues we can't see, the immune system is on hyperdrive and eventually things falter. Inflammation not only drives the development of type 2 diabetes but also drives up risk of diabetic complications, particularly diabetic neuropathy.
In any case, reducing inflammation is always a positive thing. And that's where milk thistle can assist in a big way. It's been shown to reduce a wide range of pro-inflammatory molecules in our cells, and more than this, reduce inflammation in liver tissue in type 2 diabetes.
Milk thistle reduces inflammation by targeting pro-inflammatory molecules.
Antioxidant activities
We've all heard of free radicals and how they are bad for our health. Free radicals are basically unstable cells that are wandering free in the body, determined to do some damage. That's what causes what is known as 'oxidative stress.' Oxidative stress also increases inflammation.
So, to stabilize these cells and decrease oxidative stress, we need antioxidants.
That's what one study in Phytomedicine tested. Forty T2 diabetic patients took 140mg dried extract milk thistle supplement 3 times per day for 45 days. Compared to those taking placebo, milk thistle increased antioxidant status by 8-30% depending on the antioxidant molecules being tested. There was also a 26.83% reduction in c-reactive protein – when doctors are testing your inflammatory status, c-reactive protein is the inflammatory molecule that often gets tested with a standard blood sample.
Milk thistle increases antioxidants in the body to prevent oxidative damage.
Blood Glucose
A recent review compared 4 randomized control trials (the highest level of study) and found that compared to placebo, type 2 diabetics taking milk thistle reduced fasting blood glucose by 26.86 mg/dL (1.49 mmol/l) and A1C levels by an average 1%.
Milk thistle may reduce blood glucose and A1C.
Abdominal Fat
Various studies show milk thistle can assist with weight loss.
There have also been a wide range of studies in rats as well, showing all things from reduced inflammation, improved cholesterol levels, decreased blood glucose and A1C, and weight reduction.
Milk thistle can help shift stubborn weight.
Please pin, share or tweet this info so others can learn about it.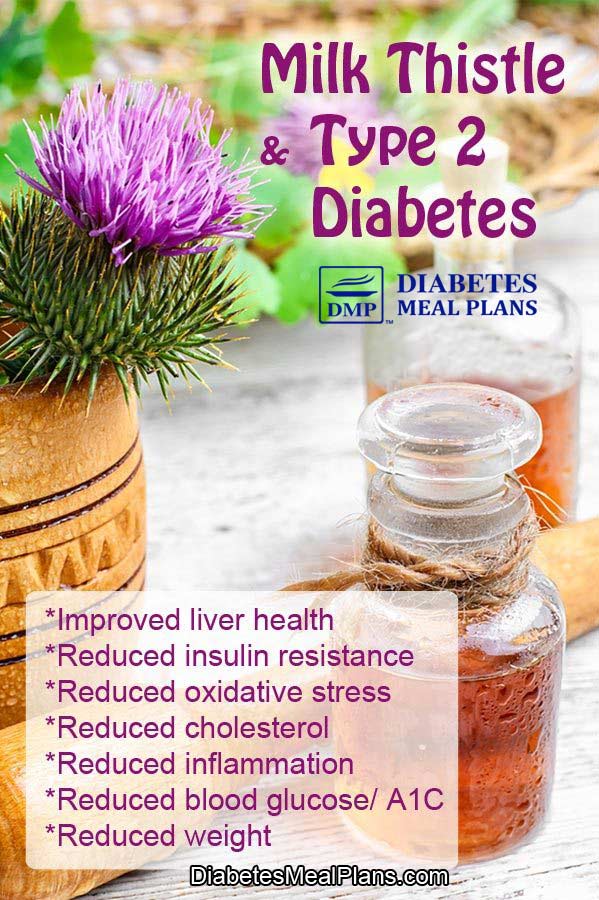 Milk thistle benefits
Overall studies indicate the benefits include:
Improved liver health
Reduced insulin resistance
Reduced oxidative stress
Reduced cholesterol
Reduced inflammation
Reduced blood glucose and A1C
Reduced weight
In terms of milk thistle and diabetes, it appears there are some great benefits for it. Of course, we always need more studies to determine this conclusively, but so far the evidence does look promising.
Milk thistle side effects
Though rare, some people can experience digestive upset or headache. Other than that, it is considered safe.
It is always recommended to check with your doctor before supplementing, especially if you are taking medications.
Where to buy milk thistle?
You can purchase milk thistle supplements from most health food stores or online via Amazon.
Milk thistle dosage
Studies have shown dosage ranges between one dose of 200mg to 600mg per day, while others show three doses a day of 140mg to 200mg.
Like most supplements, it's always best to check the package label as manufacturers will provide the recommended dosage for their product strength and ingredients. And of course, as suggested earlier, check with your doctor before taking any supplements.
Please pin, tweet or share this info. Thanks 🙂