What comes to mind when you hear the world "hemp"?
Do you think of the cannabis plant or CBD oil? What is the difference between cannabis, CBD oil, and hemp anyway?
Can hemp products get you "high" and are there any health benefits associated hemp oil?
There are so many questions surrounding hemp products and we've got some answers for you. Read on to learn about hemp and how it impacts diabetes…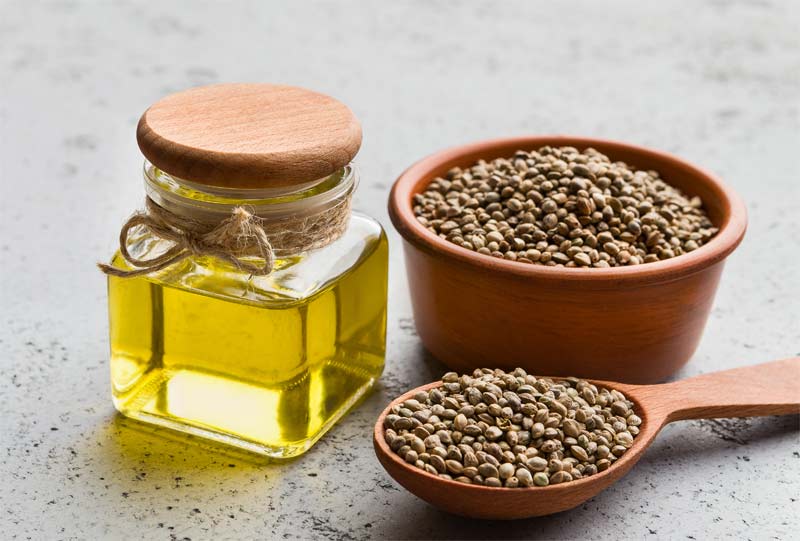 What is Hemp Oil? 
Hemp oil is made by cold-pressing the seeds of the cannabis plant (Cannabis sativa L.). The oil is dark green in color and has a mild, nutty flavor. 
You can take hemp oil orally or apply it to your skin topically. It is used extensively in many skin care products as it is a powerful moisturizer and skin softener that doesn't clog pores or contribute to oily skin.
Nutrition Facts 
Hemp oil is a great source of omega-3 and omega-6 fatty acids. One of those omega-6s is GLA, or gamma linolenic acid, which is anti-inflammatory.
Their anti-inflammatory nature is one reason why hemp-based food products, like hemp oil, hemp seeds, and hemp milk are gaining popularity. 
GLA is essential for maintaining brain function, skeletal health, reproductive health, and a healthy metabolism. It's also essential for stimulating skin and hair growth so you may find that your hair shines a bit more and your skin starts to glow after using hemp products.
One tablespoon of cold-pressed hemp oil contains these nutrients: 
121 calories 

13 grams fat

1 gram carbohydrates 

0 grams fiber 

0 grams sugar 

0 grams protein 

8000 mg Omega-6 fatty acids 

2000 mg Omega-3 fatty acids 

420 mg Gamma Linolenic acid (GLA)
Hemp oil is an excellent source of vitamin E. One to two tablespoons of hemp oil meets the daily requirement of vitamin E for healthy adults (about 15mg/day).
Additionally hemp oil contains phytosterols, which are known to have beneficial effects on cholesterol; chlorophyll, which has anti-ageing and anti-cancer benefits; carotenoids, which are necessary for healthy eyesight and cognitive function; and lecithin, which is vital for cell-membrane composition and brain function.
Hemp oil also contains all nine essential amino acids that our bodies cannot produce on their own. Our bodies use amino acids to make proteins and perform other essential functions such as breaking down food as well as growing and repairing body tissue. 
Hemp oil contains very little carbohydrates and no protein or fiber. Like other oils, hemp oil only provides a source of fat. 
Ingesting one to two tablespoons of hemp oil daily can help to increase your intake of essential fatty acids and antioxidants. Hemp oil can be added to smoothies and many recipes, as it has a pleasant, nutty flavor that is quite palatable.  
Helpful tip: hemp oil should not be heated above 300F/150C, so instead of using it for cooking, it can be added to salads, dips, spreads and, veggie dishes as a flavor enhancer. 
Hemp oil can be purchased at most grocery stores and you can get hemp oil online. If you don't enjoy the taste of hemp oil you buy hemp oil in soft gel form to still obtain the benefits! 
Hemp Oil vs. Cannabidiol
(
CBD)
Hemp oil and cannabidiol (CBD) oil are often confused with one another. Although they are both obtained from the cannabis plant, hemp oil and CBD oil are very different. 
Cannabis (often referred to as marijuana) and hemp are two varieties of the same plant species, cannabis sativa. The varieties differ in the amount of tetrahydrocannabinol (THC) that they contain. THC is the psychoactive compound responsible for the "high" that cannabis provides.
CBD is a chemical compound found in the cannabis plant (both marijuana and hemp). However, hemp generally contains very little THC and has no psychoactive effects. As a result, hemp seed oil contains trace to no amounts of THC. Hemp seed oil won't get you high so it is legal in most places is a common ingredient in food and skincare products.
While hemp seed oil is produced by simply pressing the seeds of the hemp plant, CBD oil is created by extracting and isolating the CBD compound. CBD is usually blended with different ingredients to create a CBD product. Hemp oil and olive oil is most often used as a base to create a CBD oil.
There is confusion about the compounds in hemp oil for good reason. Some products labeled as "hemp oil" do actually include cannabinoids like CBD. These products with CBD also act on receptors of the endocannabinoid system (ECS). 
The ECS has been connected to physiological processes that range from pain perception and blood pressure regulation, to blood sugar balance, sleep quality, and digestion.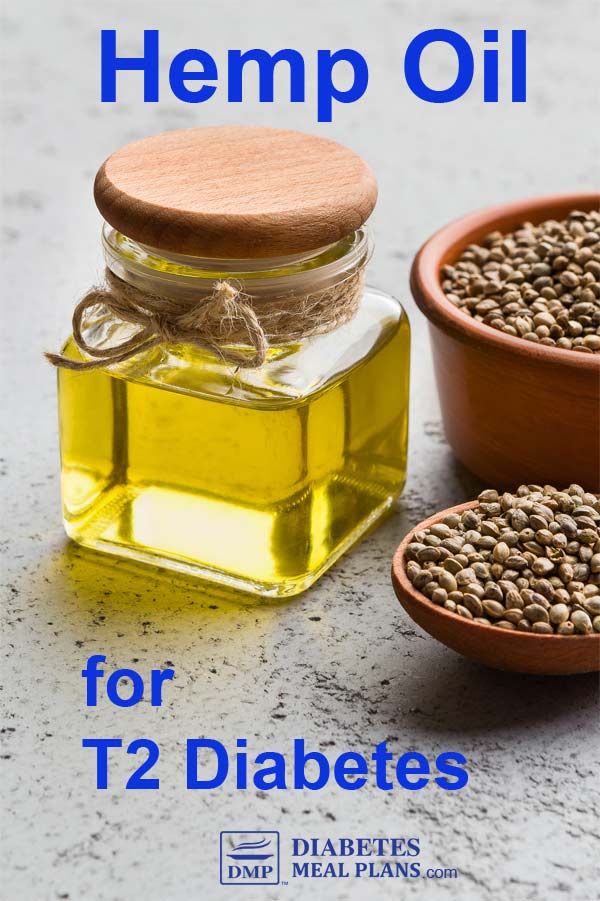 Research on Hemp and Diabetes
As mentioned above, hemp seed oil is a good source of omega-3 fatty acids and the omega-6 fatty acid called gamma linolenic acid. 
Research finds that the consumption of these fatty acids may reduce inflammation. Most chronic diseases, such as diabetes, have an inflammatory component so consumption of foods that contain anti-inflammatory compounds such as hemp oil may reduce your risk of diabetes. 
Additionally, research shows that consumption of these fats in place of carbohydrates and some saturated fats may improve risk factors for diabetes. 
There is also research that the GLA found in hemp oil can help treat diabetic nephropathy, a type of kidney disease that can affect individuals with diabetes. 
While the kind of hemp oil you buy to drizzle on salads only contains trace amounts of CBD, some hemp oil products do contain a substantial amount of CBD. 
CBD can impact the endocannabinoid system (ECS) and has been shown to be involved in the development of type 2 diabetes.  
When we consume excess food and have excess weight this can contribute to an overactive ECS. An overactive ECS further contributes to fat accumulation and obesity by reducing energy expenditure and by enhancing both food intake and the formation of fat. 
Also, oxidative stress and inflammation can impact the ECS and indirectly contribute to insulin resistance and relative insulin deficiency and lead to the development of type 2 diabetes.
Conclusion
Overall, hemp oil is a great addition to your diet that provides healthy fats, antioxidants and anti- inflammatory compounds. It has a mild nutty flavor and can be used in smoothies, salad, dips, and sauces. Remember, don't heat up hemp oil past 300F/150C ! 
You cannot get "high" from hemp oil and the hemp oil you buy at the grocery store is different from CBD oil. 
CBD oil can impact receptors of the endocannabinoid system. The ECS is involved in the inflammatory pathways that can ultimately result in the development of type 2 diabetes and development of diabetic complications. However, some products labeled "hemp oil" may contain CBD oil. 
Both hemp oil and CBD oil can positively impact blood glucose, however, these benefits are from different mechanisms. Hemp oil and CBD oil should not be terms that are used interchangeably.