JUMP TO: What is metabolism | The role of metabolism | How metabolism becomes altered | Metabolic syndrome explained | Risk factors & diagnosis | How to promote healthy metabolism | Conclusion
If you've heard diabetes and metabolism mentioned a lot, that's because type 2 diabetes is a state of altered metabolism.

And the term metabolic syndrome is frequently used because it represents a cluster of symptoms that often occurs when metabolism is altered.
Read on to find out what metabolism really means, what metabolic syndrome is, how it affects you as a diabetic, and what you can do to reverse your metabolism and transform your health.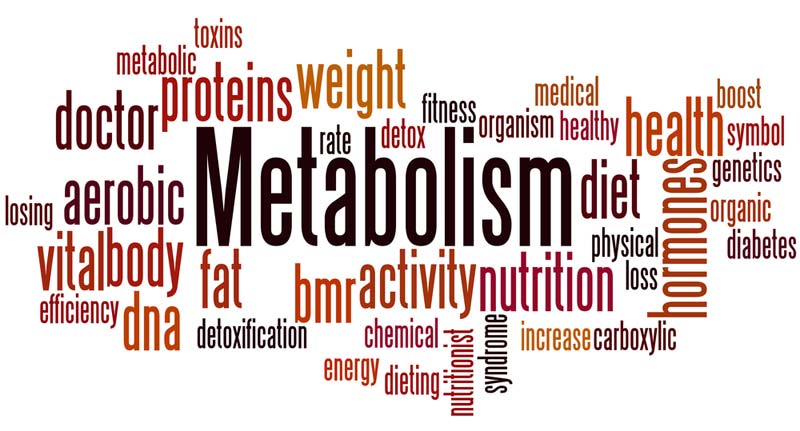 What is Metabolism?
We've all heard of metabolism, but what is it exactly?
Most of us think it as a person's ability to lose weight. For example: "She has a high metabolism" or "My metabolism is slow."
While metabolism does include the body's ability to burn calories, it encompasses so much more than that.
Metabolism is the sum of chemical reactions that occur in humans, animals and plants. The chemical reactions that allow us to sustain life.
The Role of Our Metabolism
Metabolism does three things:
Converts food to energy.
Converts food to individual components needed to build protein, lipids, and certain carbs.
Eliminates waste – for humans this is through urine, feces, and sweat.
Or in other words, metabolism is:
Digestion
Assimilation/utilization
Elimination
Within our bodies, metabolism can be somewhat simplified to be understood as digestion and utilization of nutrient components in our cells, so they can carry out reactions necessary for life's functions.
Metabolism first involves breaking down (food into energy) and secondly building up (creating proteins for hormones or organs, forming antibodies, fat storage etc).
These are things we take for granted, but it is very important to ensure we are eating healthy balanced foods because without them we will not have the proper energy to function nor be able to build the components our bodies (and organs) need to function and thrive.
How Does Metabolism Become Altered?
Normal metabolism healthfully balances the two basic functions of the body:
Breaking down (also known as "catabolism")
Building up (also known as "anabolism")
There are hundreds, if not thousands of intermediate steps that occur to ensure these processes are all working properly.
If the right fuel (healthy food) is not put into the system (nutrients fed to your body), these processes can be interrupted and the chain of events that's meant to naturally occur can begin to break down. That's an altered metabolism. And alongside altered metabolism comes problems with your health.
Altered metabolism can occur from three predominant things – too little, too much, or poor quality foods.
Too little food alters metabolism
Too little food and the body feels starved and over time this will slow metabolism processes to preserve body tissues.
If starvation continues, catabolism (break down) of tissues such as fat as well as muscle and organ tissue will occur.
Stress hormones will also rise to alert the body of a need for food.
Too much food alters metabolism
Too much food results in excess fat storage (anabolism). Interestingly, fat is a metabolically active organ and actually produces hormones.
One of these hormones is called "leptin." Leptin's job is to create a feeling of satiety (fullness), or lack of hunger.
The problem is that if you are overweight or obese, your leptin hormone becomes old news. The body actually becomes resistant to it, overriding hunger and satiety signals. Essentially this means you eat more food and never feel satisfied.
Additionally, excess fat decreases the body's sensitivity to the insulin it produces, making it more and more insulin resistant. This is one of the reasons why weight loss often improves blood sugar control.
In addition, excess fat stored around the mid-section ("apple shape") is more likely to produce inflammatory molecules in the body, which can increase your health risk for a variety of diseases, including diabetes.
This belly fat is called visceral fat because it surrounds key organs. In terms of your health, visceral fat is much more dangerous than subcutaneous fat (fat just below the skin), which is stored all around the body such as in the hips and thighs ("pear shape").
Eating poor quality food alters metabolism
In addition to having the right fuel in terms of calories, it's important to ensure we are eating foods with plenty of micronutrients, namely vitamins and minerals.
Vitamins and minerals serve as carriers and transporters for the many metabolic functions in the body to work correctly.
Think of vitamins and minerals as little taxi drivers that carry nutrients to the places they are needed, and keys that open up cells and organ tissues to deliver resources.
Of course water plays a huge role in this process as well, as this is the fluid medium by which all of the metabolic processes take place.
The point is though, modern western diets lack micronutrients and vitamin and mineral deficiencies are becoming increasingly common. Regardless of what deficiency it is, if it's there, it will alter metabolism and affect how the body functions – and the result is not likely to be a good one.
What is Metabolic Syndrome?
You've probably heard of metabolic syndrome. Your doctor may have even said that you have it. If you're still confused about what it is, you're going to learn right now.
Metabolic syndrome is a group of symptoms/conditions including:
Elevated blood pressure
Elevated cholesterol and triglyceride levels (and low HDL or "good cholesterol")
Increased abdominal obesity, in which the underlying cause is a distortion in metabolic function (see above–the body does not utilize or store energy properly).
These conditions tend to go hand-in-hand because of the similar root issue of improper/altered metabolism and increased risk of heart disease, stroke and diabetes, or a worsening of these conditions.
Unfortunately, there are often no, or very few symptoms associated with metabolic syndrome. Instead, the cluster of conditions is usually revealed with laboratory tests and other assessment measures that your physician carries out.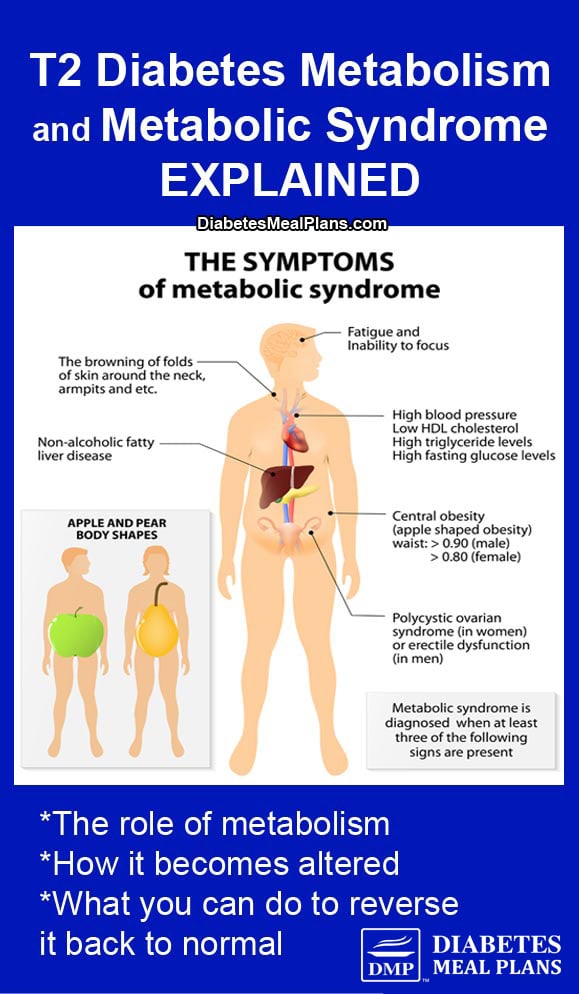 Risk Factors for Metabolic Syndrome
Lifestyle factors that increase risk for metabolic syndrome include:
Lack of physical activity
Smoking
Obesity
Additional factors include:
Age
Certain ethnicity (Mexican Americans carry the highest risk)
Genetic disposition
Conditions associated with metabolic syndrome are:
Fatty liver
Polycystic ovarian syndrome
Gallstones
Sleep apnea
However, with these associated conditions, it is unknown which is the cause and which may be the effect.
Women are also at greater risk than men as well as those on medications, which cause weight gain, increased blood pressure, or increased blood sugar.
Diagnosis of Metabolic Syndrome
Specific diagnostic criteria for metabolic syndrome includes (at least 3 of the 5 factors below):
Large waist circumference (>35" or 89 cm in women or >40" or 102 cm in men)
High triglycerides (>150 mg/dL or 1.7 mmol/L)
Low HDL (<40 mg/dL or 1.04 mmol/L in men or <50 mg/dL or 1.3 mmol/L in women)
Increased blood pressure (>130/85)
Elevated fasting glucose (>100 mg/dL or 5.6 mmol/L)
How Can I Promote A Healthy Metabolism?
Increase Physical Activity
Aim for a minimum of 30 minutes of exercise each day.
If you are already getting this amount, look for places to bump it up like taking the stairs, parking a bit farther away, adding some strength training to your cardio, or tacking an additional 5 minutes onto your routine.
For more info on benefits of exercise and diabetes, head on over here.
Lose Weight if Overweight
It's uncertain whether obesity causes metabolic syndrome or vice versa, but they seem to go hand in hand.
Weight gain is a major predictor of chronic diseases and weight loss can help reverse many of them.
Improve Your Diet
Healthy diet is key and really the primary focus of this site. And in fact, if you really make an effort with your diet, you can reverse your metabolism and bring it back to, or near to, normal.
Be sure you are choosing a healthy balance of high quality whole foods and minimizing heavily processed, high sugar, high carb, and fast food choices.
Check out our top 10 diet tips here. And if you need more support to get results, join us as a VIP Member.
"My morning numbers have gone from the 160's to the 120's, I have managed to lose 30 pounds and I've been able to get my A1C down to 6.5. With the help of DMP, I am thrilled to have found how to eat my way back to health." ~Tony T.
Stop Smoking
If you smoke it's probably the leading risk factor for both morbidity (disease) and mortality (death).
If you do smoke there are all sorts of resources for helping you to quit such as patches, hotlines and therapies.
Manage Stress
High stress causes release of hormones that increase blood pressure and blood sugar and often leads to poor diet and exhaustion, which as a consequence leaves insufficient time for physical activity – a vicious negative cycle that is no fun to be in.
Check out this info if stress is something you feel you need to learn more about and work on.
Conclusion
Your metabolism is not just the thing that slows down weight loss, it is actually considered the sum of all the functions that occur in your body that encompass—digestion, assimilation/utilization and elimination—and everything in between.
Essentially our metabolism keeps us alive. It is functioning on autopilot each and every moment of the day.
Our metabolism can be altered, both negatively and positively. For instance, type 2 diabetes is a condition where metabolism has been altered.
But on the flip side, lifestyle changes that you make can re-alter metabolism, moving it in a positive direction.
The body is quite intelligent but we need to fuel it right, just like we do our car. We can't fuel a car on water, it simply wouldn't run. Likewise, a healthy metabolism cannot be sustained on a diet filled with processed food, sugar and junk.
The good news here is that we know metabolism can be changed – positively. So put some of the above tips into action and you'll soon find your health moving in a new direction.
One saying we love here: If you can eat your way into something, you can eat your way out of it.
And it certainly is true!
Please pin, tweet or share this info to help others. Thanks. 🙂