Dietary fat is a necessary part of your every diet. In fact, without it your body would not be able to function properly.
Fat is responsible for keeping your cell membranes flexible, which allows for nutrient transport into and out of the cell. It is also needed for your body to synthesize sex and adrenal hormones, and vitamin D.
Therefore, a healthy diet must include plenty of foods with healthy fats, especially when eating a lower carb diet!
Based on research, your fat percentage could range between 45-75% of your diet.
This can seem counterintuitive, given all the low fat diet talk we've all heard over the years, but in actual fact, cutting back the carbs and increasing your intake of healthy fats is beneficial for diabetes control.
Not only does fat provide nutrients that your body needs, out of all the macronutrients (carbs, protein, fat), fat has the least impact on blood sugar and A1c levels.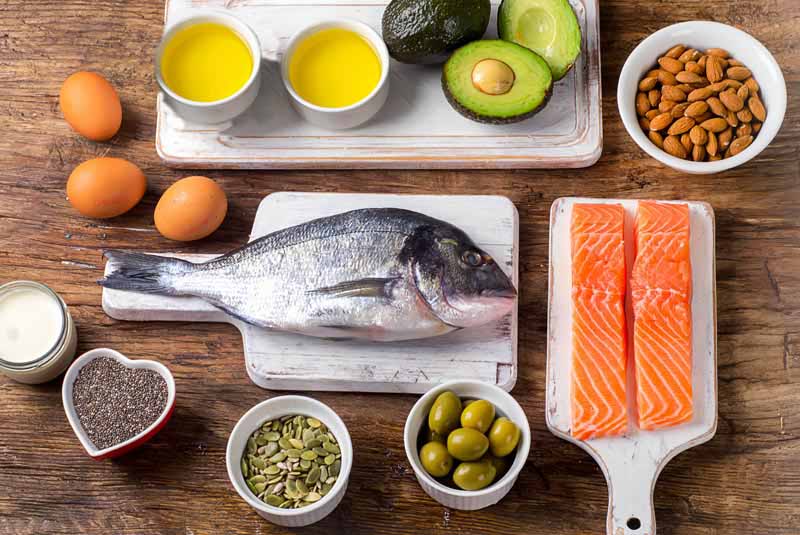 A Brief Recap on Unsaturated Fats
In a broad sense, there are two types of fat: unsaturated fat and saturated fat.
Today's we'll be focusing predominantly on the best sources of unsaturated fats. But if you're curious about the deal with saturated fat (hint: you don't need to be afraid of them), then scroll down to the bottom of this page for some specific info about saturated fats as well.
Monounsaturated
Monounsaturated fats are by far the healthiest fats to include in your diet!
From a chemical standpoint, these fats have one carbon molecule that isn't "saturated" (covered) in hydrogen. In regards to your health this type of fat is considered a must for your health – it's particularly beneficial for heart health and has some major benefits for diabetes management.
Polyunsaturated
Polyunsaturated fats get a little more technical in terms of their health benefits. From a chemical standpoint, these fats have multiple carbon molecules that aren't "saturated" (covered) in hydrogen. But where those lonely carbon molecules fall makes a difference.
Why? Because it means we have two types of polyunsaturated fats: omega-3 and omega-6.
Omega-3
Omega-3s are by far the very best ones for your health! These are anti-inflammatory fats.
Research shows including omega-3 fats in your diet is especially good for blood sugar and A1c levels.
Omega-6
These types of fat are pro-inflammatory and better left avoided. Foods high in omega-6 include margarine, corn oil, and generic vegetable oils (and all the foods that contain them – namely, processed foods!).
Top Sources of Unsaturated Fats
All foods with fat will have a varying degree of each fat that make up the total fat content.
To help reap the greatest health benefits, the aim is to pick foods with optimal fat ratios, specifically those high in monounsaturated fat and/or omega-3 fat.
Olive Oil
Per 1 tablespoon olive oil.
Total fat: 14.0g Saturated: 1.9g Monounsaturated: 11.0g Polyunsaturated: 1.0g Omega-3: 0.1g Omega-6: 1.3g
Olive oil is an awesome source of monounsaturated fat!
It's been shown to help:
Lower blood sugar and A1c
Improve cholesterol
Reduce inflammation
Aim for 1 tablespoon daily (15 mls), although some research suggests higher amounts can be even more beneficial.
Use olive oil to make a homemade salad dressing, or pour straight on a salad with some vinegar. You can also use olive oil for cooking or sautéing most items. And snacking on olives is definitely an option, too.
Select either virgin or extra-virgin (even better) olive oil, as this is the highest grade product and will contain the most nutrients. Make sure to select a dark bottle as oil is sensitive to light, so also store in a cool dark place.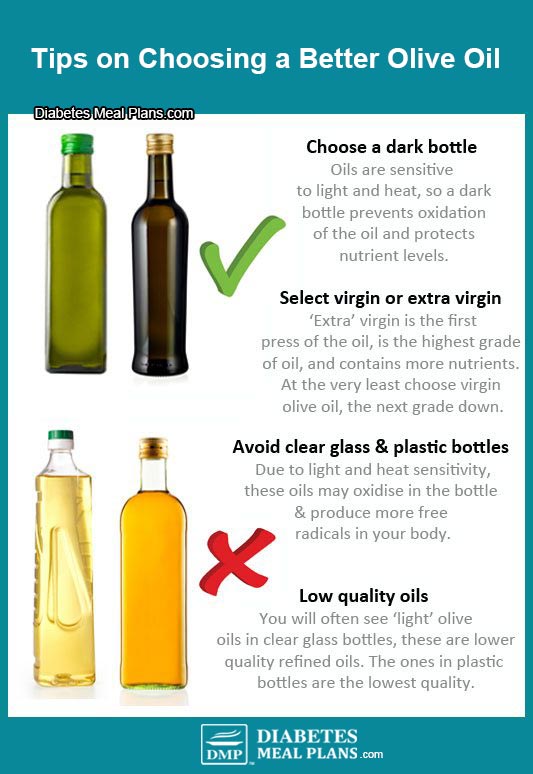 Chia Seeds
Per 1 ounce chia seeds.
Total fat: 8.7g Saturated: 0.9g Monounsaturated: 0.6g Polyunsaturated: 6.7g Omega-3: 5.1g Omega-6: 1.7g
Chia seeds, often proclaimed as a superfood, date back to the Ancient Aztec times. Filled with a high amount of omega-3, they also have the added benefit of 9.8 grams of fiber per one ounce.
Chia seeds have been shown to help:
Improve glucose and insulin tolerance
Reduce inflammation
Provide high levels of antioxidants
Improves major and emerging cardiovascular risk factors
Chia seeds are available in both black and white varieties. In recipes, both the black and white seeds can be used interchangeably. Like olive oil, chia seeds are best stored in a cool, dark place, or even your refrigerator.
If you've never used chia seeds before, when soaked in water they form a gel. They work great for thickening meatballs (instead of breadcrumbs), or can even be used as an egg substitute.
Chia seeds are also great for making nutritious and delicious chia puddings.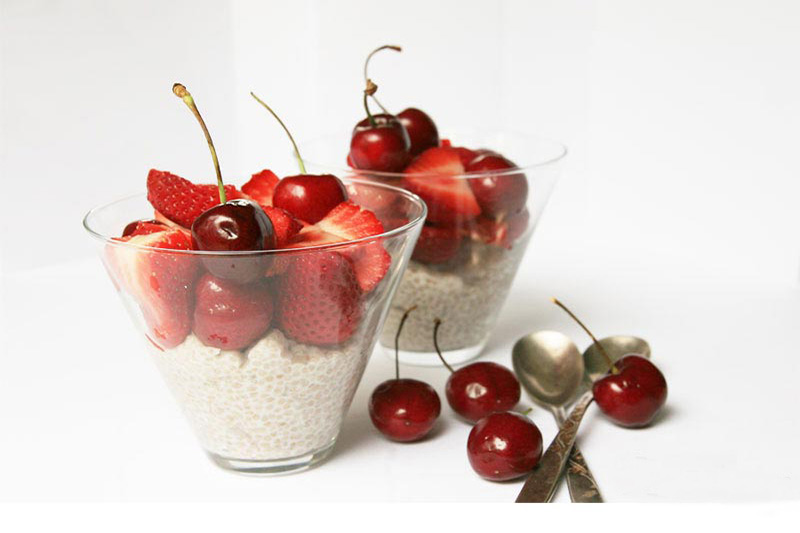 Flaxseeds
Per 2 tablespoon ground flax (flaxmeal).
Total fat: 5.8 g Saturated: 0.5g Monounsaturated: 1.0g Polyunsaturated: 4.0g Omega-3: 1.4g Omega-6: 0.1g
In addition to an optimal fat profile, flaxseeds are also a complete protein (meaning they contain all 9 essential amino acids) and have nearly 4 grams of protein per ounce.
Flaxseeds have been shown to help:
Lower fasting blood sugar
Lower A1c levels
Decrease insulin resistance
Flaxseeds are best consumed in ground form, so either buy pre-ground flax, or plan to process the seeds in a blender or coffee grinder. The best place to store flaxseed is your refrigerator, to prevent them going rancid.
Ground flaxseeds work well as a breading for meats, or they can act as a binder in meatballs. If you're looking for a quick and easy way to include them, they can be sprinkled on salad or into yogurt. And the flaxseed meal makes a great flour substitute for low carb breads.

Nuts & Nut Butters
Per 1 ounce walnuts.
Total fat: 18.5g Saturated: 1.7g Monounsaturated: 2.5g Polyunsaturated: 13.3g Omega-3: 2.5g Omega-6: 10.0g
Most nuts and nut butters will have a healthy amount of monounsaturated and omega-3 fats, plus they contain the healthier version of omega-6 fats as well.
Just know the carb content varies between varieties of nuts. In addition to walnuts, other healthy nuts include walnuts, pistachios, and peanuts.
Check out this info for more about nuts and how they can add great variety to your diabetic diet, with many health benefits!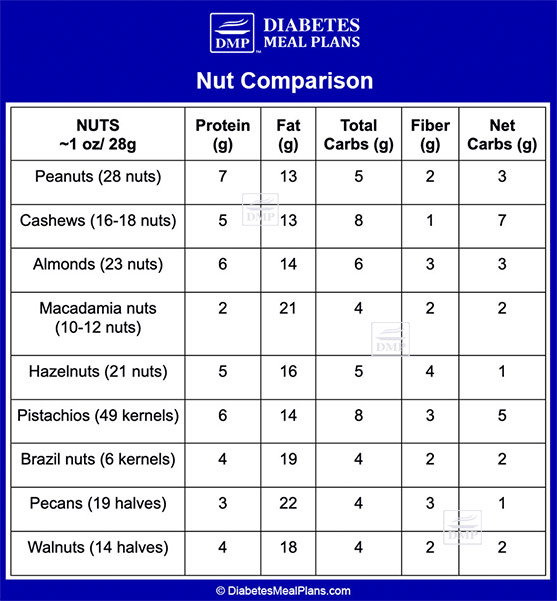 Salmon (and other fatty fish)
Per 3 ounce wild salmon.
Total fat: 5.5g Saturated: 0.8g Monounsaturated: 1.8g Polyunsaturated: 2.2g Omega-3: 2.2g Omega-6: >0.1g
Other fatty fish include:
Mackerel

Herring

Sardines

Albacore tuna
Canned varieties work just as well, still maintaining their fatty quality!
Any unseasoned and unflavored fish products contain zero carbohydrate, making them a great addition to your diabetic diet.
Whenever possible pick wild salmon, as it's fat profile is superior to that of farm raised varieties. Plus farm raised salmon often contains pollutants, which some research suggests may not be the best thing for your health.
Please pin, tweet or share; then keep reading!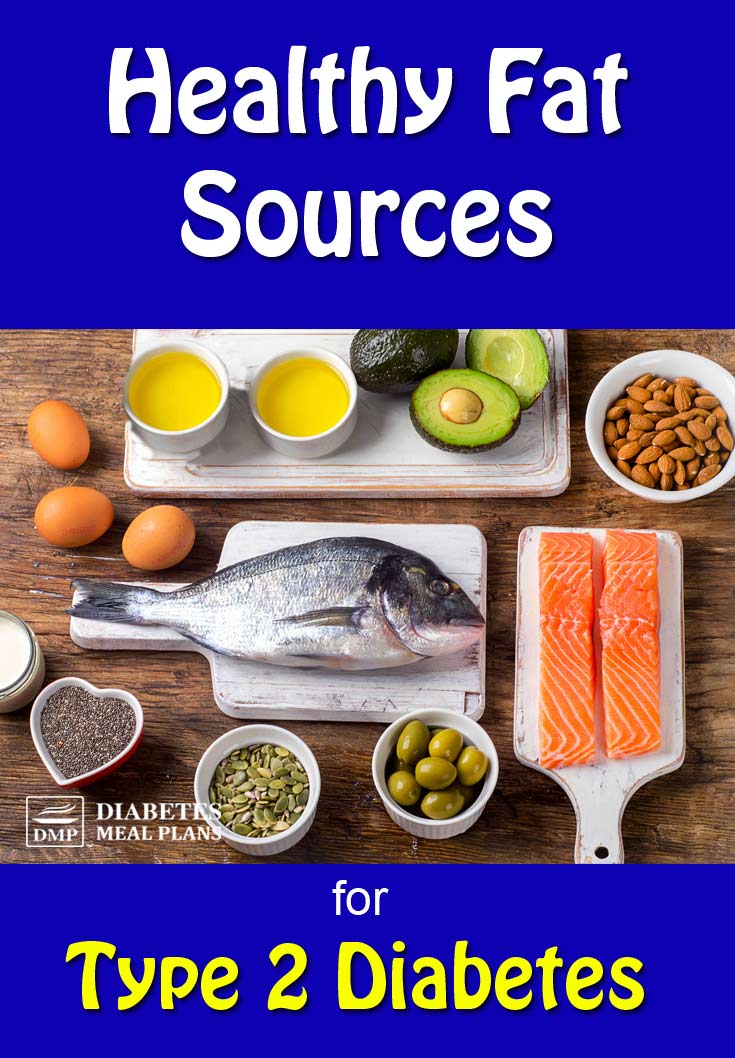 Avocado
Per ½ cup sliced avocado.
Total fat: 10.7g Saturated: 1.5g Monounsaturated: 7.2g Polyunsaturated: 1.3g Omega-3: 0.6g Omega-6: >0.1g
Avocados are another great source of monounsaturated fats.
They have been shown to help:
Improves glycemic control
Decreases hyperinsulinemia
Lowers cholesterol
Aids glucose transport into cells
Avocados are ready to eat when they are soft to the touch, but if you buy them before they are ready, you can let them ripen on your counter. Once they are ripe, keep in the fridge.
Avocados go great on just about everything: eggs in the morning, on top of a salad at lunch, or even blended into a mousse or pudding for dessert.
Guacamole is always a fan favorite as well.
What About Saturated Fat?
Depending on who you ask, the topic of saturated fat can get a bit controversial!
But know this, based on all the research we (and other experts like cardiologist Dr. Aseem Malhorta and Dr. Zoe Harcombe) have reviewed, there is not enough evidence to suggest that saturated fat intake is linked to poor cardiovascular outcomes. In fact, there's virtually none!
Now some saturated fats like donuts and ice cream, yes those are better left untouched. They are highly processed and contain a ton of carbs, so those types of foods directly drive your body's inflammatory pathways. And heart disease is initiated by inflammation – not by just eating fat!
In fact, many natural foods that contain saturated fat are very healthy.
For example, dairy products (like yogurt and cheese), eggs, and coconut oil – these are all very nutrient dense foods with healthy fats!
Red meat is another food higher in saturated fat that happens to be very nutrient dense. While some research concludes that red meat increases risk of some diseases, most of these studies do not differentiate between processed meat (sausage, bacon, deli meats) and fresh meat.
When the differentiation is made, the data suggests that processed meat is much more of an issue than consuming nutrient dense, unprocessed, red meat.
In any case, we recommend choosing lean cuts of meat, and making sure to vary your protein sources (chicken, turkey, game meat, fish) so that you aren't consuming red meat all the time.
In general though, there is no need to fear saturated fat, or red meat – it's a natural food source!
If you're curious to learn more about fats, here is our Definitive Guide to Fats and Diabetes – providing more detailed information on all of the above topics.
For now, you can go ahead and enjoy all of the above foods with healthy fats – not only are they delicious, they also provide an abundance of positive health benefits!