Sugar, sugar, sugar…sweet, sweet, sweet…it's just human nature to love it. In fact believe it or not even studies show young babies and infants have a preference for sweet tastes.
So how can we help it, right?
But when it comes to having sweets I'm not a sugar advocate at all. So I wanted to write up some info on the best sweetener for diabetics, and point you in the right direction so you can manage your blood sugar and still enjoy your sweets 🙂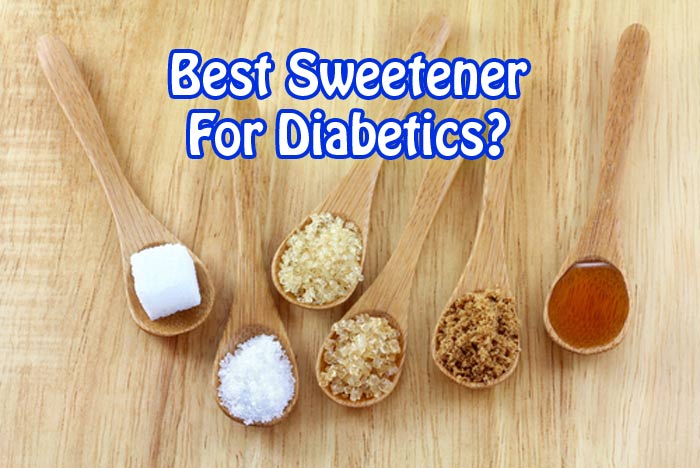 Why cut out sugar?
The main reason for cutting out sugar is that sugar provides zero nutritional value!
One reason why we eat is to provide fuel to our body in the way of nutrition, vitamins, minerals and so forth. Sugar doesn't contain any of these things. So although we might like the taste of it, it's deplete of anything valuable as far as nutrition goes.
And here are a few more reasons to cut it out:
Sugar is also easy to overconsume
Sugar is a refined product
Sugar contains too many (empty) calories – no nutritional value = empty calories
The fructose component of sugar is problematic – fructose gets metabolised entirely by the liver and converted directly into fat (not a pretty picture)
Sugar does result in sharp rises to blood sugar levels
We don't need it
Is that enough reason for you? I hope so.
So what is the best sweetener for diabetics?
Let's dig in and work our way through a few different things.
Sugar & Sweeteners: Nutritional Comparison
When it comes to choices, white sugar is definitely the worst type of sugar. This includes castor sugar and icing sugar as these are all highly refined. The whiter it is, the worse it is.
Following closely behind white sugar is brown sugar and raw sugar. Though they are brown or 'raw' they are still processed and refined.
All the types of sugars I've just mentioned is what we find in most processed and packaged food products. Which is why it's simply easier to follow a whole foods diet as outlined in our food list over here.
Sugar Nutrition Facts
But let's take a closer look at the nutrition facts of all our sugar and sugar substitute choices.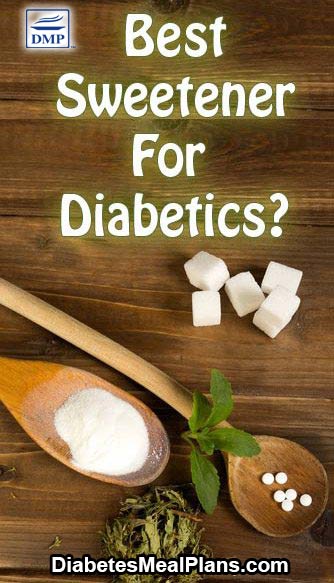 For 1 Tablespoon of each item

White sugar – 48 cal, 12.6 g carbs/sugar, 0 nutrients, GI: 54-84.
Brown sugar – 51 cal, 13.5 g carbs/sugar, 3 mg sodium, 18 mg potassium, 0 nutrients, GI: 54-84 .
Raw sugar – 45 cal, 12 g carbs/sugar, 0 nutrients, GI: 54-84.
Molasses – 58 cal, 15 g carb/sugar, 7 mg sodium, 41 mg calcium, 0.94 mg iron, 293 mg potassium, 0.134 mg niacin, GI: 55.
Blackstrap molasses – 47 cal, 12 g carb/sugar, 172 mg calcium, 3.5 mg iron, 43 mg magnesium, 8 mg phosphorus, 498 mg potassium, 11 mg sodium, 3.6 mcg selenium, 0.216 mg niacin, GI: 55.
Rapadura sugar – 45 cal, 12 g carb/sugar, 5.7 g iron, 3.6 g vitamin C, GI: 65.

Coconut sugar – 45 cal, 12 g carbs/sugar, 0 nutrients, GI: 35.
Raw honey – 70 cal, 17 g carb/sugar, 11 mg potassium, antibacterial and antiviral, GI: 50.
Brown rice syrup – 21 cal, 15 g carb/sugar, 4.8 mg calcium, 49.4 mg magnesium, 1.9 mg manganese, 14.8 mg phosphorus, 2.8 mg Vit B6, GI: 25.
Maple syrup – 52 cal, 13-14 g carb/sugar, 4 mg phosphorus, 42 mg potassium, 2 mg sodium, 1 g calcium, GI: 54.
Stevia – 0 cal, 0 carbs, 0 nutrients, GI: 0.
Sugar Alcohols – erythritol /xylitol/mannitol -'tols' – 0 cal, 0 carbs, 0 nutrients, GI: 1.
Artificial sweeteners – 0 cal, 0 carbs/sugar, 0 nutrients. Artifical sweeteners include aspartame (aka Equal and Nutrasweet), saccharin (aka Sweet N Low), and acesulfame K (aka Sweet One), GI: 0.
Sucralose (Splenda) – (1 g packet) 3 cal, 1 g carbs/sugar, 0 nutrients. GI: 0.
As you can see from the list above, most forms of sugar, even "natural" ones have roughly the same amount of carbs/sugar and calories per serving. The only real difference is the amount of nutrients that can be found in them.
If you are going to choose a "natural" form of sugar, it is better to choose something like molasses, rapadura sugar, or maple syrup.
The glycemic index (GI) can be helpful for some people too, we are all different so what some people can handle, other people can't.
So What Is The Best Sweetener For Diabetics?
Okay, now we've covered all that what is the best diabetic sugar substitute?
That's what you're here to find out about right?
Well as you can see from the list above, if you were basing your decision on carb count, then you'd assume that artificial sweeteners, stevia, or sugar alcohols would be your best choice because they provide 0 calories and 0 carbs.
BUT, I wrote about artificial sweeteners recently over here, and they are NOT a good choice. These include brands such as Equal, Nutrasweet, Natra Taste, Sweet'N Low, Sugar Twin, Necta Sweet, Sunette, Sweet One, Swiss Sweet.
Option 1 – Small amounts of natural sugars
The 3 best options for natural sweeteners are:
If you're going to consume these you will have to test to see how they affect your blood sugar levels because they will have an effect.
Option 2 – Stevia or erythritol
Although these don't really contain any nutrients, neither stevia nor erythritol will affect blood sugar levels so you can make some sweets and perhaps have a little more 🙂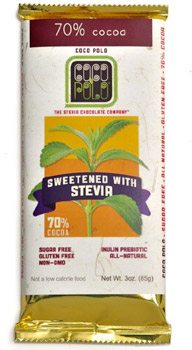 I personally prefer using stevia over most sweeteners and use a liquid stevia, I find it's more convenient and mixable.
I have used erythritol and prefer it to xylitol because it has a smaller molecule size and is more easily digested. I've seen far too many stomach cramps and reactions from xylitol.
You will also find there are some stevia/erythritol blends available on the market. Some people prefer the taste of these and find them easier to use for things like baking because they come in a powder and you can replace them 1:1 for sugar.
You can find stevia made chocolates, or ones made with stevia and erythritol.
Option 3 – Sucralose
Although sucralose, otherwise known as Splenda is an artificial sweetener, it is the one that has been shown to be the safest out of all of them. It's still not something I'd recommend eating all the time, but we are talking about options here.
Sugar Free Diabetic Recipes
Believe me, if you are diabetic, it certainly doesn't mean a life without tasty treats!
Our meal plans provide great sugar free desserts options to you every week and there is lots you can do.
Check out this carob choc slice!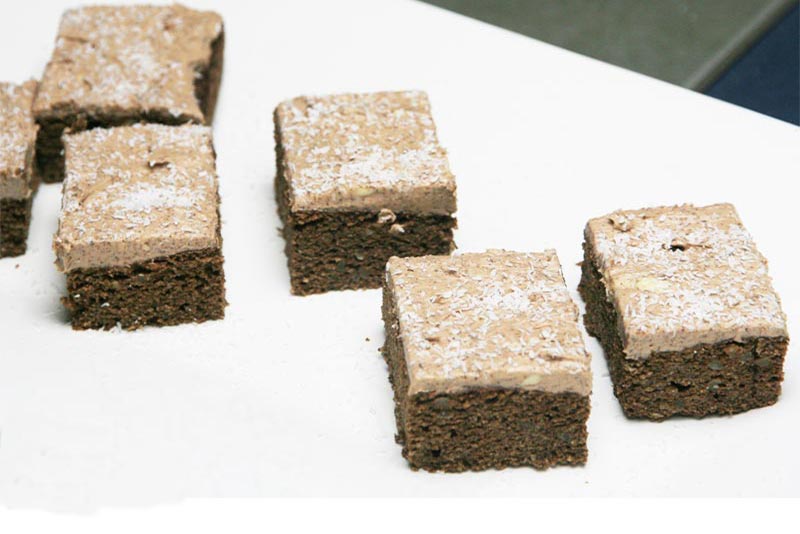 I served this at a family meal recently and the whole thing got gobbled up!
So living without sugar is possible and actually very enjoyable once you get used to it.
Try one of our meal plan subscriptions and take the whole stress out of eating 🙂
P.S. What sweetener do you use? Or maybe now you've read this you'll change it…what to?