Here's a comment someone made on our Facebook page:
What kind of cold cereal do you guys eat – checked the super market and (omg) so high in carbs and sugar and you can eat 1/4 cup of 1/2 cup (I would literally starve on this ) any suggestions ?
Have you had a similar experience from looking at food labels on breakfast cereals?
Or perhaps you haven't looked at the labels and not sure if cereals are okay for diabetes.
Well, we've got you covered because today we're going to go over the ins and outs of breakfast cereals, share some low carb alternatives you can buy, and share a couple of recipes you can enjoy too.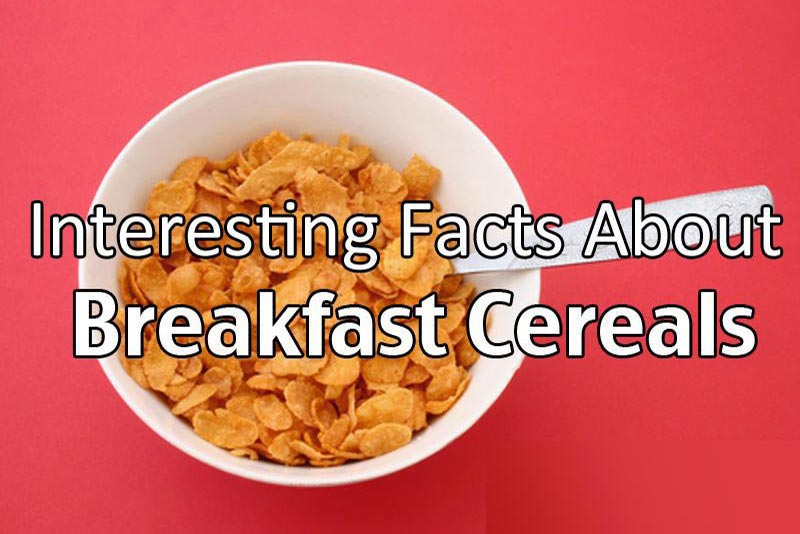 The Truth About Breakfast Cereals
Breakfast Cereals are NOT healthy!
Let's look at 2 popular breakfast cereals from the US and Australia. If you're from a different country, that's okay, most cereals are the same poor quality.
General Mills Honey Nut Cheerios
Noted as the US most popular cereal in 2013.
In a 112 g serve we have: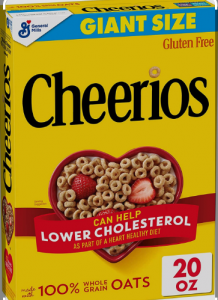 440 calories
6 g fat
640 mg sodium
88 g carbs
8 g fiber
36 g sugar
44 g other carbs
8 g protein
Ingredients: Whole grain oats, sugar, oat bran, modified corn starch, honey, brown sugar syrup, salt, tripotassium phosphate, canola and/or rice bran oil, natural almond flour, and then their long line of ADDED vitamins and minerals. Source
Does this measure up as a healthy breakfast option?
No way! Almost 1/3 sugar content and 132 g carbs, high sodium, low fiber, and low protein. In my opinion that's no way to start the day and yet it's the most popular cereal in the US.
Notice on the box that the marketing claims it "Can Help Lower Cholesterol".
You will see all sorts of advertising scams occur on food packaging and you can't trust any of it. Although there is some evidence to suggest that soluble fiber (found in oats) can help lower cholesterol, by the time you add all that sugar, it decreases any of the health benefits that the fiber may have. Not only will the sugar/ carbs send you blood sugar soaring, it will also raise cholesterol.
Kellogs Nutri-Grain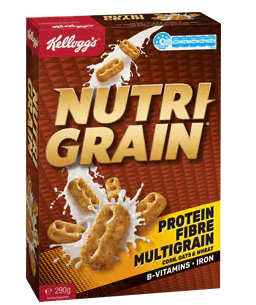 In a 100 g serve:
360 calories
20 g protein
3 g fiber
0.8g fat
32 g sugar
600 mg sodium
Ingredients: Cereals (44%)(wheat flour, oatmeal, maize flour), sugar, wheat gluten, molasses, salt, minerals (calcium carbonate, iron), barley malt extract, mineral salt (sodium bicarbonate), natural color (paprika, turmeric), vitamins (vitamin C, niacin, thiamin, riboflavin, vitamin B6, folate). Source
Marketed as the 'Iron Man Fuel' and promoted as a breakfast food to fuel sport, this cereal really doesn't measure up to it's claims and doesn't make a healthy breakfast for children. We're pretty sure athletes don't eat it regularly either!
You will find cereals like these 2 examples above line the shelves of supermarkets and they have a few things in common.
Common things about most breakfast cereals:
High in sugar
High in carbs
Low in fiber
High in salt
Low in protein
Low in nutrients – so often have 'added' vitamins and minerals
Generally you can say goodbye to cereal options from your supermarket. Instead you will have to buy them online, from your local health food store, or make your own options.
Low Carb Breakfast Cereals You Can Buy
Low Carb Cereals from Netrition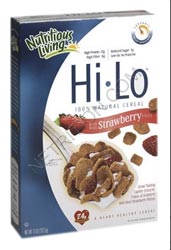 Nutritious Living Hi Lo Cereal
This cereal comes in 2 flavors, plain and strawberry. Compared to a regular cereal, this option has 7 g net carbs per half cup serve.
Ingredients: Soy Grits, Wheat Gluten, Soy Protein Isolate, Corn Bran, Evaporated Cane Juice Crystals, Rice Flour, Corn Meal, Corn Starch, Natural Flavors, Canola Oil, Salt, Caramel Color, Vitamin E (Mixed Tocopherols) as Natural Antioxidants.
It's $4.89 for a 12 oz/ 340 g box.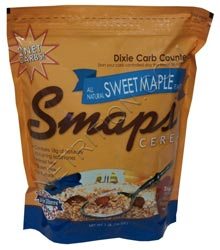 This cereal comes in cocoa or maple flavor and is just 2 g net carbs per half cup serve.
Ingredients: Soy concentrate, soy flour, sunflower oil, cocoa powder, low glycemic monosaccharide, natural flavoring, sea salt, all natural monk fruit.
It costs $7.99 for a 10 oz/ 284 g bag or $11.99 for a 1 lb/ 2.2 kg bag.
Low Carb Cereals from Amazon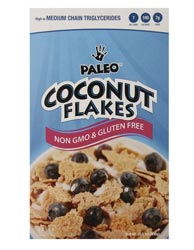 Julian's bakery does make a great selection of low carb products but they tend to a bit pricey.
These coconut flakes are $10.99 for a 10.5 oz/300 g box.
A 30 g serve is 7 g net carbs.
Ingredients: coconut meat, coconut water, & palm starch (Ships In Foil Pack) (No Box Included)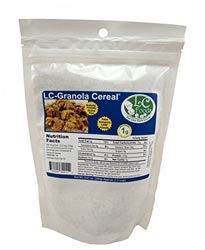 Again, this is pretty pricey, coming in at $17 for a 9 oz/ 277 g bag. It's just 1 g net carbs for a 35 g serve.
Ingredients: Organic cracked flax seed, organic chopped flax seed meal, salvia hispanica L. milled chia seed grains, inulin (chicory root) fiber, oat fiber, digestion resistant polydextrose fiber, organic stevia rebaudiana leaf natural herbal extracts, and natural luo han guo monk fruit.
This is a little too expensive and not necessarily one we'd recommend because of that reason. But we want to show you that when it comes to low cabr cereals, there aren't too many around and they can get rather expensive.
That's why we've got a variety of homemade options. Here are a couple you can try.
What About Porridge and Oatmeal?
I often get asked about porridge and oatmeal, so I guess we should cover whether they are a good choice for you as a diabetic.
Oatmeal
Oatmeal is oat groats that have been ground, steel-cut, crushed, or rolled.
Nutrition Per 1 cup cooked serving (which would probably be people's standard serving): Calories 158 | Total Fat 3.2 g | Sat Fat 0.5 g | Mono: 0.9 g | Total Carbs 27 g | Fiber 4 g | Net Carbs 23 g | Protein 6 g
Quaker oatmeal has almost the same nutrient value to the one above for 1 x 41 g pack.
Carbs make up 66% of oats but the carbs in oats may have some benefits compared to other things.
"Oats are very low in sugar, with only 1% coming from sucrose. About 11% of the carbs are fiber, and 85% consists of starch."
7% rapid digesting carbs
22% slow digesting carbs
25% resistant starch
Here's an excerpt from Authority Nutrition on Oats and Type 2 Diabetes:
"Beta-glucans, the soluble fibers from oats, have been tested in patients with type 2 diabetes, showing beneficial effects on blood sugar control (59, 60).
Modest amounts of beta-glucans from oats have been shown to moderate both glucose and insulin responses after carbohydrate-rich meals (61, 62, 63).
In patients with type 2 diabetes and severe insulin resistance, a 4-week dietary intervention with oatmeal resulted in a 40% reduction in the insulin dosage needed for stabilizing blood sugar levels (64).
Studies suggest that beta-glucans may favorably alter insulin sensitivity, delaying or preventing the onset of type 2 diabetes (65, 66, 67, 68), but a recent review study concludes that the evidence is inconsistent (54).
Boiled whole oats cause low glucose and insulin responses, but the responses increase significantly if the oats are ground to flour before cooking (69, 70, 71).
Bottom line: Oats may reduce blood sugar and insulin responses following carbohydrate-rich meals. This makes them particularly beneficial for diabetics."
At 23 g net carbs for 1 cup oatmeal, overall that's not too bad. But just remember that is still contributing to your overall carb intake.
Oats aren't always included in a low carb diet as some people still find they spike blood sugar levels. So the best thing to do is test, test, test, and see if they affect you.
Find more info on oatmeal over here.
Low Carb Cereal Alternatives
Roasted Nut Muesli
RECIPE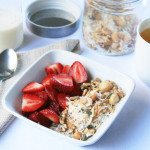 Pin Recipe
Roasted Nut Low Carb Muesli
Ingredients
1

cup

slivered almonds

2

Tablespoon

pumpkin seeds (pepita)

1/2

cup

walnuts

1/2

cup

macadamia nuts

1

cup

shredded coconut
Instructions
Heat the oven to 350°F/ 180°C.

Place all the nuts on a baking tray (not the coconut), and roast for 10 minutes.

Allow to cool.

Mix together with the shredded coconut and store in an airtight container ready for use.

Serve with your choice of fruit (strawberries, blueberries or cherries) and a little milk (cow, almond or coconut milk).
Notes
Optional
Strawberries
Blueberries
Cherries
Milk - cow, almond, or coconut milk
Storage
Keeps in a jar or airtight container for weeks, so make a big batch and keep it on hand.
Share by Email
Share on Facebook
Share on Twitter
Pin Recipe
Mixed Berry Parfait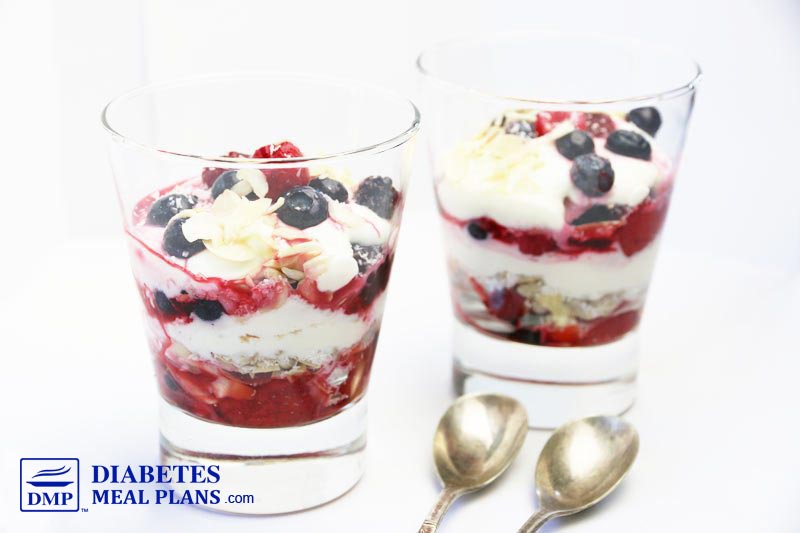 RECIPE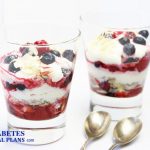 Pin Recipe
Easy Diabetic Breakfast: Mixed Berry Parfait
Ingredients
3.7

oz

frozen mixed berries

- equiv. 3/4 cup - defrosted

1/2

cup

greek yogurt

1/4

cup

flaked almonds

2

Tablespoon

desiccated coconut

1/4

teaspoon

ground cinnamon

2

Tablespoon

sunflower seeds

5-7

drops

liquid stevia extract

- optional
Instructions
If you want to parfait a bit sweeter, stir the liquid stevia into the yogurt.

Layer the ingredients into 2 glasses starting with the berries, a little almonds, sunflower seeds, and coconut, a sprinkle of cinnamon, a thin layer of yogurt; then repeat until you use all the ingredients.
Notes
Can be made ahead of time the night before and will also store in the fridge for a couple of days.
Want some added fiber? Add a couple of teaspoons of chia seeds to each one.
Haven't got almonds? Use any kind of nuts or seeds you have on hand.
Want to lower the carb count? Use cottage cheese instead and add a bit more stevia to make it sweet.
Share by Email
Share on Facebook
Share on Twitter
Pin Recipe
There are loads of different low carb meals you can have for breakfast, you just need ideas and delicious recipes.
Inside our Bountiful Breakfast Menu, we've got 46 different breakfast options!
Why would you want to eat low carb?
Carbohydrates are the single biggest thing that influences blood sugar and A1C.
So naturally, eating the right amount of carbs per day is super, super important to your health.
Here's some proof…
Another comment from Facebook:
"My dad ate the ADA (American Diabetes Association) way. He started off on metformin and three years later he had to have insulin added and the metformin discarded. He died three years after his initial diagnosis from diabetes related complications. He had 2 massive heart attacks caused by his diabetes. I would advise type 2 diabetics to avoid the ADA guidelines as they are there to keep you on meds, not to reduce them or come off of them. I chose to go low carb and it changed my life and got me off all meds in 6 months time.
Such is the power of a low carb diet!
Studies show a low carb diet outperforms a low fat diet for results. Every. Single. Time!
And stories like the one above are common – many people get off meds and get healthier going low carb.
In any case, I hope you've learned something new about cereals and diabetes, and discovered a few low carb alternatives to help get you started.