Here are a few common questions and concerns that we always receive around oatmeal and diabetes:
"Do u know if eating oatmeal is good for diabetics?"
"I make steel cut oats in the morning and put in honey (from the honey place – real made) some chia seeds, walnuts, half an apple and pumpkin or other seeds if I have them – is this enough to balance out the sugar?"
"My sugars go crazy when I eat oatmeal but I was told by a dietitian to eat it."
"I'm confused, can I eat oatmeal, not the packaged kind?"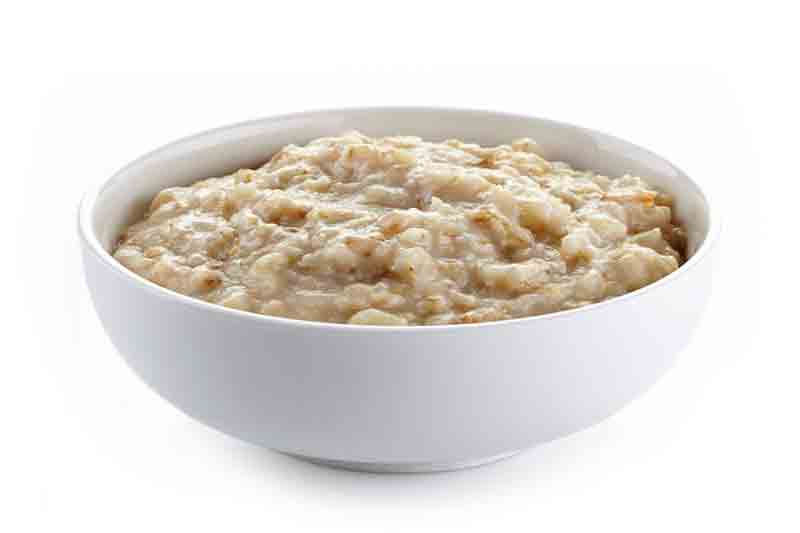 Is Oatmeal Good for Diabetics? (The Short Answer)
The short answer: Oatmeal could be okay for you – some type 2 diabetics can eat it. But, it is a higher carb food and for that reason, many type 2 diabetics can't tolerate it.
Unfortunately, there is no clear answer on this, which is often the case with many individual food items.
The question for you to ask is, how is your blood sugar and A1C?
If you're struggling to get it under control, you might consider eliminating the oatmeal and opting for lower carb foods (aka more vegetables). Or, you could try testing to see if oats influence your results.
Is Oatmeal Good for Diabetics? (The Long Answer)
Let's explore a whole range of things to consider with oats and oatmeal – including nutrition, glycemic index (GI), research, and so forth.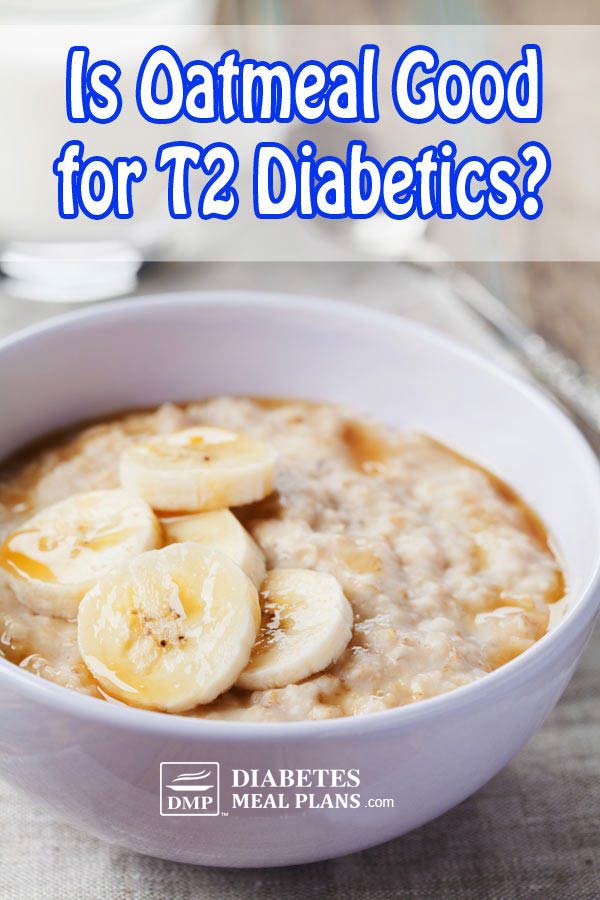 Research on Oatmeal and Type 2 Diabetes
The research around oats/ oatmeal for type 2 diabetes treatment does show mixed results.
A review in Food and Function, 2016, looked at a range of studies but only 4 of those studies included type 2 diabetic patients. An important point to raise is that the results concluded from studies in those without diabetes (healthy subjects) is NOT necessarily going to result in the same conclusions in people who already have diabetes.
Diabetes prevention and diabetes treatment are two completely different things. Yet in many cases the two terms are used interchangeably. Take note of this if you're reading things and you will start to see that much of the information around is about diabetes prevention, rather than treatment.
Anyway, back to the Food and Function review – they found an average reduction of (1.98 mg/dl (0.11mmol/l) in fasting glucose for the overall studies, but interestingly, this was only found significant in Asian subgroups, NOT Western. When subgrouping the diabetics alone, this result was higher at 15.12 mg/dl (0.84 mmol/l).
Another review in Nutrients, 2015, showed that in general, compared to control groups, those eating oats have lower cholesterol levels (range −0.10 to −0.80 mmol/L) and lower fasting glucose (range 1.26-34.28 mg/dl or 0.07-1.91 mmol/l).
However, the authors note that glucose levels at baseline were high – an average HbA1c 9.87% and average fasting blood glucose 179.82 mg/dl/ 9.99 mmol/L. And because both diets were low on energy, they suggest that "oats consumption might show its benefits especially when the general energy intake was low."
They also mentioned that half the studies were low quality evidence but still included the results in the review anyway, which does somewhat downgrade the conclusions.
Yet another earlier review in the British Journal of Nutrition, 2014, showed that, "there was a slight decrease in fasting glucose concentrations, glycated hemoglobin and HOMA-IR in subjects after oat intake, but the difference was not significant," as reported on The Nutrition Society.
Overall, the research shows some decreases to fasting blood glucose, decreases to cholesterol, possible decreases in insulin, and no effect on A1C.
Therefore, overall, the research is not shouting out YES, oats are awesome for diabetes treatment. But it does indicate that in some people oats can be show some beneficial results.
Nutritional Facts About Oats
The most well known thing about oats is they are a high fiber food source.
Fiber – is amazing! We need it for healthy digestion, feeding gut bacteria, reducing cholesterol, helping us feel full, keeping the bowels moving, improving metabolism, and managing blood sugar.
Majority of people don't get enough fiber. We need around 30 g a day, but most people get around half that much. In particular, oats are a good source of soluble fiber. β-glucan comprises a fairly large component of the soluble fiber of oats – it is a nondigestible polysaccharide at a rate of 2.2-7.8%.
The fact that oats/ oatmeal do contain fiber, is one of the major reasons it is considered a healthy food. And overall, when it comes to cereals, oats are definitely your best option. You certainly don't want to be eating packaged choc pops or something like that!
| | | | | | | |
| --- | --- | --- | --- | --- | --- | --- |
| Foods | Energy | Protein | Fat | Carbs | Fiber | Net Carbs |
| Oats 1 cup (39g) | 151.75 | 6.58 | 2.64 | 25.84 | 4.12 | 21.72 |
| Instant Oats 1 pack (28 g) | 101 | 3.34 | 1.93 | 19.47 | 2.8 | 16.67 |
| Quaker instant oatmeal 1 packet (41g) | 150 | 6.56 | 2.58 | 27.47 | 4 | 23.47 |
| Oats, regular quick 1 packet (81g) | 307 | 10.65 | 5.28 | 54.84 | 8.2 | 46.64 |
As you can see from this table, oats are quite high in carbs. If you do eat it, you only want to be eating about 1/4 cup at one sitting. And while oats do contain fiber, so do vegetables. And vegetables compared to oats contain more fiber and less carbohydrates. For example, 1/2 avocado has 6.7 g fiber. 1 cup broccoli has around 5 g fiber and 1 carrot has nearly 2 g fiber.
So the question arises: Is your blood glucose and A1C going to be better without oats and with the inclusion of more vegetables?
Glycemic Index of Oats and Oatmeal

Glycemic index is just another indication of how different foods influence blood glucose on a 0 to 100 scale. The lower the number, the lower GI. Foods under 55 are generally considered low GI, while those over 55 are considered high GI foods.
The GI of oats and oatmeal according to The University of Sydney's Glycemic Index:
Uncooked rolled oats GI 59, 30 g serve, 19 g carbs.
Traditional porridge oats, made from whole oats GI 51-58, 250 g serve, ~21 g carbs.
Oat Bran/ Quaker oats GI 50-60, 10 g serve, 5-6 g carbs.
Quick oats/ One minute oats/ instant porridge GI 65-66, 250 g serve, 26 g carbs,.
Instant oatmeal porridge, from packet GI 83, 250 g serve, 23 g carbs.
Do's and Don't's of Eating Oats
DO choose whole oats – If you're going to eat oats, the research indicates that whole oats are the best choice, which is kind of a common sense thing. Skip the instant and quick cooking stuff.
DON'T add fruit and honey – given that oats already contain a higher amount of carbs, you don't want to go adding fruit, raisins and honey, which further skyrockets carb count. Try adding nuts, seeds and vanilla extract to balance out the carbs with healthy fats and protein.
DON'T overeat oats – you need to watch your portion sizes because like most higher carb foods, it's easy to overload. Try limiting your serving size to just ½ cup of oats at one serve.
DO test and see how oats influence you – try testing to see if oats influence your results. At the end of the day, each individual person with diabetes has a different carbohydrate tolerance. Some may be able to tolerate oats, while others can't.
DO eat more fiber rich foods – change up your breakfast ideas. Opt for eggs and a veggie filled plate, or a delicious mixed veggie omelet. We have cereals ingrained into our brains as breakfast foods but there are plenty of other great breakfast options.
We don't include oats in our meal plans because they do have mixed results for different people. Instead, we prefer to encourage higher intake of non-starchy veggies, which contain valuable phytochemicals, flavonoids, vitamins, minerals and fiber too.
Do you eat oats and oatmeal or not? Chime in and leave your comments below.