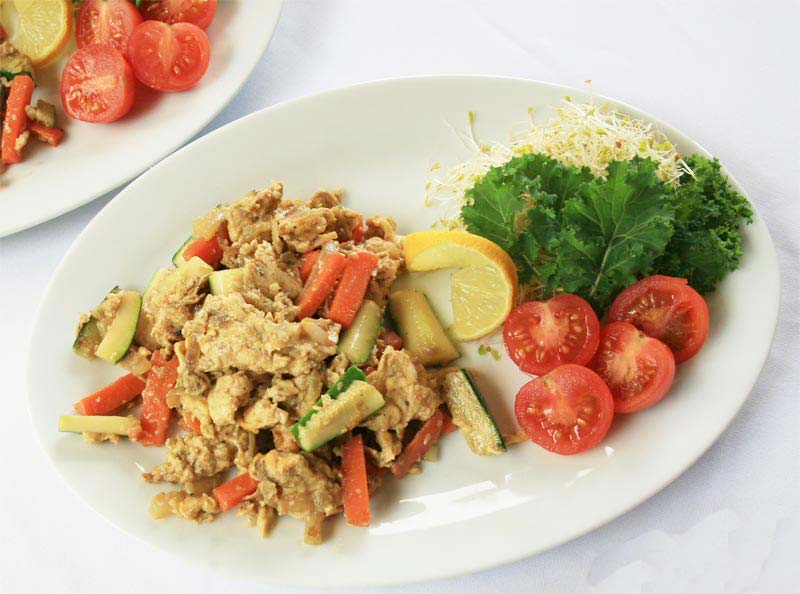 Despite commonly held assumptions, eggs are actually one of the very best foods you can have on your menu.
They are jam packed with vitamins and minerals and contain good quality protein that helps satiate your appetite.
In fact, did you know that eggs are the gold standard for protein sources?
In science, all other proteins are compared to eggs because they are considered the most complete protein source available. That's just a bit of trivia but interesting nonetheless. 😉
This easy scramble is simply delicious and can be eaten on it's own in a bowl, but it's also great served with something fresh on the side.
Mixed Veggie Egg Scramble
Total Carbs:
11g
Net Carbs:
7g
Total Carbs:

11g

Net Carbs:

7g
Crack the eggs into a bowl, add a pinch of salt and pepper to season and use a fork to beat them well.

Heat a fry pan over high heat with the olive oil.

When it's hot, add the onion and carrot and sauté until they are brown – around 3-5 minutes.

Add the zucchini into the pan and cook for a further 2 minutes.

Pour the egg mixture over the top of the vegetables and then gently stir until the egg is cooked through.

Serve with a side salad of kale leaves, alfalfa, and tomato, and a twist of lemon.
Options
Add your favorite combo herb blend to the mix
Top with shredded cheddar or Parmesan cheese
Serve in a bowl topped with freshly diced tomato
Add mushrooms to the mixture
NOTE: You can make this veggie scramble with any type of vegetable you have on hand. So switch it up and experiment!
And, you don't have to eat it with a salad side, just place in a bowl and enjoy!
Nutrition Facts

Mixed Veggie Egg Scramble

Amount Per Serving

Calories 249

Calories from Fat 135

% Daily Value*

Total Fat 15g 23%

Cholesterol 475mg 158%

Sodium 208mg 9%

Potassium 599mg 17%

Total Carbohydrates 11g 4%

Protein 20g 40%

* Percent Daily Values are based on a 2000 calorie diet.
Please pin, tweet, or share the recipe with others.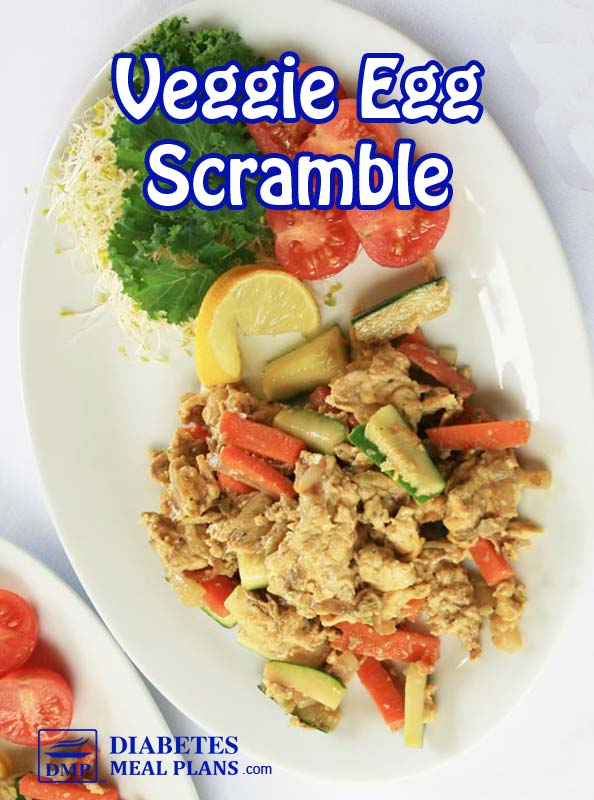 Give it a try because we're sure you're going to love it. 🙂

P.S. While you're here, Click Here to Subscribe to DMP's Weekly Nutriton Newsletter.