If you're after deliciously diabetic dinner recipes, look no further – below you'll find a collection of 10 tasty meals.

They are not only mouthwatering good, they are easy to make – just the way we like most of our meals.
Plus, the goal of all the meals we create is to keep them low carb and blood sugar friendly, while packing in plenty of valuable nutrition from nutrient-dense natural food sources.
ENJOY!
Bolognese sauce is a classic Italian dish that makes the perfect addition to weeknight meals.
Of course, you'll often see it used in classic pasta recipes but instead of high carb pasta, serve the sauce over a bed of steamed green beans topped with cheese (pictured below). Or try some 'zoodles' – zucchini noodles.
You can also serve the sauce with salad or use it as a 'base' for other meals, like we did in the recipe below (Chicken Enchilada Stuffed Zucchini).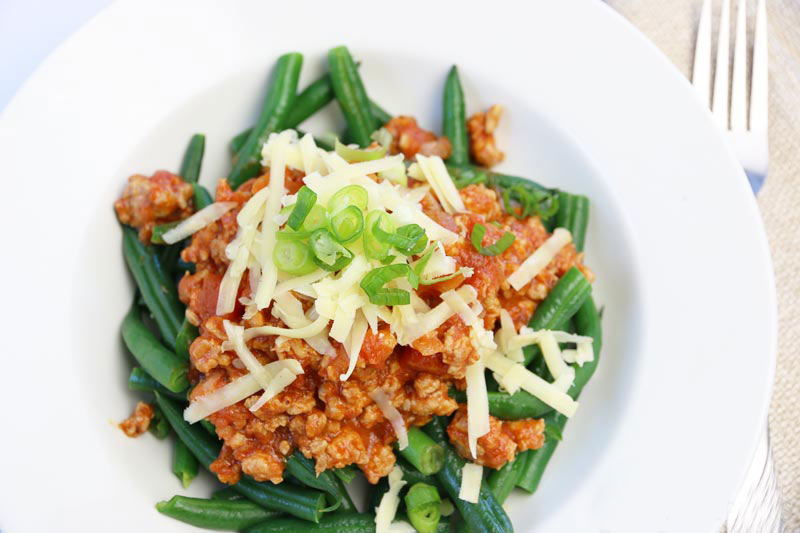 Fans of spicy food will love this thick and hearty stew. This recipe makes a generous serving so it's great as a family favorite, or Sunday dinner with leftovers.
The stew gets it's spice kick from the chorizo sausage, while being sweetened with paprika, and packed with endless vegetables as your predominant source of carbs.
And best of all, it's a completely hands-off dish that can be made in your slow cooker (what we call 'Set & Forget')!
Simply combine all the ingredients in your slow cooker and cook on 'low' for 3 hours or on 'high' for 6 hours. Your house will smell amazing in no time, and your taste buds will thank you for the experience.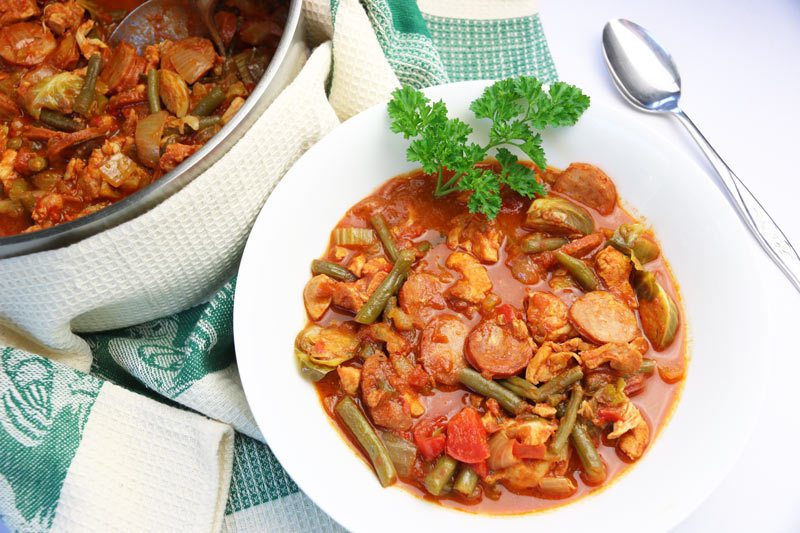 If you enjoy a bit of Mexican food, you'll love this dish!
Zucchini makes a great replacement for many dishes. And here we use them as a base instead of bread. Not only does this lower the carbs, but it still tastes sensationally good!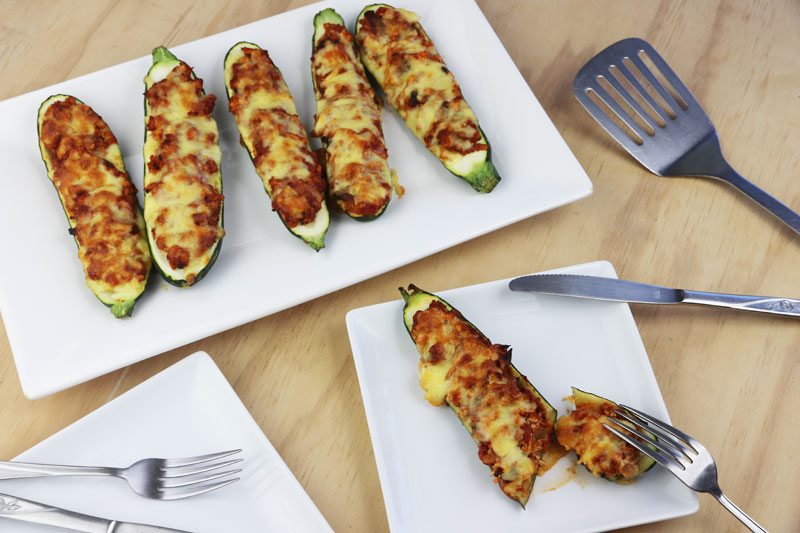 We absolutely love 5-ingredient meals – and that's all it takes to make this meal!
This mild curry comes together in 10-15 minutes but seriously tastes like it's been simmering for hours.
Thick, creamy coconut milk lends this dish a decadent quality. Zucchini brings a boatload of fiber and nutrients. And the chicken packs a protein-punch that will keep you satiated and smiling.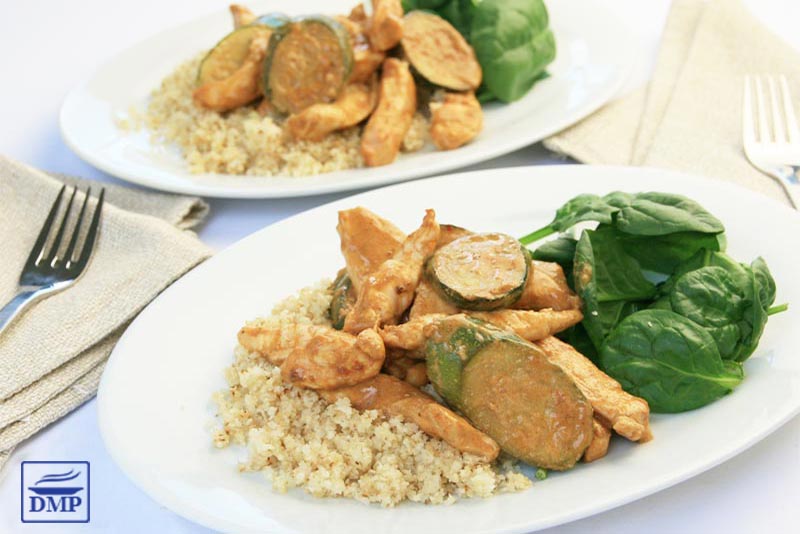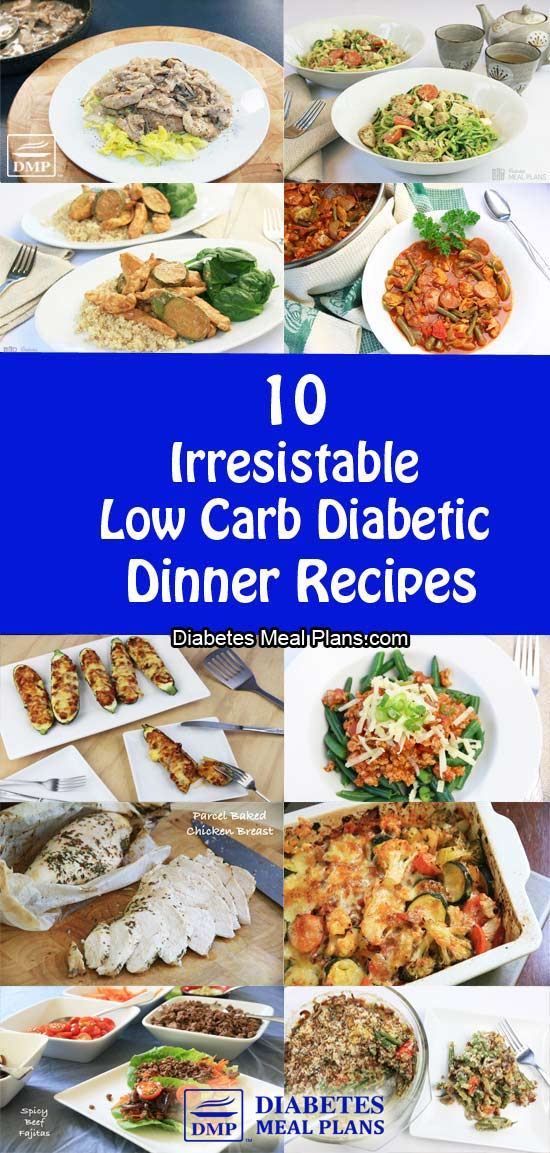 Even if you eat meat, vegetarian recipes should make up a portion of your weekly diabetic meal plans.
If you ever have trouble getting enough vegetables into your diet each day, this recipe will change your mind.
This cheesy vegetable dish combines onion, carrot, zucchini, broccoli, and cauliflower with cheddar cheese – which we know almost everyone loves!
In fact, this dish is one of our most popular recipes and one you really can't go wrong with.
It's great served either hot or cold (it makes particularly good leftovers, we think) and makes a great side dish for beef, chicken, or fish. Think of it as a healthy, possibly even tastier version of lasagna – without all that carb-laden pasta!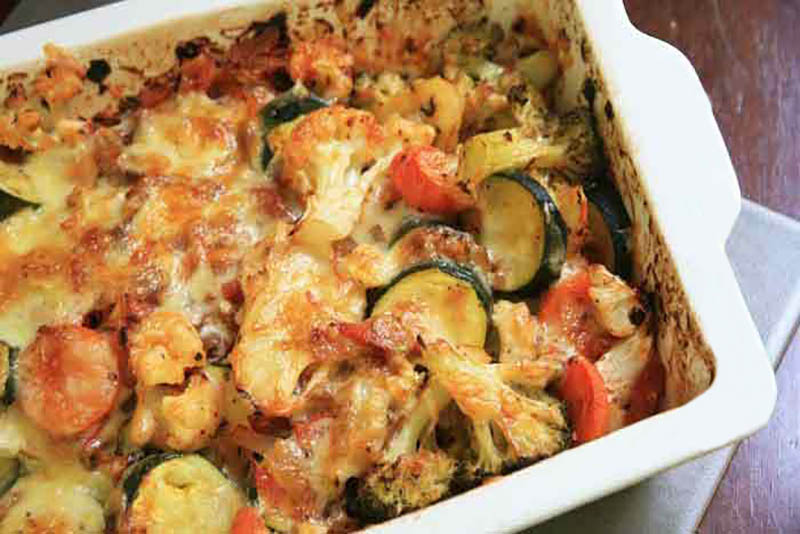 This is one of those recipes that will fool all of your friends into thinking you once attended a fancy French cooking school…but it's incredibly easy to make!
Using a 'parcel' is perhaps our favorite kitchen 'hack' when it comes to cooking succulent, moist and juicy chicken. The mustard honey-like dressing adds a sweet, slightly tangy touch that will make your taste buds so happy.
This dish makes a wonderful hot meal served with steamed vegetables, but the chicken also goes really well served cold atop a fresh salad. Or, slice it up for a low carb sandwich wrap.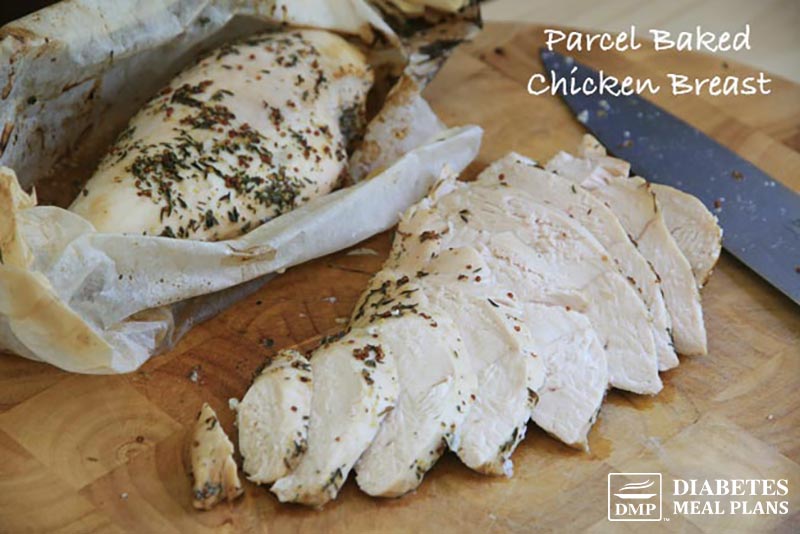 Ever had zucchini noodles – aka zoodles?
We've mentioned them above several times, and if you haven't tried them, we encourage you to do so – they're great!
These crunchy, green veggie noodles pass for regular pasta, but they're so much lower in carbs than the real thing – slashing your carbs and keeping your blood sugar levels in check.
The best part is, they taste incredibly moreish!
Our pesto recipe is wildly easy to make; and, like many of these recipes, this Chicken Salad can be served hot or cold. Try it both ways and see which you prefer.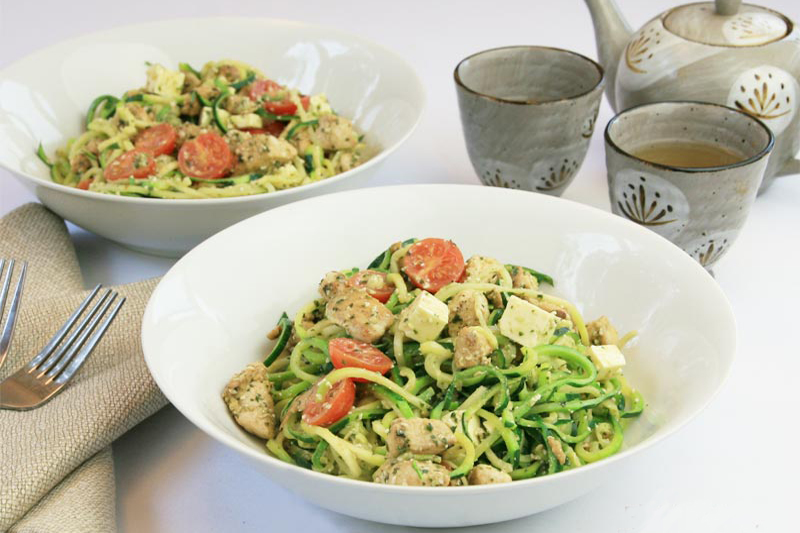 #8: Spicy Beef Taco/ Fajitas
Following a diabetic diet does not mean you should ever feel deprived.
With tasty options such as this low-carb Mexican twist on tacos or call them fajitas, you'll be digging in by yourself or with your family for a throughly enjoyable meal.
If you don't like beef, make it with ground turkey or chicken. As an addition add shredded cheddar or Parmesan cheese on top.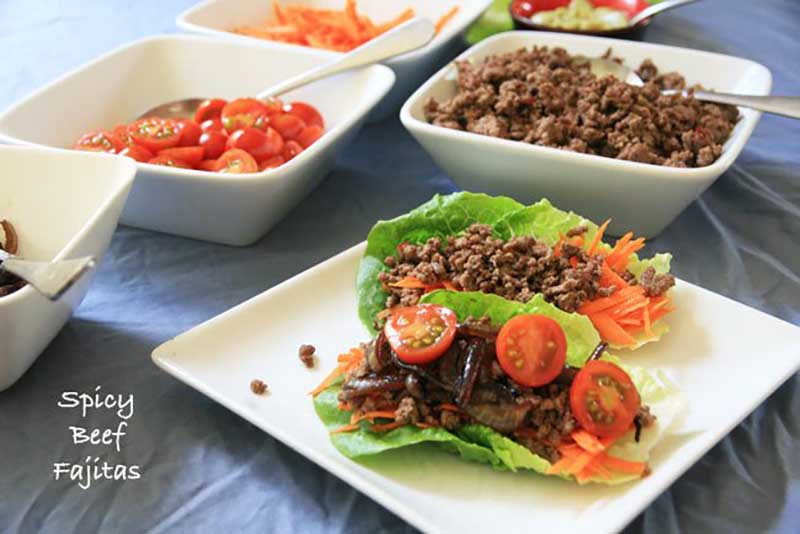 Chicken recipes are popular, including this low carb recipe with a rich and luscious flavor, fit for a celebratory meal or a regular weeknight dinner!
Coconut cream (or sub regular cream) and mushrooms combine to form a juicy creamy savory sauce, which is thickened with almond flour (or use a small amount of plain or arrowroot flour).
Chinese cabbage serves as a satisfying low carb base for this meal. Or you could also use cauliflower rice or zucchini noodles.
The result? A gourmet-level dinner that will impress your friends and family to no end – YUM!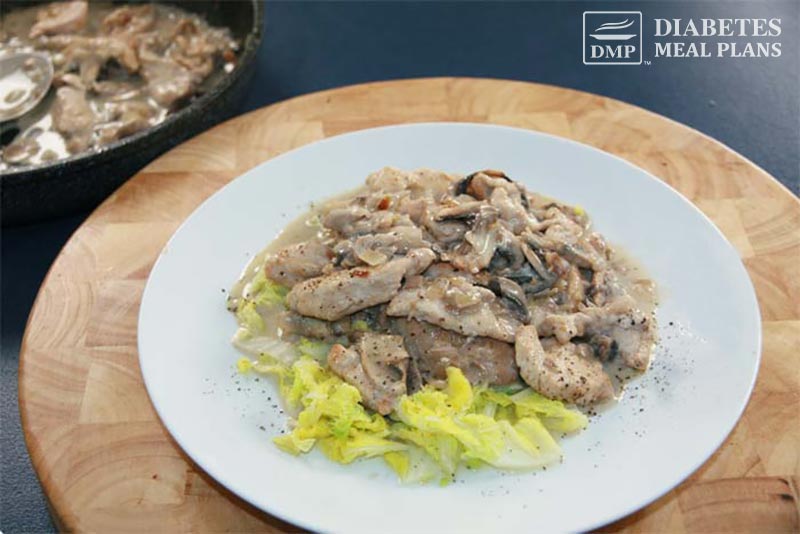 #10: Green Bean Casserole
This dish tastes delish on it's own. It's also perfect served as a side dish at Thanksgiving or another special occasion. Or simply pan fry a piece of fish or chicken to eat alongside it.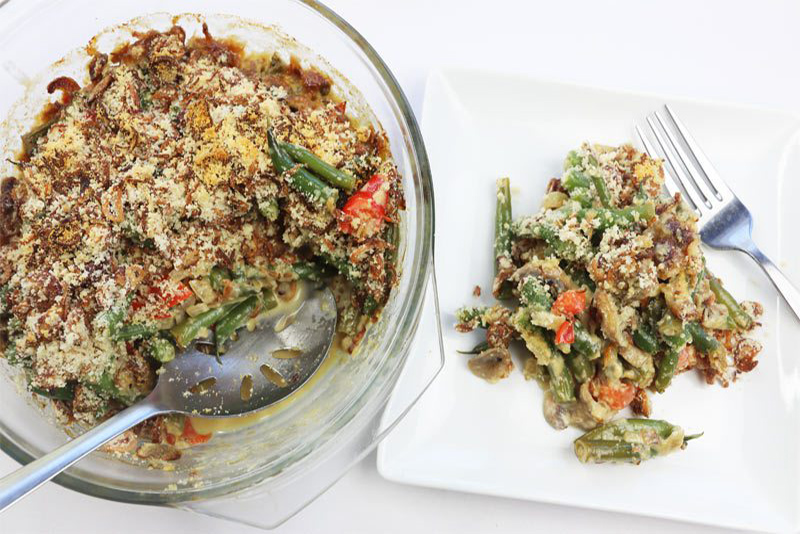 With those 10 delicious diabetic recipes, there's bound to be something there you love!
YOUR TASK: 21 Day

Lower Blood Sugar

Challenge

™
Re-evaluate dinner – What have you been eating for dinner? How have your 2-hour after meal blood sugar readings been? If your numbers are a little high, what could you do differently? Use the ideas above to guide you and begin creating your new dinner menu.

Choose something new for your menu – cook up a new dinner tonight, or better yet, get organized for the week ahead and plan your meals. Our members find that being organized with a weekly meal plan (which we do for them every week), keeps them motivated, saves money, and since they have new meals every week, they never get bored and can resist cravings easier – meal planning works! So see what you can do this week to put a bit of planning into your week.
BON APETIT!!
TESTIMONIAL:
Sharlene, VIP Member, says: "I've been following your plans for about a month now. My bs range was 150 to 185 (8.3-10.3) for am fasting. Now it's ranging from 105 to 140 (5.8-7.8)."