There's a lot of confusion out there about what you can eat when you have type 2 diabetes. And eggs happen to be one of those foods.
In fact, the nutritional misconceptions about eggs runs far and wide.
For instance, you might have been told not to eat them because they are high in cholesterol and therefore they will raise your cholesterol levels. Or you might have been told not to eat the egg yolks because of this reason.
Well, you may be surprised to learn that you can happily eat the eggs and the yolks without any harmful effects to your health.
In fact, eggs are a super healthy food that make a perfect addition to your diabetes diet.
Read on to discover why.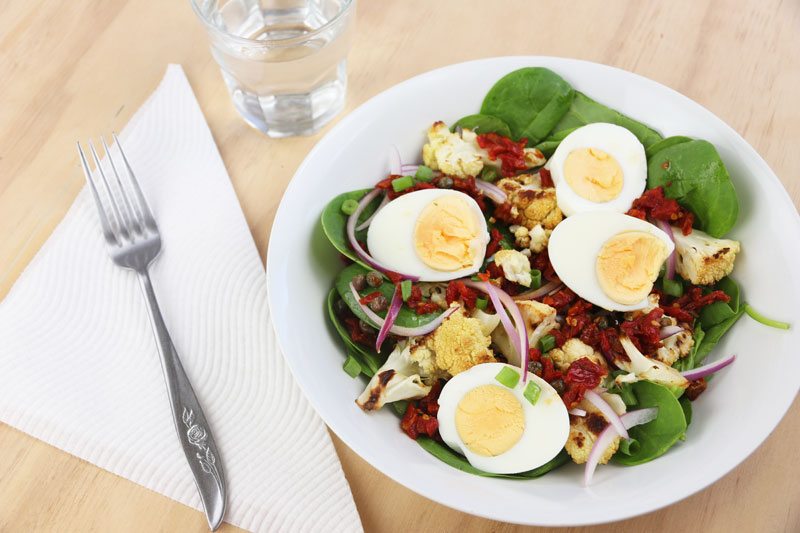 Egg Nutrition Facts
Let's start by comparing a full egg, the yolk and the whites to examine all the goodness eggs have to offer.
As you'll see, both parts of the egg contain nutrients but you will notice that the egg yolk contains some valuable nutrients critical to good health, such as vitamin D – a nutrient that is available in very few food sources.
Please share, pin, or tweet this info, then keep reading – thanks!

Eggs are High In Nutrients
After looking at the nutrition facts you may have noticed: eggs are an extremely nutritious source of protein. They are the most complete protein source on the planet! So not surprisingly, eggs are the gold standard for protein, with most other protein sources being measured against them.
Eggs are low in carbohydrates, which means, if you eat eggs they are not going to raise your blood sugar levels.
The egg yolks in particular contain many valuable nutrients. In fact, the yolks are actually the most nutritious part of the egg, containing calcium, choline, folate, vitamin A and vitamin D, among others.
While eggs do contain fat, including saturated fat and cholesterol, eating eggs does not raise cholesterol, nor does it cause heart disease. In fact, it's quite the opposite – eggs have heart healthy benefits.
Let's look a little closer at this misconception about eggs…
Cholesterol Intake Does Not Equal Higher Blood Cholesterol
Yes, eggs do contain cholesterol but cholesterol in foods does not automatically equate to more cholesterol in your body.
You see, your liver produces most of your body's cholesterol internally. And by nature of the way your metabolism functions, things like sugar, which is part fructose, promotes more cholesterol production that an egg. Carbohydrate foods also promote greater production of cholesterol.
MYTH BUSTER: Cholesterol in foods does not equal higher cholesterol levels.
Studies have shown egg consumption actually improves cholesterol levels (see research below). And most importantly, they improve HDL 'good' cholesterol – meaning they improve your heart health, and therefore, are a good quality, nutritious food to eat!
You'll also be surprised to learn that a few years ago, the American Dietary Guidelines Committee had to finally admit they made one of the BIGGEST nutritional health blunders in history – they had to remove the concern about cholesterol from the dietary guidelines!
Here's their statement:
"Cholesterol. Previously, the Dietary Guidelines for Americans recommended that cholesterol intake be limited to no more than 300 mg/day. The 2015 DGAC will not bring forward this recommendation, because available evidence shows no appreciable relationship between consumption of dietary cholesterol and serum (blood) cholesterol… Cholesterol is not a nutrient of concern for overconsumption."
While we now know cholesterol is not the problem, this myth is so deeply embedded in society and public health messages that it continues to persist, despite the fact that it is wrong.
[ssba-buttons]
It's Not About The Fat Either
Yes eggs do contain some saturated fat but you'll notice in the nutrition data that the predominant source of fat in eggs is monounsaturated fat.
Monounsaturated fat is great for heart health, it helps decrease inflammation, improves insulin sensitivity, and helps regulate blood glucose.
Don't Take Our Word For It, Trust the Research Facts On Eggs!
Earlier population studies seemed to indicate there was an association between egg consumption and heart disease. However, population studies only make associations, they don't really prove anything and they often don't exclude many other possible contributing factors.
In recent years, with new and better research (including clinical trials) becoming available, you can feel confident eating your eggs everyday!
A clinical trial (2015) conducted by Dr. Nicolas Fuller in people with type 2 diabetes found that eating 2 eggs per day, 6 days per week had no influence on cholesterol levels over a 3 month period, compared to those with an egg intake of less than 2 eggs per week. The study also found that consuming eggs can help stabilize your appetite and keep you fuller longer.
54% of the participants were taking statin medications, but even so, it made no difference between those who did and those who didn't – eggs were still considered safe to eat.
Dr. Fuller's team also did a longer follow up study over one year. The results were recently released (March 2018) and found that high egg consumption had no impact on any of the heart disease risk factors such as cholesterol, inflammation or oxidative stress.
Another well-designed clinical trial (2011) found similar results. Half of the participants consumed a high cholesterol diet (590 mg/d) with daily consumption of 2 eggs, the other group consumed a low cholesterol diet of 213 mg/d. The results showed no difference in LDL 'bad' cholesterol. Both groups lowered total cholesterol. But only the high cholesterol egg group saw their HDL 'good' cholesterol rise, while it decreased in the low cholesterol group.
This positive influence has also been seen in a study (2017) of healthy people – HDL cholesterol increased with each daily increase in egg intake. And when participants were consuming 2 to 3 eggs per day, their HDL-related antioxidant status increased as well. LDL particle size also increased, the particles becoming more buoyant, which indicates lower risk of cardiovascular disease.
For those with prediabetes, you'll also be happy to learn eggs do not increase risk of developing diabetes. In a large study (2015) of over 65,000 women, following them over 14 years, egg consumption had no association with developing diabetes.
Another study (2014) of over 50,000 people also found no connection between egg consumption and development of diabetes. And interestingly, those with a higher cholesterol intake had a 23% lower risk of getting type 2 diabetes.
A systematic review of clinical trials (2017) again confirmed the benefits of eggs, concluding: egg consumption has no impact on cardiovascular risk factors – total cholesterol, LDL cholesterol, triglycerides, fasting glucose, insulin or C-reactive protein.
And yet another review (2018) found that all well-designed clinical trials to date have found zero association between egg consumption and risk of cardiovascular disease or diabetes risk.
How Many Eggs A Day Is Okay?
The answer appears to be that you can eat eggs every day if you want to – studies indicating 6 to 21 eggs a week is perfectly fine.
Eggs are the gold standard for protein sources.

Eggs are a complete and natural nutrient dense food source.

The scientific facts show they are safe to eat.
So go ahead and enjoy your eggs, including the yolks!
Cooking Your Eggs
So you may be wondering, is there one best method to cook your eggs?
Not really!
Eggs can be fried, scrambled, boiled or poached.
Of course, frying and scrambling increases the calories and fat slightly because you add fat to the cooking process. That's still not necessarily a bad thing and overall doesn't change an eggs nutritional value all too much.
For optimal nutritional value, boiled and poached eggs are best to eat.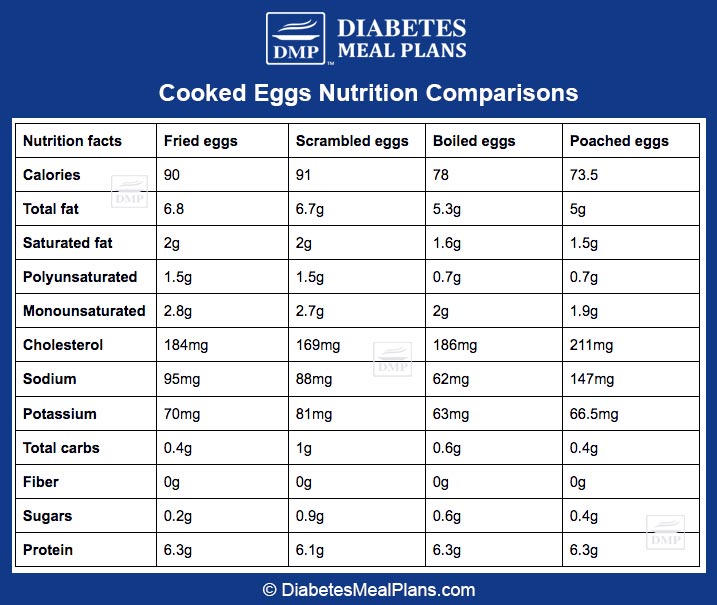 [ssba-buttons]
Conclusion
There are many misconceptions about eggs, particularly in terms of their high cholesterol levels. But these misconceptions have been proven wrong by research time and time again.
Eggs fit perfectly in a healthy diet. They are a low carb, high protein and healthy fat-filled food. And research demonstrates they actually provide many health benefits.
Feel free to add eggs to your meal plan on a regular basis – including the egg yolks!
Please pin, tweet or share this info to help inform others. Thanks!