Nobody likes getting sick. Cos' let's face it, there are few things more miserable than being confined to a bed or couch struggling to breathe and carry out daily activities.
And unfortunately, diabetes increases risk of illness of many kinds, including the flu.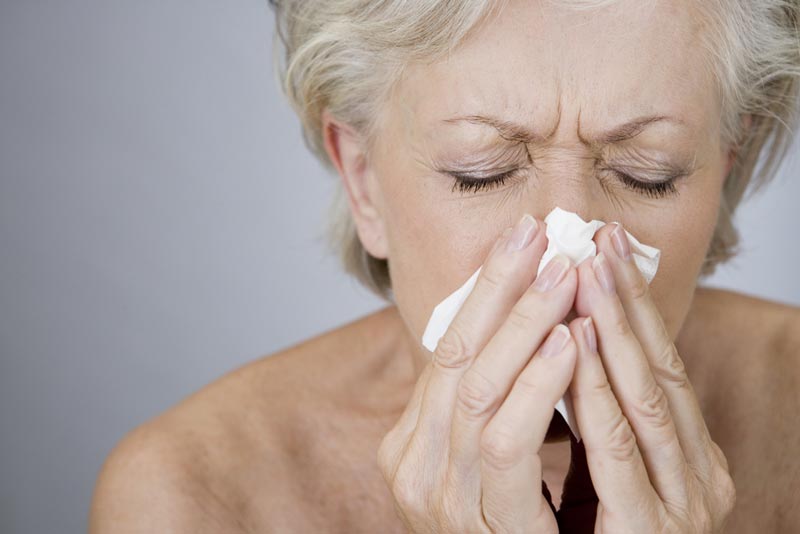 The reason this happens is because elevated blood sugar levels weaken the immune system, making it more susceptible to infection. 
And on the opposite side, infections raise blood sugar levels because as the immune system is mounting it's attack, it needs energy to fight infection. So catching the flu can result in a bit of a vicious cycle.
What is the Flu?
Influenza is a viral infection that affects millions of people each year. It is a notoriously contagious respiratory illness that commonly infects the nose, throat and lungs.
It spreads from person to person through droplets expectorated when people cough, sneeze or talk. Additionally, if these small droplets are on surfaces (counters, handles etc), people can touch them, then touch their face and infect themselves.
People may be infected and infect others before they even know they're sick and even after they've begun feeling better.
Generally people are contagious for about a week, though this obviously will vary depending on the person. Once a person is infected, symptoms show up within 1-4 days.
Symptoms of influenza
Please note, not everyone will get all of these symptoms and some of them can be symptoms of other disease. If you have any of these signs, you should schedule a doctor's visit for proper diagnosis.
Symptoms of influenza include:
Fever/chills
Cough
Sore throat
Runny nose
Body aches
Headaches
Fatigue
Flushed skin
Vomiting and diarrhea
Complications of influenza
Complications of influenza can include:
Pneumonia
Ear infections
Sinus Infections
Bronchitis
Dehydration
Worsening of chronic conditions – which in your case, includes diabetes

Specific to diabetes this includes conditions called DKA (diabetic ketoacidosis) and HHS (hyperosmolar hyperketotic state), which can result in life-threatening elevated blood sugars.
People at greatest risk for serious flu complications are those with compromised immune systems including: the elderly (over 65 years), pregnant women, and young children. This doesn't mean they can't or don't happen to others, just that these populations should be especially cautious.
Be aware that while millions of people get the flu and most people will at some point in their lifetime, hundreds of thousands are hospitalized as a result, and tens of thousands actually die from it.
So it is not something to be taken lightly, especially when you have diabetes and have a higher risk of complications already.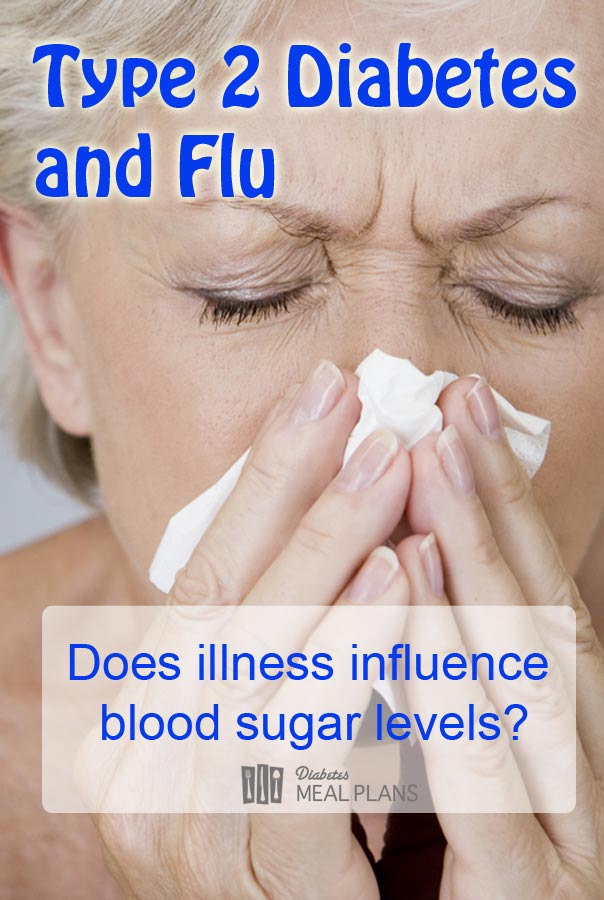 What to Do When You Get the Flu
It's always smart to go see a doctor to get a proper diagnosis.
Once you know you have the flu, rest and recovery is key. Don't go into work as this will slow your recovery and put others at risk. There are certain over-the-counter medications that can help ease the symptoms, such as cough drops, but be sure to check the label as many of them have added sugar.
When you have diabetes, the most important thing to remember when it comes to getting sick is that you need to check your blood sugar much more frequently.
The reason for this is that illness can make blood sugar go too high or too low and can even cause it to fluctuate between the two.
Think about it: you're feeling miserable and may have an infection–the emotional and physical stress can send your blood sugar up.
But then as a result of feeling this way, you may sleep all day and not eat much. This can cause your glucose levels to plummet. You may vomit, which can make blood glucose go up or down.
Alternatively, since you're eating less food or not able to keep much down, you may resort to sips of juice, soda or white crackers. And you know what this will do – up goes the levels!
When you're sick, it's recommended to check your sugar every 2-4 hours and notify your doctor of any extreme numbers high or low. They may advise you to check into the Emergency Department for closer monitoring. Your doctor may advise you to check your ketone levels (urine) as well.
While you may not have much of an appetite, your body still needs nourishment and in fact needs additional nourishment to heal and recover when sick.
Drink lots of fluids, especially water and broth to stay hydrated. If glucose levels are high, stick to sugar free beverages. If your sugar levels are low and you can't keep foods down, dilute ½ cup juice and sip on that every couple of hours.
If you are able to eat, stick to healthy low carb foods to avoid blood sugar spikes.
It's important to remember to continue taking your insulin and medications unless your doctor states otherwise. This can be easy to forget when you aren't feeling well or sleeping longer.
Also, check your temperature daily as well as fever can be a sign of infection that may require further attention.
Flu Treatment
Flu treatment works best when initiated as soon as possible!
In those at high risk, such as in diabetes, it is recommended to treat the flu with anti-viral medications. These work best when initiated within 48 hours of onset of symptoms.
Treating early will also help prevent more serious complications associated with flu. These anti-viruses can stop flu viruses from making more viruses.
However, they do require prescription, so will need to make an appointment with your physician to obtain them.
Flu Prevention Measures
Prevention is always better than cure. And though you can't always avoid the flu, using the following tips can minimize your risk.
Get the flu shot every year. While this is certainly not a guarantee, it reduces the risk of you getting the flu. Same goes for the pneumococcal vaccine, which doesn't need to be repeated annually.
Wash your hands frequently. Do this several times a day using antibiotic soap, especially after going to the bathroom.
Cover your cough or sneezes. This should go without saying, but remember to catch your sneezes with a tissue or sleeve and carry tissues with you when you're feeling sick.
Steer clear of sick people. This may not be possible entirely (especially if you are a parent with sick kiddos), but if and when you can avoid coming into contact with people who are sick, definitely do so. Wash hands and wear a mask in places like clinics and hospitals, and encourage others who are sick to stay home and rest rather than meeting up.
Have a sick day plan. It's always a good idea to have a sick day plan and even a "kit" prepared with needed items–phone numbers, lists, glucose logs, ketone strips, thermometer, sugar free cough drops, over-the-counter pain medication, lancets, glucagon kit, water bottles etc. Discuss your plan with your family, partner, or roommate, as well as your doctor to make sure everyone is on the same page
While we often define a certain couple months out of the year (late fall/early winter) as "flu season," the reality is that the influenza virus can be contracted any time of the year.
Stay on top of prevention, including maintaining good blood sugar control year round. This will give you the best shot at avoiding and catching the flu and/or best possible outcome if you do.
Please pin, tweet or share this info. Thanks!