I wonder how many people are old enough to remember the days of childhood when kids had the luxury of being "bored." I reminisce of running through the neighborhood, climbing up hills, sitting with friends and having to come up with games and things to keep us occupied. Those days are long gone and life moves at a faster pace than I can keep up with.
There is so much to do and so much less time to do it all. I have bills, things break (including things in my body!), difficult conversations happen, and many days life is just not what I'd expected.
What I'm describing is the inner state of about 95% of the developed world. We are a fast-paced, high strung, convenience-driven society, and it is a recipe for disaster!
Stress and Diabetes
While infrequent bouts of high stress events can keep us alive – think fight or flight survival mode: if you encounter a wild lion, you WANT your body to be stressed, it just might save your life! – chronic low grade stress, on the other hand, can be of great detriment to our health.
One psychologist defines stress this way:
"Any event in which environmental demands, internal demands, or both tax or exceed the adaptive resources of an individual."
Whether the stress is environmental, emotional or physical, what happens when we interact with a stressor (positive or negative), is a series of biological adaptations, most significantly an elevation in the hormone cortisol.
Hmmm, can you think of any other conditions that involve hormones?
You got it! Diabetes.
Diabetes is a condition where glucose levels are higher than normal. You'd most likely associate the hormone insulin with diabetes. But one of the effects of cortisol is to raise sugar levels to prepare the body to fight or run – meaning the hormone cortisol can contribute to high glucose levels.
Too much stress can contribute to elevated glucose levels, or lack of ability to gain good control.
This is one of the additional benefits of exercise – it helps mitigate the effects of cortisol. As you engage your body in physical activity, cortisol is reduced and thereby reduces sugar levels.
Even though stress can often seem emotional in nature, the body is a cohesive unit and therefore we can experience a whole range of physical side effects, including inflammation.
Signs of Stress
Signs you may be chronically stressed include:
Fatigue
Insomnia
Headaches
Poor immune system
Sugar or caffeine cravings
Mood swings
Digestive problems
Unfortunately there can be a bit of a snowball effect in that stress causes cravings for unhealthy foods which will, if eaten, increase stress and inflammation. It can become a repetitive downward spiral.
That's why we need to learn to respond to stress instead of reacting.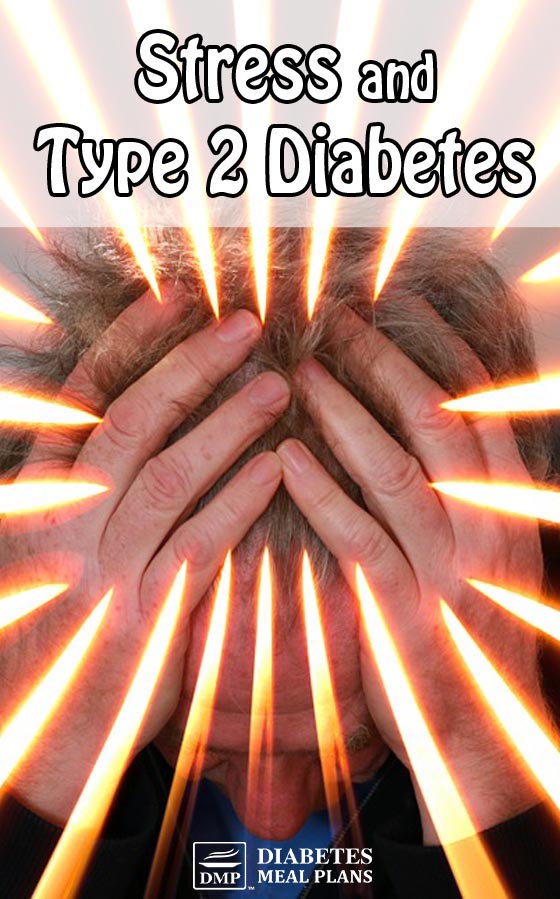 Responding not Reacting to Stress
I know what you're thinking: "But I can't help it. I'm surrounded by stressors on every side–work, family, kids, bills etc."
It is interesting to note that many psychologists and psychiatrists have been very surprised at how much easier our circumstances have been when compared to other ages in history, and yet we have a much more difficult time dealing and coping with them.
This is not to belittle your hardships, but truth be told, much of what we are stressed about is trivial compared to things like typhoid fever, the plague, empirical harsh rule and oppression, slavery, and fear for our lives!
What I've found in reading about history through journals and accounts of men and women who have suffered in such ways, is they had much better coping mechanisms than my own. What matters is not so much how bad the circumstances are as your response to those circumstances.
Victor Frankel, a French psychiatrist who lived the terrors of the concentration camps in Nazi Germany stated:
"Forces beyond your control can take away everything you possess except one thing: your freedom to choose how you will respond to the situation. You cannot control what happens in life, but you can always control what you feel and do about what happens to you [emphases mine]."
It's certainly not easy but we can choose (and learn) to respond better to stress and the way we look at things.
5 Practical Tips to Deal with Stress
Here are some practical empowering tips to help you reduce stress:
1. Set Boundaries.
Set boundaries with whom you spend time and what you commit to. Learn to say 'no.'
This is hard for many people, especially women who want to please everyone. If you aren't well taken care of, how will you do a good job with the things you are committed to?
Figure out the things that are most important and necessary in life and give your time and energy to those.
2. Be Careful When Watching the News.
It's good to know what's going on in the world, but much of the time, news isn't just the facts, but stories with dark and dramatic twists and spins designed to engage you emotionally.
Reporters know that fear draws attention–don't give in to it!
3. Plan Your Response.
Prepare your mindset in advance.
Many of the things we stress over are the same issues we've stressed over earlier that week, month, or year and those circumstances are likely to come up again.
If you can do something about it, great–fix it! And if not, decide what a better response would be, and work to conform your thinking to that pattern.
Consider the wonderful blessings in your life and spend some time thinking about all that is positive in your life.
Sure, there may be negatives and concerns. But there are lots of positive things to be grateful for too.
Focusing on the positive will not only help mitigate some of the negativity around you, but it will also help remind you of the great things you do have to be thankful for.
5. Develop Right Perspective.
Try to take a big step outside the picture you're in and ask yourself whether it is something worth stressing over. Is it really as big of a deal as you're making out of it?
It's also sometimes helpful to ask whether the stress is actually helping the situation – often you'll realize it is not.
Finally, imagine a close friend or family member going through what you are and consider how you would advise them. Often times we are better at taking care of others than we are ourselves.
Please share, pin, or tweet this post. 🙂