Whether you're from the North and call it "Pop," from the Midwest/South and call it "Soda," or from Texas can call it "Coke (even if you're referring to a different brand which confuses the rest of us!)," this bubbly, fizzy stuff is everywhere. And when it comes to soft drinks and diabetes, it's a BIG problem!
Whether you grew up with soft drinks in the home or slamming down a sweet fizzy drink was simply a rare treat, unless you've been living under a rock, sweetened beverages are something we all encounter daily – either personally or vicariously.
Soft drinks (as opposed to "hard drinks," which would include alcohol) generally just refer to carbonated sweetened beverages, but sometimes it also refers to uncarbonated forms like lemonade, fruit punch or sweet tea.
What is soft drink anyways?

Soda consists of carbonated water, which has been flavored with sugar (less common) or high fructose corn syrup (most common). In the case of diet sodas, the sweetener used is artificial sweeteners – aspartame, saccharin and such.
Soft drink may or may not contain caffeine – those darker in color typically contain caffeine, though this is not always the case. And they often contain coloring, additives and preservatives.
From 1977-2002, Americans increased their intake of sweetened beverages by 135%, which was in direct proportion to the growing obesity trends.
Lemonade consists of lemon juice that's been diluted with water and sweetened with sugar, while fruit punch is some combination of fruit juices with either sugar or high fructose corn syrup. Sweet tea is simply tea that has been brewed and sweetened with sugar or syrup.
Since carbonation itself is neither beneficial nor problematic (it's simply CO2), it makes little difference whether your soft drink is lemonade or soda–what matters most is it's sugar content and it's artificial sweetener content as well.
While there are some differentiation in chemical additives, we can equate all the sodas, pops, lemonades, fruit juices and sweet teas in the same category nutritionally, whether they are sweetened naturally or artificially.
Nutrition Facts About Soft Drinks
The only nutrient contributed by soda is carbohydrate, mainly in the form of added sugar–and as mentioned already, the sugar is usually the worst kind: high fructose corn syrup.
There are no vitamins, minerals, protein or antioxidants, and obviously no fiber to provide physical satiety. Soft drinks are empty carbs, empty calories, and empty of all nutrition.
While there is some degree of variation, most sweetened sodas contain between 120-180 calories (30-48 grams carbs) per 12 oz (1 can). Keep in mind that while a serving is generally shown as 8 or 12 oz, most people consume 20 oz at minimum (the size of a bottle) or in the case of fountain drinks 32-44 oz (>500 calories and 132 grams sugar!).
| | | |
| --- | --- | --- |
| Soda (12 oz) | Calories | Carbs/Sugar |
| Ginger Ale (Schweppes) | 120 | 33 |
| Sprite/7 Up | 140 | 38 |
| Coke | 140 | 39 |
| Pepsi | 150 | 41 |
| Orange Crush | 160 | 43 |
| Mountain Dew | 170 | 46 |
| Fanta Grape | 180 | 48 |
Please pin, tweet or share this info, then continue reading. 🙂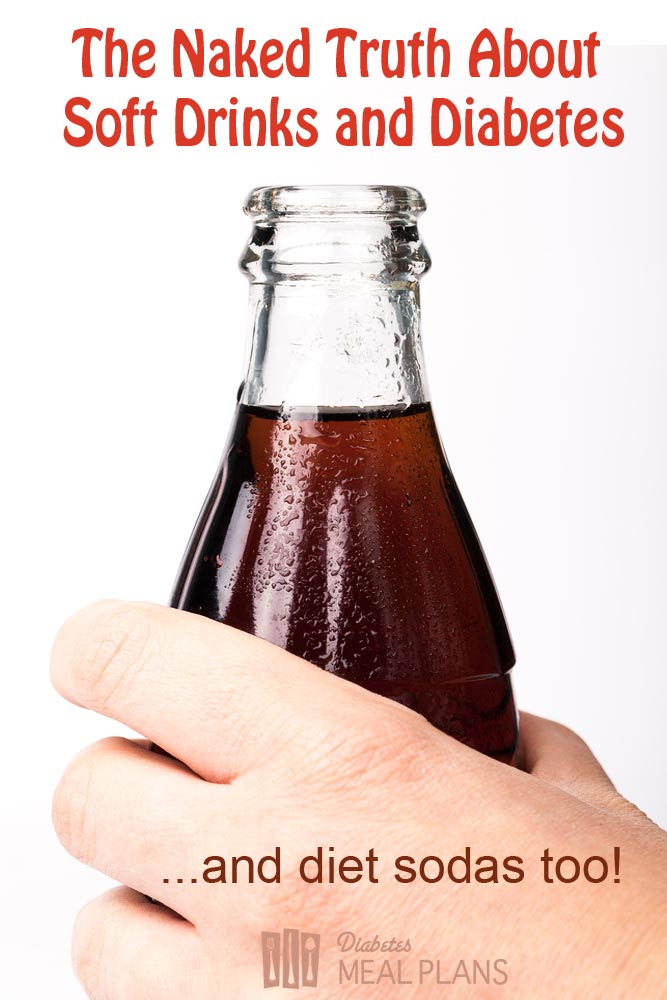 Soft Drinks Comparison
Let's look at one can of Coke (high sugar) compared with Diet Coke (zero sugar) vs 100% juice (high sugar). While it appears that diet soda is the clear winner, there are other considerations that are not reflected on the label.
For instance, aspartame (the chemical sweetener) is not caloric and therefore not represented under the nutrition facts, but, it's not good for diabetes, period (more on that in a minute).
Coke, Diet Coke and 100% Juice Compared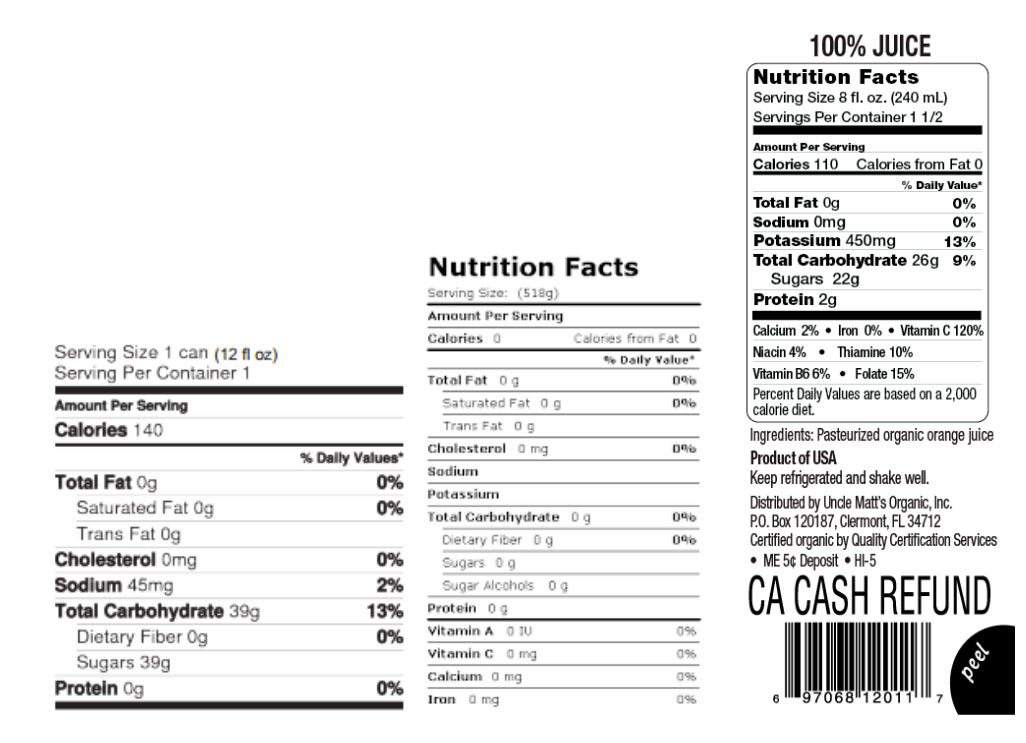 Notice that 100% juice is quite high in sugar–in fact the sugar count is about the same when you account for volume – fruit juice is in 8 oz serving sizes while soda is in 12 oz cans.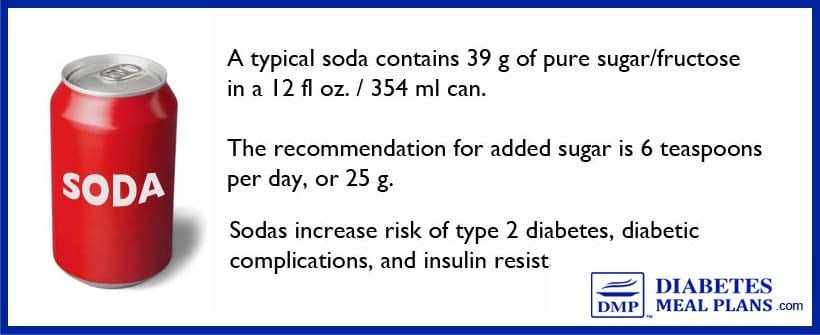 Myths and Truths about Soft Drinks

Diet soda may boast of it's stats – zero calories, zero carbs and zero sugar, but there's more to it than meets the eye. As many of my patients have said, "There's nothing in it so it's fine for me to consume."
Not true. At a minimum there are artificial sweeteners, which aren't as innocent as they might appear. In fact, artificial sweeteners have been linked to weight gain not weight loss as might be expected – see more about this in the research section below.
Be careful about sparkling "flavored water." Most of the time, these are simply diet sodas renamed. Check the list of ingredients for words such as: aspartame, acesulfame potassium, or sucralose. Carbonated water with artificial sweeteners is the same whether you call it "flavored water" or "diet soda."
"Light" (colored) soda is not any healthier for you than dark. The main difference is that lighter sodas may not have phosphoric acid, which causes kidney damage. However, both contain sugar and drinking sugar results in elevated blood glucose (diabetes), which is the leading cause of kidney damage.
So don't think you're doing yourself any favors by changing your Coke for a Sprite!
Research on Soft Drinks and Diabetes
Drinking liquid calories does not produce the same satiety (feeling of fullness) that eating food does, even for the same amount of calories. In fact, liquid calories increases hunger.
Fructose, the type of sugar used to sweeten most sodas, decreases leptin (the satiety hormone) and increases ghrelin (the hunger hormone) while increasing belly fat and cardiometabolic risk. More belly fat, more risk of heart disease, higher risk of diabetic complications – overall, not good news for you.
Not surprisingly, soda leads to weight gain – including diet soda. Soft drinks are a key culprit in the obesity epidemic we've seen in the Western world, including in our children.
Both regular and artificially sweetened carbonated beverages are associated with higher levels of type 2 diabetes as fructose increases insulin resistance. It is estimated that 1 can of soda per day increases diabetes prevalence by 1.1%.
And just to highlight again, diet soft drinks are no better. Although diet soda has no calories or sugar, it still has been shown to increase risk for diabetes by 67–120% and diet sodas lead to weight gain, NOT weight loss as expected.
In addition soft drinks cause dental problems – this is due, not only to the sugar, but also the phosphoric acid in dark sodas.
Soft drinks also increase triglycerides, and increase risk of cancer, kidney stones, and gout in both men and women.
Image via: A Soda Tax Could Prevent 26,000 Deaths Each Year
Finally, sugar is ADDICTIVE.
This has been shown repeatedly in rat studies with evidence to support food addiction in humans as well. Further to this, Dr. Eric Stice has highlighted how it stimulates the same brain centers as cocaine. Additionally, sugar leads to cognitive impairment and may contribute to dementia and Alzheimer's.
While there are challenges to some of the negative claims mentioned above, most of them can be traced back to funding or support by the sugar industry. In short, there is NO benefit to come from drinking sodas apart from instant gratification. And on top of this, the negative health consequences are quite significant.
Drink at your own risk!
Healthy "Soda" Options
There is a healthy "soda" option, one that is completely sweetener free: club soda or seltzer water. And LaCroix, Dasani and many other companies make flavored (unsweetened) varieties.
LaCroix flavor their sparkling waters with natural flavors that are often fruit extracts and essential oils. They contain zero sugar, zero sweeteners, zero carbs and come in a variety of flavors – berry, coconut, lemon and orange.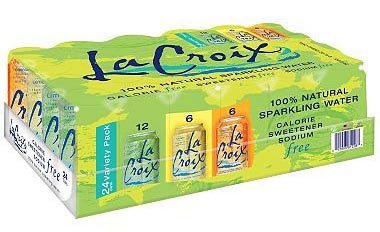 Alternatively, you can purchase a variety pack (pictured above) – 24 cans for around $24.95 makes them just $1.24 each.
Alternatively you can infuse your water or sparkling water with fruit (strawberries, cucumber, lemon, lime) or herbs (mint, thyme) or brew it with an herbal tea to give a bit more flavor.
You can also purchase stevia sweetened flavorings to add to your water. Stur water enhancers are a great choice. Natural ingredients, sweetened with stevia and contain zero carbs.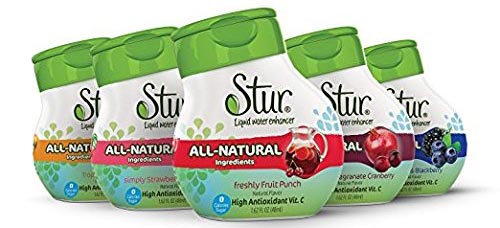 So What's the Deal with Soft Drinks and Diabetes?

It probably won't surprise you to find that soda is not a diabetes-friendly food and it is a very poor source of nutrition.
There is nothing "healthy" about sodas or diet sodas–they are simply a sweet treat your taste buds may enjoy, which are likely to stimulate your appetite, elevate blood sugar, pack on pounds and further contribute to chronic health problems.
Diet sodas are a bit more controversial since they don't contain sugar or calories; however, there is much evidence to suggest potential side effects due to the artificial sweeteners and other added chemicals. Keep in  mind that while a diet soda/zero drink may be a better alternative, it is still not healthy for you in that it provides nothing beneficial nutritionally.
At the end of the day, your beverage is supposed to hydrate you so the best beverage overall is water.
Still, plain old water is pretty darn good. And if you do find water boring, drink it anyway, then go find something adventurous to do! 🙂
Please pin, tweet or share this info to help others. Thanks!