Good glucose control with type 2 diabetes is very important. It's the difference between good health and serious complications. Why?
Because it's the high glucose levels that cause damage to the vessels and organs throughout the body. And that's exactly where blood glucose spreadsheets can act as a great tool (and we have some to give you for free).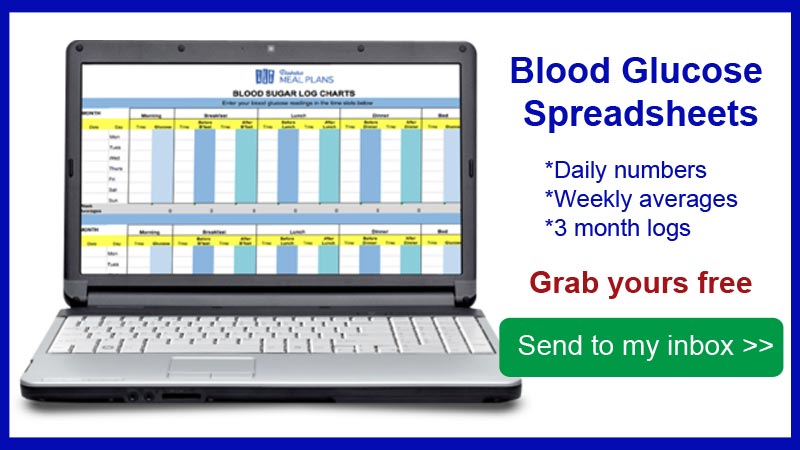 Before moving on, let's get one thing clear: blood glucose and blood sugar refer to the same thing. So, let's look a little closer at blood glucose monitoring and control.
What Does It Mean To Control Blood Sugar Levels?
It simply means you want to get your blood glucose and A1C as close to normal (non-diabetic) as possible and maintain them at normal levels, too.
What's normal?
| | | | |
| --- | --- | --- | --- |
|   | FASTING | AFTER MEALS 2 HOURS | HbA1c |
| Normal | 70-99 mg/dL (4-6 mmol/L)* | <140 mg/dL (<7.8 mmol/L)** | <5.7% |
*Note that different agencies establish different standards. Some range 70-100 mg/dL, some 70-110 mg/dL, some 70-130 mg/dL.
**Some agencies recommend <180 mg/dL post-meal especially in the elderly and those who have had diabetes for a very long time.
Setting Goals to Lower Your Blood Glucose
Overall your goal is to gain good control of your diabetes, which means maintaining normal glucose levels, or getting as close to normal levels as possible (refer to the normal numbers above).
But, be aware that you must work with your doctor or healthcare team to set goals. If your glucose is currently running at 250 (13.9), it's unrealistic to think you'll reach 140 (7.8) overnight. In this case your initial goals would be higher, then once you reach those you will adjust again.
Please pin, tweet or share; then keep on reading.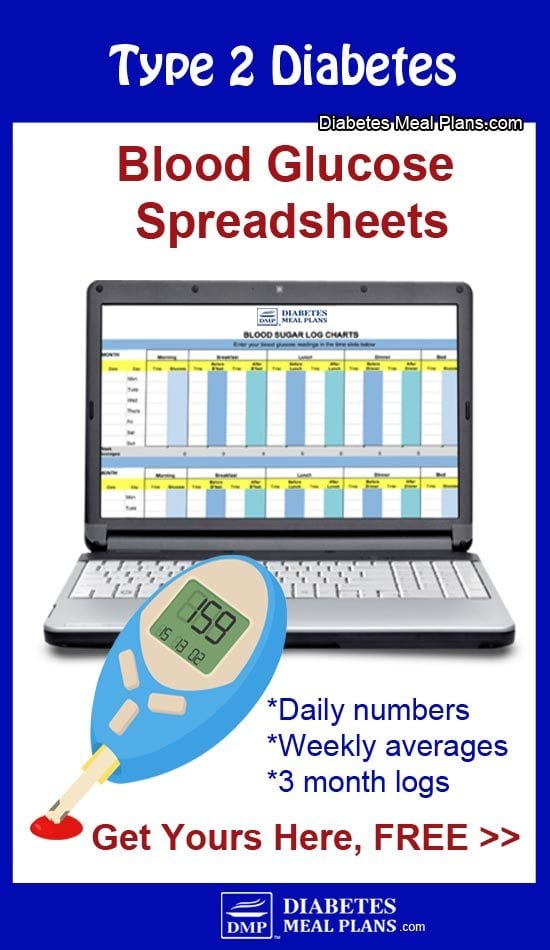 Testing and Logging Blood Glucose
Your physician or health practitioner may recommend different testing routines for you, for instance, only once per day. But testing up to 5 times a day is common practice in many.
By testing more frequently, you gain a better understanding of your patterns and have the ability to more quickly understand how foods influence your glucose levels so you can adjust your diet or lifestyle accordingly.
Our blood glucose spreadsheets contain 5 testing inputs:
Morning: To input your fasting levels, which should be soon after you get out of bed
Breakfast, Lunch, Dinner: To input your 2 hour post-meal numbers. You should time this from your very first bite of food.
Bed: To input your levels before going to bed.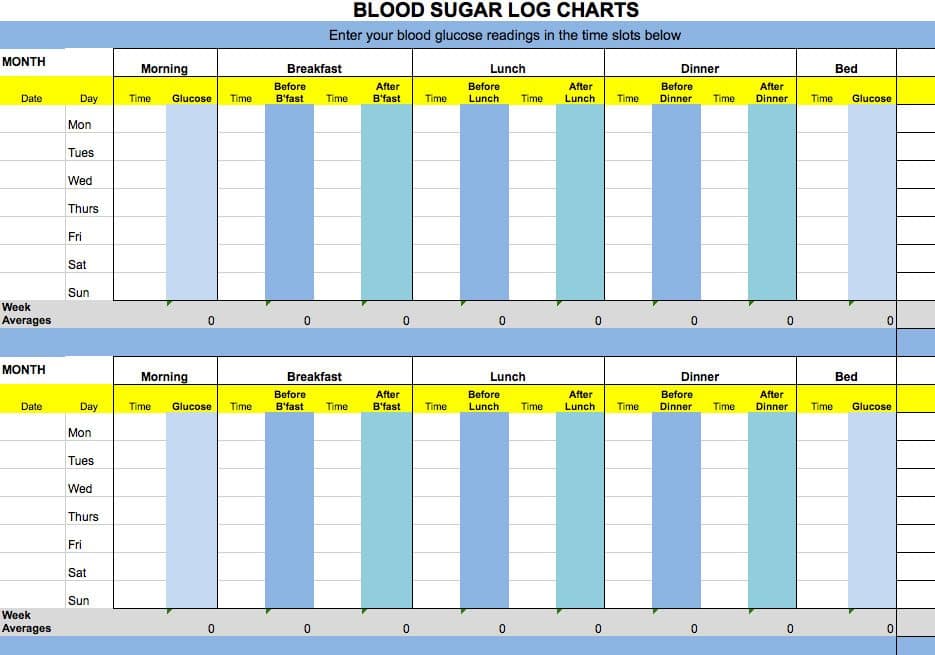 You'll also see that the spreadsheets contain an input where you can enter the time.
And as you enter your daily/ weekly numbers, the spreadsheet will automatically calculate an average glucose number for the whole week. As you can see in the example below.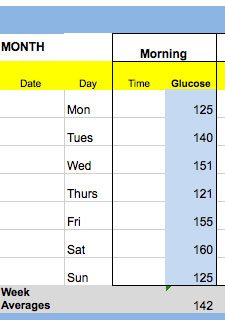 These averages are great to share with your physician and healthcare team. And over time you will be able to monitor the changes occurring.
You also have an area on the spreadsheets to input notes. You can write food notes, or questions you might like to ask your health care team.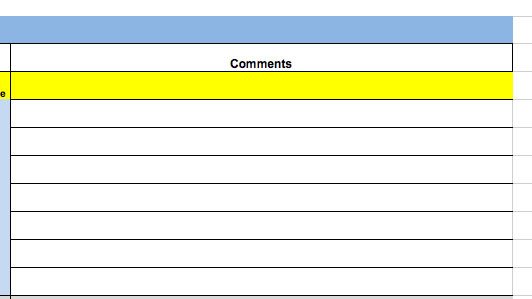 The spreadsheets are set up with 3 months worth of glucose monitoring. You will see there are 3 tabs on the spreadsheet.

If you want to keep using them long term, after you receive the free download, select "save as" and save your file under another name. That way you can keep the main download as a master copy that you can use once you fill up the first spreadsheet.
On top of the free blood glucose spreadsheets, we've also got a few other great goodies in our freebie pack — blood sugar charts, a printable food/ glucose tracker, and our recommended food list.