Since becoming more widely accepted in the 80's, yoga is has become a very popular form of exercise. And in terms of yoga for diabetes, research shows it can reduce inflammation and stress, increase weight loss and even influence blood sugar levels.
We're here to explore more about yoga for diabetes and we've even got a place you can do classes for free, no matter where you live in the world!
Keep reading to discover the details…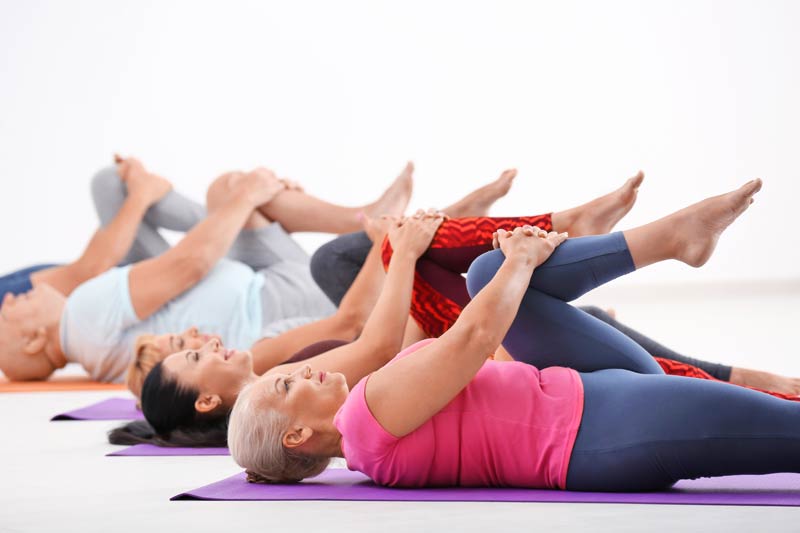 What is Yoga?
When you think of yoga, you may instantly envisage an Indian guru-like person doing some awkward body-defying pose or standing on their head – that's common – and the reason is because yoga is a 5,000 year-old practice from India!
While yoga was largely associated with Hinduism and Buddhism early on, modern-day people from all backgrounds and beliefs now enjoy the physical and mental benefits that it brings.
There are many different methods of yoga but one of the most common styles is called "hatha yoga," a practice that incorporates both physical postures (poses) and breathing techniques.
Hatha yoga is ideal for beginners because it is relatively low impact on your joints, you won't feel pressured to do any crazy headstands (Iyengar yoga), and you won't be expected to sweat it all out in a boiling hot steam room (say hello to another type of yoga, Bikram yoga)!
3 Elements of Yoga
While the idea of yoga can bring to mind strange images and perhaps even some resistance to try it (for fear of having to chant or stand on your head!), it's actually a pretty straightforward practice that incorporates exercises for both the mind and the body. This makes it an ideal exercise for reducing stress while also increasing your physical strength.
A traditional yoga practice is comprised of eight limbs with each limb representing a distinct physical or spiritual component. But to simplify things, these eight limbs can be broken down into three basic elements:
Pranayama (controlling the breath) – engaging in deep, purposeful breathing increases oxygen in the body, boosts cognition, and increases energy and vitality.
Dyana (mindfulness and meditation on the body) – reflecting on the moment and "getting out of your head" reduces stress and anxiety, increases self-awareness (which can help with diabetes management), and promotes a sense of wellbeing.
Asana (physical postures) – working through a sequence of poses increases flexibility and circulation, improves balance, reduces body pain, and increases physical strength.
It is the combination of these three elements that make yoga such a great tool for physical and emotional health.
It can be easy to view regular exercise as an exhausting chore, but a session of yoga should leave you feeling recharged and ready to take on the day!
And if you're not convinced to try yoga just yet, then take a look at all the research that shows how beneficial this exercise can be for people with type 2 diabetes.
Please pin, share or tweet; then keep on reading.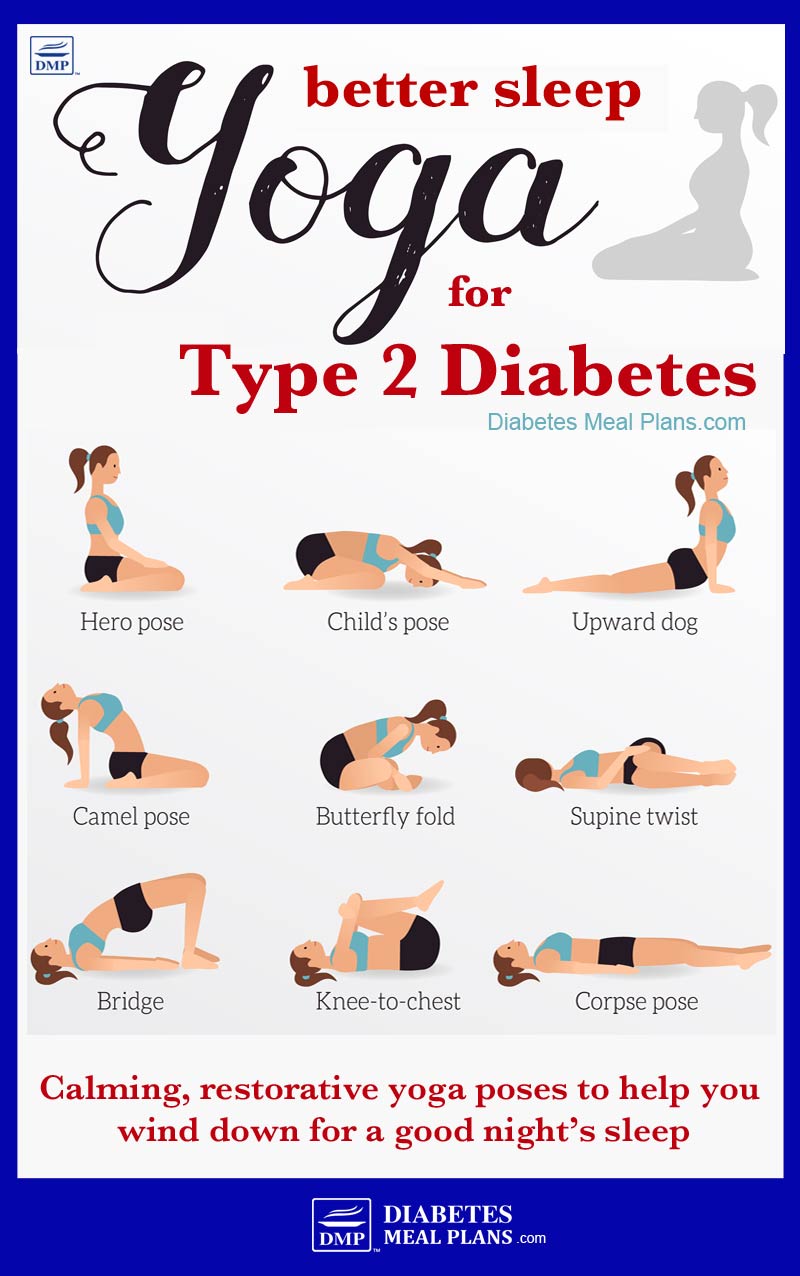 Research on Yoga for Type 2 Diabetes
If you're one of the 90% of people with type 2 diabetes who are carrying around some excess fat, you'll be pleased to learn that yoga can help you lose total body weight, reduce your waist circumference, and lower your body mass index, which may increase your mobility and reduce inflammation. And of course, reducing body fat may also lower your risk for developing type 2 diabetes if you are prediabetic.
How much yoga would it take to achieve this? A 2014 study indicates you would have to do a regular regimen of yoga for 3-6 days per week for at least 8 weeks.
Adding a yoga class to your routine might also make managing blood your sugar levels a little easier, as seen in the following studies:
Another issue that drives the development of diabetes and diabetic complications is oxidative stress, and research has also found that yoga can reduce it.
A 2011 study found that a group of adults with type 2 diabetes who practiced yoga a minimum of 3 times per week for 3 months had up to a 60% increase in antioxidants like glutathione and vitamin C, and their levels of overall oxidative stress dropped by 20%.
Physical benefits aside, yoga has also been shown to positively affect mood, anxiety, and even boost your ability to think clearly.
A 2013 study found that a regimen of 3 Hatha yoga classes per week for 6 weeks significantly improved the amount of perceived stress and anxiety among a group of previously sedentary type 2 diabetics. They also saw an increase in self-care behaviors during the 6 week study.
A 2016 study found that people with type 2 diabetes who practiced yoga 6 times a week for 6 months led to significant improvements in cognition.
A 2016 review of controlled trials also found a range of positive benefits for people with type 2 diabetes who regularly engaged with yoga (average of at least 12 weeks):
Reduced inflammation
Lower blood pressure
Improved sleep
Improved cholesterol levels
Lower overall risk of developing type 2 diabetes
Lower risk of developing diabetic complications
Improved physical function
So why is yoga so beneficial?
Yoga may lead to lower blood sugar levels, in part, because yoga relieves stress and anxiety. Stress contributes to high blood sugar levels, so practicing mindfulness and other relaxation techniques can assist with blood sugar regulation.
Researchers also suggest that yoga has a positive influence on the endocrine system (your body's hormonal control engine), as well as reducing inflammation, a known contributor to the development and progression of diabetes. And of course, exercise improves insulin sensitivity, which means glucose is cleared from your bloodstream more efficiently.
Say Yes to Yoga: Here's How To Get Started, for Free!
Now that you know how awesome yoga can be, you might be ready to jump right into it, which is great!
And, the good news is, you can get started for zero cost!
There is a brilliant yoga website called Do Yoga With Me. They have hundreds of classes you can follow along to from your living room – absolutely free – with no chanting or headstands involved. 😉 They do offer some paid options, but with hundreds of classes available, it will be unlikely you will ever need to pay for any.
There are classes for beginners, for seniors, for back pain, hips, neck, core strength – you name it, they've got it!
Yoga is a gentle, and wonderfully enjoyable form of exercise, and with all the benefits it can offer you, I do hope you give it a try.