First things first. Exercise is something EVERYBODY should be doing!
In the same way that a person shouldn't only eat a healthy diet when they have diabetes, a person shouldn't only exercise if they are trying to lose weight or have chronic disease. Just as a home, a car, or any other machine requires regular maintenance to function optimally, the human body requires activity to keeps its muscles, organs, and bones strong and healthy.
That's why we are going to cover type 2 diabetes and exercise and why it's so important to get yourself in a routine.
You'll be happy to know from now on in, Fridays on the DMP Blog will now be dedicated to "Fitness Friday's." We want to help educate you about all the different types of workouts you can do and perhaps provide some weekly motivation too. 🙂
Benefits of Exercise
Helps with weight loss (and maintenance)
Improves mood and self-esteem
Counters depression and anxiety
Increases energy levels
Controls appetite
Makes it easier to do basic activities (ie. climbing stairs, carrying groceries, playing with kids…)
Reduces stress
Reduces body fat
Strengthens muscles (including the heart), lungs and bones
Reduces risk for injury (including back pain)
Lowers risk for disease (heart disease)
AND improves blood glucose control by making the body more sensitive to insulin
This last point may be most relevant with diabetes and even pre-diabetes.
If you picture insulin as the key that unlocks the cell door to let glucose in, picture exercise as grease in the keyhole and hinges–getting that door ready and willing to open up, easily allowing glucose to be taken into the cells and reducing sugar in the blood.
Exercise helps insulin do it's job better, lower and keeping blood sugar levels more stable.

Featured Image Credit: What is Diabetes via KUMC.edu
How Much Exercise?
For most people the answer is: just a little more than you're doing right now.
While a minimum of 30 minutes a day is optimal for general health benefits, more is probably necessary for weight loss and to gain considerable changes in the areas mentioned above.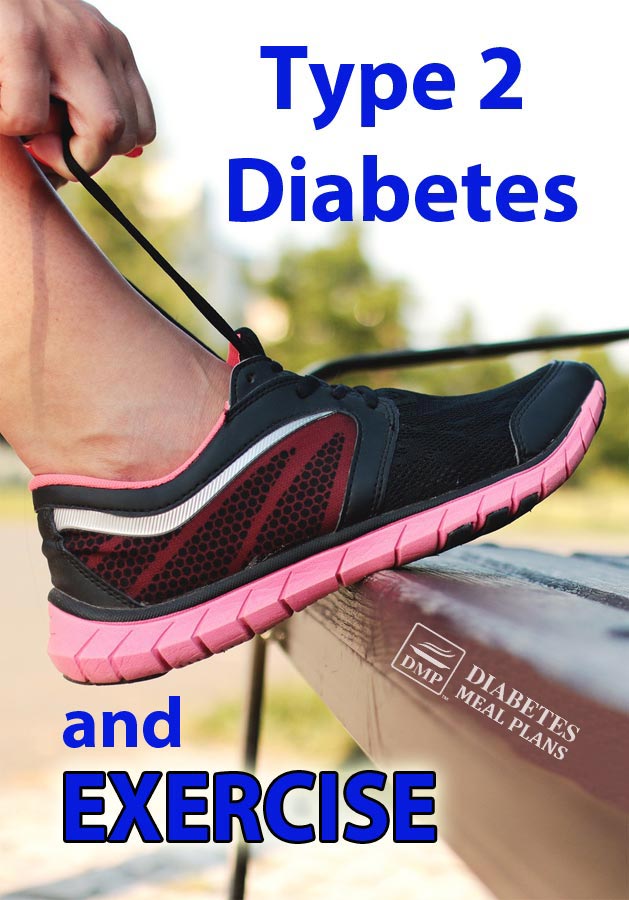 However, if you are currently sedentary (ie. no activity at all), 30 minutes a day might not be realistic. Start out with just 5 minutes. Then gradually work your way up by a few more minutes every couple of days until your body is adjusted and your muscles adapt to new patterns. Alternatively, if you are already exercising 30 minutes a day, you may want to look at creative ways to increase your activity level.
What Kind of Exercise?
Again the best answer is: whatever you can and are realistically able to do.
I went on vacation about a month ago and hiked mountains all day every day. It was exhilarating and gorgeous. I would love to do that every day. But I can't because I live in Southern Illinois and I work 9 hours a day and have other responsibilities.
Similarly, you may LOVE water aerobics, which is a great activity, but if you don't have access to a pool it doesn't really matter. It's most important to make sure your body is moving lots throughout the day!
Try to Include a Variety of Exercises
Ideally, you want to aim for a balance of:
Large amounts of slow to moderate* aerobic activity (ie. walking…30+ minutes daily)
Short spurts (if any/if appropriate) of very intense* activity, and
Strength training 2-3 days/week (ie. weights or core work such as planks, squats, etc.
*Moderate activity is defined as 50-70% of your Maximum Heart Rate; Vigorous or Intense activity is defined as 70-85% of your Maximum Heart Rate. Maximum Heart Rate is 220 minus your age in years. To detect your heart rate, pause and check your pulse (your wrist) by counting the number of pulses over a 60 second time period.
These are GENERAL guidelines and you should always check with your physician before starting any exercise program because your particular health condition may lend to some adaptation.
For example, if you have any type of cardiac history or events, diabetic complications, injuries, or are on certain medications, it may be necessary for you to modify your activity goals. Swimming is a great aerobic activity if you have joint or back problems.
Check out the following for more information on exercise:
Type 2 Diabetes Concerns with Exercise
There are a few things people with type 2 diabetes should be aware of when it comes to exercise:
Consult your physician
Always discuss any changes to your exercise routine with your physician in case there are any precautions he/she wants you to be taking.
Check blood sugar levels before exercise
Always check your blood sugar prior to exercising. If it is lower than usual for you or lower than 100 (5.6), have a small snack including some healthy carbs (15-30 grams). If you feel dizzy or shaky after exercise, again, it's important to check your sugar levels. You may just be tired from a good workout, but if blood sugar is low, it is important to treat.
Be prepared for tiredness in the beginning
Once in better shape, you will most likely feel energized after exercising as release of endorphins (dopamine, serotonin and others) make you feel good; however, when first starting out you may feel tired and sore as your body adjusts to a new routine.
Be prepared when away from home
If you are doing any long-term activity (longer than 30 minutes) or something that takes you away from your home (ie. walking to town or on a hiking trail as opposed to a treadmill), take a snack or quick carb source in case you bottom out. Good options are: glucose tabs or gel, both of which are lightweight and can fit into a pocket.
Take care of your feet
Make SURE you have good shoes. It is crucial to ensure your shoes fit correctly, that they are neither too tight, nor too loose–one thumb's width should fit between your longest toe and the end of the shoe, and your shoes should have good support. People with diabetes are at increased risk for neuropathy and foot complications so be sure to take steps to protect your feet!
Choose white socks
Always wear white socks. Ok, so all the previous concerns were common sense, but this one is throwing you for a loop right? Am I just getting too picky? The point with this is that neuropathy is common in diabetes (and sometimes not diagnosed as nerves die), and foot infections stemming from unknown foot injuries are not uncommon. If you get any sort of cut or discharge from your feet, it will be much more obvious if you are wearing white socks as blood or emission will show up.
Times when exercise may need to be avoided
If you have advanced complications it may be appropriate to avoid certain exercises that could make them worse. For example, if you have retinopathy, strenuous activity can damage blood vessels in the eyes. If you have neuropathy, avoid lengthy workouts. If you have any type of autonomic neuropathy, your heart rate will be lower and recovery will be longer. Similarly if you have hypertension or any cardiac complication it is essential that you exercise under supervision to avoid furthering complications. Again, if any of these things are an issue for you, speak to your physician about what exercise might be right for you.
Drink water
Make sure you hydrate well! Even if you don't feel like you're sweating, your body loses water through activity. One to 2 hours before exercising, drink 15-20 oz (400-550 ml, approx. 1 cup) water, 8-10 oz just before (approx. 200-300 ml), and 8 oz (approx. 200 ml) for every 15 minutes of activity. If that sounds like a lot, it's probably because most people (even athletes) underestimate the amount of water loss with exercise!
Exercise is very important if you have type 2 diabetes, it's important for everyone! Just be aware of all of the above and aim to get yourself in a routine.
You'll also find info and motivation to come on our Fitness Friday posts. 🙂