If you can understand how to lower blood sugar naturally through diet, you can change your entire life – and really it all comes down to carbs, well a large part of it anyway.
There are 4 main components that influence blood sugar and A1C.
Diet – healthy vs. unhealthy diet
Macronutrients – Carbs / proteins/ fats
Stress
Lifestyle/ activity levels
We're only going to cover the first 2 because we're talking about diet. But just so you know, stress and lifestyle factors also play a part here.
DIET
Your diet has the single biggest influence on your blood sugar and A1C levels – it is absolutely critical in gaining good control and achieving good health!

So I hope you'll learn some new things about your diet in this Carb Course that will help you get on track.
NUTRITION MYTHS
Nutrition myths are everywhere so we have to be careful. In fact, there are many nutrition myths that are deeply embedded in our society that we think are true, but they're not.
For example, one of the biggest myths of all time is that it's all about how many calories we eat. We've all heard it time and time again over the years that we need to reduce our calories and eat low fat to lose weight.
But this is a myth because not all calories are created equal.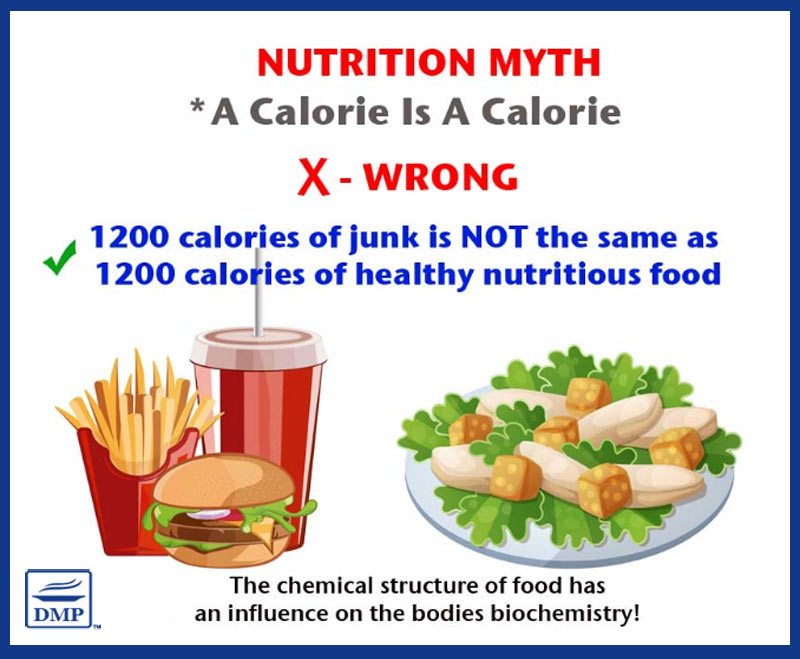 1200 calories of fresh natural unprocessed food is very different to 1200 calories of processed packaged food.
The most important thing is the food quality and the types of foods you eat.
If you've ever tried a calorie restricted diet and still struggled to lose weight, then it could have come down to the types of food you are/were eating.
Whole natural unprocessed foods are the types of foods that are supposed to make up a healthy diet, while processed packaged foods should make up a minimum. Over time, we've definitely lost our way and become too dependent on packaged and processed foods. Even foods we might think are healthy, often aren't, which is what has got us all into trouble in the first place.
Healthy / Unhealthy Diet = BIG difference!
But we can change it!
There's a saying by Dr Barry Groves:
"Human beings are the only mammals smart enough to make their own food, and the only ones stupid enough to eat it."
This is such a profound statement because although food products are given the safety approval, many of the additives and preservatives contained in them have not been extensively tested. We don't know the interactions of using a number of additives and preservatives together. We don't know the effects on the human body.
And given that the only thing that has drastically changed in the past 30-40 years is our food supply, then we can understand why our diet is to blame for much of our health decline. We can see the first hand effects of 'processed' food on us.
When it comes to food products, one important thing we have to remember is they are made by food companies that have one thing in mind – selling more products to the consumer!
So it really comes down to this…
HEALTHY DIET = REAL FOOD – unprocessed stuff your great grandmother would recognize.
UNHEALTHY DIET = FAKE FOOD – packaged and processed foods full of sugar, refined carbs, additives, preservatives, isolated food chemicals.
Changing your diet from fake food to real food will lower blood sugar levels naturally
When we eat natural, real foods, the way nature intended us to, then lots of things begin to change with diabetes. Less inflammation, more insulin sensitivity, lower blood sugar, more energy, better overall health.
This happens because your entire metabolic function begins to reverse. You're providing fuel to your bodies cells in the way of real food – vitamins, minerals, fiber, phytochemicals, and compounds that help your body function like it should.
As Dr Robert Lustig says in this video: "We should rename diabetes the 'Processed Food Disease' because that's what it is".
Okay, occasionally there are other factors involved, genetics and so forth. But the major driver of the diabetes and obesity pandemic is processed food. And as Dr Lustig explains in this short video, it's a social experiment that's gone VERY wrong.
You really have to change the way you think about food, because for a large part of our lives we have been misled. Food companies and billions of dollars of marketing will continue to promote unhealthy 'food products' as healthy food sources, and this is simply not the case.
So it's up to us to take charge and be in control of our own diet, nutrition, and health, which is clearly why you're here.
MACRONUTRIENTS
Moving on from that let's look at the influence of food on blood sugar and A1C.
We have 3 macronutrients:
Carbs
Proteins
Fats
The one major thing that influences your blood sugar and A1C levels is

carbohydrates

.
When you eat carbohydrates, this causes your blood sugar to rise, insulin to respond, etc, etc.
Here's a simple graphic that shows how the body regulates blood glucose.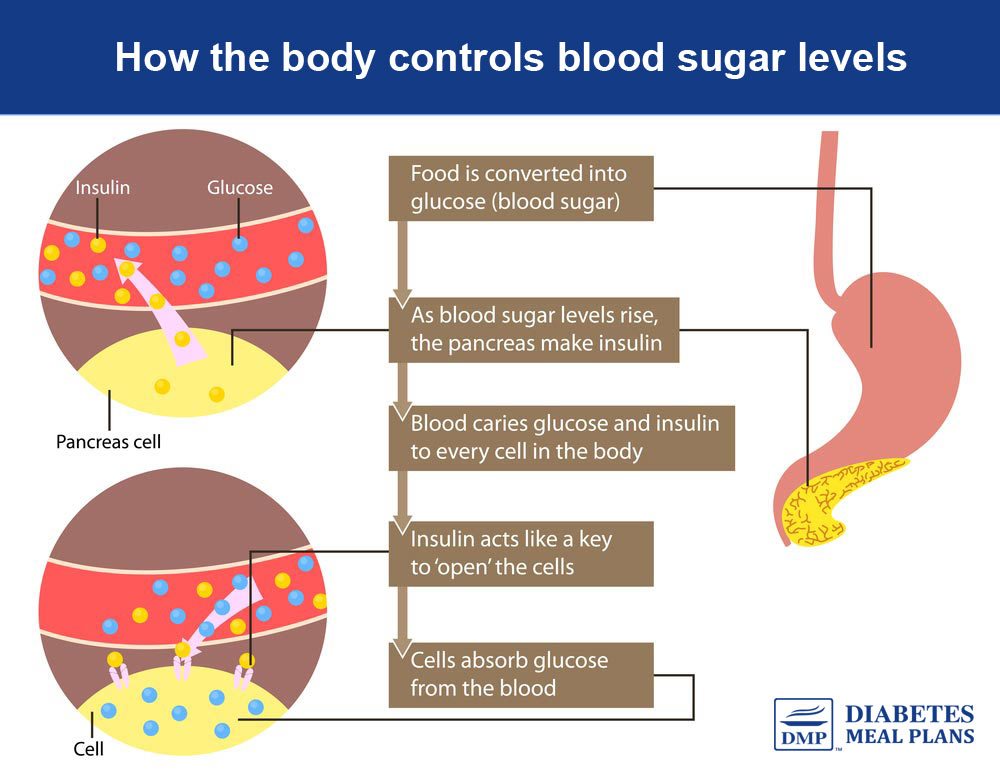 And here's a simple video that explains how the carbohydrates we eat triggers insulin.
Blood sugar does get affected when you eat protein, but not to the extent that carbohydrates affect the response.
And as for fats, well they do not spike blood sugar or insulin at all!
Here's an image that shows the response of the different macronutrients.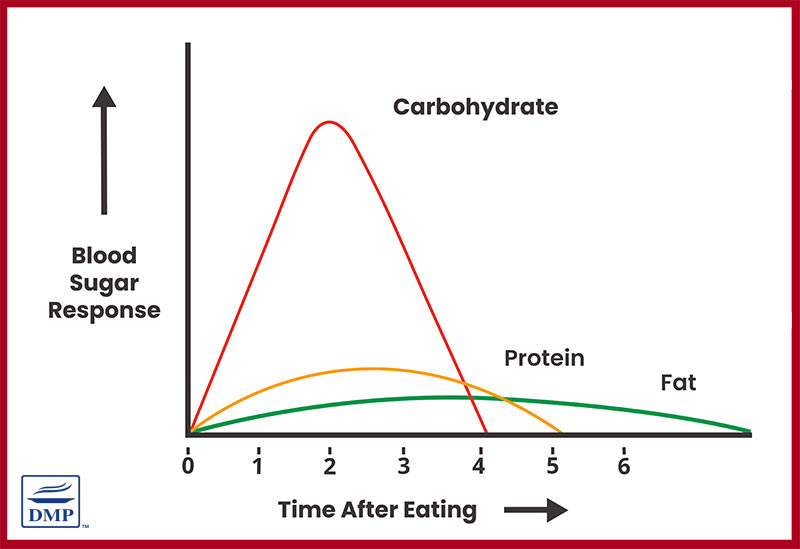 Whether we are diabetic or not, eating too many carbohydrates is the worst thing we can do for our health, period!
Most of the packaged and processed food items we have become accustomed to, are FULL of carbohydrates (and the worst kind). And essentially we've become carb/ sugar addicted!
HOW DO YOU LOWER BLOOD SUGAR NATURALLY WITH DIET?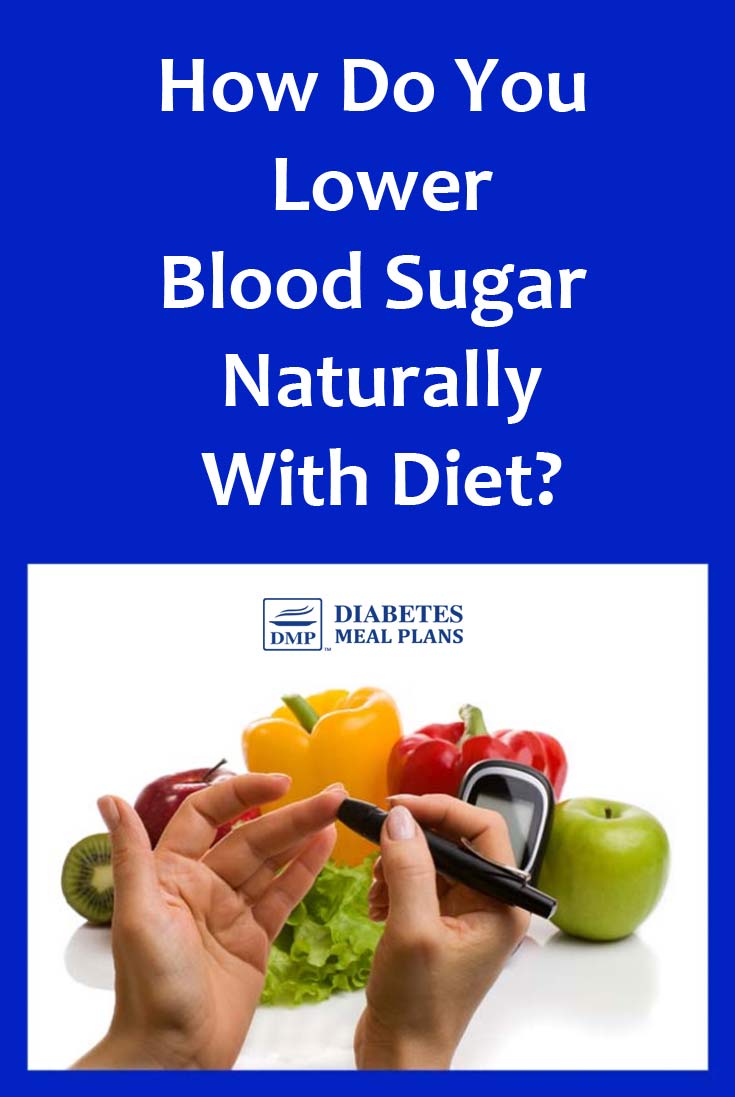 Researchers agree that the first approach to lowering blood sugar and A1C is to reduce carbohydrate intake.
You've already seen the influence that carbohydrates has on your blood sugar in that image above.
So it makes perfect sense that if you reduce carbohydrates you won't be getting those big glucose spikes right?
If you don't know what A1C is, it's an average measure (given in %) of glucose in your bloodstream over the previous 3 month period.
Glucose/sugar attaches to a protein in our red blood cells in a process called glycosylation. The average red blood cell lives for around 3 months, so when they are doing this blood test they are testing glycated hemoglobin (blood).
So it makes perfect sense that if you reduce carbohydrates you'd have less glucose in the bloodstream to attach to the red blood cells, right?
And let's not forget insulin.
Many type 2 diabetics have high insulin – they have high glucose (hyperglycemia) and high insulin (hyperinsulinemia) because the high glucose promotes high insulin production. And having both high glucose and high insulin promotes more insulin resistance.
So to help lower blood sugar naturally you need to lower your glucose levels, lower insulin production, and increase your cells insulin sensitivity.
How can you do that?
The first major step is to
lower your carbohydrate intake and eat real food.
These are the 2 diet changes to focus on.
There's also stress and exercise that are important too. But we're here to cover carbohydrates.
Carbs, carbs, carbs – it's all about our carbs. And unfortunately as a diabetic you have become carbohydrate intolerant.
Your body simply can't tolerate the carbs anymore.
So it makes sense to lower your carbohydrate intake, right?
Right. And it works to help your diabetes in more ways than one!
RECAP: How do you lower blood sugar naturally through diet?
When you can focus on 2 things, great changes will occur – guaranteed!
Carbohydrates – both the type and the amount
Eating real food
Need Help To Lower Blood Sugar Through Diet?
Join our Members Community Today
Access weekly meal plans for ongoing inspiration.
Discover what to eat with our comprehensive food guides.
Explore our members library to improve your blood sugar and A1c with diet and foods.
Get support from our nutritionists and other DMP members.
CLICK HERE to view our membership options
http://www.diabetes.org/living-with-diabetes/complications/mental-health/stress.html#sthash.jybEnCEW.dpuf
Elhayany et al. 2010. A low carbohydrate Mediterranean diet improves cardiovascular risk factors and diabetes control among overweight patients with type 2 diabetes mellitus: a 1-year prospective randomized intervention study. Diabetes Obes Metab. 2010 Mar;12(3):204-9.
Esposito et al. 2009. Effects of a Mediterranean-style diet on the need for antihyperglycemic drug therapy in patients with newly diagnosed type 2 diabetes: a randomized trial. Ann Intern Med. 2009 Sep 1;151(5):306-14.
Gannon et al. 2004. Effect of a high-protein, low carbohydrate diet on blood glucose control in people with type 2 diabetes. Diabetes. 2004;53:2375-2381.
Feinman et al. 2015. Dietary carbohydrate restriction as the first approach in diabetes management: Critical review and evidence base. Nutrition. 2015;31:1-13.
Wheeler et al. 2012. Macronutrients, food groups, and eating patterns in the management of type 2 diabetes. Diabetes Care. 2012;35:434-445.
Hyman, M. The Blood Sugar Solution. Little Brown and Company. 2012.