Tomatoes have been a topic of lighthearted debate for a long time…are they a fruit or are they a vegetable?
Technically, tomatoes are classified both fruits and veggies, so both sides get to walk away from this debate victorious!
Now that we've settled that dispute, the question that we should focus a little more on is this: Can diabetics eat tomatoes? And what health benefits do tomatoes have to offer?
Are they really the skin-perfecting superfood that they're made out to be?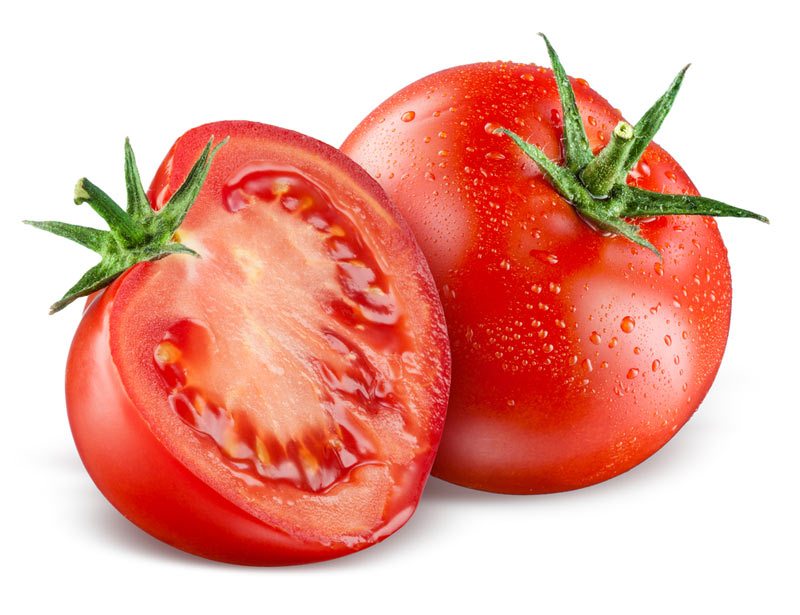 Tomatoes and Tomato Products
These little red fruits come in over 7,000 varieties.
From snack-sized cherry tomatoes to green, striped "zebra" tomatoes, you will never get bored of all the colors, shapes, and sizes they come in.
Not only are there many ways to enjoy tomatoes but there's also tons of health benefits from eating them.
Nutrition Facts for Tomatoes
There are quite a few fruits and vegetables that aren't so "diabetes friendly" because they contain too much sugar, but fortunately, the tomato isn't one of them! 
A small red tomato (about 100g) has the following nutrients:
Calories: 18
Total carbs: 3.8g
Fiber: 1.2g
Net carbs: 2.6g
Protein: 0.8g
Fat: 0.2g
They are low in calories and high in nutrients, making them a good food for diabetics.
Yes, they do contain some natural sugars but they're pretty far down on the list of offenders. When you compare a tomato to a banana (with it's 26g of carbs) the tomato starts to look pretty harmless.
The other great thing about tomatoes is their fiber content. You get 1.2g of fiber for 3.8g of total carbs, leaving you with just 2.6g of net carbs. This will have a minimal affect on your blood sugar levels.
Thinking back to bananas, a medium-sized banana has just 3.1g of fiber to counter a whopping 26.9g of carbs and sugars!
So, as far as fruits and veggies go, the tomato is a pretty low-carb option.
Here are some of the other great things you'll find in one small, red tomato:
Vitamin C: 13.7mg
Thiamin: 0.03mg
Niacin: 0.59mg
Vitamin B6: 0.08mg
Vitamin A: 833IU
Beyond vitamins, tomatoes are also blooming other nutrients like antioxidants. Chlorogenic acid and lycopene and two powerful antioxidants that fight free radical damage, support healthy cells, and the reduce low-level inflammation that is so common in metabolic disorders.
These antioxidants are known for their positive affect on skin health and appearance and if that wasn't enough, lycopene is also known for lowering high blood pressure. Clear skin and healthier blood pressure? It seems too good to be true (but thankfully, it isn't).
Flavonoids like naringenin and quercetin give your body a boost by bolstering the immune system and modulating inflammation.
Basically, tomatoes are full of a lot of great nutrients that you don't want to miss out on.
But just because a fresh tomato off the vine is healthy for you, that doesn't mean that every tomato-based product will be.
Next, we'll break down some common tomato products to see which will ones are blood sugar-friendly and which ones are deceptively high in carbs.
Comparing Tomato Products
As you may suspect, not all tomato-based products are as low-carb as a fresh tomato is.
Take Campbell's tomato soup, for example. A bowl of this classic wintertime favorite racks up 15.2g of carbs and it only has 1.1g of fiber. Not only is tomato soup high in natural carbs but most canned soups also contain added sugars. That's not a trap you want to fall into!
A better solution to get your tomato fix is to skip the soup and opt for other dishes that revolve around tomato sauce (low carb pizza and low carb pasta are great options!).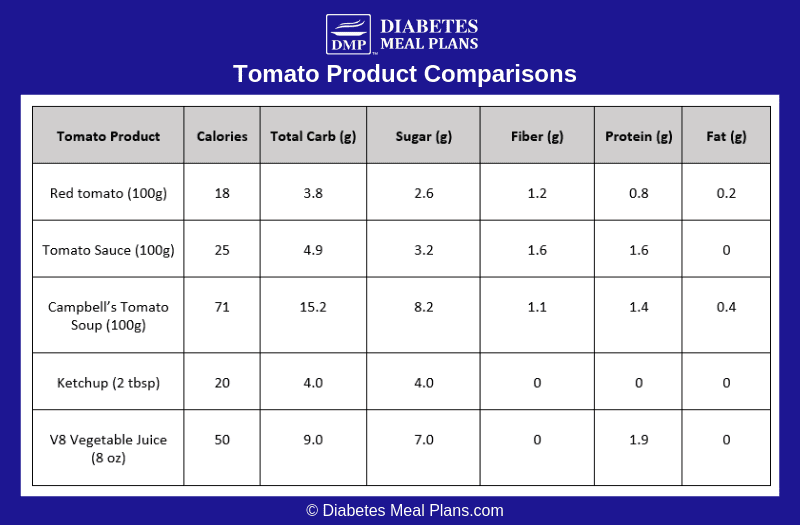 Ketchup is another tomato-based favorite. Yes, it goes great on a hamburger, but not every ketchup is up to par.
Watch out for high fructose corn syrup in ketchup and other tomato products.
While it's difficult to find ketchup that contains no added sugar, steer clear of high fructose corn syrup when at all possible.
Or if you want to test out your culinary skills in the kitchen, you can try making your own ketchup from scratch using fresh tomatoes with stevia or monk fruit for sweetener.
Another option is to simply comb the store shelves for a low sugar ketchup that contains regular sugar rather than corn syrup.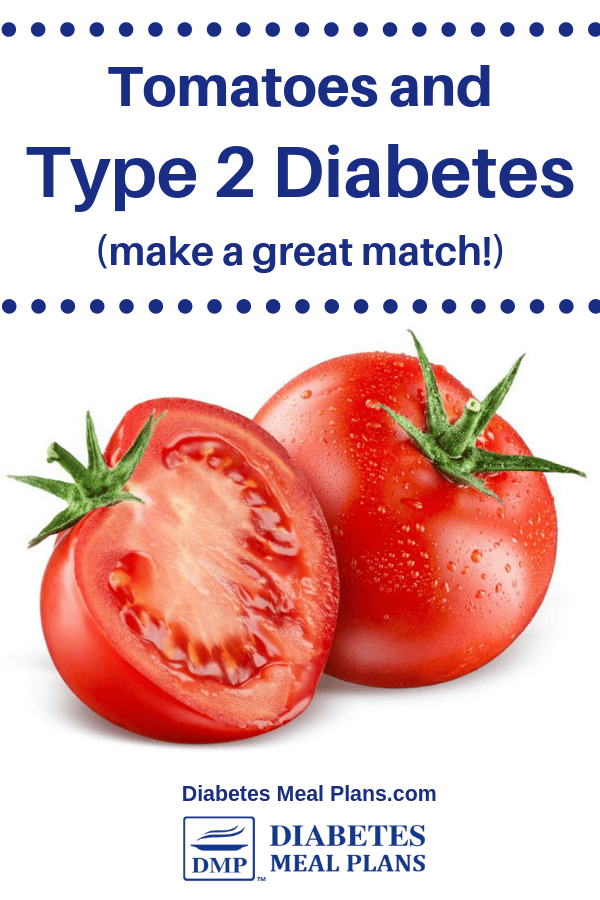 Research on Tomatoes and Diabetes
Pretty much everybody knows that eating vegetables, fruits, and other high-fiber foods are good for your body. Fresh fruit and vegetable intake has been associated with a lower risk of developing chronic conditions like cardiovascular disease and diabetes.
But beyond this general recommendation to eat more "fruits and veggies", tomatoes, specifically, are rich with antioxidants and phytochemicals that positively affect many areas of the body.
Lycopene, for example, is a carotenoid that can reduce oxidation and inflammation as shown in a research from 2018.
One such study found that patients with coronary vascular disease (heart disease) responded very well to lycopene supplements. After 4 weeks of supplementation, the patients had reduced oxidized LDL cholesterol, reduced inflammation, and increased oxygenation to body tissues.
A literature review (2017) that examined 21 studies had similar findings. They concluded that supplementing tomatoes lead to significant reductions in LDL cholesterol (-0.22 mmol/L) and inflammatory makers like interlukin-6 (-0.25), as well as improvements in specific heart conditions like FMD (2.53%). Lycopene supplimentation was associated with reduced systolic blood pressure (-5.66 mmHg).
Tomatoes are also rich in vitamin C, a micronutrient that has been shown in research to reduce blood glucose concentrations in both short term (-0.44 mmol/l) and longer term settings of 30 days or more (-0.53%).
Conclusion
Tomatoes may be red, but they get a "green light" when it comes to diabetes.
Feel free to eat tomatoes as a snack or as part of a larger meal. The only things to watch out for are processed foods like sauces and soups that may contain healthy tomatoes, but also contain a lot of unnecessary sugars.
And if this article got you excited about tomatoes, feel free to try out a few of our tomato-based recipes:
Please pin, share or tweet this info to help others – thanks!