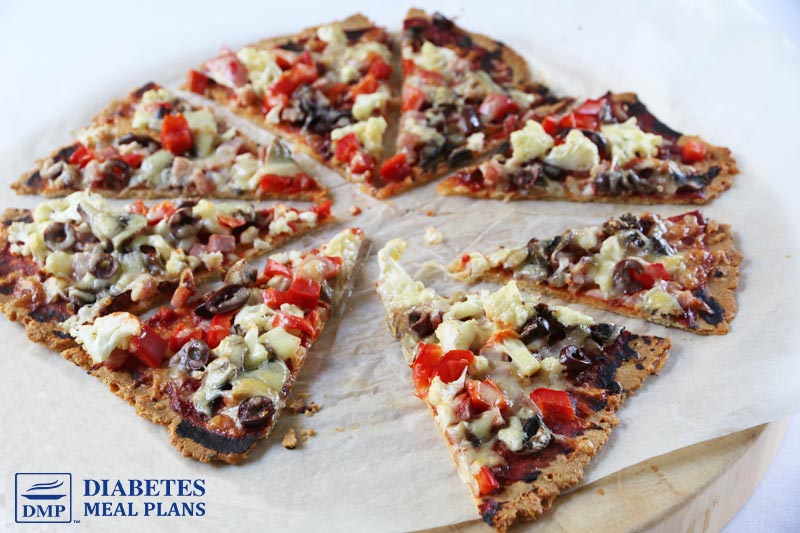 You can ditch the regular pizza crust that is super high in carbs – around 36 g total carbs and 33.5 g net carbs per slice for a 14″ pizza crust – and swap it for our awesome low carb diabetic pizza crust that has just 6 g net carbs for 1/2 large pizza!
Sound good? It is. 🙂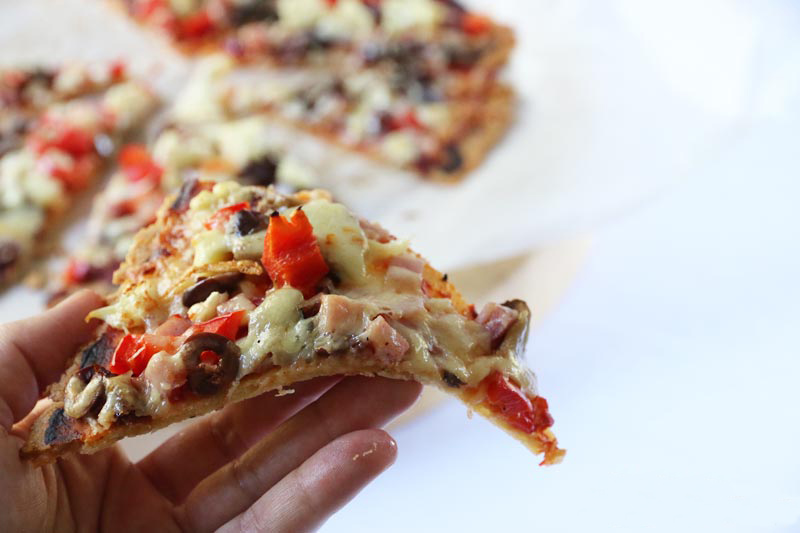 Yes, there are super tasty 'junk foods' that you can still have when you're diabetic. Sure, they don't come in a pack, but taking the time to make food that is friendly to your blood sugar (and health) is well worth the effort.
In fact, right now we're sharing a few pizza options.
Our gourmet pizza recipe (today's recipe – YUM!)
Big breakfast pizza – coming soon
Baked zucchini pizza boats – coming soon
Seriously, you are going to LOVE all these recipes because they are so tasty and yummy.
Want to receive all these delicious recipes in your inbox?
CLICK HERE to subscribe to our weekly newsletter and we'll send them to you. 🙂
Gourmet Pizza Toppings
This recipe includes cauliflower, sundried tomato, ham, olives, bell pepper and mushrooms (and cheese of course). But you can use all sorts of things – chicken strips, ground beef, spinach, avocado, broccoli, onion, feta – yes, you name it, pizza is a versatile meal.
The thing that's great about pizza is you can top it with whatever you like – just get creative.
Low carb pizza is still a high calorie food compared to simple vegetable dishes, so it's still not something you want to eat everyday. In regards to the low carb pizza, this is mostly due to the pizza crust being made with almond flour – nuts being high in fat. But these are healthy types of fat, so no need to worry there.
You can feel confident eating this knowing it is a healthier, safer diabetic option that is equally as satisfying for your pizza cravings.
Happy Eating!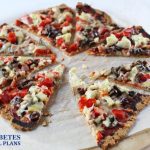 Pin Recipe
Low Carb Gourmet Diabetic Pizza
Ditch the regular pizza crust that is super high in carbs for our low carb pizza that has just 6 g net carbs for 1/2 large pizza! Filling and satisfying.
Ingredients
1

low carb pizza crust

– see other recipe

2.5

Tablespoon

tomato paste

6

sundried tomatoes

– sliced

10

pitted kalamata olives

– sliced

3.9

oz

ham

– equiv. 4 slices – diced

1/2

red bell pepper

– diced

1.9

oz

mushrooms

– equiv. 4 mushrooms – sliced

3.1

oz

cheddar cheese

– grated
Instructions
Preheat oven to 350°F/ 175°C.

Prebake the low carb pizza crust and prepare all the vegetables onto a plate ready to top the pizza.

Spread the tomato paste evenly over the pizza crust.

Top with the ingredients and then the cheese.

Bake for 12 minutes, remove from oven, cool slightly, then use a pizza cutter to slice the pizza into 8 pieces.
Share by Email
Share on Facebook
Share on Twitter
Pin Recipe
Essential Kitchen Tools
Sharp knives in the kitchen save you time and effort and are something you use every day. And baking trays, well, baking is a super easy way to cook, so keep them handy in the cupboard for a cold winter night – or mid summer if you have aircon. Or you can use round pizza pans, too. 🙂
You always need a good grater, or make it easier – a food processor with a grater and chopping elements! To make a nice appetizing treat for the family or guests, serve your pizza up on some beautiful wooden serving boards. And lastly, a pizza cutter makes it fun and easy to cut into slices.
Please share, pin, or tweet this post. 🙂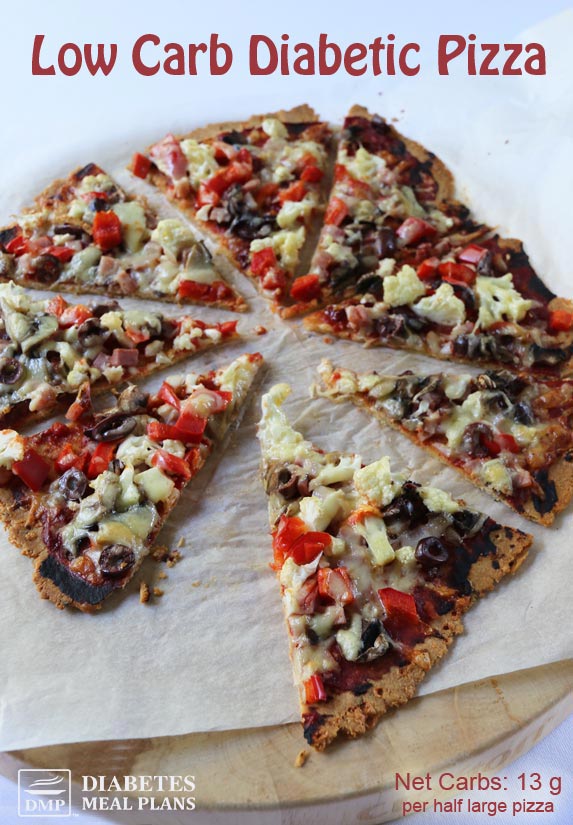 Please share, pin, or tweet this post. 🙂
Subscribe for Weekly Nutrition Tips & Recipes
Save