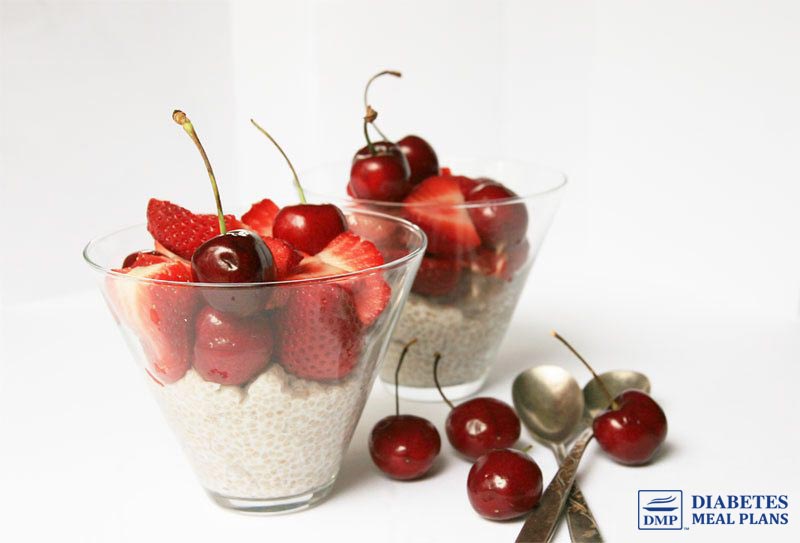 Chia is one of those pronounced 'superfoods' because it does contain loads of nutrients and tons of fiber!
When it comes to superfood trends, I'm not one to jump on their tails. It usually takes me a while before trying things – sometimes years. Well, chia seeds are on of those foods.
BUT now that they are on the menu, I wouldn't ever leave them behind because they make the perfect low carb diabetic dessert. This coconut chia pudding is so incredibly satisfying, so I hope you enjoy it as much as my family does.
Total Carbs:
12g
Net Carbs:
9 g
Mix the coconut cream and stevia in a bowl to combine – if the coconut cream is firm, you may have to heat slightly to make it a liquid.

Add the chia seeds to the bowl, cover, and leave in the fridge for at least 4 hours, or even better, leave it overnight ready for breakfast!

Serve in 2 glasses topped with some freshly chopped berries on top.
Nutrition Facts

Coconut Chia Pudding

Amount Per Serving

Calories 352

Calories from Fat 306

% Daily Value*

Total Fat 34g 52%

Monounsaturated Fat 0.03g

Sodium 16mg 1%

Potassium 165mg 5%

Total Carbohydrates 12g 4%

Protein 3g 6%

* Percent Daily Values are based on a 2000 calorie diet.
Please pin it, tweet it, or share it to share the foodie love 🙂
And if you're interested in more diabetic friendly low carb recipes – CLICK HERE to subscribe for our weekly updates.