Okra is an interesting vegetable because, depending on where you live, you may eat it every single day or you may have never heard of it in your life!
This green pod vegetable is widely consumed in the southern United States, particularly in Creole cuisine, and some people even refer to it as "gumbo pods" or "lady's fingers."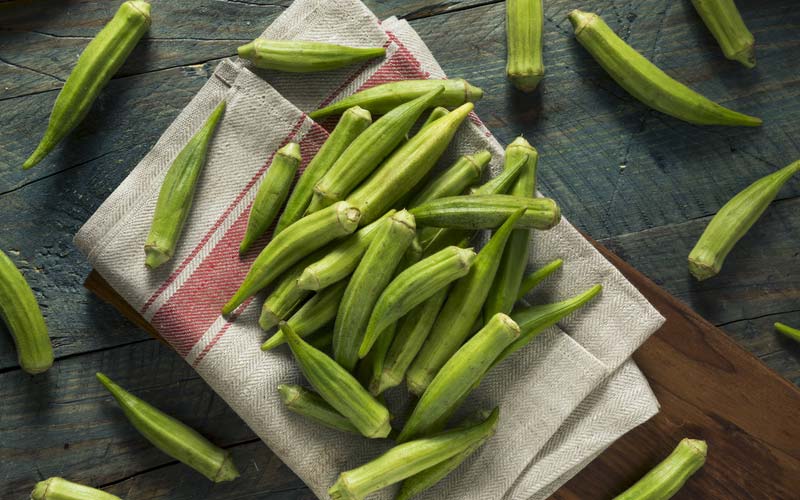 It's originally from Egypt, where it's thought to have been growing since about the 12th century. Today, okra is eaten around the world and prepared in so many different ways.
As its green hue suggests, okra is a fantastic vegetable for any diabetic diet. It can be eaten in abundance by anyone wishing to stay healthy and feel great!
Okra Nutrition Facts
Okra is a super low calorie, low carbohydrate food. 1 cup contains just 33 calories and 7 grams carbs.
It's high in fiber – 1 cup will give you 3 grams fiber, which means it'll keep you full!
Okra is also a fantastic source of calcium, potassium, folic acid, and vitamins A, C, B6, and K.
Okra has a low glycemic index of 32.
Health Benefits of Okra
Vitamin C: This antioxidant lowers blood pressure, boosts the immune system, and prevents respiratory problems.
Vitamin B6: Bolsters the immune system and helps regulate blood glucose levels.
Calcium: Can help regulate glucose metabolism.
Fiber: Promotes satiety and healthy gut bacteria and helps prevent blood sugar spikes.
Folic acid: Lowers cardiovascular risk and may prevent birth defects.
Research on Okra and Type 2 Diabetes
There isn't a great deal of research but the science available confirms that okra is beneficial for your health.
Fascinating studies have shown that okra consumption can reduce blood sugar level and lower lipid levels by preventing the absorption of cholesterol. Okra extract has been found to have the same effect on obese animals.
Okra has strong antioxidant potential, and may be used as a dietary supplement to prevent oxidative stress-related complications of diabetes such as insulin resistance.
Points for Consideration
There is one very important consideration surrounding okra that any person who takes metformin needs to keep in mind.
Although okra does have blood sugar-lowering effects, it may also block the effects of metformin in the same way that it blocks the absorption of glucose.
Therefore, okra should not be taken therapeutically by anyone taking metformin. And if you're taking metformin, it should be eaten with caution. Of course, always talk to your doctor if you're unsure or concerned about any potential drug interactions.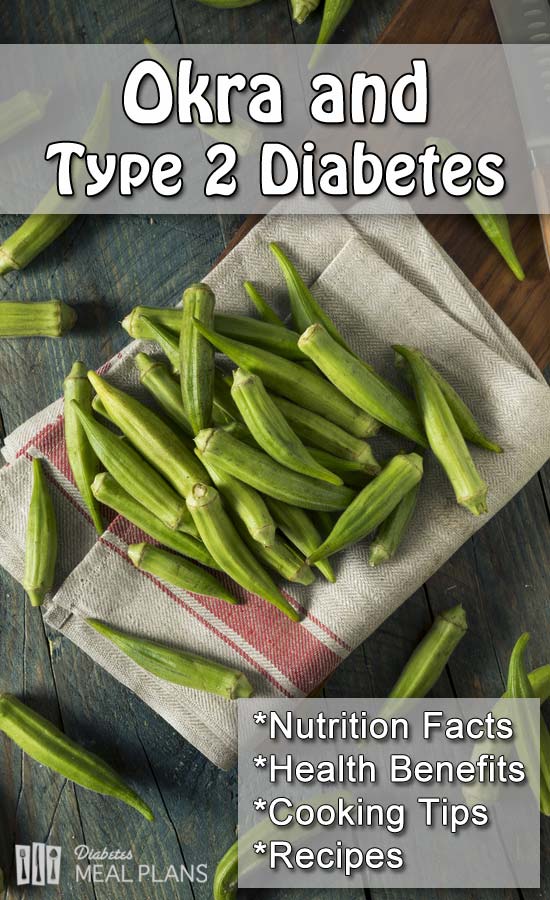 Okra in the Kitchen
Selection
Okra is generally in season year-round in the southern US, and it can be found from May through October in many other locations.
Choose bright green pods that are no more than 4 inches (10 cm) long. Avoid any pods that are soft and squishy or have blemishes. Also steer clear of any pods with a sticky texture, as they may be overripe.
Storage
Fresh okra can be placed in a paper bag or wrapped in a paper towel and stored in the fridge for up to 7 days. Okra can also be frozen, but the pods must be blanched before they're placed in the freezer. Store frozen pods in vacuum-sealed freezer bags for the longest duration.
Uses
Okra can be stewed, fried, pickled, sauteed, and stir-fried.
It tastes fantastic in gumbo or goulash, or simply mixed in with other vegetables like tomatoes or eggplant. It's also a nice addition to any curry.
Cooking
If your okra is the 'downy' variety (i.e. the kind that has soft fuzz on the outside), simply scrub it gently with a paper towel before cooking.
To get rid of any off-putting 'slimy' texture when eating okra on its own, you can try roasting the vegetable at 400°F/ 200°C for about 25-30 minutes. Add any spices you like, and enjoy!
Cutting Techniques
Wash your okra and slice off the pods' tips and stem ends before cooking. The thick liquid that comes out when you cut into the pods (called mucilage) can be used to thicken soups or stews.
If you're cutting your pods into pieces, big chunks will cook up better than thin slices will.
Please pin, tweet or share this info to help others. Thanks!