You know… it's really interesting because when you read information online that's meant to be for type 2 diabetes treatment, it's often based on evidence for diabetes prevention.
Next time you're browsing about, pay closer attention and see if you can pick up on this yourself.
Whether it be health experts or health organizations, they are sharing information based on diabetes prevention, lumping it all under the same umbrella of "healthy diet" information.
And that's one thing that makes DMP very different. We focus on exploring evidence about prediabetes and type 2 diabetes TREATMENT. We want to inform you about the things that can really help you lower/control blood sugar and A1c and improve your health!
So let's explore a few of the key differences between prevention and treatment so you can be more aware of differentiating between the two as you're exploring information online.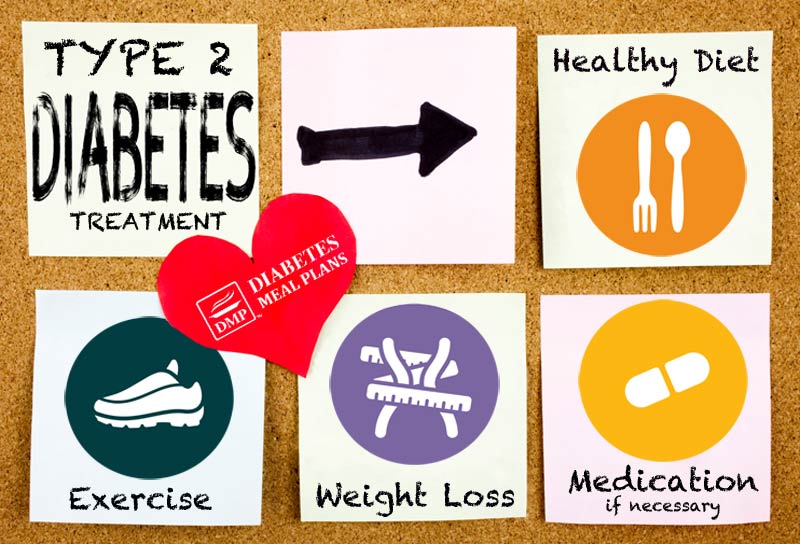 Type 2 Diabetes TREATMENT is VERY Different to Diabetes Prevention
A person in the general population that does not already have type 2 diabetes (or prediabetes) is a person living without a health condition, obviously.
Whereas a person living with type 2 diabetes or prediabetes is someone who has an altered metabolism, a certain level of carbohydrate intolerance and difficulties with blood sugar control, along with other possible problems.
Therefore, dietary recommendations for someone who is "healthy" versus someone who has an altered metabolism is not going to be the same.
The two are very different scenarios – wouldn't you agree? It's pretty logical.
Yet, oftentimes these two terms are getting lumped under the one umbrella when making recommendations to you.
I'll give you just one example from the American Diabetes Association (ADA).
One of their articles is titled: "Diabetes Superfoods" – so if you were reading that, you'd naturally assume that the foods listed are going to be some of the top foods to eat to treat diabetes, right? It would be an easy assumption to make.
However, they write in the 2nd paragraph:
"The list of foods below are rich in vitamins, minerals, antioxidants and fiber that are good for overall health and may also help prevent disease."
Notice they don't say anything about diabetes TREATMENT at all? That this is actually general information that may prevent disease?!
Foods they then list as "diabetes superfoods" include high carb foods that are best avoided, such as whole grains and sweet potatoes. These do not help with blood sugar control and therefore they are definitely NOT a diabetes superfood.
On the actual ADA superfoods article, there is no evidence to back up their recommendations. And it is contradictory to actual evidence they provide in their 2017 Standards of Medical Care in Diabetes, that:
"whole-grain consumption is not associated with improvements in glycemic control in type 2 diabetes."
Or in other words, it doesn't help you regulate blood sugar and A1c. So why would they recommend whole grains as a "diabetes superfood" then?
It's a case of 'good for prevention.' The kind you need to watch out for.
Yes, there is some evidence to support that eating whole grains is good for prevention of disease. But as far as treatment, there is no evidence. The ADA state this themselves. And our research also supports this view.
So as you can see, this crossover between diabetes TREATMENT and diabetes PREVENTION even occurs on large health organization websites.
This is the type of information that can make the concept of eating to treat your diabetes a very confusing issue.
One website says this, another says that. And in the end it's all confusing, right?
We understand. And we certainly don't claim to know everything.
But one thing we do know is that we're dedicated to providing you with the best information we can – because you deserve the best!
Information based on scientific evidence that demonstrates if a food or dietary pattern is in fact going to help you regulate blood sugar and A1c and improve your metabolism and health.
Both whole grains and sweet potatoes are not on that list, unfortunately.
However, there are many proven strategies that can make a real difference.
Please pin, tweet or share; then keep on reading. 🙂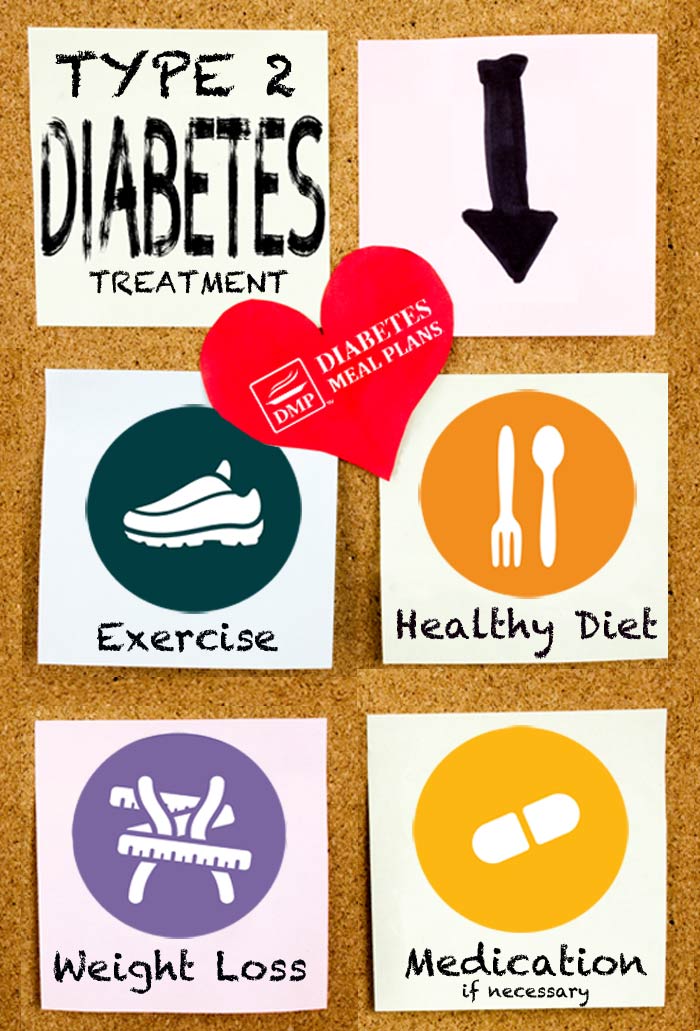 Type 2 Diabetes TREATMENT Basics
Type 2 diabetes is predominantly a lifestyle-related chronic disease. The condition largely occurs as a consequence of altered metabolism.
Although the body's metabolism is complex, this simply means that certain things are not operating as normal. For instance, certain cells or hormones in your body have stopped communicating to each other effectively and this can cause a cascade effect.
But here's the thing, an altered metabolism is not necessarily permanent. You can change it!
You can re-alter your metabolism by making diet and lifestyle changes. And these are two fundamental factors in type 2 diabetes treatment.
The Goal of Type 2 Diabetes Treatment
The goal of any diabetes or prediabetes treatment is to obtain better blood glucose control, with the aim of lowering blood sugar levels within the normal healthy range.
Normal Healthy Blood Sugar Levels
Fasting glucose – 70-99 mg/dl or 4-6 mmol/l (Note: there is some debate about the normal range in mmol/l, ranging from 5.5 to 6 mmol/l)
2 hours post meal glucose – Less than 140 mg/dl or less than 7.8 mmol/l
Your individual goals may be set higher initially, but ultimately the goal is to try to achieve normal levels, or as close to normal as possible, as keeping your blood sugar levels controlled, helps protect you from nasty diabetic complications.
Diet
Your diet plays a key role in treatment of type 2 diabetes or prediabetes.
Think about this a little deeper for a minute…
Your body is a natural living entity. And all natural living things need nutrients to survive – plants, animals, and humans alike.
The nutrients you consume feed all the cells in your body so they can communicate and function effectively.
There's just one problem here: with the growing consumption of processed and packaged foods, there isn't much quality nutrition feeding the body's cells. And as a consequence, the cells can begin to alter.
Then you load chemicals, stress, lack of sleep and exercise on top of a bad diet, and the natural functions of the body begin to falter.
The good news is, the body has a miraculous capacity to heal itself. And when you start eating well again, your cells and metabolism can improve dramatically – even if you've had diabetes a long time.
Take Sheryl as an example: she was diagnosed in 2007 and before finding DMP she was struggling to get her blood sugar and A1c levels under control. After joining us, she got all her levels to normal, has lost weight and has also reduced medications. Now Sheryl is enjoying life (at 66 years young) more than she has in years!
Here at DMP we encourage a low carb diet because research shows it can produce great results in terms of type 2 diabetes treatment:
lower blood sugar
lower cholesterol
improved insulin sensitivity
increased energy
improved overall health
Here are a few diet resources to get you started:
Exercise
Second to diet comes more physical activity – the body was made to move!
But, over time we have become more sedentary.
It doesn't even have to be a large amount of exercise. Even 10 minutes a day can help. And 10 minutes more than what you're doing, can help even more!
You don't need an expensive gym membership to achieve results. Something as simple as walking will help – it's free and can be done anywhere, anytime.
Exercise helps increase the sensitivity of your cells so they respond better to hormones and can help utilize nutrients more effectively, and most importantly clear sugar out of the bloodstream faster.
Plus exercise is known to improve energy, decrease the likelihood of depression, help you sleep better, among other things.
Read more about the benefits of exercise for diabetes over here.
Lifestyle Factors
Other lifestyle factors can also influence your blood sugar levels:
Evaluate your lifestyle and focus on positive things you can do for yourself that can help make a difference.
Weight Loss
Weight loss doesn't really have a direct impact on blood sugar or A1c levels. But as a consequence of losing weight, the inflammation throughout the body's cells is reduced and this helps your cells communicate and function better.
Therefore, as a consequence of weight loss, many symptoms of diabetes improve because your metabolism is being altered positively.
Studies show that even modest amounts of weight loss, around 7-10%, can be of great benefit.
And guess which diet is best for losing weight? A low carb diet – check out this comparison of research: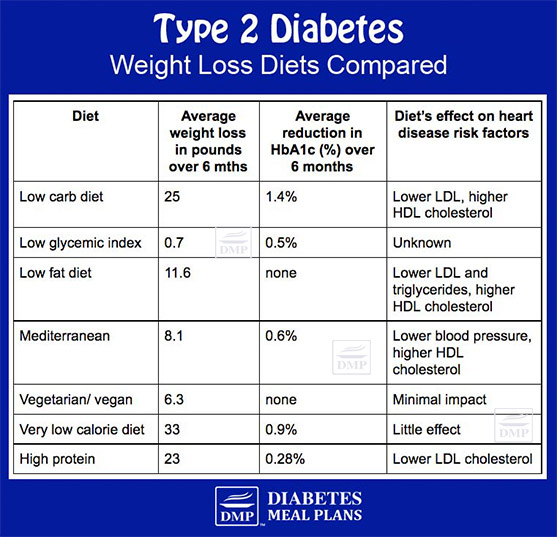 Medication
Oral medications like metformin are a commonly prescribed drug that can help increase the sensitivity of the cells so your body can clear glucose/sugar more effectively.
Depending on other health factors, your physician may also recommend a range of other medications.
With diet and lifestyle changes it is possible to reduce and even eliminate medications. However, it is important that you work with your doctor when doing this, as they are the best person to advise on meds.
Get Proactive
Without a doubt, making changes in life can be a challenge. But it is possible!
Regardless of age or how far gone you think you are, there are always ways to make improvements to your health.
Take a close look at your life and decide to make one small change starting today.
After that, just keep taking small steps forward!