Did you know that yogurt is a protein, carbohydrate and fat? And in terms of type 2 diabetes or prediabetes, yogurt can make a great addition to your diet, if you choose wisely.
Read on to discover everything you need to know about type 2 diabetes and yogurt.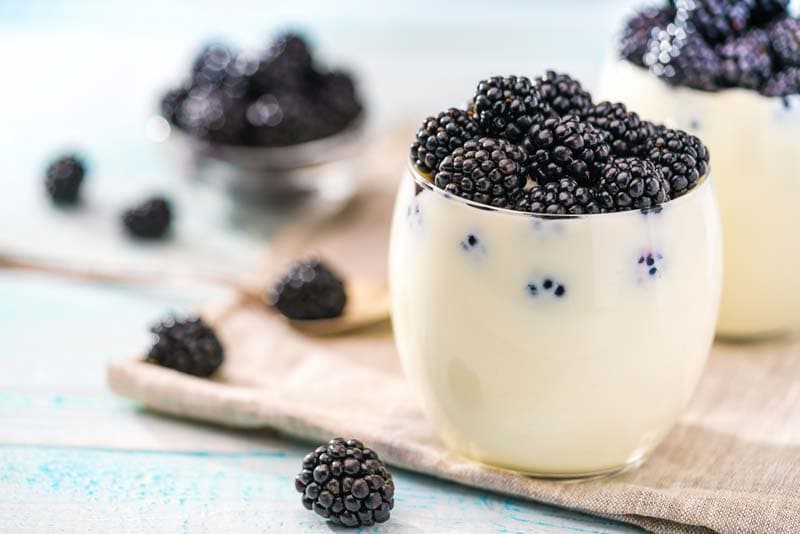 Yogurt Varieties and Origins
Just looking at the dairy aisle can make your head spin because these days, yogurt comes in so many varieties!
There's Greek yogurt, classic yogurt, plain yogurt, flavored yogurt, yogurt with fruit, sugar free yogurt, and many other varieties of this creamy oh-so-good favorite. 😉
Most of us know what yogurt is, but if you don't know how it's made, it's a pretty simple process.
Most yogurt starts out as plain cow's milk or cream. Once lactic bacteria (known as "live cultures") are added to the milk it begins to ferment, which gives yogurt its tangy, distinctive flavor. And makes it beneficial for your digestion, too!
For instance, you may have heard on advertisements that yogurt contains "probiotics" that strengthen your digestion. And this certainly is true – strains of friendly bacteria like lactobacillus and acidophilus remain intact in the yogurt, even after processing. And these beneficial bacteria end up in your gut, promoting better health (Hint: yes, yogurt is good for you!).
Yogurt Nutrition Facts 
To put it simply: not all yogurt is created equal, so beware!
Different brands and flavors of yogurt contain different syrups, sweeteners, and flavorings that contribute to their "diabetes friendliness" grade. Some yogurt options get a passing score while others get a big fat "F."
The prime reason that many of these yogurts flop so hard is due to their "added sugar" content. Since it all comes down to keeping your carbohydrate count under control in order to regulate blood sugar and A1c levels, this can be difficult when you indulge in a high sugar yogurty breakfast or dessert.
Let's get a better grasp on the amount of carbs we're dealing with here by looking at a nutrition label from a Yoplait brand classic vanilla yogurt. 
INGREDIENTS
MILK, MILK SOLIDS, SKIM MILK, WATER, SUGAR, FRUCTOSE, CORN STARCH, HALAL GELATINE, NATURAL FLAVOUR, ACIDITY REGULATORS (CITRIC ACID, SODIUM CITRATE), PRESERVATIVE (POTASSIUM SORBATE), VANILLA BEAN SEED (MIN. 0.01%), NATURAL COLOUR (CAROTENE), YOGHURT CULTURES: (S.THERMOPHILUS & L.BULGARICUS).
Per 175 gram serve:
Calories: 158
Protein: 0.1 g
Fat: 3.3 g
Carbs: 23.5 g
Sugars: 22.5 g
Right off the bat you'll notice a whopping 23.5 grams of carbs in one serving of the yogurt!
As already stated above, many yogurts will be the victim of various added sugars and refined carb ingredients. The Yoplait brand adding sugar, fructose, and corn starch to their ingredient profile.
On the other hand, if you choose plain Greek yogurt, which we encourage you to do, you'll consume approximately (per half cup, 112 g):
Calories: 80
Protein: 11 g
Fat: 2.5 g
Carbs: 8 g
Sugar: 1 g
Plain Greek yogurt has got a much greater quantity of protein and a much lower carb content as well, which makes it a more balanced option and a better choice for people with type 2 diabetes or prediabetes.
Choosing the right type of yogurt is of key importance here because the nutrition quality is going to differ greatly.
Comparing Different Yogurts

If eating low carb is your goal (which it should be!) then Greek yogurt is going to be your friend.
Greek yogurt is strained differently during processing, which makes it thicker, creamier, and higher in protein than regular yogurt is.
It also tends to be lower in sugar and carbs, which is a major advantage.
Compare the three yogurt options below and you'll quickly see why Greek yogurt is a healthier option.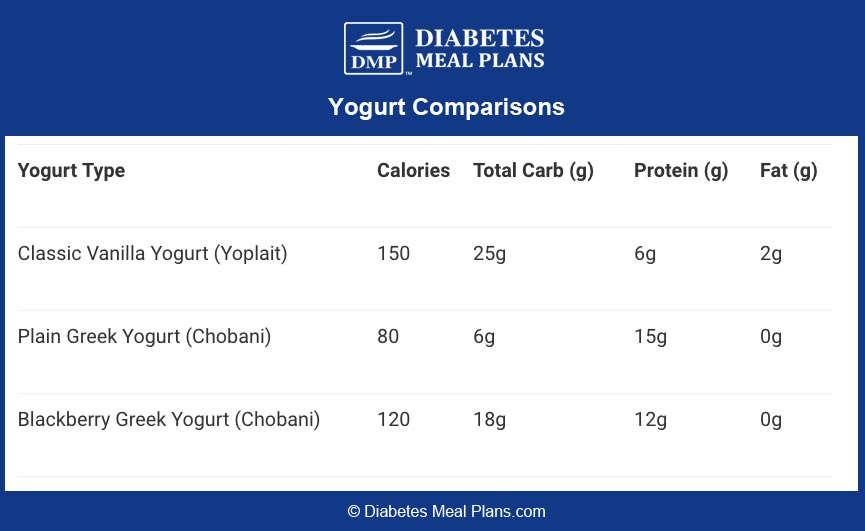 As you can see, the plain Greek yogurt is the lowest in carbs and the highest in protein. However, be wary, not all Greek yogurts are free game either – the blackberry flavored Greek yogurt has three times more carbs than the plain version does, due to the sugary fruit syrup.
Plain Greek yogurt is definitely the best option. But understandably, some people find it a little too sour on its own.
To add a some flavor and extra fiber to your breakfast, you can throw some fresh berries and chia seeds on top of your plain yogurt. You can also mix in a zero carb natural sweetener like stevia for some added sweetness.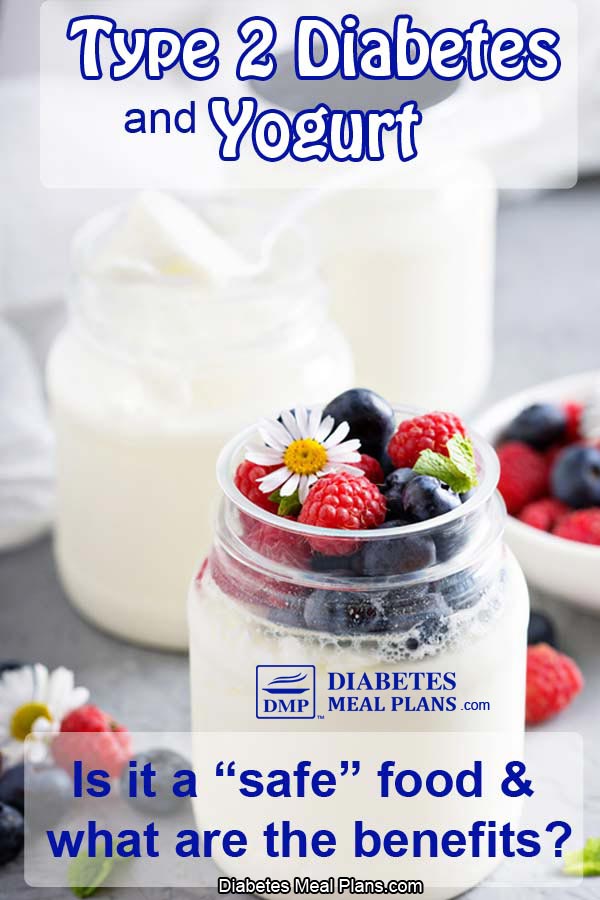 Yogurt Myths and Truths
Myth: The "light" versions of yogurt are healthier than regular yogurt.
Truth: You can't rely solely on the front of the package to tell you what is and isn't healthy.
The real information is on the back of the product, so look there first. Check out the ingredients list and the nutrition facts label.
Ask yourself: How many carbs does this food contain? Are there lots of added sugars? Is there a loooong ingredient list?
Be extra cautious with products labeled as "light," because they may be loaded with artificial sweeteners that can do more harm than good!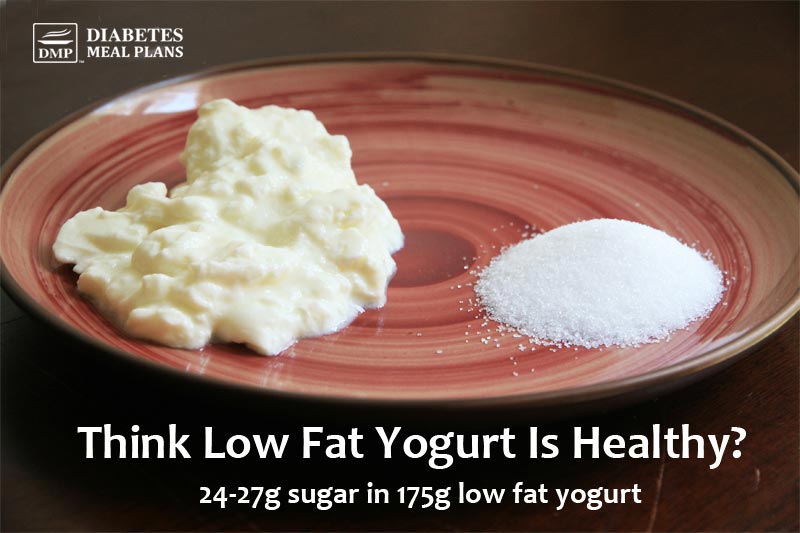 Look for yogurt with the fewest amount of sugars, no artificial sweeteners, and the least amount of fake syrups and fillers. The best sugar substitutes are stevia, erythritol, xylitol, monk fruit and tagatose.
And avoid any products with a long list of ingredients you don't recognize. A shorter ingredients list usually indicates that a product is less processed.
Research on Yogurt and Diabetes
The gut is one of the foundations on which the rest of your health is built upon.
Fortunately, yogurt contains probiotics like lactobacillus that balance out your gut microbiome, which, in turn, reduces systemic inflammation and improves your overall health.
Having a healthy gut will also influence your body's hormone production. The anti-inflammatory effects of probiotics have been shown to improve insulin secretion. People who were given oral lactobacillus probiotics for four weeks had a 49% increase in their natural insulin secretion and a 76% increase in the secretion of glucagon-like peptide 1.
Researchers have found a connection between the consumption of probiotics and reduced A1C levels in people with type 2 diabetes.
Yogurt consumption has also been associated with decreases in waist circumference and body weight in men who are overweight.
Another study found that consuming probiotic rich yogurt (200 g/day yogurt, containing several probiotic strains) along with a low calorie diet produced better weight loss results than a low calorie diet with regular yogurt (not containing probiotics).
After 8 weeks, the participants who received the probiotic-rich yogurt also experienced a larger decrease in insulin levels (-2.38 ng/mL) than the group consuming regular yogurt (-0.55 ng/mL).
The group who consumed probiotic yogurt also had lower levels of C-reactive protein (-3.4 pg/mL), an inflammatory marker, than the group who consumed yogurt without probiotics (-2.98 pg/mL).
Other cohort studies have shown that consuming 1 serving of yogurt per day is associated with a slight weight loss (-0.82 lb) over a 4-year period. And that yogurt consumption (of over 1 serving per week) was associated with lowering levels of insulin, fasting glucose, lower levels of insulin resistance, and decreased triglyceride levels.
A moderate intake of full-fat dairy products is linked with a decreased risk of developing prediabetes by 39%!
Conclusion: Is Yogurt a Type 2 Diabetes Friendly Food?
All in all, yogurt can be a great choice as long as you shop smart and skip over the flavored, sugar-filled options. Go for the plain Greek yogurt and you'll find yourself with a high protein, low carb food that fits perfectly into your diet.
For lunch or dinner, yogurt works well as a garnish on curries and spicy foods or as a slightly tangy substitute to get a creamy sauce.
For breakfast and dessert, garnish your masterpiece with some stevia and fresh berries before indulging in a naturally sweetened treat!
YOGURT RECIPE: Mixed Berry Parfait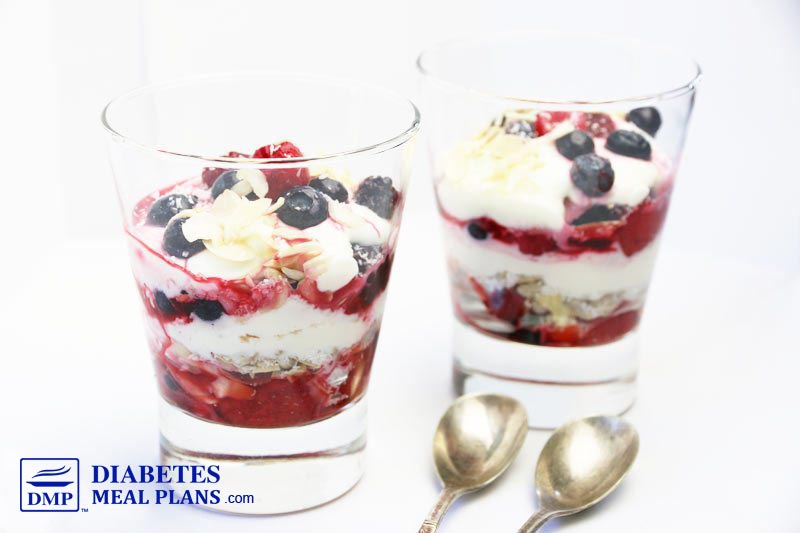 Please share, pin or tweet this info to help others – thanks!