Sucralose is an artificial sweetener. You might know is by the name Splenda – that's it's brand name. So on food labels you might find it listed as either of those.
It tastes quite similar to sugar and is now used in products and marketed widely to people for weight loss, diabetes, and overall health benefits.
But when it comes to sucralose and diabetes, is it safe and is it really good for you?
Just in case you want to dig in and learn about other artificial sweeteners, we've covered them before over here. But today we'll dig into all things sucralose.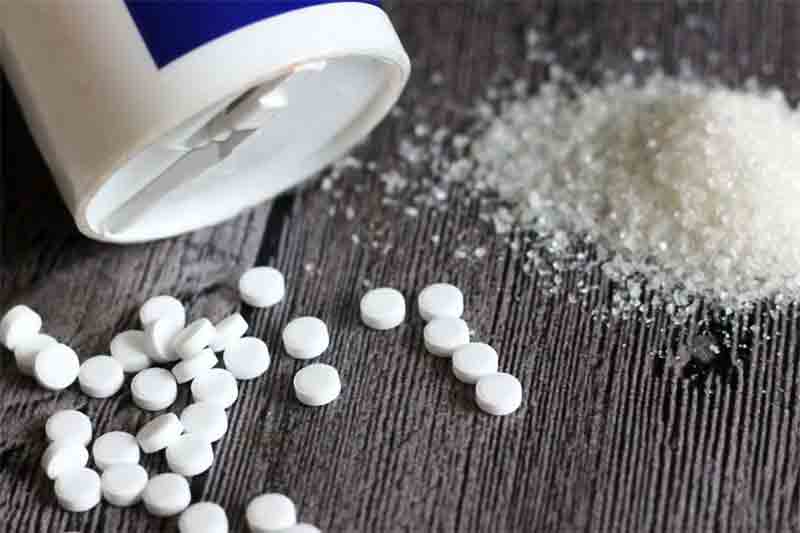 Sucralose in the Body
Studies suggest that in humans sucralose is not metabolized and is mostly unabsorbed and excreted in the faeces, with the remainder being excreted via the urine.
The amount of absorption varies between individuals, humans absorbing approximately 15%. And some studies suggest that there is no accumulation of sucralose in the body over time, but this has recently been proven otherwise (as we'll explore below).
Safety of Sucralose
It's true that sucralose has been widely studied for it's toxicity and for any adverse effects and for the most part it does appear safe. Even In studies where healthy humans were given excessive doses no adverse effects were recorded.
However there are a couple of studies that show otherwise and raise some questions.
In one study rats were fed Splenda for 12 weeks and had a significant decrease in beneficial gut bacteria and subsequent weight gain, even at low doses approved by the FDA for human consumption. This is not great because changes in gut bacteria will increase inflammation, and as shown with the rats, other studies have shown links between changes in gut bacteria and weight gain.
One side effect is that sucralose may trigger migraine and headaches in some people.
And another also pointed out its safety because changes in gut bacteria and intestinal permeability have been noted. Having a digestive tract that is healthy and functions properly is very important.
These controversial studies are often met with high opposition from Splenda, which is no surprise considering sucralose is contained in more than 4000 products. This means there would be massive ramifications to the food industry and this company's bottom line if this non-nutritive sweetener were removed from production, much like aspartame.
Sucralose and Blood Glucose
It's true that in 'most' clinical trials sucralose shows no effect on blood glucose and insulin response and this does suggest that it is safe for diabetics. However there are a couple of things that suggest otherwise.
There is evidence to suggest that non-nutritive sweeteners like aspartame, saccharin, and sucralose increase weight gain and metabolic syndrome. Researchers from Purdue University have clearly demonstrated this fact.
One group of researchers (Pepino et al.) in a more recent study showed that sucralose DOES alter the metabolic response in insulin sensitive obese people. So sucralose DOES effect glycemic response and sucralose DOES exert a metabolic effect. I did point out above that studies show there is no accumulation of sucralose in the body over time, however this study showed that sucralose may in fact have a cumulative effect over time.
Most studies done with sucralose do not exclude people who regularly consume sucralose and so Pepino et al. proposed that regular consumption has an overall effect on glucose metabolism that may blunt the effects of sucralose intake. So they took insulin resistant obese people who did not use sucralose and put them through a study.
In their study people showed:
Higher peak blood glucose after sucralose intake
Higher peak insulin levels after sucralose intake
Higher C reactive protein (a pro-inflammatory marker) after sucralose intake
Decreased insulin clearance from consuming sucralose
Therefore this study showed that sucralose DOES alter the metabolic response, and may have an accumulative effect that has not yet been studied.
So is Sucralose Good For You?
Shanker et al. say: "Although the FDA and most published (especially industry-funded) studies endorse the safety of these additives, there is a lack of conclusive evidence-based research to discourage or to encourage their use."
"It is also largely misunderstood how artificial sweeteners effect energy consumption, appetite, satiety, and hormones like insulin, glucose, leptin, and cortisol."
I tend to agree with these statements – there is a lot we still don't know.
My Thoughts and Opinion
Overall I wouldn't say sucralose is "good" for you but overall it is safe.
The large majority of research gives it a big tick of approval for safety, so much so that it has been given the tick of approval for the entire population including pregnant women and children as well.
I think it's always important to monitor how things effect you as an individual.
We use stevia extract in our recipes because most diabetics have shown no issue with it. Whereas some people with diabetes still get high blood glucose from consuming artificial sweeteners – not all but some.
There are a few areas that need more research in order to draw any solid conclusions. But based on the facts it is safe to have sucralose, most studies have shown this and we can't deny that.
Out of all the artificial sweeteners, it is definitely the best one to choose. So if you find a product that contains aspartame and one that contains sucralose, choose the one with sucralose because you'd definitely be choosing a healthier option.
Hope you find this helpful.
Please pin, tweet, or share this post.
More helpful reading:
Pepino et al. Sucralose Affects Glycemic and Hormonal Responses to an Oral Glucose Load. Diabetes Care 36:2530–2535, 2013
Grotz et al. Lack of effect of sucralose on glucose homeostasis in subjects with type 2 diabetes. J Am Diet Assoc. 2003;103:1607-1612
Grotz et al An overview of the safety of sucralose. Regulatory Toxicology and Pharmacology 55 (2009) 1–5
Shanker et al. Non-nutritive sweeteners: Review and update. Nutrition 29 (2013) 1293–1299
Baird et al. Repeated Dose Study of Sucralose Tolerance in Human Subjects. Food and Chemical Toxicology 38 (Suppl. 2) (2000) S123±S129
Grice et al. Sucralose‹An Overview of the Toxicity Data. Food and Chemical Toxicology 38 (Suppl. 2) (2000) S1±S6
Davidson TL, Martin AA, Clark K, Swithers SE. Intake of high-intensity sweeteners alters the ability of sweet taste signal to caloric consequences: Implications for the learned control of energy and body weight regulation. QJ Exp Psychol (hove) 2011 July; 64(7):1430-1441.