If you have type 2 diabetes, there's one food you want to avoid at all costs – fructose.
Consumption of fructose has been linked to increased weight gain, higher triglyceride levels (cholesterol), high blood pressure, insulin resistance, higher small dense LDL cholesterol and fatty liver, not to mention, it is a form of sugar so may send your blood sugar soaring also.
Is that enough to raise your curiosity? Read on to discover the dark and nasty truth about this common food ingredient.
What is Fructose?
Fructose is a simple sugar that is naturally found in fruits. It is easy to remember this, because the word "fructose" actually sounds similar to the word "fruit." Different fruits contain different levels of fructose and some vegetables also contain small amounts of it.
If you've ever turned over a can of soda and looked at the label, you've probably noticed a different kind of fructose listed on it, called high fructose corn syrup (HFCS). This is a processed form of fructose that is used as a sweetener to replace sugar.
On labels it can be labelled as HFCS or it may simply be labelled as fructose—either way, it's the same thing.
The bad news is, you will find fructose in most processed foods from pizza sauce to crackers to breakfast cereal, just to name a few.
And soon you'll find out that fructose is the worst of the worst when it comes to healthy eating… we'll get to that in just a moment.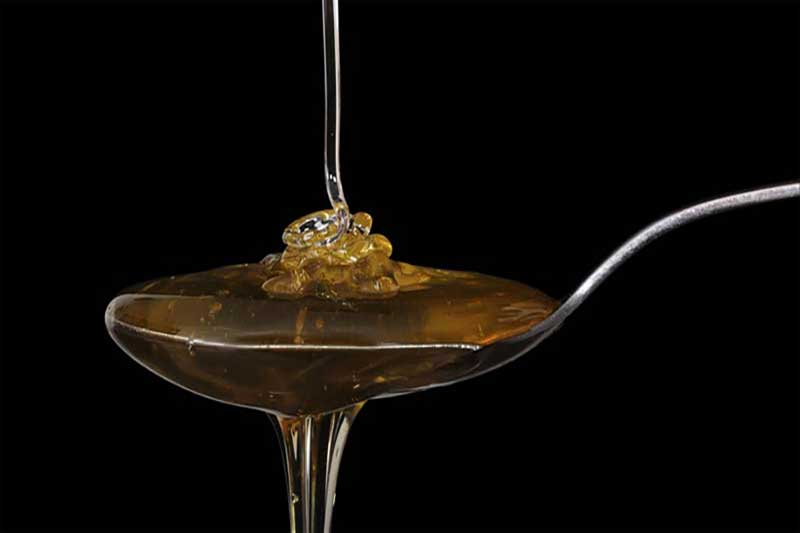 Fructose Nutrition Facts
As mentioned earlier, the amount of fructose in fruits and vegetables varies greatly. Here are several examples of food that contain various amounts of natural fructose:
1 medium-sized apple w/skin = 13g of fructose
10 cherries = 4g of fructose
1 medium sized banana = 7g of fructose
1 sweet potato = 0.7g of fructose
5 medium strawberries = 5g of fructose
When you move past naturally occurring fructose and into processed sugars, you start to get higher and higher levels of fructose.
A study published in Nutrition magazine measured the different amounts of fructose in sodas that contained high fructose corn syrup.
They found that Dr. Pepper, Pepsi, and Coke all had about 60% of their sugars coming from fructose — wow, that's a lot!
What the researchers found was that most types of soda contained between 45-60% fructose. At the very bottom of the list, Sierra Mist Natural contained only 7% fructose.
To figure out how these numbers look compared to the fruits and vegetables listed above, let's look at Coke. How many grams of fructose are in a 20 oz bottle?
A 20 oz bottle of Coke classic contains 68 grams of added sugar. If we multiply those 68 grams of sugar by the 60% that we know is fructose, we get an answer of 40.8 grams of fructose.
If you were trying to consume that many grams of fructose just by eating fruit, you would have to eat three whole apples, 102 cherries, or 6 whole bananas!
Of course, we don't recommend soda or soft drinks at all because these are one of the key foods (beverages) that are causing much of the health problems in society, leading to obesity and diabetes – it's been shown time and time again in studies.
Also, for diabetics, we only recommend low carb fruits. But, the numbers above give you some idea of the levels of fructose that people may be consuming unknowingly.
Comparing Different Sugars
We might be tempted to think that all sugars are equal in terms of how they affect blood sugar and metabolism, but that is not true.
We are picking on fructose here for a reason, because fructose behaves differently in the human body than other sugars do.
First of all, what other sugars are there? Aside from fructose, there is lactose, glucose, and sucrose.
Glucose is the type of sugar that the human body uses for energy – every food you eat eventually gets broken down into glucose (even all the other types of carbs). Glucose either gets used immediately for energy or stored for later. Many foods also contain straight glucose.
Lactose is the sugar found in dairy products like cow's milk, whipping cream, cheese, ice cream, and yogurt. Regular cow's milk is made up of 40% lactose and that accounts for the sweet taste of milk.
Sucrose is white table sugar and it's a disaccharide – meaning, it's made of two different sugars – 50% glucose and 50% fructose. And just so you know, regular sugar is 50% fructose.
Consuming too much of any sugar is not a good idea, but which of these sugars is the biggest problem for diabetics?
Yep, you guessed it: fructose is the culprit.
Whether it's coming from fresh fruit or HFCS, fructose eaten in excess can wreak havoc on the body of a person with type 2 diabetes.
Research on Fructose and Type 2 Diabetes

Since fructose is a sugar, you may be surprised to learn that consuming pure fructose does not raise blood sugar levels as much as you might expect. Because it actually has a lower glycemic index than other sugars.
So, if it doesn't spike your blood sugar, why is fructose such a problem for diabetics?
Fructose delays satiety, meaning that once you eat a lot of fructose you won't stay full for long, and you are more likely to overeat. This can result in weight gain as well as the desire to eat more carbohydrates – not exactly what you want to do. Think about it, usually when you're craving something to eat you go for a high-carb snack like a choc chip cookie. You don't exactly crave a stalk of celery. 🙂
Next on the list. Consistently eating a diet high in fructose can contribute to metabolic syndrome. Metabolic syndrome is a cluster of symptoms — insulin resistance, high blood pressure, overweight, high blood glucose, high cholesterol — sound familiar? Most diabetics have metabolic syndrome.
Fructose also leads to leptin resistance. When you become leptin resistant, your brain and body stop communicating about hunger so you feel starving all the time, even when you've just eaten. What does this lead to? Overeating.
Fructose is the only sugar that is directly stored in fat cells, which contributes to high triglyceride counts. This is a HUGE problem and is especially true of HFCS in chronic soda-drinkers. Take a look at the image below – compared to straight glucose, fructose is converting 40 calories directly to fat deposits, compared with just 1!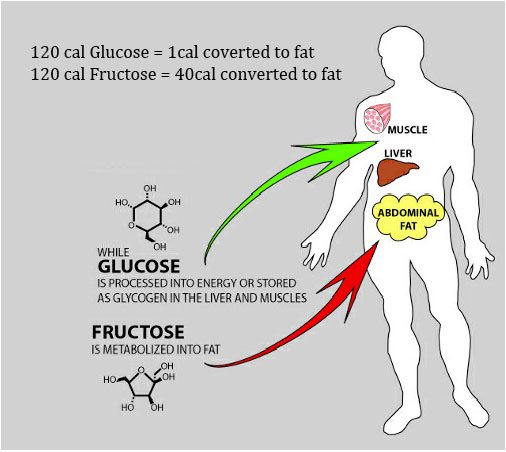 And it doesn't end there… fructose consumption leads to increased inflammation in your cells. This only worsens all your symptoms as a diabetic and can provoke the development of diabetic complications. It's also been shown that body-wide inflammation associated with fructose may lead to cognitive decline, especially in those with fragile blood sugar.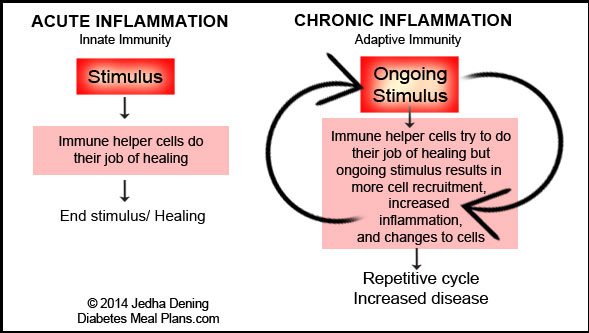 Let's keep stacking up this list… high fructose consumption is linked to liver disease (like non-alcoholic fatty liver) in people with type 2 diabetes. Non-alcoholic fatty liver is not good. The liver is involved in many important functions – blood glucose regulation, cholesterol production and regulation, detoxification, filtering, assimilating and storing nutrients, producing major components of the blood, energy regulation and hormone production.
If your liver is fatty it's going to struggle with all these important functions!
I could keep going on and on but I think you get the picture by now… fructose is a food you want to avoid!
Please pin, tweet or share, then keep on reading. 🙂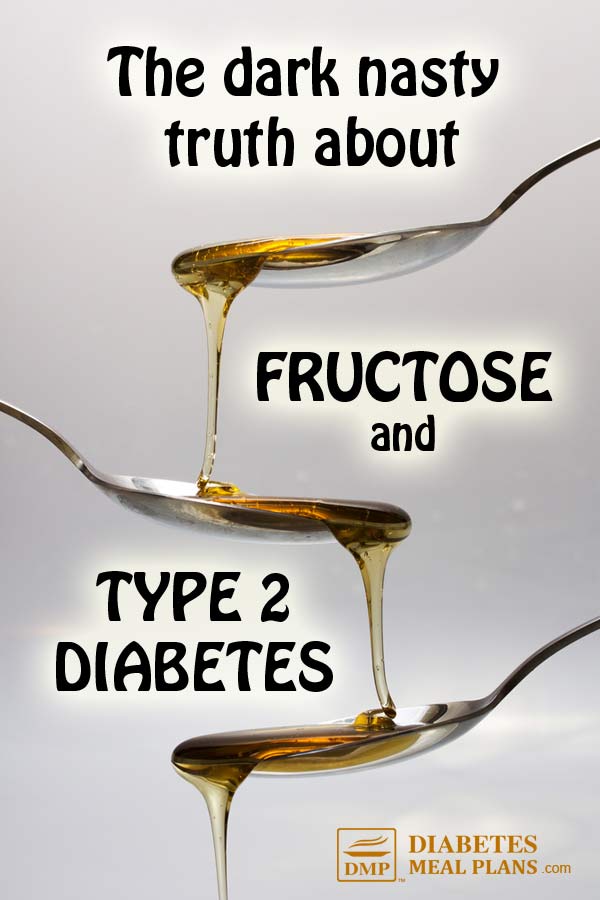 So what's the deal… Is Fructose OK for Diabetics?
From reading the above, you probably know the answer…
The final verdict is that foods with high levels of fructose are not a good choice for diabetics—ever!
Always read food labels, always. Select your foods and beverages wisely, ones that do not contain fructose because it is clear that indulging in anything that contains fructose is not worth it.
Please pin, tweet or share this info to help others.