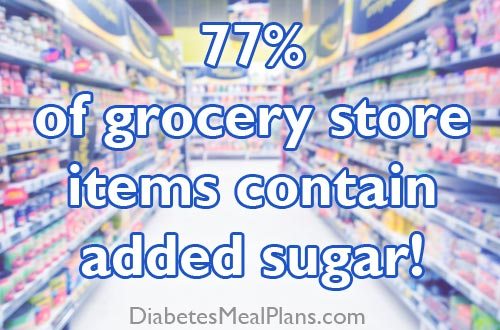 Oh the sweet goodness of sugar….
Yes, our taste buds love it but our blood sugar and the belly fat doesn't! Which is exactly why we're going to chat about the best sugar substitutes for diabetes today.
But first, a short story. 🙂
Quite a few years back now, I was shocked to see Jamie Oliver walk out on stage and tip a whole wheelbarrow full of sugar cubes on the stage as a representation of the amount of sugar a person now consumes per year – around 140 pounds annually!
Yep, experts now agree that a lot of our health problems around the globe are due to excessive sugar intake. The World Health Organization now recommends people eat no more than 25 g or 6 teaspoons of 'added' sugar per day.
Even good 'ol vegetables have natural sugars, so we're not talking about those. We're talking about hidden sugars in grocery store products.
The Hidden Names of Sugar
And, it is hidden everywhere under 59 different names of sugar in more than 70% of grocery store items!
Take a look at this chart – it's really crazy stuff!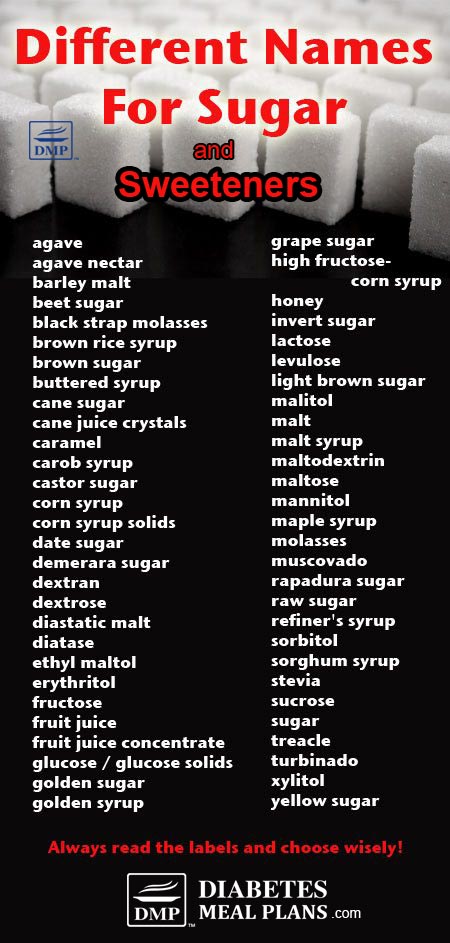 Should you completely avoid sugar?
Unfortunately the 'white poison' as some call it, is highly addictive too. In fact, Dr Eric Stice, neuro-scientist, has done studies on the brain showing that the same 'addiction' receptors are activated when we consume sugar as they are if we consume cocaine.
So you know, you could try to limit it but that's hard to do. I know when I eat sugar I just want more, and there's a reason why – those parts of the brain Dr Eric Stice discovered – they get stimulated, along with various hormones.
It's not going to kill you to eat small amounts of sugar. But, the truth is, eating sugar is hard to moderate so turning to sugar substitutes can be a good solution, if you choose the right ones.
Aspartame, Saccharin, Acesulfame-K
Saccharin – Brand names: Sweet'N Low, Sugar Twin, Necta Sweet.

Aspartame – Brand names: Equal, Nutrasweet, Natra Taste.
Acesulfame-K – Brands: Sunette, Sweet One, Swiss Sweet.
Interestingly, aspartame and many of the 'old hat' artificial sweeteners were first implemented to help the obesity problem. In came diet coke and a whole range of diet products and foods. Years later, research now shows that these contribute to weight gain in many people – not weight loss as you'd expect.
Although it's okay to use aspartame and artificial sweeteners sometimes, or perhaps in some social situation and so forth, in my opinion it's the worst sugar substitute option.
Read more about these artificial sweeteners here.
Sucralose
Sucralose  – Brand name: Splenda
Sucralose is also an artificial sweetener.
The large majority of research gives it a big tick of approval for safety, so much so that it has been given the tick of approval for the entire population including pregnant women and children as well.
Out of all the artificial sweeteners, it is definitely the best one to choose over the ones mentioned above.
Read more about sucralose here.
Sugar Alcohols – the 'tols'

Erythritol
Xylitol
Mannitol

Sorbitol
The 'tols' are sugar alcohols – not really sugar or alcohol but named that way.
The 'tols' are claimed to be natural because sugar alcohols are naturally occurring in lots of fruits and veggies. However, these 'tols' are processed from pure glucose and sucrose taken from wheat and cornstarch. The end result is a zero calorie sweetener that does not affect blood sugar, so again a possible option for diabetics or people with blood sugar problems.
Erythritol is a commonly used product in things like Truvia and Natvia, which are a blend of erythritol and stevia. Many people find these more palatable than stevia or erythritol alone.
Erythritol is also more digestible and tolerable in the digestive region for most people. Be cautioned that the other 'tols' can have a laxative effect or cause stomach cramps in many people.
Stevia
Stevia is an herb from South America that has been used for centuries. It comes in a white powder (more processed), green leaf (unprocessed but tastes weird) and a liquid extract (much less processing required).
Considering the evidence and the pros and cons of stevia, overall I think it's a good natural plant source sweetener to use.
I personally prefer using stevia over all other sweeteners and it's what I recommend to most people.
I use a liquid stevia extract because I find it's more convenient and mixable – and less processed too. I use it in all our low carb recipes.
What About Honey and Natural Sugars?
Honey IS sugar. In fact, it contains more fructose than sugar so can be even more problematic for diabetics.
Sugar is around 12-14 g carbs per tablespoon. Honey around 17 g. Most sugars compare the same.
The same applies for manuka honey.
Although manuka honey is the best form of honey in the world (with medicinal properties too), it is still honey – high in fructose/sugar that can increase blood glucose and A1C, not help it. In small doses it definitely is a better option but avoiding most sweeteners (most of the time), even natural ones – honey, molasses, maple syrup – is the go.
What About Agave Syrup?
This question comes up a bit so we better add agave to the list.
Agave has been hyped up for quite a few years as a safe option for diabetics because it's "low GI." While that may be the case, it doesn't make it good. In fact, my recommendation is to stay away from agave, it is NOT a good sweetener for diabetics.
Agave is 80-90% fructose and it's interesting because when researchers discovered high fructose corn syrup, they also thought they'd found the halo for an obesity and diabetes cure. Well, it turns out they didn't have their handle on the whole story and this is NOT the case. Fructose is the CAUSE of much of our obesity and diabetes issues – many researchers agree.
You see, fructose is 100% metabolized by the liver, this then leads to fatty liver, which then leads to insulin resistance and diabetes. Not to mention fructose gets stored as fat at 3 times the rate of sucrose – for example (bring on obesity!).
And, like most other "natural" sugars, agave still contains approximately the same amount of carbs – 5 g per teaspoon.
You can read more about fructose and it's affects on the body here.
Best Sugar Substitute for Diabetics to Choose?
I personally prefer using stevia over all other sweeteners and it's what I recommend to most people because based on the research I've read I think it has better outcomes for all of us, including people with diabetes.
In saying that, at the end of the day it's going to be a personal choice.
Some people hate the taste of stevia. So move up the ladder and try the 'tols' or a little sucralose. If anything, I'd say avoid the nasty ones mentioned first – Aspartame, Saccharin, and Acesulfame-K.
It's also good practice to try to move away from eating too many sweets. Focus on eating more vegetables rather than sweet things because they are much better for your health.
One Word of Caution Too…
Although stevia is a good option for most people, and the other artificial sweeteners aren't 'meant' to effect blood sugar, some people do still react with high blood sugar readings.
It's important to be aware that just because something is labelled "diabetic friendly," doesn't mean it will work for you!
It's not common to react to sweeteners but this is where your individualism comes into play. It's always important to listen to what your own body tells you (and your glucose meter!).
I'd recommend you read some of those extra posts I've linked to above. You might also want to look at this best sweeteners comparison.
So, what sugar substitute do you use? Leave your comments and let me know. Or maybe now you've learned more, perhaps you'll make the switch???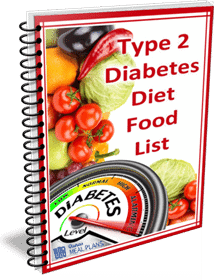 FREE DOWNLOAD
to grab your downloadable copy of our recommended foods list!
Please share, pin, or tweet this post. We'd love a bit of help in sharing this education around. 🙂
Save