For several decades health organizations worldwide have been recommending we eat a low fat diet. And a high carb, low fat diet for diabetes has been the common recommendation of diabetes organisations (like American Diabetes Association) and many dietitians and certified diabetes educators.
However, if you've been given advice to eat a low fat diabetes diet and you're struggling to gain good control of your blood sugar levels and your health, there's one simple answer why: High carb, low fat diets for diabetes DO NOT WORK!
As more and more scientific evidence comes into the spotlight, it is becoming clearer and clearer that nutrition guidelines over the years have been wrong, and many of the recommendations are now a thing of the past.
With a pandemic of obesity and diabetes occurring worldwide, we clearly have a problem, right? 
Einstein said: "The significant problems we have cannot be solved at the same level of thinking that created them."
That's why I'm a nutritionist who always thinks outside the commonly believed nutrition dogma. Because there are solutions but these solutions are not being shared with the wider public on a large scale.
The dietary recommendations we have been given over the years are a large part of the problem. All of which are based on a high carb, low fat diet – a Western diet that has now stretched itself to affect all parts of the world. All of which has been driven by the interests of large multinational food companies – money!
Before I start going off on a tangent and rant about that issue, let's look at what's happening in nutrition science to discover why a low fat diet for diabetes may be a thing of the past.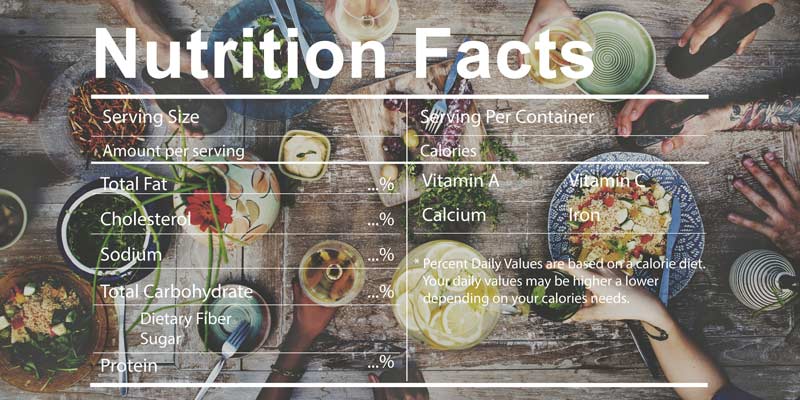 JUMP TO: Macronutrients for your diabetes diet | Low fat diet thing of the past | Why a low carb diet works | Why low carb diets aren't yet highly popular | About cholesterol and heart disease | How to eat a low carb diet
Macronutrients For Your Diabetes Diet 
The best place for us to start is by defining what a low fat diet is compared to a low carb diet. Why are we comparing these two? Because substantial research shows that low carb diets can help produce the best results for you. So let's compare the macronutrients so you can understand the differences.
A "conventional" or "typical" macronutient ratio (high carb, low fat) for people with diabetes has been:
55–65% carbohydrate
≤30% fat
10–20% protein
A low carb macronutrient ratio can vary as follows:
Very low carb ketogenic diet: 20-50 g per day. Below 10% energy intake.
Low carbohydrate diet: Below 130 g per day. Below 26% total energy intake. 
We encourage people to consume carbs in the middle range of these two, around 50-80 grams of carbs per day, which produces great results. 
Why A Low Fat Diet For Diabetes May Be A Thing Of The Past
There is an abundance of research to show that a low carb diet provides significant benefits over a low fat diet. While I'm not going to go into every single study, here are a couple of recent examples.
A 2018 randomized clinical trial of 2 years found that while weight and A1c levels reduced by a similar amount over the study, the people who followed a low carb diet had greater reductions in medications (indicating better overall metabolism), along with improved glycemic control and stability and improved cholesterol profile.
In a 2017 study of one year, researchers gave type 2 diabetic participants either a low carb diet (20-50/day net carbs) or a moderate carb diet of 40-50% daily calorie intake, who were also instructed to lower their fat intake and consume less calories. The low carb group lost 8.3% body weight compared to 3.8% in the low fat group. A1c levels were lower at 6 months but similar after the 12 months in both groups. But again, medication reduced and cholesterol improved more in the low carb group.
What's interesting about both these studies is the reduction of diabetes medications in the low carb groups, which has also been shown in many other low carb studies. Because the question to ask is, if the people on a low fat diet always need more medication to achieve the same A1c, are they really improving their health and metabolism overall?
That's questionable. Since the people on a low carb diet can reduce or eliminate medications and maintain A1c, it is obvious that a low carb diet wins hands down. 
Additionally, a review we did previously found that weight loss on a low carb diet was more effective.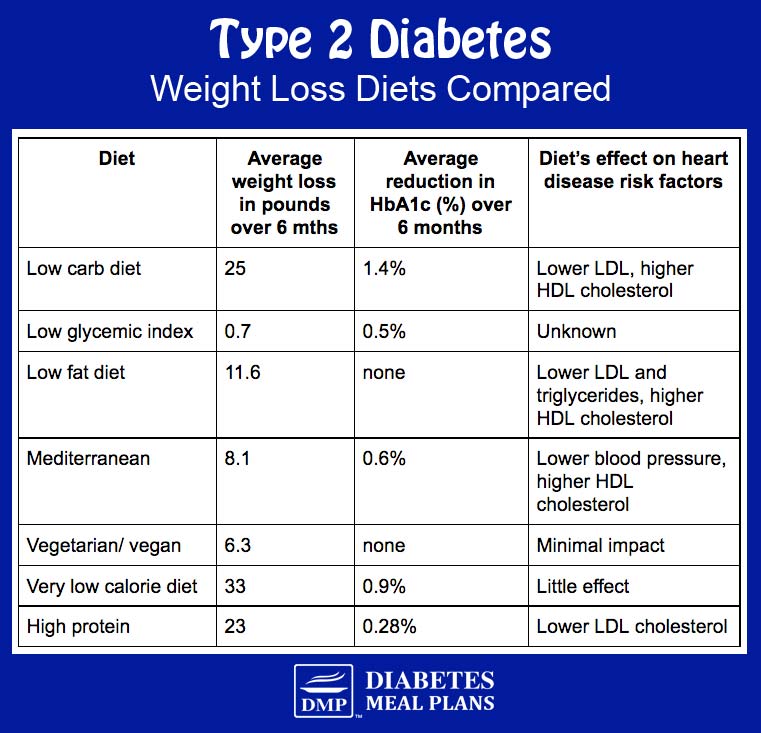 Why Does A Low Carb Diet Work?
You don't need to be a scientific expert to work this out because although it is complex in a sense, there are simple biochemical processes in our body that regulate our metabolism. And these processes explain why a low carb diet is beneficial for people with type 2 diabetes and prediabetes, and even those without it.
Let's walk through this together in simple terms:
When you eat a food, your body will process that food (metabolism).
Carbohydrate foods turn into glucose (sugar) in the bloodstream.
The body is designed to maintain a tight control over glucose levels because higher than normal levels is detrimental to our health.
Too much glucose (sugar) in the bloodstream causes more insulin (a hormone) to be released. When higher insulin levels and sugar are in the bloodstream, this promotes insulin resistance. Other things can promote insulin resistance too, for instance, lack of physical activity. Insulin resistance is when your cells are not responding to insulin so they can open up and clear your bloodstream of that sugar.
All of the above leads to altered metabolism – not just with blood glucose but with cholesterol, blood pressure, weight etc.
So in saying all that, the reason why a low carb diet works so well is because it limits the amount of carbohydrate food you consume, which reduces the overall load on your body. Think: Carbohydrates are the nutrient that has the greatest impact on blood sugar levels. So that makes sense, right?
But more than focusing on carbs alone, we encourage you to eat a diet filled with whole foods, not just junk food swaps that also happen to be low carb (that's not really a healthy diet). Because the two steps combined together (low carb and whole foods) helps your body reset itself to a normal metabolism over time. 
Please pin, share or tweet; then keep on reading.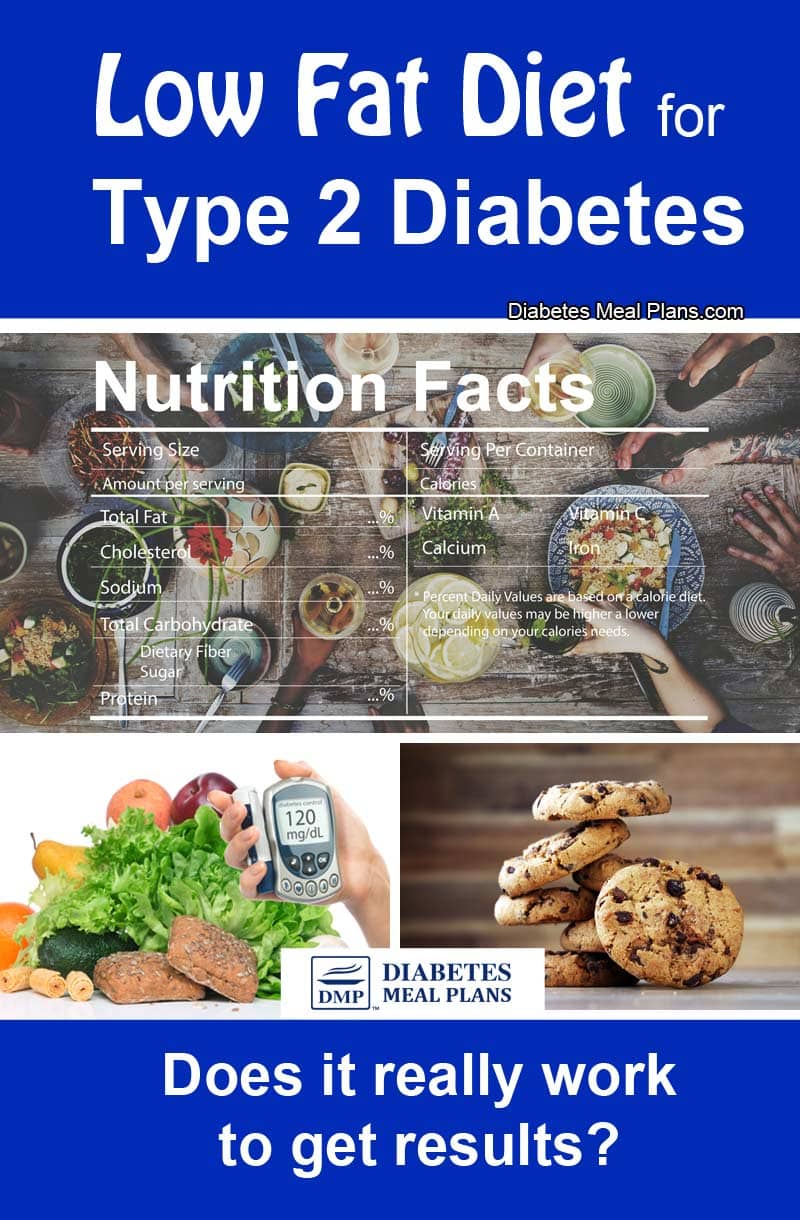 Why Is A Low Carb Diet For Diabetes Not More Popular?
You'd imagine that with the great results seen from studies, that everyone would be jumping on board to recommend a low carb diet to people with diabetes and prediabetes. This isn't the case, because like all things there is debate and resistance (and corporate food sponsorship).
People question the long term sustainability and effectiveness of a low carb diet, suggesting we do not have enough evidence. The interesting thing about that, is there was never any evidence to support the original dietary guidelines, as we explained previous when we examined the food pyramid.
Here at DMP we've been researching and educating people about a low carb diet for years, and we're only seeing more and more evidence appear that continues to show great results. The same goes for many "forbidden" foods, such as eggs, which are now being shown to be a super healthy food.
It's very important to open our eyes to things, especially to the many nutrition myths that are deeply embedded in our society. 
To us, the most important and logical thing is to educate you, based on evidence, about what's proving to be an effective method of treatment for type 2 diabetes and prediabetes, along with the types of foods with demonstrative effectiveness.
In the end, it's up to you to give these things a try and see for yourself. And if you're like many of our subscribers and members, you'll likely find your results are fantastic – check out their stories and testimonials here.
What About Cholesterol Levels and Heart Disease?
One of the major concerns that has driven the recommendation to eat low fat is the concern over heart disease, right?
We've been given this visual image that eating fat will clog up our arteries and lead to cardiovascular disease, but that's really not the case. Heart disease is an inflammatory condition that is caused by multiple factors. Eating fat does not equate to instantly clogged arteries – it's a major misconception!
Of course we know trans fats are bad but in terms of other fats, scientists indicate that carbohydrates impact cardiovascular disease more than dietary fat. And surprisingly, it's not just sugar, as we might expect. It's foods such as cereals, wheat and starchy carbs – all of which are super high in carb content.
There is still some debate about saturated fat, we covered fats in detail over here. 
The point is: most studies show that a low carb diet improves heart health – improving cholesterol levels and cardiovascular risk factors, even more than low fat diets.
How To Eat A Low Carb Diet?
Let's be clear, a low carb diet such as the one we encourage is not a 'no carb' diet, nor is it necessarily a ketogenic diet (super high fat diet very low carb).
Eating a low carb diet provides an abundance of food options including low glycemic index carbs by way of fiber and nutrient-rich vegetables, along with healthy fat (nuts, avocado, olive oil, fatty fish, olives, etc) and protein sources (meat, fish, chicken etc).
You can click here to view a full food list with examples of what to eat.
A low carb diet might feel restrictive at first because you have to cut out sugar and some favorites such as pasta, rice, potatoes and bread. But once you adjust and learn all the delicious alternative foods you can eat, you will actually discover that a low carb diet is very flexible.
Not that we encourage you visit junk food outlets on a regular basis but to demonstrate the point, you can even eat at McDonald's if you're out and about – just order a couple of burgers without the buns! 
If you need help getting started with your diet, download our freebie pack below – it's got all the tips you need to get set on your way to better blood sugar and A1c levels. Don't take my word for it, read what others have to say about us.
We also have fabulous weekly meal plans available to take the stress out of your menu planning.
Our mission is to make a real difference in your life, so be sure to apply what you learn and report back to us with your results – we love hearing from you. 🙂