*21 Day Lower Blood Sugar Challenge™: Your challenge task is at the bottom of this page.
Regardless of where you live around the globe, we're all familiar with the food pyramid, right?
It's a picture we've all grown up with that supposedly represents all the "healthy" foods we're meant to eat and in what quantities.
When we think about it, we assume that large health organizations have our best interests at heart, right? After all, they want us to be healthy – at least, that's what we assume.
However, as it turns out there is a bit more to the story… a few surprising things in fact…
Here we'll explore a few myths, along with sharing a new diabetes food pyramid that will help you achieve better blood glucose control.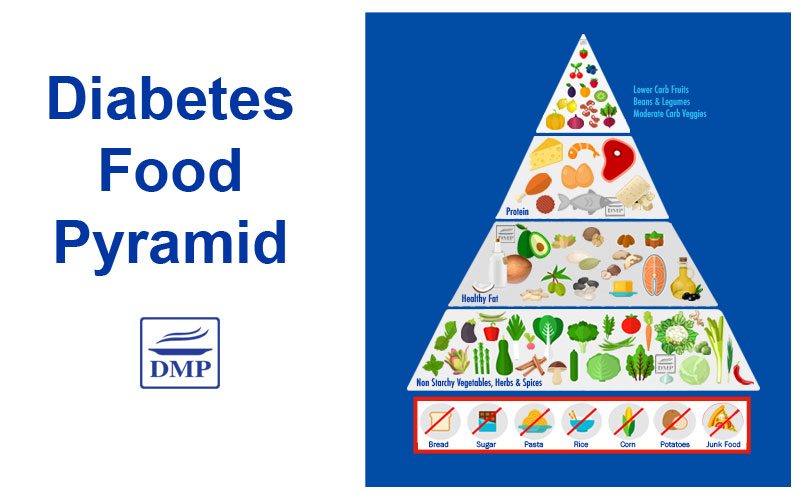 JUMP TO: Lies behind food and health promotion – 1) Transnational corporations dominating; 2) Nutrition myths; 3) Corporate sponsorship | The OLD food pyramid –  1) US; 2) Australia; 3) Ireland; 4) UK; 5) Canada | Major problems with the old pyramid | The NEW diabetes food pyramid | The wrap up
The Lies Behind Food and Health Promotion
Transnational Corporations Now Dominate the Food Supply
It's no secret that in the past few decades food has been transformed by multinational ultra-processed food and fast food, taking over the globe. 
Alongside these changes we've seen an increase in obesity, type 2 diabetes, cardiovascular disease and cancer – and that's no coincidence. 
The fact is that transnational corporations (selling unhealthy commodities) are major drivers of the global epidemics that we are currently experiencing.
People always try to say: "it's the individuals problem. Individuals have a choice."
While this is true to some extent, when individuals are surrounded by ultra-processed food and fast food at every single turn, this is not your fault. This is not an individual issue.
This is a societal issue, a social issue and a global issue that no one has the power to tackle.
Why?
Because transnational corporations have billions of dollars to back their pursuits of making even more money. These companies have literally taken over our food supply, pushing aside the importance of fresh food, and even pushing aside and dominating above public health priorities – sad but true.
Nutrition Myths: The Fat & Sugar Debate
For years we've been told to eat a low fat diet to prevent heart disease. And to avoid fat because it clogs the arteries and leads to weight gain.
"The premise that high fat diets are bad for you is completely wrong," says Dr. Adam Splaver, Cardiologist from NanoHealthAssociates. "This all stems from an erroneous study called the Seven Countries Study performed by Ancel Keys, a Minnesota physiologist."
"In that study, he correlated a high fat diet with a higher  risk of cardiovascular disease. However, the study itself included more than 30 countries and Dr. Keys cherry-picked the data to fit his premise. When you look at the data in totality it was a higher carb diet that correlated with a higher risk of cardiovascular disease."
And indeed, as research on fat, sugar, carbohydrates and heart disease has evolved, it keeps becoming clearer and clearer that fat is not the problem. Refined carbohydrates, sugar and excessive amounts of carbs are all greater contributors to the development of heart disease.
Guess where we predominantly find refined carbohydrates, sugar and excessive amounts of carbs? 
In ultra-processed foods and fast foods (made by multinational food companies) that line almost every grocery aisle in the store!
This is just one practical example of nutrition myths that now pervade our society. 
Corporate Sponsorship: Health Organizations and Dietitian's Associations 
It's a sad but true fact that many health organizations have based their information on this old research, that has now increasingly being proven wrong.
Not only that, organizations are frequently sponsored by large multinational food companies. And in various ways, these corporations control what is considered "acceptable" mainstream nutrition knowledge that gets distributed to the public (they have multi-billion dollars more to invest than any public health campaign).
For instance, the Academy of Nutrition & Dietetics is sponsored by:
Abbot Nutrition
National Dairy Council
Campbell Soup Company
Ingredion
Lentils.org
Premier Protein
SPLENDA
Sunsweet Growers
In recent years, this list has greatly improved but used to include the likes of Coca Cola, Kellogg's and Pepsi Co. Likewise the American Diabetes Association sponsors have somewhat improved in recent years.
Dietitians Association of Australia is sponsored by:
Nestle
Campbells
Meat & Livestock
Jalna yogurt
Arnott's
The Australian Breakfast Cereal Manufacturers Forum
All big businesses crossing transnational borders.
While it's understandable that organizations often do need corporate sponsorship, the ethical standards of selecting those sponsors has often been questionable. After all, there are plenty of ethical, natural food companies that would make for better nutrition/health partners. And over the years, this lack of selectiveness has also raised questions as to how much influence these companies have over health organizations.
It should also be noted that food companies (often the undesirable ones) are constantly funding nutrition research, which at the end of the day, experts claim is full of bias and cherry-picking of data.
This stuff goes on behind the scenes, and granted, years ago organizations could get away with a lot more than they can now. With the advent of the internet and access to more information, savvy researchers and experts worldwide continue to uncover the undercurrent of corporate connection that runs through many of these nutrition/health circles and the research 'facts' they present.
The point of all this is: always question.
Do your homework and keep an open mind because things are not always what they appear to be on the surface.
Okay, enough said.
Now let's move onto exploring diabetes food pyramids.
The OLD Diabetes Food Pyramid
United States
The food pyramid most of us know looks something like this: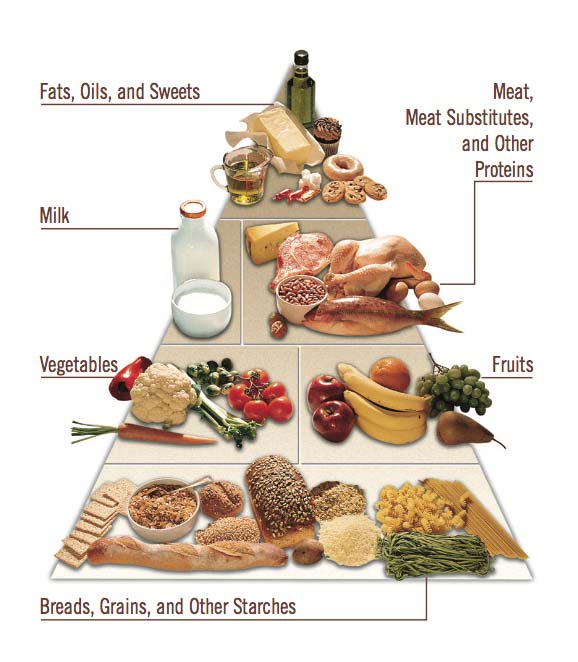 The above pyramid has been used for years by the American Diabetes Association to promote "healthy" diabetic eating, to guide the eating habits of the overall population. And this food pyramid is pretty consistent for dietary guidelines worldwide.
It has long been based on the following food groups:
6-11 servings of grains and starches per day
3-5 servings of vegetables
2-4 servings of fruit
2-3 servings of milk
4-6 oz of meat and meat substitutes
Fats, sweets and alcohol should be a special treat
The serves of grains and starches has become a little less in recent years, but is still promoted as the predominant "base" of most healthy diets.
Australia
Australia updated their food pyramid a couple of years back, which did make some improvements, shifting grains and starches up the pyramid and putting vegetables in the spotlight.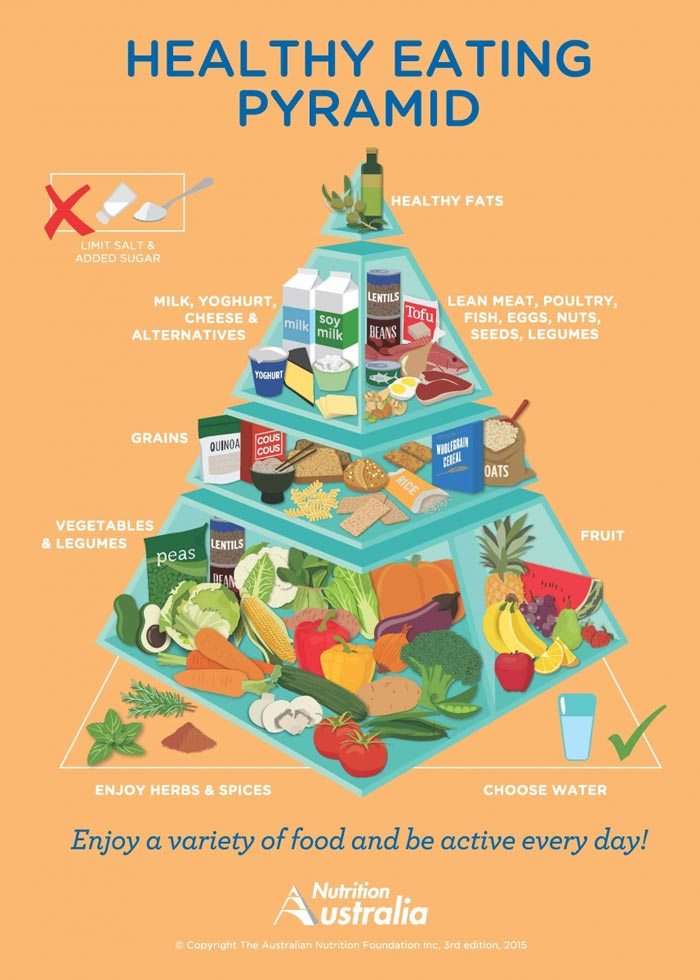 Ireland
Ireland also updated their food pyramid in a similar fashion to Australia.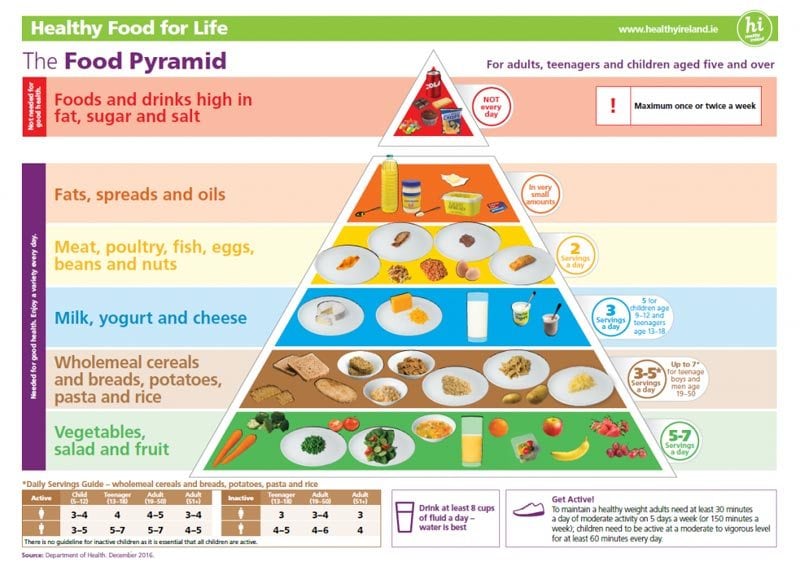 UK
The UK now have a round image, rather than a pyramid, but it's still based on OLD nutrition data with the inclusion of ample carbohydrates.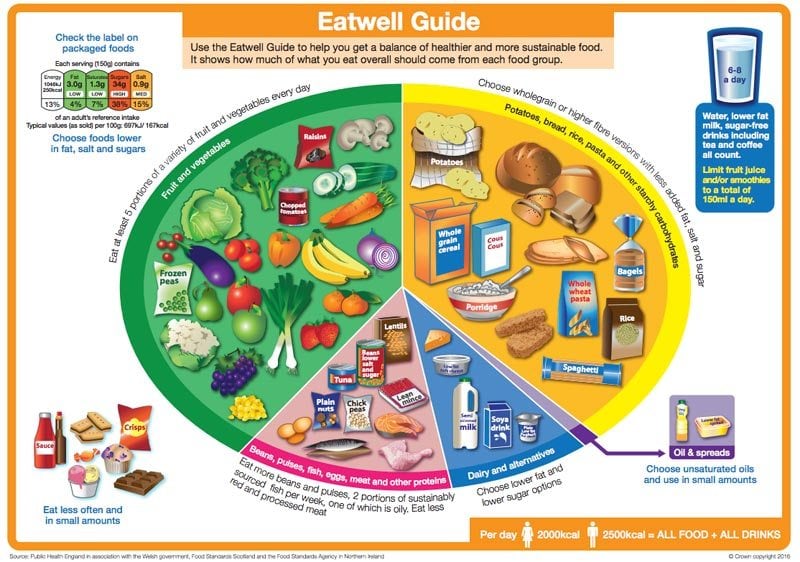 Eat at least five portions of a variety of fruit and vegetables a day
Base meals on potatoes, bread, rice, pasta or other starchy carbohydrates. Choose wholegrain where possible
Have some dairy or dairy alternatives. Choose lower-fat and lower-sugar options
Eat some beans, pulses, fish, eggs, meat and other protein. Aim for at least two portions of fish every week 
Choose unsaturated oils and spreads and eat in small amounts
Eat foods high in fat, salt and sugar less often and in small amounts
Many of these food pyramids try to emphasize portion sizes, which is an important factor – we are definitely eating more than we once were.
Canada
Canada doesn't have a "pyramid" as such but is still promoting the same outdated information from 2005!! – yes, you read that right, info from 2005!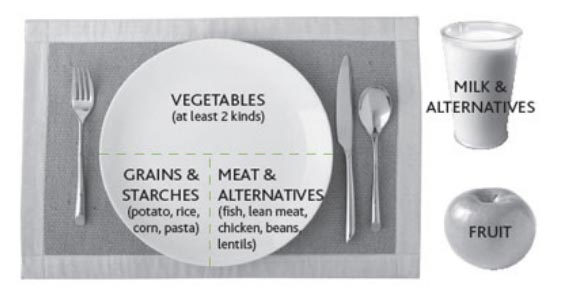 And it gets worse… even their professional resources are from 2005 and they are still recommending professionals purchase a nutrition book written in 2005!
It's now well over a decade since that date – that's pretty darn disgraceful. 

Major Problems with the OLD Food Pyramid
Here at DMP we encourage a lower carb whole foods diet, quite simply because current research shows it's a great dietary pattern for improving blood sugar and A1c – meaning, it's a great diet to treat type 2 diabetes and prediabetes!
The experiences of our members and subscribers (who are getting awesome results) also demonstrates that the research is spot on. It is possible to lower your blood sugar and A1c and reverse the body's metabolism so it gets back to, or close to normal once again.
And in fact, when you're eating right, results can occur quite quickly.
Here's what Gloria G (a VIP Member) said in a comment recently:
"I just wanted to share my great results having been on this plan for only one month. 3 months ago my A1C was 8.7 and my recent blood work showed it at 7.4. My endocrinologist was very impressed and thinks I will be at the target level by my next testing in 3 months. I am excited to continue on this plan and maybe I can stop one of my injections. Thank you for your dedication to diabetes research and food plans."
Yep, better A1c in one month! Members are often experiencing these type of results.
But unfortunately, following the old food pyramid is probably not going to help you achieve this – at least that's what our experience (and the research) shows.
So what's wrong with the OLD food pyramid? 
Quite a few things…
Grains & Starches
In a lower carb diet, all grains are excluded and so are most starches. 
Why?
Because they are very high carb foods and carbohydrates are the single biggest factor that increases blood sugar and A1c. You cut down on the high carb foods and you'll see your numbers going down.
There's also no evidence to show that grains, even whole grains, help with blood sugar control.
The American Diabetes Association (ADA) still encourage 25% of your intake should be 'grains & starches' and list 'whole grains' as one of their diabetes "superfoods." And as we just saw above, so do most of the other large health organizations.
However, the ADA's recommendations are a bit contradictory to what they state in their 2017 Standards of Medical Care in Diabetes, that: "whole-grain consumption is not associated with improvements in glycemic control in type 2 diabetes." Or in other words, it doesn't help you regulate blood sugar and A1c – that's what the research clearly shows. 
Here's the thing… whole grains are definitely a better choice of food compared to white/ refined grains. They are a complex carbohydrate, they contain more fiber, they fill you up for longer, they are often lower glycemic index, and they are "generally" a healthier food.
But, they do not help with diabetes TREATMENT – prevention for the general population, yes. But treatment, no.
Treatment of a condition and prevention of a condition occurring are two completely different things.
Some people may be able to eat whole grains, portion controlled. But most people with type 2 diabetes and prediabetes will simply do better without them.
Fruit
While fruit is a natural food that is generally considered healthy. When you have blood sugar issues, fruit can also be problematic.
Why?
Again, many fruits are very high in carbs and will raise blood sugar more than you need them to. There are some fruits that are better options than others (keep reading to discover them below).
Fats
Compared to other macronutrients (carbs and protein), fats influence blood sugar the least.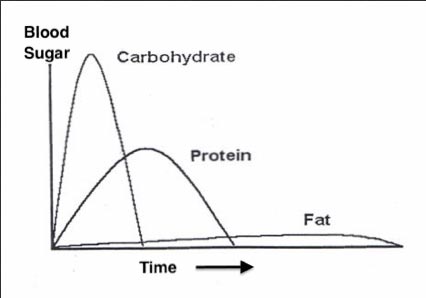 Many of us have the "low fat" idea still stuck in our heads because eating "low fat" is something that's been hounded into us for many years.
However, while people may have various "opinions" about fat, choosing to believe myths is not something we do here at DMP.
Instead of regurgitating the same outdated information, our goal is to share the most recent scientific evidence so you understand the facts so you can determine the truth and therefore, make more informed decisions about your health.
Much research in recent years has concluded that fat is not the enemy, even saturated fat. In fact, fat is something we absolutely need.
And despite commonly held assumptions, eating fat does not make you fat, does not necessarily raise cholesterol, and in fact, can be heart protective, lower cholesterol, aid insulin resistance, decrease inflammation in the body, and even assist with weight loss.
Additionally, the type of fat promoted by health organizations (unsaturated margarines and low quality oils like soy, peanut, vegetable) are high in omega-6, and have been shown to contribute to health problems, not help them. Some products promoted as healthy also contain trans fats, which are damaging to our health.
We've covered the topic of fats in detail over here, so we won't delve any further into this now.
Your New Diabetes Food Pyramid
We've taken the liberty to develop a new diabetes food pyramid.
Please share it around to help others – thanks!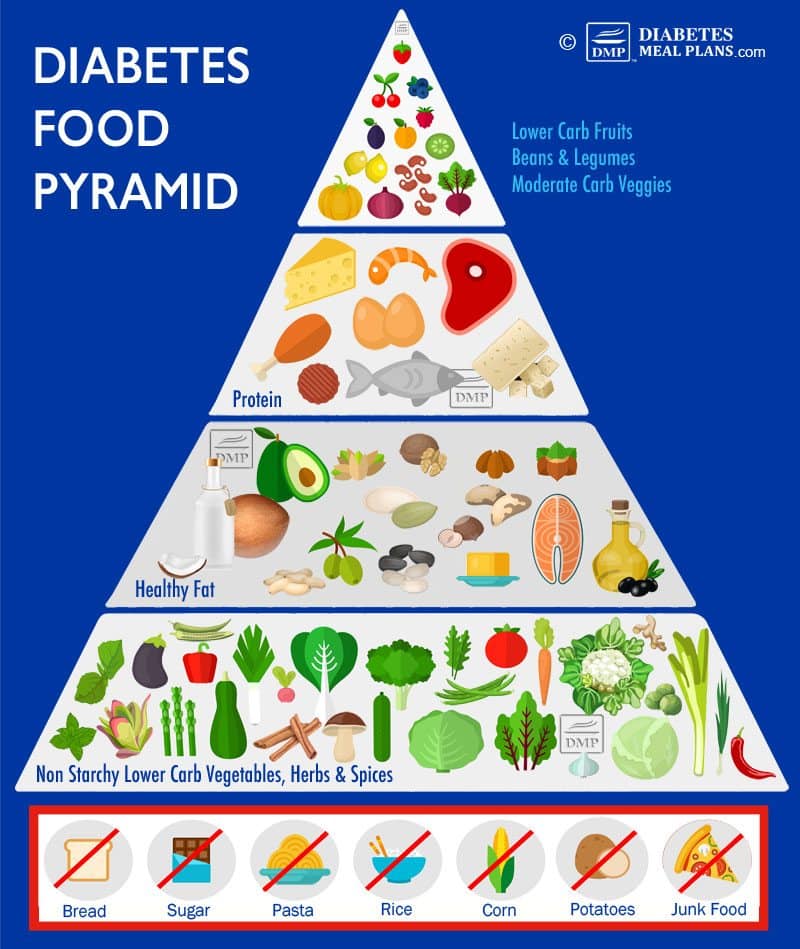 It is based on ample current research that we have evaluated, showing the best foods/diet to help treat type 2 diabetes and prediabetes – a low carb diet filled with natural whole foods!
Vegetables, Herbs & Spices
By volume, non-starchy vegetables should make up the largest proportion of your diet.
Vegetables like: asparagus, bell pepper (capsicum), bok choy, broccoli, Brussels sprouts, cabbage, cauliflower, celery, and the list goes on.
Most scientific evidence (and most nutrition experts) agree that vegetables are a super healthy food. 
Even Dr. Splaver (cardiologist) revealed that in terms of heart health, veggies are right up there!
Overall they provide fiber, vitamins, minerals, phytonutrients, flavonoids, and they are relatively low in carbohydrates, which makes them great for blood sugar and A1c control and for boosting overall health.
Fresh or dried herbs and spices also offer excellent health-boosting properties, not to mention adding natural flavor to all your low carb dishes!
Healthy fats
A higher fat content in your diet is a natural consequence of lowering carbs.
For instance, if you take away high carb foods like bread, pasta, rice and potatoes, you suddenly have a calorie deficit. You can increase the amount of vegetables you eat but they are relatively low in overall calories. And you don't want to eat excessive amounts of protein.
So the natural consequence is that you eat more healthy fat sources. That doesn't mean load up with bacon and pork rinds as you might see on other low carb recipe sites, we certainly do not suggest you do that.
But increase your intake of healthy fats like nuts, seeds, olives, avocado, coconut oil and olive oil – fats with proven health benefits.
Protein
Protein helps keep us full and satisfied for longer.
You can eat all types of meats, poultry, fish, and seafood. Many experts still agree though, that choosing lean meats is best.
And you can select from a large range of dairy products (both a protein and fat) like cheese, feta, and ricotta, along with eggs – all of which are healthy nutrient-dense foods.
Fruit
We all need some sweetness and the good news is, you can include lower carb fruits in your diet on a regular basis.
For instance, berries (strawberries, blueberries, raspberries), apricot, lemon, lime, passionfruit, peach and plum are all good choices.
Whereas apples, bananas, oranges, pears, watermelon etc, are higher carb fruits that make it more difficult to regulate blood glucose levels. That goes for canned fruit too, as it often also contains added sugar. 
And fruit juice is just like drinking pure sugar, so you're best to steer clear of it.
Moderate Carb Veggies
Things like pumpkin, carrot, and beets are a little higher in carbohydrate content than things like broccoli and cucumber but they are not so high that they need to be avoided all together.
Beans & Legumes
Many people think these are a protein food. And they certainly do contain protein.
However, beans and legumes are also high in carbs, so for most people, they need to be portion controlled. And some people will need to exclude them altogether.
For those of you that can tolerate them, they do provide great benefits in terms of their dietary fiber, particularly soluble fiber, and in their resistant starch, which is beneficial for feeding gut bacteria. 
Treats
Sugar-filled treats like ice cream should be kept to a bear minimum – we're talking the odd occasion. And if you can, you're better off eliminating them altogether and making your own treats from the foods listed above, with the addition of sugar substitutes like stevia, monk fruit, erythritol, vanilla and so forth.
The same goes for treats like fried foods and processed foods – better kept off your list or to a bare minimum.
Grains & Starches
Should be eliminated or kept to a bare minimum, which is why you don't see them in the 'new' diabetes food pyramid.
You can find more info on whole grains here and starches here.
The Wrap Up
Just because you read something online, even on large health organization websites, does not mean it is true.
There are many nutrition myths that pervade our society and as new research continues to unfold, we are learning that much of what has been sold as "healthy" is in fact, not-so-healthy, especially when trying to TREAT a condition.
Remember, prevention and treatment are not the same thing. 
In terms of the research we've done (and have been doing for years), the above NEW diabetes food pyramid covers the 'safe' foods with proven benefits for type 2 diabetes and prediabetes treatment. And there are plenty of delicious foods that can be eaten.
Though there are plenty of food choices available to you, if you're used to eating everything out of a packet, eating fresh can be different. That's where our weekly meal planning service can help.
We send our members easy (and delicious) blood sugar friendly menus, along with regular cooking classes – all of which is designed to help you eat to treat your type 2 diabetes and prediabetes (if you choose to join sometime).
One thing is clear: if you're struggling to get your blood sugar levels within a healthy range, think about which diabetes food pyramid you've been following. Perhaps it's time to make a few changes to your meal plan. You never know, you might just be surprised when you do!
Thanks for being involved – it's great to have you on board!
Need extra support during the challenge & beyond? Join us as a member.
You'll receive weekly meal plans and exclusive member benefits. 

TESTIMONIAL:
Gloria G, VIP Member, says: "3 months ago my A1C was 8.7 and my recent blood work showed it at 7.4. My endocrinologist was very impressed and thinks I will be at the target level by my next testing in 3 months. Just eating your meal plan for a month and seeing the results gives me motivation to continue. Thank you for your dedication to diabetes research and food plans."
Not part of the challenge?  Click Here to Subscribe to our newsletter for free weekly nutrition and health info. Plus, we'll let you know if we run another challenge. 🙂