Every week we deliver inspiration to our members' inbox on Thursdays 7PM US ET. This will be the menu for the following week, Mon through Thurs (or change days as you please).
Your meal plan comes with a shopping list, prep ahead tips and ingredient notes. And we also include weekly cooking classes.
Select from 4 lunches and 4 dinners, often with leftovers. And there's a breakfast and snacks menu selection that you can add to our smart meal planner if you wish to complete your plans.
TESTIMONIAL: "The information, the recipes, the support – I don't feel so hopeless. I love the fact that it all reminds me that I can still eat! I just love how much clear, understandable information is available. I appreciate the very quick responses I have received from my emails. Excellent resource! Thank you so much!!" ~Elizabeth B, VIP Member
Sign Up for Weekly Meal Plans Here >>
Low Carb Diabetic Meal Plan Preview: Menu Week of 4/29/19
This weeks menu kicks off our 6 Ingredient Meals.
Over the next 5 weeks, all the meals in the meal plans include just 6 ingredients.
But that doesn't mean tasteless boring meals. In fact, it's surprising how little you need to make a meal enjoyable. Excluded from the 6 ingredients are a few core pantry items – olive oil, butter, lemon, water, salt and pepper.
This weeks menu features a tasty feta chicken dish, delicious curry noodles, a fresh green bean salad, egg muffins and more – enjoy!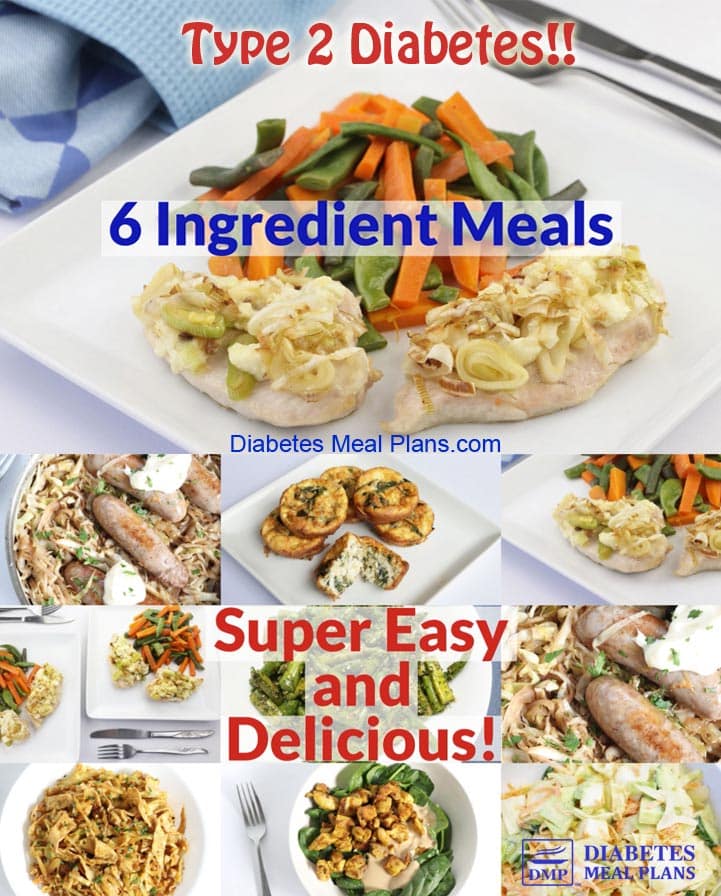 We're more than just meal plans. We help you enjoy life more while regulating blood sugar & A1c at the same time!
Here's just a few testimonials:
Gregg B, VIP member

"I love all the choices. And the amount time you spend on posting articles of value to us and how well the articles explain what is being said without leaving us with questions about sources or verification's. Also the cooking class video's are very helpful. Just keep up what you are doing."

Alan S, VIP member

"Very User-friendly. Love your site and recommended it friends. I discovered I had diabetes on December 23, 2017. My blood sugar was a whopping 396 (22.0). My doctor put me on Metformin 750mlg. I weighed 269 lbs (122kg) and was 72 years old. To date (March 12, 2018) I have lost 35 pounds (15.8kg) and my blood sugar average 94 (5.2) 2-hours after evening meal and 103 (5.7) in the morning. I have been following your suggested menus. I stay on a low carbohydrate diet and watch what I eat. No rice, no bread (my achilles heel), no pasta, no potatoes, etc. I love in Jomtien Beach Thailand."

Sharon L, VIP member

"Your site is wonderful. You make everything clear and understandable about all information. Your meal planning is helpful. I have Type 2 diabetes and CKD. Your information helps me with the diabetes and I just don't eat the AVOID foods for the CKD."