Did you know that back in 2015 the American Diabetes Association was recommending people with type 2 diabetes eat 75 grams of carbohydrates per meal?
Here at DMP, we were quite the opposite, we were encouraging people with type 2 diabetes to eat a lower carb diet, since 2015. Back then, our approach was very controversial, but the evidence was there so we shared it and continue to do so.
Now, using a low carb approach to treat type 2 diabetes is still controversial to some degree, but due to the growing evidence base, things are slowly changing. Quite simply because it's a dietary pattern that works for getting better results with blood sugar and A1c, improving heart health, and decreasing medication requirements – the results of research can't be ignored.
Today I'd like to cover what the evidence for low carb diets is showing when compared with other diets for type 2 diabetes, including high carb/low fat diets, Mediterranean diets, DASH diets, and so forth.
Determining the strength of evidence
In the past few years there have been a number of systematic reviews and meta-analyses of randomized controlled trials prescribing low carb diets to people with type 2 diabetes.
Let me explain the significance of this so you can understand the impact of these studies.
As you can see by the pyramid below, a meta-analyses is considered the highest form of evidence, because it pools the results from all the experimental studies.
A meta-analysis of randomized controlled trials is more significant that a meta-analysis of observational studies.
I want you to remember this because in many cases, dietary headlines that we see in the news are based on observational studies. While these are interesting in terms of determining associations, they are not considered strong forms of evidence in terms of causation – meaning, many of the 'claims' are far from the truth.
Low carb diets for type 2 diabetes: Evidence from meta-analyses
The four low carb meta-analyses presented in the table below have all looked at randomized controlled trials prescribing low carb or carb restricted diets in people with type 2 diabetes.
RCT reviews/ number of participants/ dietary prescription

HbA1c/ duration

Significant clinical outcomes

Huntriss et al. 2018, N = 2204, LCD/ usual care

−0.28% ≤12 months

HDL cholesterol 0.06 mmol/L

Triglycerides −0.24 mmol/L

Systolic blood pressure −2.74 mmHg

Reduced medication requirements

Snorgaard et al. 2017, N = 1010, LCD/ high carb diets

−0.34% ≤12 months

Reduced medications at 3-6 months, sustained at 12 months

Sainsbury et al. 2018, N = 2412, carb restricted (≤45% energy)/ high carb diet (>45% energy)

−0.47% at 3 months

−0.19% only in LCD subgroup ≤6 months

Weight −0.58 kg

12 months

Increases in HDL cholesterol

Decreases in triglycerides, maintained at 12 to 24 months

Reduced medication requirements

McArdle et al. 2019, N = 2132, carbohydrate restriction/ active control diets

−0.49% only in LCD subgroup ≤6 months

Weight −0.43 kg

Increases in HDL cholesterol
Improvements in HbA1c
What we see in the table above is when compared to other diets, a low carb diet produces greater reductions in A1c, with differences of −0.28% A1c maintained at 12 months. This may seem small but it is significant. Any reduction in A1c is considered important for reducing risk of diabetes complications.
In real life we often see much larger decreases in A1c than −0.28%. In fact, it's not uncommon for people to see more than 0.5% reduction in as little as 3 months. Regardless of how long it takes, we've seen hundreds of people lower A1c to normal ranges simply by changing what they eat.
Weight changes
When we compare low carb to other diets, there are some small differences in weight, though the results are small when compared to other diets.
However, again in our experience, we do see much larger changes in real life.
Improvements in heart health
The cardiovascular benefits of a low carb diet are showing to be superior to other diets. Low carb diets show improvements in cholesterol levels, with reductions in triglycerides and blood pressure and increases in HDL. These benefits are being maintained for up to 2 years, the longest evidence we have so far.
We have members who have maintained improved cholesterol profiles going on 3 years now.
Reduced medication requirements
Most notably, across 3 of these reviews, reduced need for medication was consistently reported for low carb diets. This is very important!
This suggests that the results for low carb diets are likely more than what's being reported. It also suggests that overall metabolic function and overall glucose metabolism is better in people with type 2 diabetes who follow a low carb diet.
Defining a low carb diet
There are a couple of issues across some of the studies in the reviews mentioned above:
Some studies state they are low carb but they do not capture any dietary data so it is unknown what level of carbohydrate intake participants really consumed.
Some studies state they are low carb at 40% carbohydrate intake – this is not low carb.
We need to improve these factors in the scientific community.
Since 2015 carbohydrate intake has been defined as follows:
Carbohydrate definition

Carbohydrate

g/day

Carbohydrate

% of energy*

Very-low carbohydrate ketogenic

20-50

6-10

Low carbohydrate

50-130g

<26

Moderate carbohydrate

130-225

26-45

High carbohydrate

>225

>45
As you can see from the table, low carbohydrate has generally been defined as 50-130 grams carbs per day, or between 11-25% of energy intake (*based on a 2000 cal/ 8368-kj diet).
Here at DMP we recommend a low carbohydrate diet, not a keto diet. We've observed that our members are able to sustain this eating prescription over the long term. And interestingly, the reviews above also stated that a keto diet was not sustained in most studies, while a low carb diet was sustainable.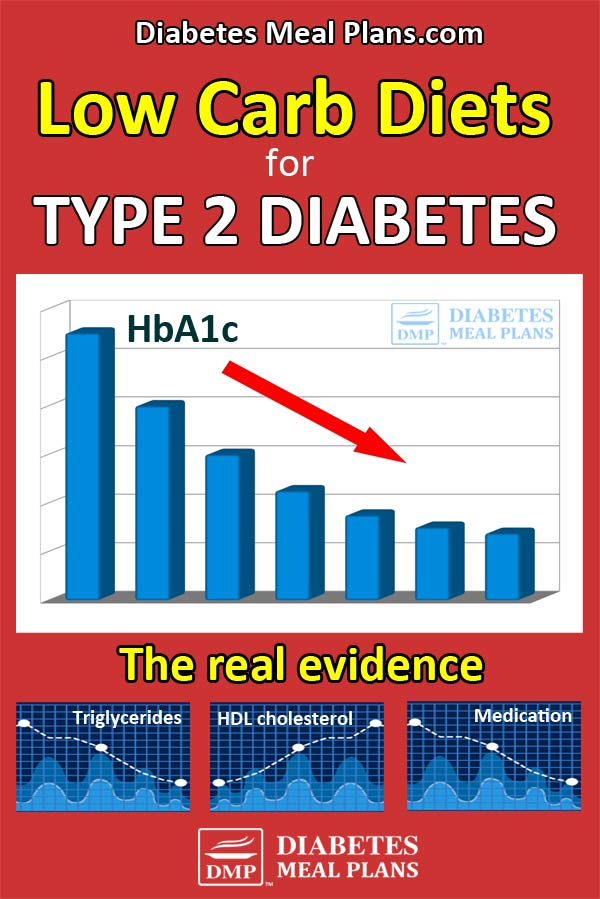 Low carb diet in real life practice
No one is perfect 100% of the time. It is difficult with all the modern day foods we are surrounded by. In which case, we don't encourage extremism but common sense and balance.
In terms of daily real life practice, a low carb diet is a practical and sustainable approach for people with type 2 diabetes.
Once you know what type of foods you can eat, you can even eat at McDonald's and have a variety of choices – low carb foods are available everywhere. Yes, you have to make the right choices, but the point is, a low carb diet is flexible and practical.
But we understand, it can be a learning curve for many people. It may be different to what you've been eating and takes some time to adjust. That's why we created our type 2 diabetes online nutrition services – to help make it easier to eat a healthy low carb diet and lower blood sugar and A1c.
As a member we guide the way with weekly meal plans, food guides and charts, a library of resources at your fingertips, and participate in challenges and masterclasses throughout the year. We're not just meal plans, we provide a type 2 diabetes nutrition service, centered around a low carbohydrate eating plan.
There are many resources available for free on our website. To get started I'd recommend these resources:
If you would like more help and support, please consider joining us as a member.
The membership fees contributed by our members supports our small team of independent health professionals to continue dedicating our time to helping you and others with type 2 diabetes and prediabetes.