Cauliflower rice makes the perfect substitute for gluggy, carb filled rice. You will be pleasantly surprised at just how good it is!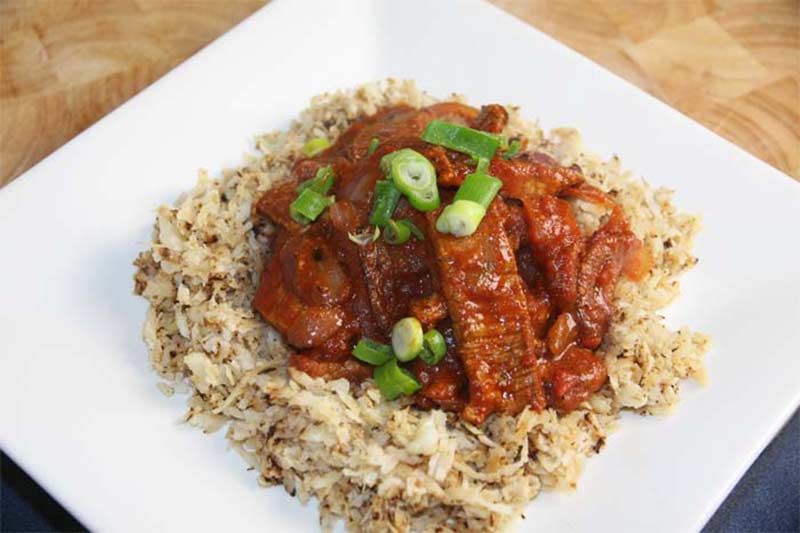 Check out that Beef Goulash above. It takes just 15 minutes to make and is served on a bed of cauliflower rice.
Honestly, it is almost like eating rice, yet it has a 4 times less carbs than regular rice, making it a safe and friendly option for diabetics.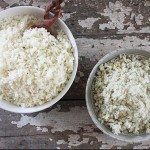 Pin Recipe
Cauliflower Rice
Ingredients
1/4

cauliflower

– approx. 200 g per person

2

teaspoon

olive oil

– or butter or coconut oil
Instructions
Roughly chop the cauliflower, place it into a food processor and pulse for 1 minute until it's a 'rice like' consistency.

Alternatively, use a grater to grate the cauliflower.

Heat oil in a pan.

Add cauliflower and fry up until it's browned and cooked through, stirring it occasionally throughout the cooking process.

Serve it as a bed for your favorite dishes, it's as easy as that!
Notes
OPTIONS Storage – will keep in the fridge for 2 days so you can cook a bigger batch for a few meals. Additions – Add some finely diced onion for a slightly different flavor, cook the onion first for a few minutes before adding the cauliflower to the pan.
Share by Email
Share on Facebook
Share on Twitter
Pin Recipe
Subscribe for Weekly Nutrition Tips & Recipes