It happens to the most health conscious of us. We're on-the-go and haven't taken the time to plan a balanced meal.
Perhaps it's that something unexpected has come up and now we're in a bind. We need something to eat, but don't have 30-60 minutes to go to a sit-down restaurant. What to do?
Fast food seems very appealing in those moments. But when it comes to fast food and diabetes, are there options that you can safely eat?
Thankfully, over the years, fast food restaurants have increasingly accommodated the demands for healthier alternatives to burgers, fries and soda. Now there are some better choices for our very busy lives.
This isn't a license to be lazy and start thinking your best nourishment comes through the window of your car in minutes. It is a nice assurance there are options out there that won't break you in terms of your calorie and carb budget!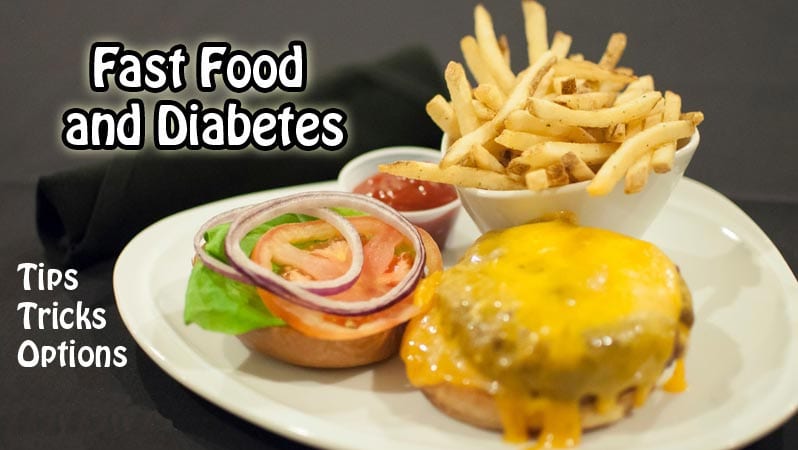 Tips when eating fast food:
Do some homework ahead of time – Chain restaurants are required to provide nutrition information upon customer request. Most is even available online. Don't assume you'll be able to guess.
ALWAYS avoid the starchy side – Restaurants love to capitalize on "value meals" by adding a cheap starch like fries or chips and a soft drink. Both of are "fillers." They may taste good and "fill you up," but they will wreck havoc on your waistline and blood glucose as well.
Watch your portions – Nearly all of restaurant entrees contain more than a whole day's worth of certain nutrients as portions have more than doubled in the past several decades.
Watch your condiments – Most creamy condiments (such as mayo and many salad dressings) are high calorie and very high in omega 6 fatty acids, which promote inflammation (healthy high fat condiments include avocado and nuts). Always order high fat condiments served on the side so you can control the amount. Lower calorie condiments include: mustard, salsa, pickles and of course any veggies such as lettuce and tomatoes.
Buns are cheap, but so is lettuce – Often times, places will serve a burger on a romaine lettuce leaf in lieu of a bun.
Just because it's a salad does NOT mean it's healthy! – Make sure you check the stats first. Salad dressing and crispy toppings can add up very quickly. Consider Taco Bell's Chipotle Steak Taco Salad. It will set you back 900 calories and (wait for it…) 68 grams carbs!
Just because it has a fancy-sounding name does NOT mean it's healthy – Consider Panera's Steak and White Cheddar Panini on a French Baguette for 1060 calories and 104 g carbs. You might as well eat 2 Big Macs!
"Crispy" = "breaded and deep fried" – Unless the description specifically says, "crisp apple," don't order anything crispy! Try to get baked or grilled meat and fish.
Drink water or unsweetened tea – Never order sweetened drinks. They are all a waste of empty calories or use artificial sweeteners, neither of them are healthy options.
Specific & decent choices from common US Fast Food Chains
Breakfast:
McDonald's Egg McMuffin 300 calories, 29 g carbs, 17 g fiber
English muffins are lower in carbs compared to most breads, buns, wraps, biscuits, and bagels. So of all the carb options, this is the lowest option. You can also cut half the carbs by removing the top half and eat it open faced. If you ditch the buns on the McDonald's breakfast altogether you can probably cut them down to 15 g carb per serving. That's just an estimate, cutting bread always slashes the carb count.
Starbucks Protein Bistro Box 370 calories, 37 g carbs, 13 g protein
Hard boiled egg, sliced apples, grapes and white cheddar cheese, 1 slice multigrain bread with peanut butter.
Lunch/Dinner:
Subway Double Chicken Chop Salad w/Avocado 461 calories, 13 g carbs, 36 g protein
This is a HUGE salad loaded with protein that will help keep you satiated for a long time!
KFC Grilled Chicken Breast 180 calories, 0 g carbs, 31 g protein
Perhaps not a full meal, this would be a great low carb, high protein option. Round it out with some green beans (25 calories, 4 grams carbs) or a House or Caesar salad.
Taco Bell Chicken Fresco Soft Taco 140 calories, 16 g carbs, 10 g protein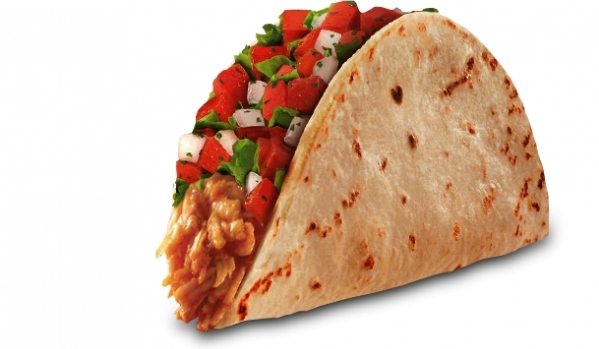 Image Source
The Steak and Beef Fresco Tacos are comparable alternatives.
Panera's Fuji Apple Chicken Salad 550 calories, 34 g carbs, 29 g protein
A bit higher in calories than some of the other lunch choices, it is an enormous salad that will either leave you very full, or taking leftovers for later. You can reduce the calories by ordering ½ (as part of their pick 2) or getting the balsamic vinaigrette on the side.
Chick-Fil-A's Grilled Chicken Cool Wrap 340 calories, 30 g carbs, 36 g protein
Chicken, greens (not iceburg!), cabbage, carrots and cheese is rolled up in a flaxseed flatbread.
Burger King Tendergrill Chicken Sandwich (no bun) 280 calories, 7 g carbs, 21 g protein
Nearly every fast food place has a grilled chicken sandwich. It is generally a better option than a cheeseburger and the nutrition information is comparable.
Hardees Low Carb Thickburger 220 calories, 6 g carbs, 15 g protein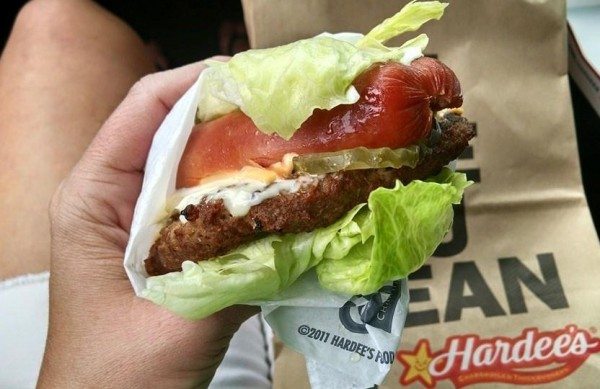 A quarter pound of beef served on a lettuce leaf rather than a bun is a steal for 220 calories. Topped with veggies galore (tomatoes, lettuce, onion, pickles, mushrooms). Avoid sweet creamy sauces.
Wendy's Large Chili 250 calories, 23 g carbs, 23 g protein
Perhaps not a full meal, a blend of beans and meat in a tomato sauce for under 300 calories isn't too bad. Protein and fiber are high relative to calories, just avoid the crackers that come with it.
Chipolte Burrito Bowl 460 calories, 36 g carbs, 46 g protein
This is a very filling meal with a great balance of the food groups (steak, black beans, fajita vegetables, fresh tomato salsa, cheese and romaine lettuce). Most of the carbs come from the beans and are high in fiber (15 g fiber total in the salad!). Make sure you specify BOWL – the burrito shell is loaded with carbs.
In and Out Burger Protein Style Cheeseburger  330 calories, 11 g carbs, 18 g protein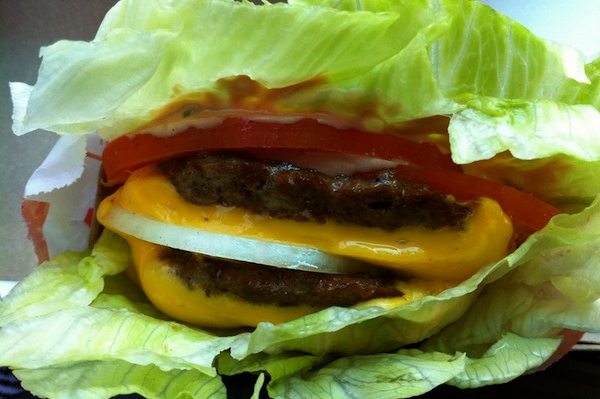 Another great option for a burger served on lettuce rather than a bun.
Panera's Roasted Turkey and Cranberry Flatbread 300 calories, 34 g carbs, 13 g protein
Antibiotic-free turkey, cranberry relish and baby spinach are folded up into a whole grain flatbread for a lower carb alternative to sandwiches.
Snack/Dessert:
McDonalds Fruit & Yogurt Parfait (nix the Granola) 130 calories, 25 grams carbs, 4 g protein
This is a sweetened yogurt but does have real strawberries and blueberries. It still is a decent source of protein, not setting you back as far as, say a chocolate milkshake (850 calories, 141 g carbs).
Panera's Honey Almond Greek Yogurt Parfait 180 calories, 25 g carbs, 14 g protein
This is a similar sweet, cool, creamy dessert that is a better alternative to ice cream.
McDonalds Apple Slices  15 calories, 4 grams carbs
Not the most exciting snack, it is a great swap for fries. Nature has made apples sufficiently sweet – you don't need the caramel dip!
Fast food and diabetes are not something we recommend for every meal. However, the truth is there are safe options to choose from. Once you know what they are you can feel confident in ordering.
Please share, pin, or tweet this post. 🙂