Can I have any kind of fruit to eat?
If you're also wondering whether fresh fruit can be part of a healthy diet or what type of fruit is best to eat with type 2 diabetes and prediabetes, you're in the right place.
Unfortunately, when it comes to fruit there are some limitations, which can be a bit disappointing for some people who do love their fruit.
However, there are still plenty of options and when you stick to the right types of fruit in an appropriate portion size, you can still keep blood sugar levels within a healthy range.
Let's talk about why certain fruit can be problematic, then go over your best fruit options. Plus we've got some frequently asked questions and a blood testing technique you can use to evaluate how different fruits affect you.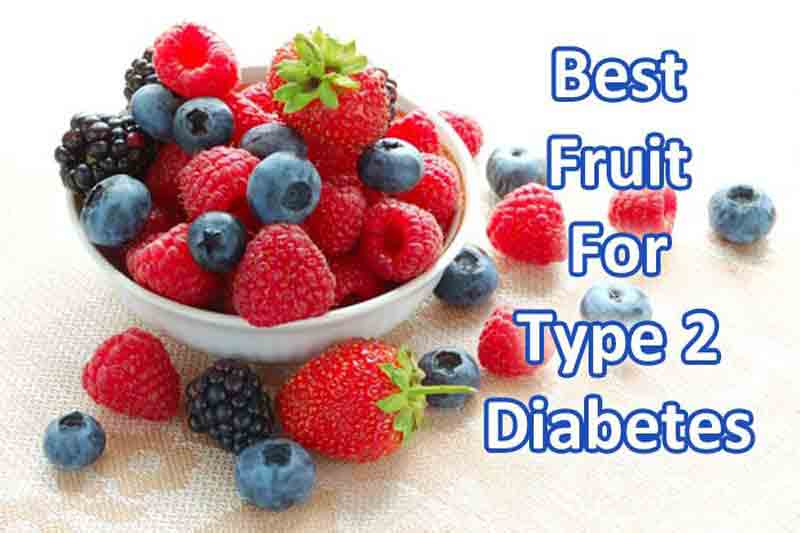 Fruit is Sugar
Of course you probably know that "added sugar" is your enemy.
Consuming added sugar, which is now found in thousands of food products, is linked to increased risk of cancer, heart disease, high blood pressure, obesity and other health conditions.
But fruit, it's often considered a "healthy" food, right? But the thing is, fruit also has a fairly high sugar content.
Although fruit is a natural food source, one thing to keep in mind is that fruit is high in natural sugar, predominantly fructose. This can be slightly problematic for a few different reasons.
All forms of sugar/ carbs can increase blood sugar levels – natural or not, sugar is sugar and your body is going to have to deal with that. The pancreas is forced to deal out more insulin, your cells have to welcome more glucose, and your liver has to process more fructose.
Fructose is managed solely by the liver and diabetes is partly a pancreas and a liver problem. Therefore, you don't need to clog up the liver anymore by adding the extra load of too much additional fructose.
Fruit juice is an even worse offender than fruit itself. When you consume juice, it can be taken in larger quantities, and does not have the fiber to slow down the uptake of all that sugar and fructose.
Another thing people often mention is glycemic index. While glycemic index does count to a certain degree, at the end of the day, the amount of carbs in a food is most important because the net carbs (available carbs) will all end up in your bloodstream.
One thing you have to keep in mind at all times is your primary goal: keeping your blood glucose and A1c within the healthy range.
Still, that's not to say all fruit should be excluded from your diet to maintain good blood sugar control.
In fact, if you choose the right fruit, it provides an excellent source of vitamins, minerals, antioxidants and other beneficial health properties.
So let's talk about what types of fruits to include as part of your meal plan, and how much people can generally handle.
Please pin, tweet or share; then keep on reading.
[ssba-buttons]
Best Fruit For Type 2 Diabetes
YES, most people can have these
Per 1/4 cup:
Lemon juice 4.21 g carbs

Lime juice 5 g carbs
YES, most people can have these
Per half cup:
Strawberries (75 g) Total carbs 5.5 g Net carbs: 4.3 g (GI:25)

(BEST)

Raspberries (61.5 g) Total carbs 7.3 g Net carbs: 3.3 g (GI:25) (Highest in fiber)

(BEST)

Blackberries (72 g) Total carbs 6.9 g Net carbs 1.8 g (GI:25) (Highest in fiber)

(BEST)

Blueberries (76 g) Total carbs 10.7 g Net carbs: 8.9 g (GI:25)

Cherries (77 g) Total carbs 12.3 g Net carbs: 10.4 g (GI:25)

Grapefruit (115 g) Total carbs 12.5 g Net carbs 10.6 g (GI:25)

Cranberries (raw) (55 g) Total carbs 6.7 g Net carbs: 4.2 g (GI:45) – do not eat the dried sweetened cranberries, these are around 50 g carbs per half cup.
YES, some people can have these (in small, moderated portions):
1 passionfruit (18 g) Total carbs 4 g Net carbs: 2 g (GI:30)

Cantaloupe/rockmelon (78 g) Total carbs 6.5 g Net carbs 5.8 g (GI: 65) – per half cup

1 guava (55 g) Total carbs 7.8 g Net carbs: 4.8 g (GI:12)

1 small fresh fig (40 g) Total carbs 7.6 g Net carbs: 6.4 g (GI:35)

1 small plum (66 g) Total carbs 7.5 g Net carbs: 6.6 g (GI:35)

1 small clementine/ mandarin (74 g) Total carbs 9 g Net carbs 7.7 g (GI:25)

1 kiwifruit (69 g) Total carbs 10 g Net carbs 7.9 g (GI:50)

1 small peach (130 g) Total carbs 12 g Net carbs: 10 g (GI:35)
NOTE: cantaloupe/rockmelon and kiwifruit are higher GI than other fruits listed.
Some people can tolerate half a small apple or half a small pear. One whole apple is around 20.58 grams total carbs, 16.9 grams net carbs, which as a whole apple is just too many sugar/carbs at one sitting.
All dried fruit is super high in carbs, meaning it is a no go for diabetes.
BLOOD SUGAR TIP: Eat your fruit with a source of protein or fat.
This helps prevent blood sugar spikes, slowing down the uptake of sugars from the fruit.
For example:
a half cup of strawberries with cottage cheese or yogurt

a peach with cheddar cheese

a half cup of blueberries with a small handful of nuts
Portion size matters – when it comes to fruit, get your sweet fix in small portions. If you do not portion control, you'll likely find your blood sugar will sky rocket.
Servings of fruit per day – it is best to stick to just one serve a day, in appropriate portion sizes.
Please pin, tweet or share; then keep on reading the FAQs.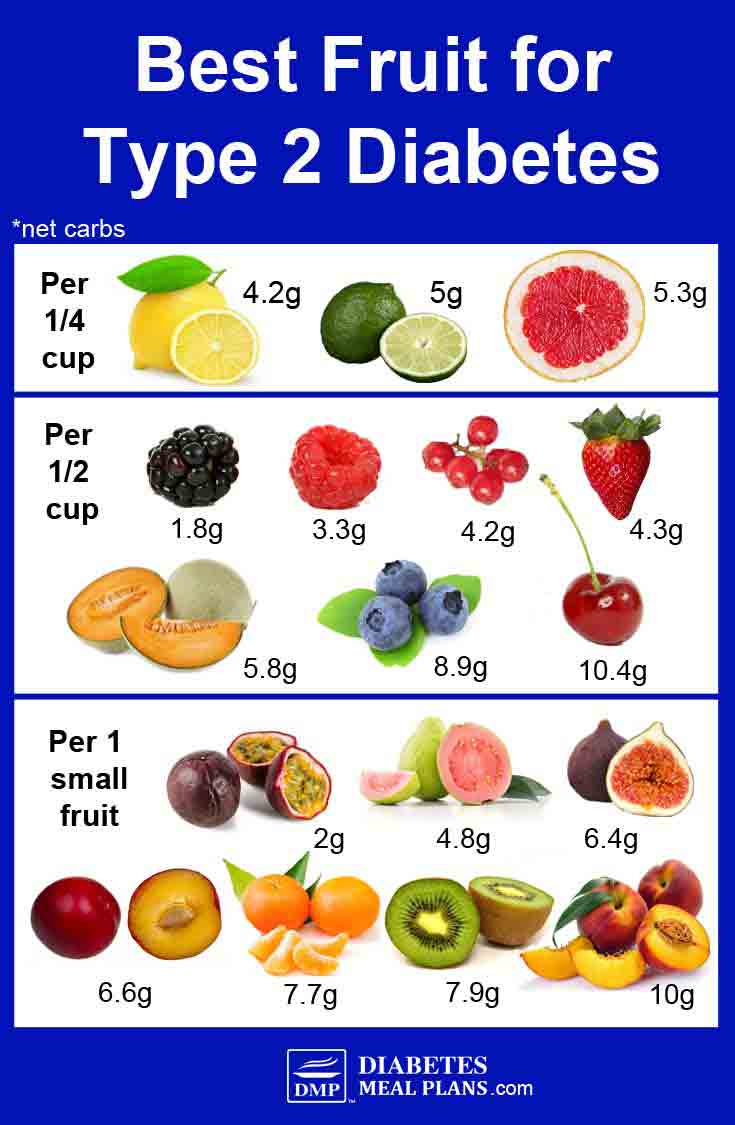 FAQs
Can eating fruit help me lose weight?
No. Achieving a healthy weight certainly involves eating a healthy diet, including the right fruits. But with type 2 diabetes, the key to weight loss is shifting your whole metabolism.
This means focusing on whole food sources, healthy fats, protein and carbs mainly from non-starchy vegetables. When you can get blood sugar and A1c levels more regulated, metabolism improves and weight loss occurs naturally as a result.
What about in vegetarian diets? Can I eat more fruit?
No. Vegetarian diets are perfectly healthy, we even have a vegetarian version of our weekly diabetes meal plans. But one of the areas people struggle with on vegetarian diets is eating too many carbs.
Too many carbs equals a greater difficulty to control blood sugar, along with higher cholesterol, difficulty in losing weight etc. Therefore, eating more fruit is not going to help you achieve your goals.
What about prediabetes, does eating fruit increase diabetes risk?
If you eat too much fruit, probably.
If you have prediabetes, you also have metabolic dysregulation and your goal is to lower blood sugar and A1c.
Therefore, like people with type 2 diabetes, keeping a tight check on portion size and choosing appropriate fruit options will help you achieve your goals.
When is the best time to eat fruits and how much is a healthy proportion?
See the portion sizes outlined above.
As for best time to eat fruit, there is no specific time. Enjoy fruit when you feel like it, as long as you stick to appropriate portions and limit your intake to one serving per day.
My blood sugars rise substantially when I eat fruit, should I avoid it?
The answer is, probably yes.
If you find your body reacts too much to fruit, making it difficult to keep blood sugar and A1c levels within range, then you are probably better off without it.
Being that there are so many other foods to choose from, living without fruit is entirely doable and still enjoyable.
Test, Test, Test
When it comes to fruit (or any other food for that matter) no two people will be the same!
Some people can tolerate a bit of fruit, others can tolerate none at all, including berries. The key is to test.
Test before you eat particular fruits and test again two hours after your meal – this is called monitoring in pairs.
Here's the steps to monitor in pairs:
Step 1: Take your blood sugar level before a meal. Write it down.
Step 2: Eat your meal, setting your timer for 2 hours from your first bite of food.
Step 3: Take your levels 2 hours after your meal.
Step 4: Evaluate your readings. Question – how do I respond to this food? Are my levels under 140 mg/dL or above. If the answer is above (or way above), then you need to evaluate your food intake and make some changes.
Step 5: Monitor in pairs to compare foods and how they influence your blood sugar levels, especially carb/sugar-rich meals. For instance, monitor your levels one day when you have fruit for breakfast, then another day when you have a veggie omelet. What is the difference?
Use your blood sugar monitor to help you determine how foods influence your body. That's the only way you'll truly know.
In general however, the best fruit for diabetes is berries, they are low carb, full of healthful properties, and are delicious as well. 😉
Please pin, tweet or share to help others – thanks!