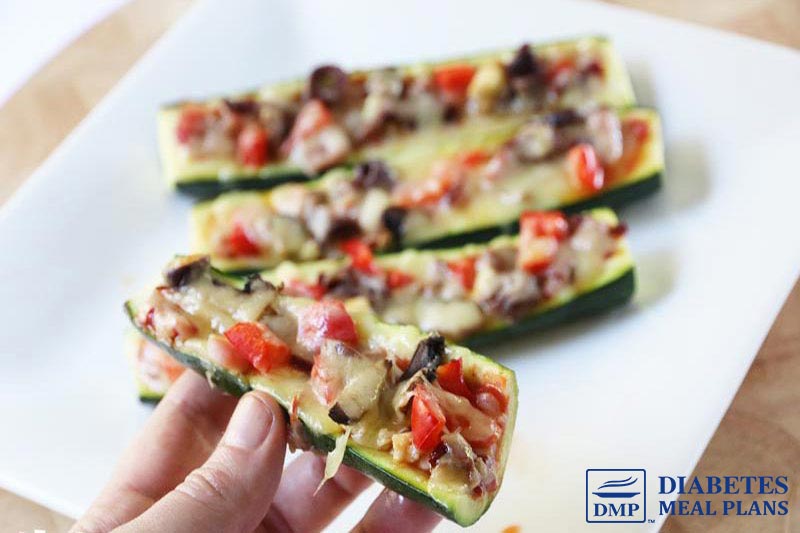 You might be looking at these zucchini pizza boats and thinking they couldn't possibly taste good. You'd be wrong.
It's surprising how well the zucchini forms the perfect base for a pizza mix!
Scoop them out a little then fill them up and you can eat them hot or cold, holding them like pizza sticks.
This recipe includes a mixture of sundried tomato, cauliflower, ham, olives, bell pepper, mushrooms, and cheese for the toppings. But like any other pizza, you can use all sorts of things – chicken strips, ground beef, spinach, avocado, broccoli, onion, feta, spinach – top the zucchini boats with whatever you like and they will taste just as awesome. 🙂
ENJOY!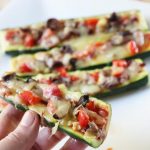 Pin Recipe
Low Carb Zucchini Pizza Boats
You'll never miss pizza again with these zucchini boat alternatives. Fill with a range of ingredients for a super tasty meal you'll love munching down hot or cold.
Ingredients
3

large

zucchini

6

teaspoon

tomato paste

3.5

oz

cauliflower

– chopped small

3.8

oz

ham

– equiv. 4 slices – diced

1/4

red bell pepper

– diced

2

sundried tomatoes

– sliced

4

pitted kalamata olives

– sliced

3

mushrooms

– sliced

2.2

oz

cheddar cheese

– equiv. 1 cup
Instructions
Preheat oven to 350°F/ 175°C.

Chop the ends off the zucchini, the use a teaspoon and scoop out the inner part (white flesh), leaving an edge at each end to form boats. Scrape them out well but still leave a little zucchini in the bottom too

Place on a baking tray, then spoon one teaspoon of tomato paste into each boat, smoothing it over the bottom.

Add a sprinkle of cheese, then fill the zucchini with your toppings. Topping with cheese to finish.

Bake for 15-20 minutes or until cheese is melted and zucchini is cooked but still firm. You want to be able to pick them up and eat them like pizza sticks.

Cool a little then eat your heart away!
Share by Email
Share on Facebook
Share on Twitter
Pin Recipe
Essential Kitchen Tools
Sharp knives in the kitchen save you time and effort and are something you use every day. And baking trays, well, baking is a super easy way to cook, so keep them handy in the cupboard for a cold winter night – or mid summer if you have aircon. 🙂
And you always need a good grater, or make it easier – a food processor with a grater! To make a nice appetizing treat for the family or guests, serve them up on some beautiful wooden serving boards.
Please share, pin, or tweet this post. 🙂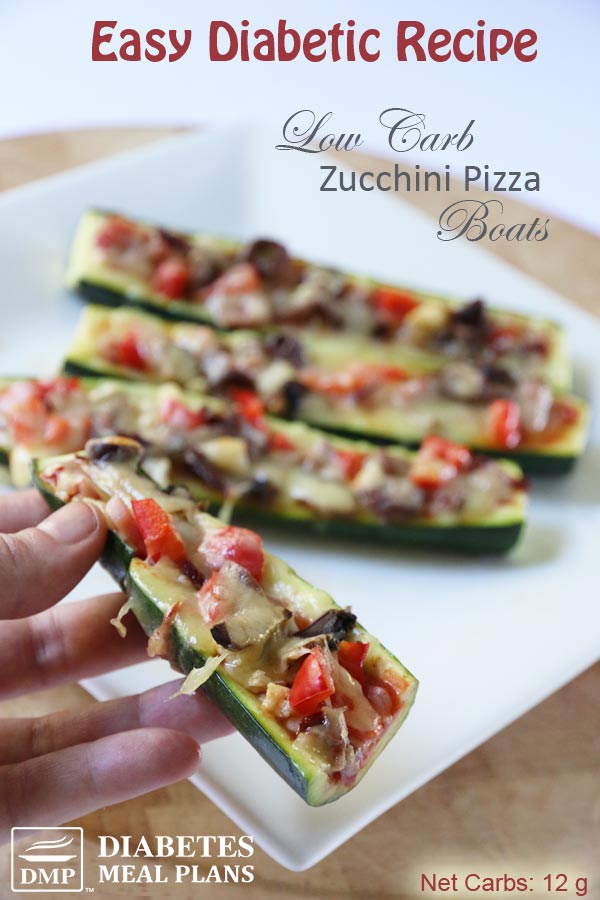 Please share, pin, or tweet this post. 🙂
Subscribe for Weekly Nutrition Tips & Recipes